Unprofessional: Ugly Scenes, Police Terror Marks The Start Of National Curfew On Coronavirus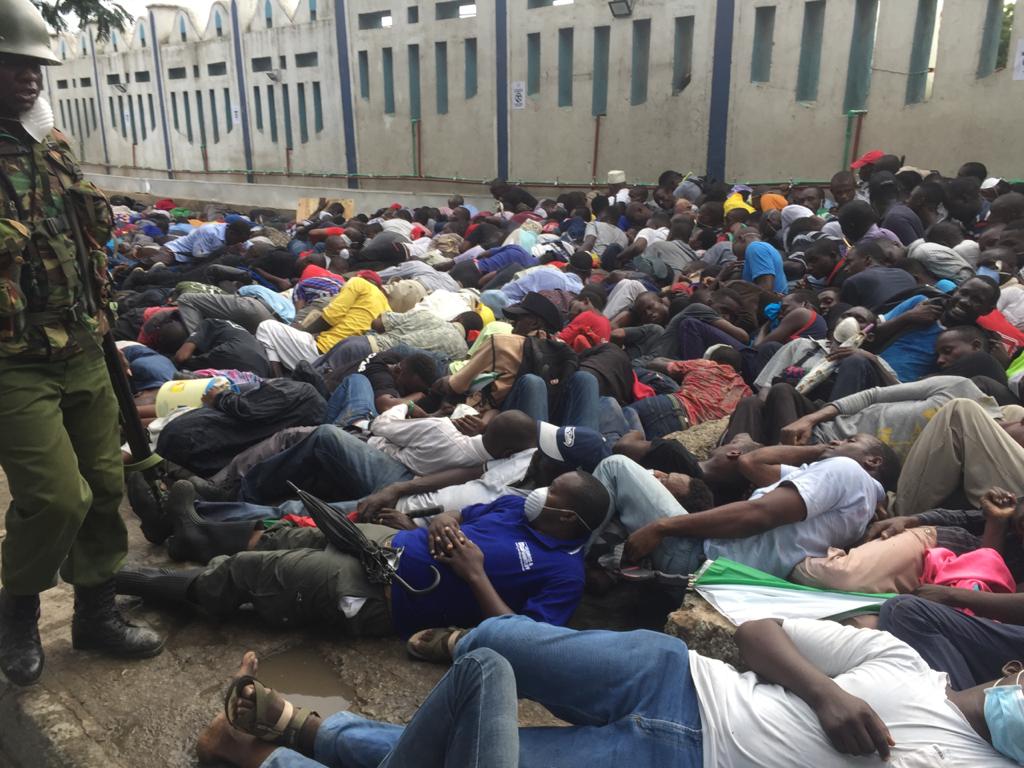 On Friday, the government confirmed 31 cases of coronavirus with one fatality. It was also the day that marked the start of 7pm-5am curfew, with this, the national security council envisioned a scientific consensus for slowing down the spread of coronavirus which is now threatening the security of Kenya with its rapid spread.
With the mention of curfew, fear had struck Kenyans as this would mean dealing with police brutality given their history.
True to the word, they did disappoint the imaginations, as early as 5pm, the police force known for insatiable appetite for brutality were already on a prowl.
One NTV journalist in Mombasa wasn't lucky and was almost crushed with his studio equipment. Mark you journalists as essential services providers are exempted from the curfew but we know the police force, they're not known to respect the same law they're enforcing.
Ugliest scenes were witnessed in Mombasa and the Likoni Ferry terminus, police reigned terror on people as early as 6pm, an hour before the curfew starts. Innocent people who were either lined up or navigating to the waiting bay were not spared.
In what can only be described as uncouth, uninformed and plainly stupid move, police started firing teargas at the crowd causing a near stampede. They started whipping anything and anyone in sight.
Whether they knew or not or just didn't care, many people were left exposed to the virus that the police were supposed to minimize its spread. Logically, when you fire teargas, people are prompted to rub their faces, without washing their hands, many people had to rub them with chances of the hands being contaminated. This was how to fasten the spread not to stop the spread.
There was open disregard to social distancing which is basically one of the key precautions the government has been advocating for. Police bundled up people as if in a concentration camp, created a fatal crowd, with the nature of the virus spread, this was plain dumb and up to now, nobody knows the extent of damage the miscalculation by the police must've cost in Mombasa.
I don't know if it's flat ignorance or just a reminder that we still have the same colonial text book police force with mighty brutality. Instead of stopping the spread, they laid a breeding ground for its spread. One would mistake the country was in chaos of perhaps election violence yet it wasn't. You simply can't solve a scientific problem with rungu and guns, even the police who might think they're invincible to the virus, are putting their lives in danger when engaging in the crooked ways of handling the crowds.
Police mishandling of the curfew elicited reactions from various leaders including SC Orengo who said, "A state of emergency does not by itself ineluctably limit or suspend the Bill of Rights. There must be legislation. In any case national security must be pursued in compliance with the rule of law & human rights.Police must not enforce curfew with might but love & fight Covid-19."
"Kenyans are already economically distressed & now terrified of COVID-19. They need help & guidance. Enforcement of the curfew does not mean terror & brutality to the mwanainchi. Treat the citizenry with civility." Said Musalia Mudavadi.
Also Senator Murkomen indulged, "Every law/directive is meant to cure a particular mischief. The curfew is meant to curb the spread of COVID19 and not to torture Kenyans.The security managers are behaving as though they have a grudge against Kenyans and are using COVID19 as an excuse to revenge. It must stop forthwith."
Former MP Martha Karua couldn't hold back her thoughts either, "Terrorising commuters at Likoni ferry with tear gas and beatings is unacceptable! The inadequacy of the available mode of transport rests squarely on the government . Lets hope no arrests will be made for lateness where public transport is clearly the issue."
Friday's curfew marked the second nationwide movement restriction since independence.
The last time a Kenyan government restricted its citizens countrywide from moving after sunset was in the days following the August 1982 coup attempt.
While there have been other curfews before today's, they have been applied in specific areas in order to deal with insecurity challenges like happened during the 2017 post-election violence.
After a day-long meeting on Wednesday, the National Security Advisory Committee (NSAC) agreed to rope in officers from the General Service Unit (GSU), Kenya Prisons, National Youth Service (NYS) and the Directorate of Criminal Investigations (DCI) to assist those from the Kenya Police Service.
It was determined that it would not be necessary to involve the Kenya Defence Forces (KDF) in imposing the curfew, for now.
However, the military will be roped in if the curfew is scaled up to a total lockdown.
There is a general agreement within government's security machinery that should infection numbers rise exponentially in the coming days, there would be no option than enforcement of a full lockdown.
While announcing the government's decision to impose a curfew, President Uhuru Kenyatta warned that he will not hesitate to effect a total lockdown if Kenyans continue ignoring government directives.
"We have taken these basic measures to protect the life and health of our citizens. If these actions are deemed inadequate, we shall take more drastic measures to ensure the rights of our citizens to life and property are maintained," said the President.
---
Kenya Insights allows guest blogging, if you want to be published on Kenya's most authoritative and accurate blog, have an expose, news, story angles, human interest stories, drop us an email on tips.kenyainsights@gmail.com or via Telegram
---