I Don't Have The Symptoms Of Coronavirus- Siaya Catholic Priest Speaks For The First Time On His Health And Movements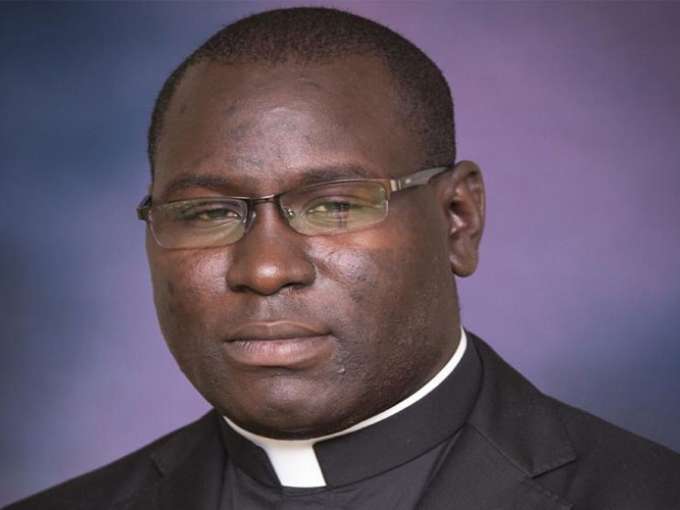 In an interview with ACI Africa, Fr. Richard, a liturgy student at the Rome-based The Pontifical University of Sant'Anselmo, has also faulted the Kenyan media for false and inaccurate reporting and disclosed that all the contacts traced from him have so far tested negative.
"As I am talking to you, I am feeling no pain; I am feeling nothing and today is my 14th day in Kenya. If I had this thing it would have come out," Fr. Richard told ACI Africa Thursday, March 26 referencing symptoms associated with COVID-19 patients.
According to the World Health Organization (WHO), COVID-19 is a respiratory disease that "affects different people in different ways," the most common symptoms being fever, tiredness, and a dry cough. Other known symptoms include breathing difficulty, sore throat, as well as aches and pains.
"Sincerely speaking, I have not had those symptoms of coronavirus that are known up to now," Fr. Richard said during the phone interview and clarified, "I'm not coughing, no nausea, no throat irritation, no fever, my body temperature has been in the range of 36.4 to 36.7. However mild it is, at least some signs should be seen."
The Kenyan-born cleric who is incardinated in South Sudan's Torit diocese faulted media reports that he had flown into the country via South Africa saying, "On the 12th of March, I came from Rome direct to Nairobi by Kenya Airways flight number KQ 128."
Having gone through the tests at the airport and allowed into the country, Fr. Richard traveled, March 13, to the Kenyan port city of Kisumu for a funeral at his home parish, St. Joseph's Ugunja of the Archdiocese of Kisumu.
"I just concelebrated; I did not even give Holy Communion," the 38-year-old cleric recalled the event of the March 14 funeral Mass, faulting the Kenyan media for reporting that he was the main celebrant at the burial ceremony.
In a statement to ACI Africa, the Parish Priest of St. Joseph's Ugunja, the host of the funeral Mass, stated, "Fr. Richard never presided over that mass as alleged by the media" and clarified, "The said funeral was presided over by Fr. Lukas my curate since I was home for the funeral of my nephew."
Fr. Robert Onyango Sewe, a Kenyan-born Franciscan Capuchin Friar based in the U.S. has also criticized some Kenyan media, lamenting the erroneous use of his picture in telling Fr. Richard's COVID-19 story.
During the interview with ACI Africa, Fr. Richard said he decided to go to hospital March 20 after feeling "something like mild chest congestion and nausea."
He had returned to Nairobi by flight March 16, living in self-quarantine at the Holy Family Catholic Parish, Utawala of the Archdiocese of Nairobi, maintaining social distance from his hosts, Fr. Bosco Kamau and Fr. Anthony-Mario Egbunonu, both members of Saint Patrick's Society (SPS).
At Nairobi West hospital where he went to seek medical advice, Fr. Richard explained to the medical staff what he was feeling and disclosed his travel history as having jetted into the country from Italy, the European epicenter of COVID-19.
"The Dr walked out and told me, Richard I want to be candid with you; since you travelled from Rome, you are showing the signs of coronavirus. So, I will isolate you here then refer you for further test," Fr. Richard recounted the Friday, March 20 experience, adding that the altar boy who had accompanied him to the hospital was told to "isolate himself."
He added, "I even shared with the doctor who called me to give me the information that I tested positive (that) I've not had any of these symptoms. And the doctor told me that you see different people responded differently to this infection. It is mild in your case meaning that probably because of your immune system is strong."
"I was taken to Mbagathi hospital and admitted that Friday Night; samples were taken on Saturday and the results came out at around 11 a.m. on Sunday," Fr. Richard recounted.
He was later transferred to Kenyatta hospital, Kenya's oldest and largest health facility that serves as the referral hospital for the Ministry of Health and the teaching hospital of the University of Nairobi College of Health Sciences.
"Regarding treatment, I was told there is none but I would be given medical support and my immune system would be able to fight it," Fr. Richard said, adding that he has been taking "Paracetamols" and remaining in isolation since March 22.
"As from today, I was told since I had no signs, there is no need to take Paracetamols and they were dropped," Fr. Richard who has been a priest since May 2018 told ACI Africa March 26, adding that he has also been given vitamin C and antiobiotics.
The Governor of Siaya County, Cornel Rasanga has been quoted as confirming that eight people suspected to have interacted with Fr. Richard during the funeral have tested negative for COVID-19.
"The two cases of Utawala, the Priest there received a message from the Ministry of Health that they were all negative," Fr. Richard said referencing Fr. Bosco who hosted him when he arrived from Rome and the cook who used to bring him food.
He recalls having had a nine-hour interaction with a priest friend on March 14, including driving in the same vehicle to the funeral and participating in the burial ceremony, but the priest has not exhibited any symptoms of COVID-19.
Considering the social interactions Fr. Richard had during his three-day stay at his ancestral home within Siaya County, the Archbishop of Kisumu, Philip Anyolo has called upon "Priests, Religious Men & Women, and Lay Faithful who attended the burial in Ugunja on 14th March 2020 to heed the call by the Ministry of Health to self-quarantine and subsequently seek medical attention in case of distress."
"We should desist from stigmatization and misinformation since nobody knowingly puts the other in danger in regard to this pandemic," Archbishop Anyolo who doubles as the Chairman of the Kenya Conference of Catholic Bishops (KCCB) stated in his March 25 pastoral message.
"I think the best thing will be to cooperate with them, finish the treatment," Fr. Richard told ACI Africa referencing Kenya's Ministry of Health and added, "There is a lot going on but the best thing is to forget about it and concentrate on my healing process."
"I am in touch with my Bishop and he is very supportive," the cleric of Torit diocese in South Sudan said referencing Archbishop Stephen Ameyu who was installed as the Local Ordinary of Juba Archdiocese March 22 and appointed the Apostolic Administrator of Torit.
The official estimated incubation period for COVID-19 is 2-14 days. Fr. Richard's narrative of his experience with the doctor and the subsequent media reports seem to put to question Kenya's capacity to test for COVID-19, which is part of the measures required to control the spread of this deadly virus that has more than 383,000 confirmed cases globally.
---
Kenya Insights allows guest blogging, if you want to be published on Kenya's most authoritative and accurate blog, have an expose, news, story angles, human interest stories, drop us an email on tips.kenyainsights@gmail.com or via Telegram
---