UnMasked: KETRACO Thug CEO/MD Fernandes Barasa Plans To Turn Kakamega County Bandit Economy If Elected Governor.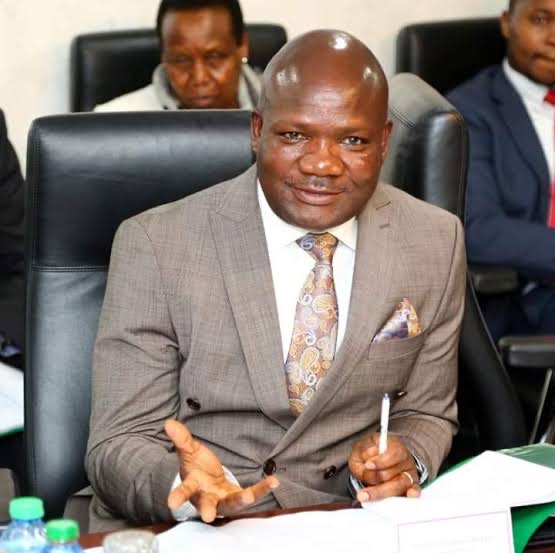 Where the rain started beating CEO and Managing Director of Ketraco Fernandes Barasa.
An analysis by renowned economist David Ndii showed that as at last year, Ketraco must have lost over Ksh150 billion.
"Ketraco is a bigger channel of budget plunder than the National Youth Service (NYS) by far. I estimate KSh 150 billion was stolen through transmission lines budget," Ndii stated in his article titled, "highway robbery and sex toys: Plunder by the numbers".
Ketraco scam unearthed by internal auditors in 2018 made the electricity transmission company headed by Barasa become the fourth State body to be rocked by a scandal after the National Youth Service (NYS), Kenya Power and the Kenya Pipeline Company (KPC).
1. A Ksh14 billion 450-kilometre, 1,500-megawatt Mombasa-Nairobi power line, where there were fraudulent payments of alleged landowners. Detectives uncovered one case in Kisaju, Kajiado County, where a landowner was paid 10 times more than the value of his land, mirroring hundreds of others during the construction of the Mombasa-Nairobi transmission line.
2. In February 2018, KETRACO penned a contract worth $240M (Ksh24 billion) with China Electric Power Equipment and Technology Company Limited (CET) in the nation's few attempts to electrify the Standard Gauge Railway (SGR).
The promise was that in 28 months, the works would be complete. Three years down the line, the work of electrifying the SGR did not commence. The whereabouts of the 24billion remains mystery uptodate.
3. The third project also involved a transmission line. KETRACO Was reported to have misused Ksh6.3 billion for no or shoddy works done.
According to audit documents seen by Kenya insights KETRACO allowed a contractor to keep 100 per cent of its staff, even when the project had been stopped for 54 months after landowners blocked it, instead of just keeping a skeleton staff until matters had been resolved.
There were also additional claims due to the contractor's overheads during the delay.
4. The fourth scandal hit the Loiyangalani-Suswa power line worth Ksh28.9 billion. The project which had varied estimation of costs from the National Treasury (Ksh36 billion), Ministry of energy (Ksh33 billion) and Ketraco (Ksh30 billion) stalled at some point. The 435-kilometre double circuit transmission line is also rated at 400kV but currently operates at 220kV.
5. The fifth and the recent money laundry is the award of lucrative contracts to firms that collapsed before completing multibillion- shilling projects. The company was forced to terminate contracts worth Sh25.6 billion awarded to Spanish firms Isolux Corsan, Instalaciones Inabensa, as well as India's Jyoti Structures.
This was after they were declared insolvent in their own countries, raising concerns whether due diligence had been carried out by Ketraco. Over time, Ketraco has terminated such contracts, which were later assigned to new firms with fresh terms that subject taxpayers to extra costs.
For example, Instalaciones Inabensa was awarded a Sh3.6 billion contract for construction of the  Lessos-Tororo transmission line. The project cost has risen to Sh8.2 billion. The contract, which included the extension of a substation at Lessos, was terminated in April 2016 on grounds of non-performance.
The firm challenged the termination and on February 12 was awarded more than  Sh4 billion for wrongful termination. Taxpayers would thus be forced to part with Sh4.6 billion, attracting 12 per cent interest annually until paid in full.
~~~~~~~~~~~~~~~~
They say, "If you go to sleep with an itchy anus, be sure to wake up with smelly fingers." And Professor, Enigma PLO
Lumumba would wonder why you get suprised when your goats goes missing after you put an hyena to take care of your goats. I'd literally say you the Co-Author of your misfortune.
Kakamega, here is a man who has swindled billions of taxpayers money to save enough for his political ambitions and sponsoring his close ally the Deputy President William Ruto in form of kickbacks – birds of the same feathers flocking together.
This is a man who's a pain in the ass and if given opportunity to take over Kakamega County then be sure to wake up with smelly fingers and if your goats goes missing- you'll be by yourselves crying and languishing in poverty as he pays the judges to set him free. He has the money to pay the Judges, why would he hire a lawyer? A figure who can pay court bail like a loaf of bread. Beware!
Barasa was in the news sometime in August 2019 when the heavily built short man ran for his life in a city hotel.
DCI boss Kinoti had walked into the hotel where Barasa was in company of other friends, he fled to the kitchen of the hotel on spitting Kinoti, nervous that he had come to arrest him. At the time, Ketraco was under DCI probe following complaints lodged that the agency officials had swindled Sh14B land compensation to farmers for the Mombasa-Nairobi electricity transmission line, detectives believe billions were swindled in kickbacks.
However, Kinoti was on a different business and not to arrest the panicked CEO who fled away through the kitchen's exit. He became a laughing stock amongst his peers. Kweli mwenye mavi hujishuku.
Like many other public coffers do, sugar-coat themselves with Charity foundations in the name of giving back to the community with swindled evil money. 'Barasa Foundation' is the charity foundation which he runs with his wife Janet Barasa as the CEO.
Having pocketed some media houses, influential blogs on his payroll to support his political ambitions, Barasa forgets that a little opportunity given to a monkey to wear clothes doesn't guarantee it to join the dining table.
He is walking a thin line between freedom and prison and his best of luck wish is get into public office and secure some immunity and cleanse himself with philanthropy charities as law number 11 and 12 of 48 laws of power advices to learn to keep people dependent on you – give a man a fish and dont teach him how to fish to be independent, make him dependent instead. 12- Use selective honesty and generosity to disarm your victim : One sincere and honest move will cover over dozens of dishonest ones.
Like i said before in one of my previous article, "Innocent until proven guilty, the political class sanitizer" -https://kenyainsights.com/innocent-until-proven-guilty-political-class-sanitizer/  People of Kakamega knows this is a thief and has wired billions of shillings from Ketraco and now wants to be their governor and believe me not, this is a man who isn't even eligible to teach them how to fish, he's ready to bribe and use youths as assailants to his advantage. The city hotel kitchen mouse.
Stay tuned for more updates on the same. People of Kakamega deserve better.
---
Kenya Insights allows guest blogging, if you want to be published on Kenya's most authoritative and accurate blog, have an expose, news TIPS, story angles, human interest stories, drop us an email on

[email protected]

or via Telegram
---