Trail Of How KTN's Aaron Ochieng Planned And Stole Joy Doreen Biira's Car To Cooking A Lie That They Were In A Relationship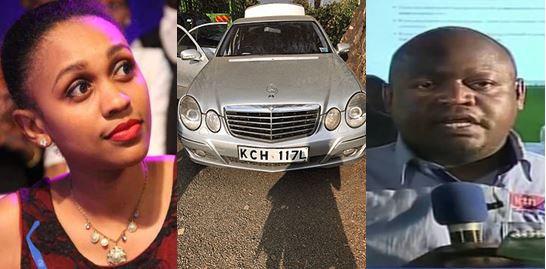 A cornered Aaron is opening nonexistent doors throwing accusations at his junior anchor Joy Doreen after being caught with her car that had been reported stolen.
On 23/12/2016 at around 10:30 am Joy Doreen Biira an employee of Standard Media Group parked her motor mv reg no KBY 831K Mercedes Benz E220 Valued at Ksh 2.8m at the Standard Group HQ parking Yard along Mombasa road. At about 2055 hrs she realized that her car keys were missing from her desk. She decided to go out and check whether her vehicle was at the parking only to find it missing.
She immediately reported the same to security and transport officer about the incident who together with her did another check at the gate and established that the car had left the gate at around 19:39 hrs. She reported the matter at Industrial area police station. Investigations commenced leading to the recovery of the said Motor vehicle in Kisumu.
At the time of the arrest, the Motor vehicle was bearing Reg no KCH 117L and one occupant namely Aron Ochieng a workmate of the complainant who is in police custody. Also, two guards who were on duty on 23/12/2016 have been booked in cells at Industrial Area police station awaiting further action.
During his court appearance in Kisumu, the disgraced editor attempted to inflict a new twist into the scenario by claiming they had a romantic relationship and had conspired with Doreen to stage car disappearance and file compensation claim on the insurance. However, investigations done by Kenya Insights with sleuths at the Mombasa Road media house goes beyond reasonable doubts to affirm that Aaron indeed stole the car.
On that day, Aaron was finishing his shift. Doreen reported working at about 6 pm and Aaron as the editor asked her to read business news for 9 pm. Doreen told him she had made arrangements with another anchor so she would not read. Since Aaron had planned to steal the car, he told her to go downstairs and edit a story he had prepared. As she left her desk in the newsroom to the downstairs where the studio is, Aaron picked the key and ran down and handed it to two of his "visitors" who had come and ran back to the newsroom. When Doreen came back almost an hour later, she found the key that was on the table missing. She asked, and Aaron was the first to say he did not know. Aaron had studied the place well. The car has tinged, Tinted and was seen driving out at 7.30pm the same time the car was driven away. Occupants couldn't be easily noticed, and the timing was perfect not to raise any suspicions.
Then the following day on a Saturday, Aaron called a colleague at Standard and told him he had bought a new Merc but had difficulties in registering it at KRA. So he wanted the colleague to lend him his Merc for him to drive to Kisumu and back for the Christmas but the colleague said he had traveled. He had by then put a fake number plate at a garage in Santon estate. He then drove to Kisumu. At a garage and car wash, a Keen boy saw the plate was not tallying with the one on insurance sticker. He called cops on him.
His charge sheets;
Aaron is a disgrace, It's not the first time he's involved in stealing allegations, his colleagues tell Kenya Insights, the editor is a serial their and dishonest character. He was previously caught stealing a laptop at the Standard offices in I&M building where his bosses defended him and covered up the ugly scene. Aaron lied to his wife to have bought the Mercedes he stole only to be hit with a surprise in Kisumu when police officers rounded him up. The car from documents seen by Kenya Insights is registered under Doreen's husband name, Brian crushing myth that she conspired with him. Doreen is described by her colleagues as a professionalwho'd never engage in romantic relationship with her senior in newsroom. We're told getting a hug from her is a hike to the top of Mt. Everest literally. It's for this reason that the wild claims by Aaron over a supposed romantic relationship with the Ugandan beauty got whole newsroom bursting in laughter.
He has brought immeasurable embarrassment to the entire family a burden they have to walk around with.
---
Kenya Insights allows guest blogging, if you want to be published on Kenya's most authoritative and accurate blog, have an expose, news TIPS, story angles, human interest stories, drop us an email on

[email protected]

or via Telegram
---