Mystery Behind Rubis Energy Cartels and their Local Kenyan Elite Class Accomplices Who smuggled Inn 30,000MT of Oil into Mombasa Port.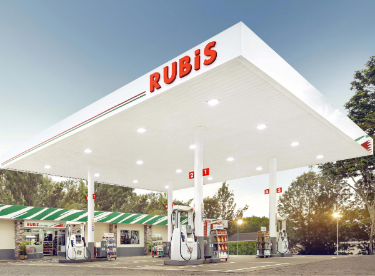 Just like Covid19 Sputnik-V was smuggled into the country by the Healthcare sector Cabals, —Gulf Energy Ltd is reported to had sneaked inn 30,000 MT  of Oil, with the knowledge of the 'big boys' and  deliberately creating fuel crisis to hike prices as a 'retaliation' to 'market demand'  —maximizing profit and minimizing losses but unfortunately their 40 days was long overdue before executing the plan of which would have been the biggest exploitation heist in the Petroleum industry history in Kenya and perhaps the whole world.
The cargo —30,000 MT of oil, which was shipped in during the festive season last year 2021, was to see other marketers run out of stock leading to higher fuel prices once Sh100 million ($1 million) in additional charges incurred is passed over to Kenyans. The oil marketing companies (OMCs) who whistle blown the heist, accused the 'big boys' of bypassing a legal requirement that tenders for importation of refined petroleum products must be publicly advertised of which in this case wasn't done.
The ship carrying the product was reported to have docked at the port of Mombasa on December 30 and offloaded until Sunday, January 2, while four vessels that had reportedly gone through legal importation process were kept waiting, incurring about Sh100 million in demurrage charges.
In protest letters to Petroleum and Mining Principal Secretary Andrew Kamau, Rubis Energy and Oil Marketers Association of Kenya (Omak) said the private importation was made by Gulf Energy on behalf of a few other marketers. Of which poses the question as to Why is Rubis Energie the complainant when it acquired Kenol Kobil which had acquired Gulf Energy? Is it to hoodwink the public?
From insights, Gulf Energy was not acquired by Rubis Energy Ltd. They bought assets (stations & depots) from Gulf Energy. These were put under Gulf Energy Holdings Ltd. Gulf Energy Ltd continues operating independently. But this is simple "distancing"..
Rubis abnormally continues to sell fuel at lower price than even the Government's subsidised National oil. It goes without saying that the idea is to shut up other dealers in the country hence creating a monopoly the Kenyatta family's milk business, known LPG Cartel, Rai family in the sugar market.
The December 31st letter, also copied to Cabinet Secretary John Munyes, Director of Criminal Investigations George Kinoti, Ethics and Anti-Corruption Commission CEO Twalib Mbarak and Energy and Petroleum Regulatory Authority (Epra) Director-General Daniel Kiptoo, said the conduct risked sowing acrimony in the oil industry.
The demurrage charges accumulated with regard to the delayed vessels would likely be passed over to consumers, adding onto the already high fuel prices.
In his letter, Rubis CEO Jean-Christian Bergerone hypocritically indicated that the "illegal" importation had affected the petroleum industry. He also proposed that the cargo be shared by all the marketers.
Since 2020, what used to be Gulf Energy and Kenol Kobil have been trading under the brand of Rubis Energy, following an acquisition that left Rubis controlling 20 per cent of Kenya's oil market, effectively becoming the largest oil marketer.
Rubis spent about Sh2.4 billion to rebrand Kenol Kobil and Gulf Energy. Mr Bergerone back then indicated that the marketer aimed to have rebranded a total of 250 outlets by this year.
Rubis Energy plans to be a fully stand-alone brand in Kenya by end of this year 2022. It began rebranding 190 KenolKobil outlets and Gulf Energy's 46 petrol stations in the country.
The combined share now puts Rubis ahead of another French owned oil and gas brand Total, which has a 16.3 per cent share, and Vivo Energy, which enjoys a 16.1 markets share.
Meanwhile, the global firm is counting on its strengths in the aviation industry, LPG combined with petroleum products to cement its position in Kenya.
Rubis enjoys the lion share of JetA1 (Jet fuel) sales in Kenya, fuelling 50 per cent of airlines landing at the Jomo Kenyatta International Airport and the Moi International Airport in Mombasa. The country's petroleum industry is among the most competitive in the region, with about 62 established oil marketing companies having presence in Kenya, mainly urban areas.
There are also hundreds of independent oil dealers across the country, mainly served by the major OMCs who import bulk fuel products through the Port of Mombasa.
The big players work closely with Kenya Pipeline Company for hullage to Nairobi and distribution to their respective storage facilities around the Industrial Area, before serving their respective service stations.
French oil firm Rubis Energy said it had to contend with a major loss of aviation business following the near shutdown of the industry between March and August. This followed the outbreak of Covid-19. In what we believe could have been a retaliatory act of smuggling inn the oil to compensate for the loss.
Before the acquisition, KenolKobil accounted for 15.4 per cent market share in the country, while Gulf had a 5.8 per cent share. The company said it has so far rebranded 30 of the 230 outlets to Rubis. It expects to complete the process in 2022. After the acquisition, Rubis market share as of December last year went up to 21 per cent in comparison to the then market leader, Total, which had 16.4 per cent followed by Vivo (16.2 per cent).
KenolKobil was dominant in the jet fuel market, controlling about 68 per cent of the market then, which was pushed to about 71 per cent after merging its operations with those of Gulf Energy.
Who owns Rubis?
It is known, Rubis Energy is a French company but it's not known who in Kenya is the dirty deal controller of the company.
From this article, you'll have to connect the dots as we cannot ascertain but we have the lead.
Smuggling inn 30000MT of oil into the country without local authority under payroll as accomplices of the giant international company  is mission impossible. Rubis seems to be an international shell company for money laundering. Publicized Board of Management might just be tip of the Iceberg and Money laundering series Ozark can attest to that by the way.
The cartel Accomplices can however be traced in Kenya from the operators of the Kenolkobil and Gulf energy in lias with Kenya Ports Authority officials, Petroleum and Mining ministry, Kenya Pipeline Company, Epra and Politicians.
In their website it states, "Founded in 1990, Rubis is an independent French operator specializing in three business areas: The distribution of petroleum products (service station networks, commercial fuel oil, aviation fuel, LPG, bitumens, etc.), with operations in Europe, the Caribbean and Africa through our subsidiary Rubis Énergie; Support and services, alongside our downstream petroleum products distribution activity, with a midstream position, grouping together refining, trading-supply and shipping operations; Storage through our subsidiary Rubis Terminal, providing storage of liquid products for our customers (petroleum, chemical and agri-food products). Rubis Terminal is a leader in France and also holds operations in the Netherlands, Belgium and Turkey. Since 2000, Rubis has expanded its presence across three regions, (Africa, Europe and the Caribbean) through direct investments and acquisitions. The Group has enjoyed strong, regular progress driven by organic growth, new sites and acquisitions, while also constantly improving its productivity. Rubis is now a major player in the fuels distribution business in Kenya. In March 2019, the company acquired the assets owned and operated by KenolKobil PLC, and later Gulf Energy Holdings in November 2019. The acquisitions meant that Rubis becomes a formidable competitor in the regional downstream business. Rubis Energy Kenya runs a strong network of over 230 strategically and conveniently located service stations countrywide under the Gulf Energy, Kenol, Kobil and Rubis brands. Our stations are designed for maximum convenience and safety, with focus on value-added service at the forecourt."
Who are/were the owners of Gulf Energy and their Connection Political affiliation.
In the takeover of Gulf Energy Holding Ltd. At least five Kenyans earned over one billion shillings in the total takeover of the Gulf Energy Holding company by the French multinational Rubis Energie .
Rubis disclosed in its 2019 annual financial results that it spent Sh9.72 billion in acquiring Gulf Energy Holdings Limited Kenya a subsidiary of Gulf Energy.
Mombasa Gubernatorial aspirant Suleiman Shabal was the CEO of Gulf Energy and the Founder Chairman of the Gulf African Bank earned an estimated Sh2.4 billion from the deal. Shahbal had a 25% stake in the Gulf Energy through his company, Monte Carlo Investments Limited, records from the Registrar of Companies shows.
Francis Koome Njogu, was the Managing Director of Gulf Energy is estimated to have earned Sh1.9 billion from his 20% stake in the company. Njogu is a businessman and owner of Alba Hotel, in Meru town.
Duncan King'ori Mukira who earned Sh1.2 billion from his 12.5% stake and Paul Kiprotich Limoh, a similar amount from a similar shareholding. The rest of the 25% stake in Gulf Energy Holdings which also earned an estimated Sh2.4 billion was owned through a company called Nama Kenya Limited, a U.K registered company that is a minority (20%) owned by a Kenyan named Ahmed Said Bajaber, who is a director at the Gulf African Bank.
Gulf Energy is a diversified energy company in East Africa. On its website, it notes the following.
"We source, charter, export, retail and store quality petroleum products from all over the world to various destinations in East Africa. The deal was first announced in November 2019 but was given final approval on February 25th by the Competition Authority of Kenya.
There could a possibility that Gulf-energy being the victim of the expose was a shell of Rubis in this case. Gulf energy Might have been an escape goat plan should the heist go sour as it has.
Rubis is an International brand and cant afford to be mud-slang in any way hence getting vulnarable to their enemies like Total Energy and Vivo Energy in Kenya and the international market at large. 
---
Kenya Insights allows guest blogging, if you want to be published on Kenya's most authoritative and accurate blog, have an expose, news TIPS, story angles, human interest stories, drop us an email on

[email protected]

or via Telegram
---