The High Profile S.M Otieno Court Case Of 1987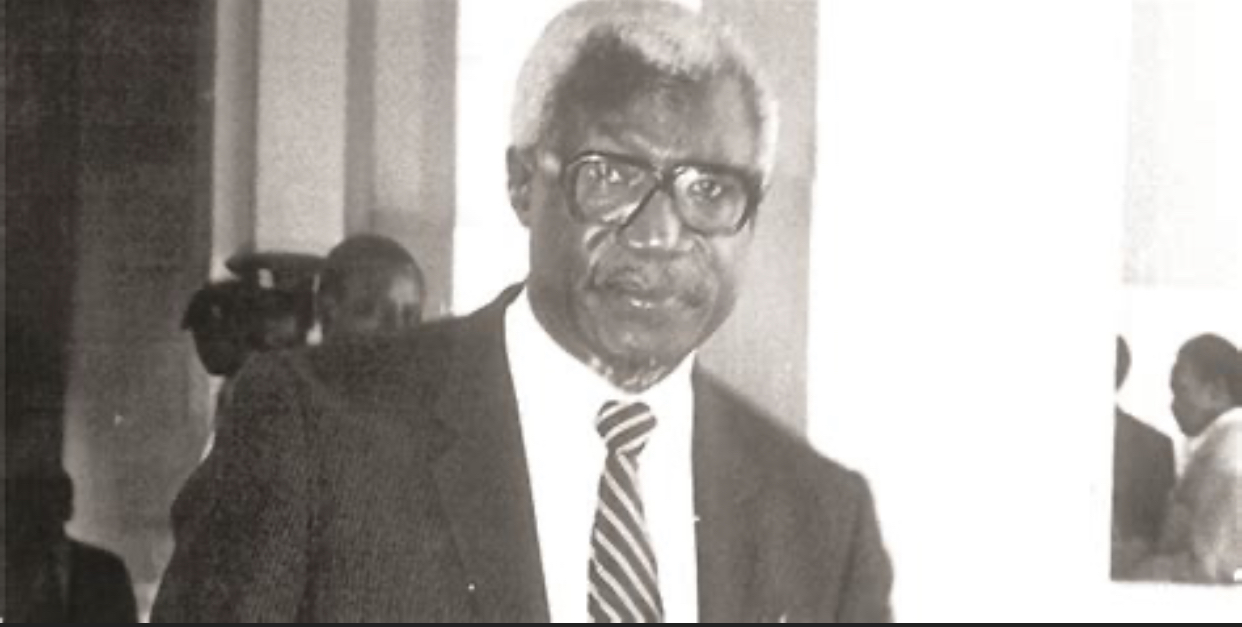 Silvanus Melea Otieno (S.M. Otieno), was a renowned Kenyan criminal lawyer, who shared the rostrum of top criminal lawyers in Kenya with one Byron Georgiadis, a White Kenyan of Greek descent, best remembered for getting Andrew Mungai Muthemba acquitted in a high profile treason trial here in Kenya in the year 1981.
Silvanus Melea Otieno (S.M. Otieno) passed away in December 1986, and what followed was a protracted battle over his Estate. At the centre of the battle were S.M. Otieno's wife Virginia Edith Wambui Otieno, in later years Virginia Edith Wambui Otieno-Mbugua, S.M. Otieno's younger brother Joash Ougo, and S.M. Otieno's ancestral "Umira Kager" clan, represented by the then Chairman of "Umira Kager," Omolo Siranga. S.M. Otieno was a wealthy man, and amongst other things, owned a tasteful bungalow in Nairobi's upmarket Langata suburb, near Bomas of Kenya, and another property in the equally upmarket Upper Matasia neighbourhood of Ngong, on the outskirts of Nairobi. Wambui said that her husband would be buried at their Upper Matasia property, a decision that Joash Ougo and "Umira Kager" challenged by lodging a temporary injunction at the High Court of Kenya.
Ougo and "Umira Kager" asserted that it would have been an abomination and a curse for S.M. Otieno to be buried anywhere else other than his ancestral Nyalgunga home, in Kenya's Nyanza Province. According to Ougo and "Umira Kager," S.M. Otieno's properties in Nairobi and elsewhere, were recognised as "houses" or "temporary abodes" under Luo Customary Law, overridden by the fact that Nyalgunga was his home, not his "house." Ougo and "Umira Kager" further asserted that this extended to Luos who lived overseas and owned properties overseas i.e. that Luos had "houses" and "homes," and what took precedence in Luo Customary Law was the "home," meaning that when President Barack Obama's "time comes," his properties in Chicago, USA, and elsewhere, will only be given "cosmetic recognition" under Luo Customary Law, and that his final resting place, under Luo Customary Law, should be Nyang'oma-Kogelo in Kenya's Nyanza Province, next to his father Barack Obama Senior:-) As a matter of fact, in Kenya, three tiers of law are recognised and upheld i.e. Common Law, Customary Law and the Kadhi's Court. In the circumstances, Joash Ougo and the "Umira Kager" clan, were invoking Customary Law.
Presiding High Court Judge, Justice Frank Shields, disregarded Customary Law in the circumstances and instead chose to be guided by Common Law in ruling that Virginia Edith Wambui Otieno be allowed to bury her late husband at their Upper Matasia property. Joash Ougo and "Umira Kager" immediately lodged an appeal against the High Court of Kenya ruling at the Kenyan Court of Appeal, and the matter was slated for trial under Justice Samuel Bosire of the Court of Appeal. The trial commenced in January 1987, running until May 1987. Richard Kwach (Kwach means Leopard in Luo), later Justice Richard Kwach, was then a senior partner in the renowned law firm of Hamilton Harrison and Mathews, and represented Joash Ougo and "Umira Kager" in the matter. Representing Virginia Edith Wambui Otieno in the matter was Dr. John Khaminwa, a renowned Kenyan lawyer, who would be detained three yeas later in 1990 for his perceived role in agitating for greater political liberties in Kenya. Both Richard Kwach and Dr. John Khaminwa were and are brilliant lawyers i.e. both are still alive, and the showdown between both men back then in 1987, was like a showdown between e.g. Information and Communication Technology (ICT) icons, Steve Jobs and Bill Gates. It was a charged trial with political undertones that further split Kenya at the time.
S.M. Otieno was a Luo and his wife Wambui was a Kikuyu. There has always been resentment against Kikuyus in Kenya because of their dominance on the national stage, and almost all of Kenya's other communities therefore quietly sided with "Umira Kager" from behind the scenes. In between the trial, and what should have been regarded as "sub judice" i.e. the offence of trying to unlawfully influence a court ruling through extraneous means, Kenya's Vice President from 1964 to 1966, Oginga Odinga, a Luo, wrote a Letter to the Editor of the "Daily Nation" newspaper stating that times had changed, and that Luos needed to embrace change when it came to burial customs, to allow for burial of deceased Luos in any corner of Kenya, or any corner of the world. Oginga Odinga's Letter to the Editor was given prominence by the "Daily Nation" newspaper which it shouldn't have been, because the content and substance of Oginga Odinga's letter was the subject of an ongoing court case, "sub judice" as mentioned. And it does not help that almost all of the senior editors at the "Daily Nation" at the time, were Kikuyus. In particular, the Editor in Chief at the time, of what was then known as Nation Newspapers Limited, was George Mbuguss, a Kikuyu. This only helped to further politicise and polarise the matter. The atmosphere was charged.
Kenya's Nyanza Province, broadly speaking, is the home of Kenya's Abagusii and Luo communities, and the part of Nyanza Province where most Luos reside, is known as Luo Nyanza, and also at the time in Luo Nyanza, Nyakach to be specific, was a python known as "Omieri," believed to be a bearer of good luck and good tidings. The National Museums of Kenya forcibly confiscated "Omieri" from Nyakach, relocating "Omieri" to the National Museums of Kenya snake park in Nairobi. This only served to further provoke and infuriate a sizable number of Luos, with many Luos now even declaring that three things would happen in the year 1987 i.e.
1. "Omieri" would be returned to her rightful "ancestral home" in Nyakach;
2. S.M. Otieno would be buried at his ancestral home in Nyalgunga;
3. Gor Mahia Football Club would win the 1987 Africa Cup Winners Cup, Africa's equivalent of Europe's UEFA Cup;
Actually, all three were accomplished in the course of 1987, capped spectacularly on Saturday, 5th December 1987, when Gor Mahia Football Cup clinched the 1987 Africa Cup Winners Cup by beating Esperance Football Club of Tunisia on goal aggregate.
After a four month trial, the Kenyan Court of Appeal ruled, in May 1987, that S.M. Otieno be buried at his Nyalgunga ancestral home in Kenya's Nyanza Province. It was a bitter sweet victory for "Umira Kager" though, because in the same token, Virginia Edith Wambui Otieno was appointed as the sole Administrator and sole Executor of the Estate of her late husband. "Umira Kager" were therefore excluded entirely as Administrators and Executors of the Estate of S.M. Otieno. S.M. Otieno had actually left a will that he be buried at his Upper Matasia property, which was overruled by Customary Law. Virginia Edith Wambui Otieno did not attend her husband's burial in Nyalgunga and neither did her children.
For many years thereafter, many Kenyans in different corners of Kenya, regardless of which community they were from, referred to their rural homes as "Nyalgunga" and to their clans as "Umira Kager," courtesy of one of the most high profile Kenyan court cases in Kenyan History, and there are still infact a number of Kenyans, today in 2023, who still refer to their rural homes as "Nyalgunga" and to their clans as "Umira Kager" or just plainly "Kager," so in an interesting way, that case actually united us.
Virginia Edith Wambui Otieno remarried in 2003 to a guy called Mbugua, a casual labourer, a stone mason, who was young enough to be her grandson. Her marriage to Mbugua didn't "make sense" on other fronts too i.e. her background was elite through and through i.e. her husband and his background, and her own background too i.e. she was from a wealthy and prominent Kenyan family, the Waiyaki family, who's patriarch is the legendary Chief Waiyaki wa Hinga. One of her brothers, Dr. Munyua Waiyaki, a medic, a brilliant guy, an articulate and eloquent speaker, served as Kenya's Foreign Affairs Minister during Jomo Kenyatta's presidency in Kenya. Another of her brothers once served as the Town Clerk of the City of Nairobi (the equivalent today of Senator of the County of Nairobi), a wealthy guy who even bred and kept horses on a ranch on the outskirts of Nairobi. Her marriage to Mbugua further brought bad blood between her and children which possibly never healed. The marriage was supposed to have been a quiet affair, a quiet occasion, a Civil Marriage, not a Church Wedding, consummated at the Registrar's Office at the Attorney-General's Chambers in Nairobi. However Kenyan media got wind of the "Marriage of the Century" and descended on the Attorney-General's Chambers, forcing the newly wedded couple to hurriedly flee. When the now Mrs. Virginia Edith Wambui Otieno-Mbugua thereafter came under continuous questioning from Kenyan journalists at her Langata Home on whether her marriage to Mr. Mbugua was ethical, she got emotional and tearful at a certain point and fired back at the journalists as follows:
"At least my Mbugua is over 18 years old… why don't you instead go and question the many women my age (she was 67 years old at the time) who have boys as young as 17 years old as lovers?"
She went on: "I have waited too long for a 'Mr. Right.' What is a woman supposed to do? I have been of good conduct and polite, yet no man has been forthcoming. I decided not to wait forever."
Virginia Edith Wambui Otieno-Mbugua passed away on 30th August 2011. Her husband Mbugua was immediately banished and deported from Wambui's properties by Wambui's children with S.M. Otieno, with one of them even remarking, when asked about Mbugua's whereabouts by a journalist, "We do not even know where that person is."
Mbugua was however wise and did not fight back, relocated to the outskirts of Nairobi towards Machakos County, where he had even built rental units, that appear to be one of the things still keeping him going. He remarried, but this time not to a 67 year old woman.
---
Kenya Insights allows guest blogging, if you want to be published on Kenya's most authoritative and accurate blog, have an expose, news TIPS, story angles, human interest stories, drop us an email on

[email protected]

or via Telegram
---