The Agony of 3 Kenyans Illegally Jailed in Rwanda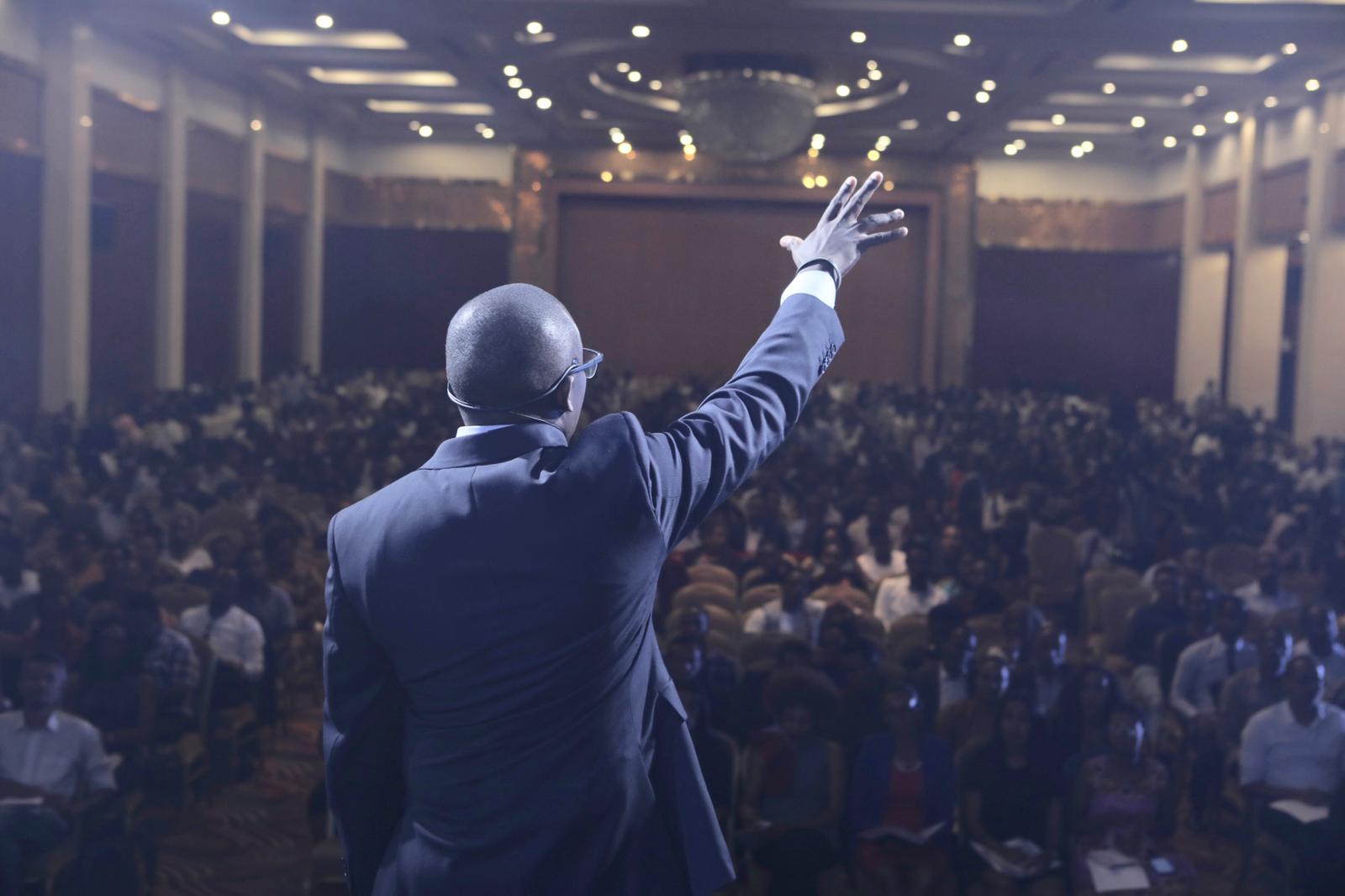 When internationally renowned motivational speaker and business strategist Dr. Charles Kinuthia aka Coach Ck touched down in Rwanda with his team for a Wealth Fitness Conference, he thought it was going to be an exceptional event like one of the many other successful events he's held across the world, in twenty-seven countries. However, things would take an unexpected turn quickly, as it has. He and two of his employees, all Kenyans are still currently being held in inhumane conditions in Mageragere Prison, 30 km outside of Kigali, Rwanda. It has been verified that when Coach Ck first arrived at the prison, he was stripped of his clothes, beaten and forced to crawl in trenches full of sewer water and still continues to be mistreated while in custody.
​Coach Ck who is the author of the book "Unlimited Possibilities" started Wealth Fitness International, Inc. a legitimate Texas-based company with the intent to identify serious prospective clients who were interested to be coached through a proven system. This system with a paid subscription is how individuals would learn how to start, build, and succeed in their own business. This process starts with a one-day free event where for eight hours he coaches people on business which provides tremendous value to attendees. A clear path of the next step is then communicated, in which those interested in moving forward with his coaching are offered a chance to invest in themselves for a two-day paid event which is fulfilled within 30 days. As an African born in poverty without business acumen, he understands firsthand the importance of coaching in helping new business owners develop the right mindset and understand vital business principles necessary for succeeding in the global market. A process not new to him as he used this process to start his own company One Stop Tax, Inc. and has built it into a profitable venture with national recognition as one of the fastest-growing franchise featured in the Entrepreneur Magazine and Franchise Magazine in the USA in July 2015 issue.  
​The one-day free event in Kigali, Rwanda was set on June 25th, 2019. At the initial stages and while planning this event, the team had anticipated attendance of not more than one thousand participants. However, their online social media lead generator system had received a high response of people who had expressed interest in the event. Typically, according to this kind of response, it meant about five thousand people or more would be expected to show up. While initially it was meant to be a totally free event, the swelling numbers prompted a quick intervention. Given the limited hotel space for the event, after consulting with the local organizers', the management decided to come up with a payment strategy for booking seats which would serve to identify only serious attendants while it would allow for the adherence to standard measures of many other international speakers. Seats were given monetary allocations which is not a new thing, especially if you've attended corporate events neither is it fraud or illegal to charge a fee for an event of this nature.
​"We would like to say thank you Rwanda for your interest and signing up for the Wealth Fitness Event on the 25th of June. Due to extremely high demand and the hotel not being able to fit so many people in the room, Wealth Fitness International has been forced to adjust the terms of this event. In order to guarantee your seat at this event please purchase one of the below packages or you can purchase via mobile phone. You can get the Expert package, VIP, or Diamond. All of which come with guaranteed seating and additional bonuses. We apologize for this inconvenience but rest assured this change will give a positive impact for all attendees. Seating is limited, it is First Come First Serve; purchasing a package is NOT required but highly encouraged. Attendees who've not purchased a package should arrive early for registration." Read parts of the email sent to every attendee that Kenya Insights has obtained.
​On the day of the event, 6,000+ people reportedly showed up beating all the expectations and that was the beginning of the problems. As early as 6am there were more than 200 people on site lining up with hopes to gain access to the room at Kigali Conventional Center since they had not paid to secure their seating. The patiently waiting but growing crowd was allowed seating on the first-come-first-served basis. Most of those who previously paid up online who showed up late were still given priority seating. Those waiting in line who had not paid were anxious about the space-filling up and missing out on the opportunity this became the bone of contention. This caused normal concerns and the police were called to attend to the growing crowd outside the venue. It is within these circumstances that someone maliciously told the police that this was a fraud scheme as they had been charged to attend the meeting and could not find a seat and that they were also promised to get $197 for attending the event. Of which both statements were completely false, speculative and baseless in order to exacerbate the conditions.
​Charles Kinuthia aka Coach Ck, Vivian KhisaMukwan, and Rachel Matipei alongside MuhamadNiyonkuru and other 12 Rwandese nationals who had been hired for the event were escorted for questioning to the local police station and remained there for the entire day. As such the highly anticipated event would not happen and Coach Ck would not fulfill the one-day training for those in attendance at the event. Some of the news agency then proceeded to publish and propagate the unfounded claims that the organizers received money and vanished and never fulfilled the training. While the entire team remained in custody the entire day. Things quickly spiraled out of control from here on as some of the officials who came to respond to the situation spoke to the crowds waiting peacefully in the venue that they had arrested the "criminals" and that they would prosecute them. These unfounded claims were immediately made public by officials without any evidence or substantive comprehension of the circumstances surrounding the incident.
​According to Rwandan authorities, the event organizers had allegedly defrauded the attendees, however, after the Kenyan Insights reviewed their arguments, it comes out more like a misunderstanding or a carefully plotted plan for unjust victimization of the Kenyans. The question now that most Kenyans must have is if this is an unreasonable politically motivated case? During the provisional detention hearing, the prosecution told the courts that the accused were a "threat to national security" to justify their baseless prolonged detention without bail or any fair hearing or due process and as such the court sided with prosecution and have since then denied bail citing "national security" issues.
​The entire team remained under investigation for more than 5 days before any formal charges were filed by the prosecution. According to investigations by Kenyan Insights, the story had taken a sharp turn after it emerged that all the Rwandan nationals who were accused alongside the held Kenyans were promptly released without any charges. A Rwandan newspaperarticle read "13 Rwandans Freed, 3 Kenyans Charged." Eventually, the frivolous claims filed in court which were not based on factual or legal grounds stated that the accused were charged with the following:
•
The organizers failed to fulfill the event, so they never intended to have an event in the first place.
•
Attempt to defraud the public for charging a $5 entry fee and "promising people in Rwanda" free money of $197 for attending the event.
•
They were charged under Article 174 and 225 of the penal code on fraud and holding an illegal meeting.
​An investigation by the Kenyan Insights reveals that the accused had secured a contract with the Radisson Blue Hotel and paid an amount of $4,000 for the hall and additional amount to secure extra space to accommodate the increasing crowd on the day of the event. They had also paid a purchase order to 6 private security officer to enable the event to run smoothly notwithstanding all the other expenses they incurred to get there and plan and hired help. This is proof that the accused had all intentions to fulfill the training. However, the prosecution attempt to distort the whole story withheld pertinent information and denied the defense access to legally obtain this evidence from the said business entities, so as to validate their claims that those who paid their money to attend the meeting were "defrauded" and the organizers never intended to have any meeting at all while evidence and facts show otherwise.
​Secondly, authorities also alleged that organizers of the event had promised to pay people $197. Investigations conducted by Kenya Insights and documents in our hold show a different story. Wealth Fitness did not offer any get rich quick scheme or promise to give money to those who attend the conference as this goes against the principles they teach in business. The $197 was a VALUE BONUS to be offered to attendees through a free online coaching program, and was clearly stated in the email confirmation sent and the sign-up website. The detailed email obtained that was sent to attendees that is the basis of the accusations further goes to say, "We also wanted to make clear about the $197 value Free Online Course. No Cash will be issued at the Wealth Fitness Event, there is no cash redeemable product given to attendees. A free online course, that is priced at $197 value, will be emailed access to all attendees who stay till the end of the day. We do not want there to be any misunderstandings about that, we value your time and want you to have the best experience at our Wealth Fitness Event!" The benefits would be the attendee who stayed through would get walking away with the exact value of the course but without paying for it.
​According to our findings Coach Ck is not a scam, a con or any of the negative disparaging media remarks as is being portrayed by the prosecution and the biased controlled Rwandan Media with an agenda. This incident seem to be an all-out assault to tarnish a decent honest person reputation and credibility in an attempt to protect the mistakes made by the prosecution and authorities in Rwanda. Coach CK has been focused on doing good by equipping Africans for Entrepreneurship and should not be treated this inhumanly. He has worked with many national leaders and religious leaders to help combat poverty and help raise grass-roots entrepreneur to combat the high unemployment rates in Africa. Coach CK has been in the people empowerment business and has helped many people gain business literacy and some have started a multi-million-dollar business using his business training. As a speaker, he has spoken in platforms like Success Resources Events that hosts the motivation speakers such as Tony Robbins, JT Foxx and over great motivational speakers. Records shows he has been honored for his work as a Goodwill Ambassador and a Golden Rule Award Recipient.
​In the wake of what can be described as a diplomatic impasse, the Rwandan High Commissioner in Kenya needs to intervene and have a talk with her counterpart in Kigali before such a small matter escalates. Kenya and Rwanda enjoy a cordial relationship and shouldn't be dragged into an unnecessary drama like this. As it stands, the three Kenyans are still being held while the Rwandan nationals cleared and released under unclear circumstances. This amounts to a diplomatic row diagnosis don't show any drop of fraud.
For Inquiries and any other relevant information , Please Contact this writer on Twitter.com/KinyanBoy or email me directly at [email protected]
---
Kenya Insights allows guest blogging, if you want to be published on Kenya's most authoritative and accurate blog, have an expose, news TIPS, story angles, human interest stories, drop us an email on

[email protected]

or via Telegram
---