Tatu City Directors And Top Officials Under Investigations Over Money Laundering Claims And Defrauding Taxpayers Billions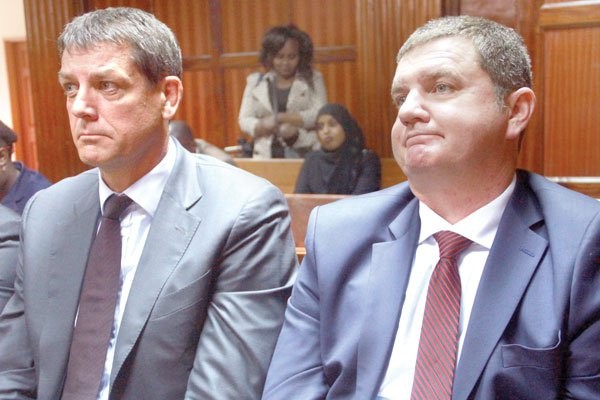 Directors and top officials of high end and mixed use real estate firm Tatu City and its main subsidiary Kofinaf are under investigation by the Ethics and Anti-Corruption Commission (EACC) over claims of money laundering and defrauding taxpayers of billions of shillings.
At the heart of the investigations are multi-billion transactions relating to the sale of thousands of acres by Tatu City in Ruiru, Kiambu County, without payment of taxes to the Kenya Revenue Authority (KRA).
According to EACC, the firm is accused of undervaluing value of transactions which could amount to serious economic crimes.
The investigations are said to have unearthed illegal operations at the firm which has been at the centre of a vicious war pitting local investors and foreign billionaires. The latter own Rendeavour, the company that paid Sh2.4 billion and Sh7.56 billion to Socfinaf, a Belgian coffee and rubber producer, for the Tatu City and Kofinaf land, respectively.
Investigations began in 2018, but were stopped in 2019 by a court order. However, the probe has resumed after the anti-corruption court disallowed a plea from the officials to protect themselves from investigations.
Lady Justice Esther Maina dismissed a petition by the developers challenging the investigative mandate and powers of EACC to obtain information relating to their operations, effectively allowing the Twalib Mbarak-led Commission to probe the leadership of Tatu City.
Justice Maina ruled that EACC has the authority to investigate cases of suspected corruption, tax evasions and money laundering.
EACC described the latest development as "a major boost in the war against corruption", adding that it would immediately resume investigations as guided by their mandate.
"We are keenly observing the unfolding events regarding this matter, we are guided by our mandate," EACC spokesperson Yasin Amaro explained to the media in Nairobi.
EACC has named Stephen Jennings, the chief executive officer and founder of Rendeavour, the majority shareholder of Tatu City and Chris Barron, the country head, who has previously held the positions of chief operations officer, head of sales and operations manager, as persons of interest in the matter.
EACC has been pursuing Tatu City developers, a consortium of investors working on a 5,000-acre project hosting homes, schools, offices, a shopping district, medical clinics, nature areas, a sports and entertainment complex and manufacturing area for more than 150,000 residents and tens of thousands of day visitors.
Detectives suspect the developers have been running an enterprise that thrives on suspected money laundering and fraud in which the government has lost billions of shillings following accusations that they have been repatriating huge amounts from the sale of land to offshore accounts in Mauritius, Bermuda and Germany, without paying taxes.
However, Tatu City and Kofinaf directors argue the investigations were only aiding extortion, harassment and interference in favour of its disgruntled minority shareholders.
The disgruntled directors, they say in court papers, are Steve Mwagiru, a coffee farmer and his partners, Vimal Shah, chairman of Bidco Group, and Nahashon Nyagah, a former Central Bank of Kenya Governor, who co-own Manhattan Group.
Tatu City accuses the minority shareholders of trying to extort the legitimate owners of Tatu City and also harassing international shareholders "through influence of the Judiciary, police, immigration services and media" and that "all evidence of their actions has been turned over to the Directorate of Criminal Investigations and the EACC".
Tatu also accuses Nyagah of attempting to fraudulently change the shareholding of Kenyan companies that own the land to his sister, driver and members of his church.
On the other hand, Shah…is accused of forging a letter without board approval, seeking to freeze Tatu City's bank accounts while Mwagiru has been accused that, between 2010-2013, he sought to register caveats using a falsified Form CR12 to indicate that he and his mother were the sole shareholders and directors of Tatu City.
But EACC, according to court documents, accuses Tatu City of under-valuing property that it allegedly later transferred to related firms to allow payment of lower stamp duty tax equivalent to 2 per cent of land transfer value.
The land would later be transferred to newly-formed foreign registered companies as shareholders with the non-Kenyan firm disposing the plots at market value locally, ultimately escaping paying stamp duty because it is not listed in Nairobi.
In one such scheme, the EACC told the court that Tatu undervalued a property and sold it for Sh748 million to a local firm that moved it to a foreign company, which transferred the property locally at a market value of Sh4 billion but the State received stamp duty on Sh748 million and not Sh4 billion.
The alleged economic crimes claims against Tatu City were the subject of proceedings at the National Assembly, where minority shareholders told the Lands committee that the management has been under-declaring valuations in order to "swindle the Kenyan government of income tax" amounting to Sh1.5 billion and went on to give shocking examples which the management rubbished, saying KRA has no tax claim against Tatu City.
Mwagiru, in documents he tabled before the committee, said land title number 10887, which was sold at Sh842 million but whose entries at the Land ministry show that it fetched a paltry Sh235 million, title number 11287 was alleged to have been transferred to another firm at Sh330 million when the actual value was Sh1.3 billion resulting in a Sh38 million loss in stamp duty and Sh291.7 million in income tax.
Mwagiru also said title number 11428, which was under declared after it was marked as having been sold for Sh219 million when the actual value was Sh814.8 million.
Further, land number 11486 valuation was declared as sold for Sh340 million against its actual value of Sh1.19 billion while LR No 8749 was declared as fetching Sh2.7 million when the actual cost was Sh628 million while LR 248/1 &248/5 was declared as valued at Sh200 million when the actual cost stood at Sh1.17 billion.
The probe by EACC had gathered steam, with EACC writing three letters on September 30, 2018, September 24, 2018, and November 2, 2018, to the Ministry of Lands requesting it to be furnished with crucial information and documents regarding their transactions.
The letters, which were never executed due to court orders, touch on various land parcels which form Tatu City.
City management, however, argued that the implementation of the request would have ramifications on the ownership, transactions and use of the said land parcels.
---
Kenya Insights allows guest blogging, if you want to be published on Kenya's most authoritative and accurate blog, have an expose, news TIPS, story angles, human interest stories, drop us an email on t

[email protected]

or via Telegram
---