South Sudan Statehouse Official's Firm Splits A Sh106B Military Housing Deal With Shelter Afrique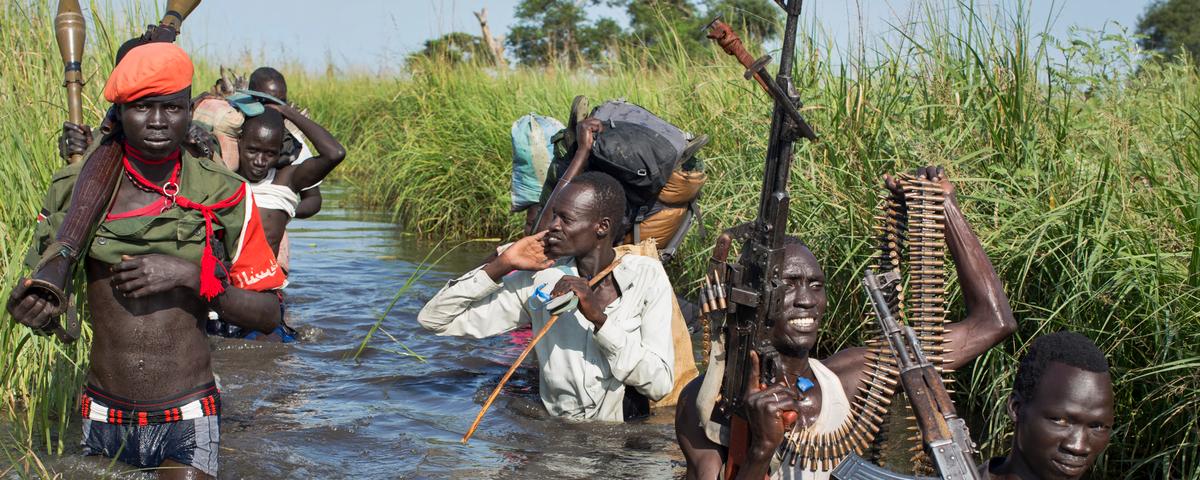 Shelter Afrique, the Pan-African housing development financier, has inked an MoU with Triangle Real Estate, a Juba-based real estate firm to develop 26,000 housing units for South Sudan's military, through a public-private-partnership special purpose vehicle.
The project is estimated to cost of $1.5 billion through a public-private-partnership special purpose vehicle, according to press release.
"We have been mandated by the Ministry of Finance and Planning to source funds for the construction and completion of a defense housing project on behalf of the Government of South Sudan under the Peace Through Development program initiated by President Salvar Kiir in 2018," said Amb. Arop Deng Kuol, Triangle Real Estate Chief Executive Officer.
Amb. Kuol noted that the signing of the MOU was critical in addressing the housing crisis in South Sudan, which has been exacerbated by many years of conflicts.
"The housing crisis in South Sudan is dire. In fact, we are starting from the scratch – the reason this memorandum of understanding we've signed with Shelter Afrique is very important for us and is proof that provision of affordable housing is central to the agenda of the government of the South Sudan, not just for the Forces but for the entire population," said Amb. Kuol.
Shelter Afrique CEO Andrew Chimphondah said the signing of the MOU with Triangle Real Estate highlights the financier's critical role in the provision of affordable housing finance across Africa.
"Our vision is to provide affordable housing for all Africans – including South Sudan. We are proud to be part of this partnership and we look forward to being the pre-eminent provider of financial, advisory and research solutions geared towards solving the housing crisis in South Sudan which has a shortage of 4 million units," said Chimphondah.
The Project scope includes development of 148 housing blocks of 160 housing units each at New Site, Qiada Junubiya, J-3 Presidential Guards Apartments, and at New Bonga.
Under the agreement Triangle Real Estate will act as the developer and contractor of the project in conjunction with various consultants.
Shelter Afrique, on the other hand, will provide catalytic funding as well as act as the lead arranger to assist in raising additional financing through the syndication of other Developmental Financial Institutions as applicable.
The MOU was signed in Nairobi by Shelter Afrique Chief Executive Officer Andrew Chimphondah and Triangle Real Estate Chief Executive Officer Amb. Arop Deng Kuol, on behalf of the Ministry of Finance and Planning for the Government of South Sudan.
Amb. Kuol also noted that the Government of South Sudan was keen on becoming a shareholder of Shelter Afrique and was actively sourcing the budget for the capital subscription fees.
"In addition to sourcing for finance for the Defense Forces housing project, the government of South Sudan has also mandated Triangle Real Estate and a financial advisor – Benchmark Solutions to source for funds to this effect and we are currently in talks with some potential financiers. We believe that South Sudan should become a member of Shelter Afrique in 2021 when approved at the AGM that will be held on the 24th June 2021," Amb Kuol added.
While the project on one hand is displaying a promising face value, critics of the blood drained country are seeing just another public funds plunder scheme clothed as a development project.
Samuel Bior Garang, a scientist and South Sudanese political commentator based in Kenya is viewing the latest development project as yet another scheme by corrupt government officials to steal from the public in conspiracy with the funding firm.
"So you will stake $1.5billion to be managed by a company that the biggest project they did in 2018-2020 was completing their headquarters that looks like a residential house, really? This is pure money laundry & smells of mega corruption." He says in opening statement.
"Besides this project, is one they had been undertaking since 2019, where did the initial funding come from what necessitated this new funding cycle/what are the modalities of how it's going to be paid knowing construction is the go-to area by launderers/mega corruption individuals." Samuel questions.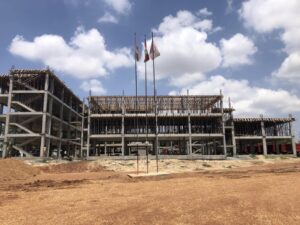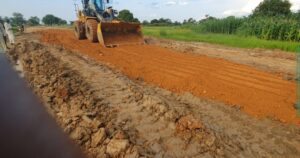 Ongoing projects by the firm including a roads construction tender by UN to the same firm.
"Be sure that South Sudan companies will always ink deals with very shady institutions like themselves, this Shelter Afrique was recently in an eyebrow-raising case in Kenya same thing that will likely happen here in SSudan given their partners are shady." Said Garang in reference to a case where Shelter Afrique wanted Sunset Paradise Aqa auctioned for failing  to meet with loan requirements on a string.
"Same things will likely happen here in SSudan given their partners are shady." Garang casts his doubts.
Garang's doubts about the mortgage firm is further fueled by the history where the African Development Bank (AfDB) stopped disbursement of a $8.2 million equity injection into Shelter Afrique after a whistleblower revealed that the housing financier cooked books, which the Bank relied on to make the investment.
At the time, AfDB decided to withhold the disbursements, pending an audit by Deloitte. Before the sudden cancellation, AfDB announced that it would inject the money into Shelter Afrique to strengthen its balance sheet. But documents that changed minds then showed that the finance department had stated $38 million as non-performing loans, but the statements sent to AfDB showed $27.19 million. Internal documents showed substandard loans at $14.1 million, but only $2.04 million was disclosed to AfDB.
AfDB's revelations come barely a fortnight after documents leaked by the firm's former finance director Godfrey Waweru alleged creative accounting and subprime lending.
In his whistleblower email to the board, Mr Waweru accused the company's managing director James Mugerwa of presiding over a regime that was restructuring overdue loans by rescheduling such facilities to appear as performing, effectively understating the volume of toxic mortgages.
Classified as non-performing
"The loans are restructured multiple times to ensure they are not classified as non-performing and are therefore hidden NPLs that are not disclosed," Mr Waweru's e-mail to the lender's financiers reads.
According to the ex-finance chief, the loan impairments are made based on the desired net results, despite a large proportion of the company's projects having repayment problems and being restructured several times or swapped against assets that do not have a market at the swap rate in a bid to reduce the NPLs and loan impairment charges on the loan portfolio.
Mr Waweru told the media that under instructions from senior management, some of the loans that have been non-performing have been restructured more than four times in a bid to hide their non-performance status.
"The company's true position is that it is loss-making, if we were to capture the non-performing loans as guided by the international accounting standards, without massaging or cooking the books. This has led to a significant understatement of the NPLs and loan impairment charges," Mr Waweru said in answer to accusations that the firm booked its books.
South Sudan government officials are widely known for looting public coffers shamelessly that they even gobbled COVID-19 money in the height of the pandemic.
According to Sentry, a US based investigative outfit looking into South Sudan's plunder, government officials are to blame for the bleeding of the country as they collaborate with willing institutions to milk dry the war torn country.
According to Sentry, the men who liberated South Sudan proceeded to hijack the country's fledgling governing institutions, loot its resources, and launched a war in 2013 that has cost hundreds of thousands of lives and displaced millions of people.
They did not act alone. The South Sudanese politicians and military officials ravaging the world's newest nation received essential support from individuals and corporations from across the world who have reaped profits from those dealings. Nearly every instance of confirmed or alleged corruption or financial crime in South Sudan examined by The Sentry has involved links to an international corporation, a multinational bank, a foreign government or high-end real estate abroad. The report examined several illustrative examples of international actors linked to violence and grand corruption in order to demonstrate the extent to which external actors have been complicit in the taking of South Sudan.
The local kleptocrats and their international partners—from Chinese-Malaysian oil giants and British tycoons to networks of traders from Ethiopia, Eritrea, Kenya and Uganda—have accumulated billions of dollars.
The country's natural resources have been plundered, lethal militia and military units responsible for atrocities have received financing and kleptocrats have lined their pockets with untold billions of dollars allocated by government programs meant to improve the livelihood of some of the poorest, most vulnerable people in the world. The spoils of this heist are coursing through the international financial system in the form of shell companies, stuffed bank accounts, luxury real estate and comfortable safe havens around the world for the extended families of those involved in violence and corruption.
Leading South Sudanese officials and their international commercial collaborators are responsive to commercial and political incentives. Without specific, focused, and targeted consequences, it is unrealistic to think their conduct will change.
Violence and corruption will remain the norm, meaning that the biggest peace spoiler isn't a person or an armed group; it is the diseased governing system itself. However, if serious policy tools of financial coercion are aimed at this kleptocratic network, the possibility exists to alter those incentives, which currently favor pillage and plunder, and in turn impact the calculations of the kleptocrats and their international collaborators in the direction of peace and good governance.
In South Sudan, international actors have been among the major facilitators and beneficiaries of schemes to misappropriate government spending. This section profiles the foreign investors who benefited from several controversial public procurement programs over the past decade.
Eritrean and other foreign investors were among the main beneficiaries of a $922 million program marred by fraud and embezzlement allegations.
An unpublished report by South Sudan's auditor general shows that companies owned by an Eritrean businessman Ghebremeskel Tesfamariam Ghidey received contracts worth approximately $57 million between 2013 and 2015 for the procurement of urgently-needed goods, as part of the $922 million Letters of Credit program.
Amid a shortage of foreign currency, the initiative aimed to provide companies with the cash needed to purchase fuel, pharmaceuticals and other goods from neighboring countries. Many of the goods never arrived, and information obtained by The Sentry raises doubts about whether Ghebremeskel's companies fulfilled their obligations. His Ugandan company that was supposed to export a significant portion of these goods to South Sudan did not pay any export taxes until after the Letters of Credit program had concluded—and was not even registered with the tax authority until early 2016.
A $65 million scandal involving a South Sudanese general and a British tycoon illustrates the impunity enjoyed by kleptocrats and their international collaborators. A company owned by Bior Ajang Duot, a high-ranking South Sudanese general, received $65 million from the government ostensibly earmarked for a mobile radar system, according to an investigation by South Sudanese authorities. The company, Cascade Construction, sent the bulk of these funds—$55 million—to British businessman David Greenhalgh, but the purchased goods reportedly never reached South Sudan.
The funds transited through bank accounts in multiple jurisdictions. Macedonia eventually flagged them as suspicious and temporarily froze them. In its probe, South Sudanese authorities concluded that funds originating from the deal flowed unusually and suspiciously through accounts without a business rationale where contracts did not justify the transfers.
Many international companies benefit from South Sudan's violent kleptocratic system, and some have done business with the actors perpetrating violence. Several multinational corporations have forged formal partnerships with people and entities responsible for atrocities, or otherwise participated in business transactions with them.
By the time South Sudan became the world's newest state in 2011, a cabal of military and civilian officials had already captured its main government institutions, enabled by a dizzying array of international actors seeking to profit from a rapidly developing kleptocracy. Factions that had formed during the long war for independence now turned their attention to competing over the control of this new state, which was blessed with billions of dollars of annual oil revenue and no checks and balances or transparency.
A looting frenzy ensued. Factionalization deepened as networks allied with President Salva Kiir and Vice President Riek Machar competed over the vast opportunities for mass theft of resources and state budgets. The uneasy calm only lasted two years before South Sudan erupted into a violent civil war pitting the two main factions against each other, adding to the many fault lines in the country.
During this period, Kiir and his associates had largely captured the state. Instead of providing services, supporting infrastructure, adjudicating disputes and protecting its people, South Sudan's governing institutions were hijacked and repurposed for the personal enrichment of Kiir and his clique. Billions of dollars have gone missing and the government has done little for the welfare of its population. This corruption attracted foreign opportunists, who flocked to South Sudan.
South Sudan's governing institutions were hijacked and repurposed for the personal enrichment of Kiir and his clique.
Every incident The Sentry examined had links to an international corporation, a multinational bank, a foreign government or high- end real estate abroad. This report provides several illustrative examples of international actors linked to violence and grand corruption in South Sudan.
According to our information, Triangle Real Estate is owned by Sudan's ex-ambassador to Turkey Sebit Bullen Kamonde, a Dinka. Amb. Sebit Bullen Kamonde is the Chief of State Protocol Office of the President of South Sudan.
Triangle also won the tender to build the compound, which will include a clinic, school and recreation areas, for 700 senior officers of the Sudan People's Liberation Army (SPLA). Fitting into the description, officials in the government use enabling outside actors to continue milking the bleeding County.
---
Kenya Insights allows guest blogging, if you want to be published on Kenya's most authoritative and accurate blog, have an expose, news TIPS, story angles, human interest stories, drop us an email on

[email protected]

or via Telegram
---