Scandal Ridden Ketraco Boss Fernades Barasa Runs Away With Sh800M Power Saga Hanging On His Neck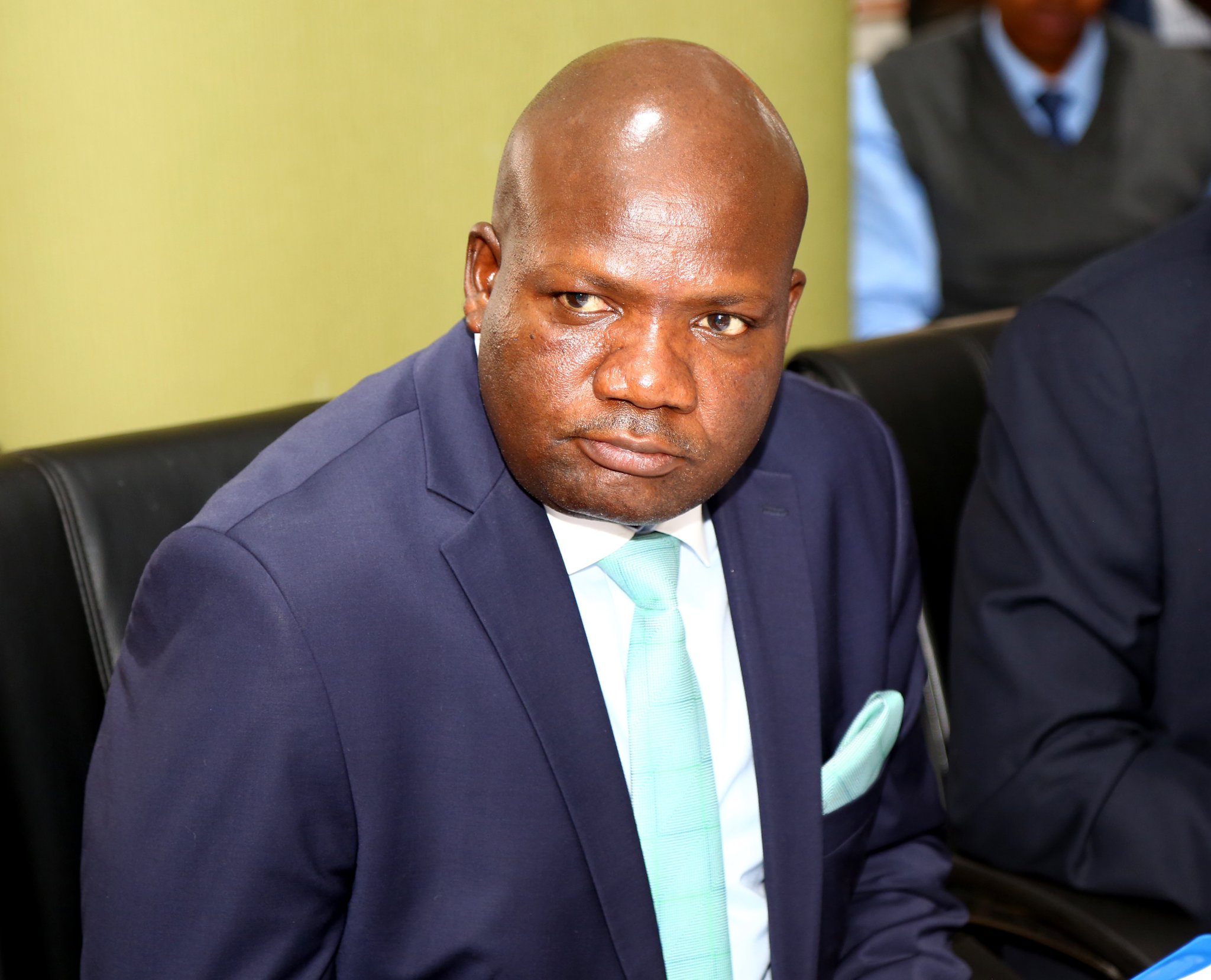 For three consecutive days last week, the National Assembly's Public Investments Committee (PIC) was unable to extract any information from senior officials of three government entities on the State's dealings with the Lake Turkana Wind Power (LTWP) company.
By coincidence or design, officials from National Treasury, Kenya Power and the Kenya Electricity Transmission Company (Ketraco)were at a loss when they appeared before the committee, and in the end, failed to provide substantive information that the MPs were seeking.
They all asked for more time to gather all the required documents as well as prepare coherent statements for presentation.
This did not go down well with the MPs, who now feel that the State agencies are not taking the committee and the probe seriously. The chairman noted, separately, that each of the firms has had months to prepare for the committee sitting, having been notified last year.
While it could be coincidence that officials from Treasury and the energy sector players were unable to offer what the committee sought, it could also have to do with the subject matter.
The parliamentary committee has been probing the Lake Turkana Wind Power project after the Auditor General submitted to the House a special audit report that points to grave mistakes that were committed by government officials and have proved costly for the country.
Last week, the State officials performed a dance of sorts with the committee, responding to its queries in a shallow manner and without offering the details sought, while also failing to attach key documents to the reports they presented in Parliament.
"Allow me to look into the documentation and get back to the committee with the exact reason as to why this was the case," said Kenya Power acting Chief Executive Rosemary Oduor in response to a number of queries that the committee posed to her on Thursday.
On Wednesday, National Treasury Principal Secretary Julius Muia did not provide the required information either, including attachments to the statement that he presented.
He said if allowed more time, Treasury would provide a "blow by blow account of the events" leading to the selection of LTWP to put up the plant in Marsabit County.
The previous day, Ketraco's acting boss Anthony Wamukota appeared before PIC but also requested for more time. In his case, he wanted to familiarise himself with the responses that he said had been prepared by his predecessor, Fernandes Barasa.
Mr Barasa had resigned a day earlier (on Monday) reportedly to go into politics, but the MPs read mischief in his sudden exit, noting that he was the one supposed to appear before the committee.
MPs also argued that Eng Wamukota had been a general manager at Ketraco and should be familiar with what Barasa had authored and in a position to own it.
Wamukota responded that while he was a general manager under Baraza, he only contributed a segment of the report that the CEO had written to the committee and was not familiar with what other managers had given.
Fernades Barasa Role
There are credible reports that the Directorate of Criminal Investigations (DCI) is not taking the matter lightly and apparently detectives have been assigned to the Kenya Electricity Transmission Company (Ketraco) over suspected embezzlement of taxpayers money through inflated contracts and fraudulent payments days sudden resignation of immediate former Managing Director Fernandes Barasa.
According to insiders who revealed the tense situation at Ketraco intimated that Barasa, internal auditors and senior managers from Finance and Supply chain at the Kawi House domiciled parastatal are among those cited as persons of interests.
While at Ketraco, Fernades was ever living on the edge and never had ease more so with anti-corruption heatwave that saw him spend most of the time out of his office.
For those familiar with his running, it was surprising that he quickly opted to resign a day before he was expected to appear before the Parliament's Public Investments Committee (PIC) to answer questions over the Sh785 million special audit on the Lake Turkana Wind Power (LTWP) project.
Not new to sweating and in fear of being arrested, Barasa was in the news sometime in August 2019 when the heavily built short man ran for his life a city hotel.
DCI boss Kinoti had walked into the hotel where Barasa was in company of other friends, he fled to the kitchen of the hotel on spitting Kinoti fearing that he had come to arrest him. At the time, Ketraco was under DCI probe following complaints lodged that the agency officials had swindled Sh14B land compensation to farmers for the Mombasa-Nairobi electricity transmission line, detectives believe billions were swindled in kickbacks.
However, Kinoti was on a different business and not to arrest the panicked CEO who fled away through the kitchen's exit. He became a laughing stock amongst his peers.
Scandalous Path
Upon assuming office, for the first time in Ketraco's history, Barasa announced multi-million controversial tender bids for provision of insurance brokerage services for all its substations countrywide three months after the exit of his predecessor Engineer Joel Kiilu.
Ketraco is one of the key parastatals under the Energy ministry-attracting heavy financing from the government and foreign donors majorly Japan and World Bank for mega electricity transmission projects across the country.
Currently, the firm controls an asset base of over Sh72billion.
This comes at a time the firm is entangled in a longstanding compensation deadlock with Kajiado residents over alleged varying compensation for the same pieces of land which has the same land value and assertions that Ketraco is hiving off more land than the one agreed on the agreement by colluding with surveyors.
Locals swore to block any undertaking to use their land as power way-leave until they are adequately reimbursed.
Ketraco offered to pay Kajiado Maasai landowners Sh250, 000 per acre.
Further, residents' claim Ketraco has already confiscated title deeds and put caveats to the parcels of land in question.
Before compensation, the National land Commission (NLC) must make approval.
The land in question was owned by Olosho-Oibor Water Catchment Area, which Ketraco had to compensate for limiting its usage due to the construction of a transmission line from Suswa to Isinya that requires a 60-metre wayleave.
However, locals claim they were offered compensation at a rate of 40 per cent while Makueni County residents were being given 85 per cent.
Another scandal left on the face of Barasa is that of China CAMC Engineering Co. Ltd  that moved to court to stop Ketraco from proceeding with an award of Sh1.9 billion tender to a rival firm for the erection of underground power transmission cables.
China CAMC Engineering Co. Ltd says in court documents that unless the court intervenes and stops the contract, Kenyans will lose in excess of Sh403 million.
It is not by surprise that in a similar scenario of the recent pylons sabotage that caused power outage in all parts of the country was intentional by the cartels in Ketraco and Kenya power to reap big in the tender process of new pylons procurement. Why Ketraco decided to award a firm a tender that would have been Sh. 403 million less when both the firms have the same caliber and of the same origin only means that the excess 403 million is kickback pocketed by Ketraco officials and the power cartels.
Barasa is expected to vie for Kakamega Gubernatorial seat, a position that he spent much of his time in office campaigning for. He will be going with ODM ticket. Party insiders are however hesitant to fully embrace him as he's perceived to be a baggage given his heavily loaded corrupt trail, ODM has warned candidates with integrity issues could face axe for the party to maintain its face.
Polls however, rank Barasa amongst the leading contenders alongside Bonnie Khalwale and Cleophas Malala to takeover Kakamega County from the incumbent Wycliffe Oparanya.
EACC insists all candidates seeking public office must pass the integrity test and if that's the case, it would be travesty to justice if Barasa cut above the bar given all the hanging financial hanging questions.
Going for a public office, the past record in public service would therefore be a key benchmark.
---
Kenya Insights allows guest blogging, if you want to be published on Kenya's most authoritative and accurate blog, have an expose, news TIPS, story angles, human interest stories, drop us an email on

[email protected]

or via Telegram
---