SCAM ALERT: What They're Not Telling You About The Proposed KNH Private Hospital Through PPP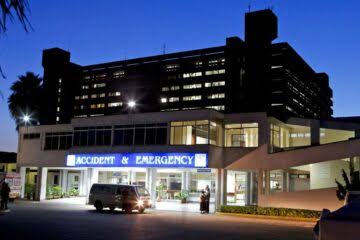 Information is empowering that's why those who knows this say that if you want to hide something from a black person put it in a book. Politicians and governments particular, knows this secret that's why they hide much and sell only what's glittering and blinding the masses.
We have a proposed plan to have a Private Hospital built in KNH premise under Public Private Partnership Plan, now before I go ahead, this is simply a 'tender' decorated with so many plans. Someone who's so determined to kill completely the ailing public healthcare is sending it to the grave. Why? Monopoly game to maximize on profits and be the giants that the sick public can't afford.
When you hear visionless politicians saying that the product is good for the public and that it will improve healthcare then you know you're dealing with a nincompoop. Who has a brown envelope in his coat when addressing the press.
Public Healthcare can't be fixed with roadside and boardroom deals like what's happening in KNH now, it's not a secret what the Management Board knows and individual interests they have in this looting trap, that's a story we shall revisit another day soon.
Here's a system that allowed billions worth of medical equipment be taken to counties in a similar looting program of leasing. All this time taxpayer is paying for services that they don't get, state of public healthcare is even getting worse and healthcare tenderprenuers love this and will go to the greatest heights to hold the mantle.
So now you think overnight, they've listened to the cries of public and now want to improve the facilities in KNH using a private investor? Bullshit!
If anyone cared about quality service delivery at KNH then the last thing would be incorporating a private citizen to run a public entity. If you need to understand how these cartels and particularly the one behind KNH proposed private hospital then you must think like them.
This is a business model please understand that, these people are not coming to do charity work. Opening way for a Private KNH is a long term strategy that has been in the roping. This includes overhyping negligence issues, the hospital is underfunded, take a walk to KNH you'll find it running with colonial facilities yet you expect it to deliver modern day services, you have to give it to the innovative doctors, they try much at KNH. Spirited, sponsored fight to discredit local doctors as incompetent yet the opposite is true and importing quack Asian doctors and Private hospitals who're painted as the saviors. Your rod is set on fire, I'll revisit.
Management had to kill KNH for Private KNH to happen, now go back and take a look at the composition of the board, you think fighting for a place in the board was in vain? Well as I said, I'll revisit this.
Back to this scamming strategy of KNH Private Hospital. According to David Hall the founding director of PSIRU (Public Services International Research Unit) at the University of Greenwich from 2000-2013. And is now a visiting professor at the university. He has published numerous reports and articles on the economics and politics of public services, public finance, and privatisation, including reports on water, energy, waste management, and healthcare.
David in his report 'WHY PUBLIC-PRIVATE PARTNERSHIPS DON'T WORK" terms the arrangement a bluff embedded on false promises. This is what's being engineered for KNH.
For decades the failures of water, energy, rail and health privatisations have made clear across the globe that those who promote privatisation offer false promises. Elections have been fought and won on promises to keep public services in public hands. In sectors like health, education, water, energy and transport, community attitudes strongly support universal public provision. 
Yet privatisation and so-called public-private partnerships are coming back in fashion. Many governments are turning to public-private partnerships (PPPs) in the hope that the private sector will finance public infrastructure and public services which been savagely hit by the financial crisis.
This hope has long run through the World Bank and OECD, but is now emerging in the G20 and the ongoing negotiations at the United Nations for the Sustainable Development Goals and the linked Financing for Development. 
If successful, privatisation could become official UN policy. Why such a resurgence when the past 30 years experience shows that privatisation is fundamentally flawed? In the context of the economic crisis, governments are under increased pressure to find quick answers to hard questions about maintaining public services and funding infrastructure. 
The longer the crisis extends the more pressure mounts to find answers, but so do the risks of forgetting the root causes: greed, deregulation, and excessive faith in private corporations.   PSI's report "Why we need public spending"1  explores the importance of public investment and complements this report.  "Why public-private partnerships don't work" is the culmination of thirty years' experience with and assessment of privatisation, in countries both rich and poor. 
It demystifies the shadowy PPP processes, most of which hide behind confidential negotiations to protect commercial secrecy. There are no public consultations, lots of false promises, and incredibly complex contracts, all desigend to protect corporate profits. There is also a fair amount of bribery, as privatisation contracts can be extremely valuable. PPPs are used to conceal public borrowing, while providing long-term state guarantees for profits to private companies. Private sector corporations must maximise profits if they are to survive. 
This is fundamentally incompatible with protecting the environment and ensuring universal access to quality public services. The report concludes that PPPs are an expensive and inefficient way of financing infrastructure and services. The report is an excellent working paper that PSI is proposing to affiliates to better understand privatisation and its dangers. 
The different arguments need to be considered on their own merits and in conjunction with the others, as privatisation is an inherently complex process. Unions can extract information from this reference document and apply it to their specific contexts.
Regrettably, most politicians and senior civil servants never access this type of information. Local and national governments and the UN are heavily influenced by the powerful lobby of the biggest services and financial corporations, global consulting and law firms, all intent on reaping profits from basic public services such as health, water, energy. 
It is our job, in alliance with social movements, to raise the alarm bells, to demand transparency and accountability of our public officials and elected politicians and to create mechanisms for systematic participation in decision making. 
These privatisation policies are also linked to the new wave of trade negotiations (TISA, TPP, TTIP), also secretive, without public consultation, agreed behind closed doors and heavily influenced by business interests. These trade deals not only facilitate PPPs but will also lock them in, making it next to impossible to reverse them, regardless of outcomes. 
A further danger is the recent effort by the World Bank, the G20, OECD and others to 'financialize' PPPs in order to access the trillions of dollars held by pension funds, insurance companies and other institutional investors. To access these funds, governments are advised to do a whole lot of PPPs at the same time in order to create a pool of assets that can then be bundled and sold on to long-term investors. This is exactly what the financial services companies did with home mortgages at the turn of the century, which brought us the global financial crisis of 2008.
The PSIRU report also points to the public alternative to privatisation, in which national and local governments continue to develop infrastructure by using public finance for investment, and public sector organisations to deliver the service. This provides numerous benefits to the public such as greater flexibility, control, and comparative efficiency – because of reduced transaction costs and contract uncertainty, as well as economies of scale – and the efficiency gains of more democratic accountability.  And, alternative to PPPs, public-public partnerships, based on solidarity and not profit, is having an effect in the development community.
Forget what they've told you, what I'm telling you is we're watching the death of KNH, the only National referral hospital that for ages has been the poor man's last resort. Now what will happen for KNH Private Hospital to survive and make profits? Public wing must die completely and that's the plan ladies and gentlemen, you'll have to pay an arm and leg to be able to afford basic treatments at KNH. Do they give a fuck about you? Absolutely not! And you have stupid leaders to ice the cake so you're on your own.
For us the least we can do is give you information, we're going to dissect this KNH Private Hospital topic in subsequent updates including the powerful and minor cartels working day and night to kill the public healthcare and determined to make billions out of this KNH saga. We depend on our own sources and well wishing individuals. If you have any tip, story and a lead that can help us enlighten the public please write us an email. Meanwhile we're also aware the system is all set and currently bids from investors are underway even though we're also aware this is a predetermined case with a Chinese firm(name withheld for now) having been handpicked by their godfathers.
Please email me ([email protected])
NB: Read the rest of the WHY PUBLIC-PRIVATE PARTNERSHIPS DON'T WORK The many advantages of the public alternative BY DAVID HALL, PSIRU below.
rapport_eng_56pages_a4_lr_0

---
Kenya Insights allows guest blogging, if you want to be published on Kenya's most authoritative and accurate blog, have an expose, news TIPS, story angles, human interest stories, drop us an email on

[email protected]

or via Telegram
---