Report Reveals How South Sudan Warlords Are Using Kenya To Launder Illicit Cash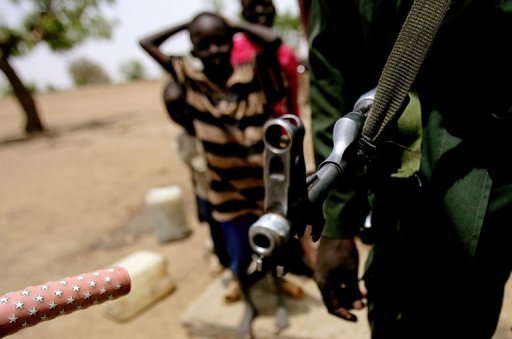 The Kenya Illicit Finance Risks and Assessment report describes how politicians in South Sudan bought luxury real estate in Kenya, set up joint ventures with Kenyan partners, and used local banks to transfer money from one country to another.
It was compiled by The Sentry, a US investigative and political organization that pursues dirty money in connection with African war criminals and transnational war profiteers and aims to exclude them from the international financial system.
The report says that warlords in South Sudan fueled the conflict in their country and accumulated wealth in Nairobi.
In one case, the family of a South Sudanese general who paid $ 1.5 million in cash for his involvement in mass violence against civilians for property in Nairobi.
The property is listed under the name of one of his wives.
Million dollars
"The Sentry has Thu Received documents showing millions of dollars are questionable Payments linked to senior South Sudanese officials have been processed through Kenyan banks, "the report said.
"In one case, bought one South Sudanese Politically Exposed Person (PEP) a luxury home with a US dollar account. in the Ugandan branch of the Kenyan bank. It happened during a period of intense fighting involving a non-state militia funded and supported by the PEP office. "
In September, an anti-corruption court in Nairobi overturned a lock order on two bank accounts, one of them Denominated in dollars, belongs to South Sudan's Cabinet Minister Elia Lomuro. They were frozen in June on allegations of money laundering and incitement to violence.
The decision came after the Assets Recovery Authority (ARA) informed the court that it was satisfied with the minister's statement that the money from his salary and rental income.
The accounts contained $ 13.42 million and ARA had attempted to confiscate them.
A supporting affidavit from an ARA investigator showed that the dollar account received $ 351,317.81 credit, of which $ 351,293.52 was withdrawn between September 2017 and January 2020.
"On December 24, 2019, the respondent instructed the bank to close his dollar account and transfer the money to his local account. " affidavit was added.
Sentry said he had identified property owned by a senior military official linked to violent land grabbing, ethnic conflict and corruption scandals. The group also cites another official who bought a luxury house in Nairobi that was not worth its modest salary.
The report also notes that members of several senior South Sudanese government officials live in a certain area upscale neighborhoods in Nairobi and their children attend local private schools.
In 2016, South Sudan's President Salva Kiir confirmed the trend, saying that some government officials have "bought apartments, bought very nice houses and villas. They are hiding it in Kenya and refusing to reveal it."
In September 2018, President Kiir and opposition leader Riek Machar agreed on a revived peace agreement that saw the formation of a unity government by May 12 the following year.
Real estate used to launder the proceeds of foreign corruption
The Sentry has identified numerous cases in which South Sudanese PEPs have purchased luxury real estate in Kenya for themselves or for their families. This could indicate that the sources of wealth and funds are not being reviewed as part of due diligence checks by the Kenyan real estate sector.
South Sudanese President Salva Kiir has even acknowledged the trend, saying in 2016 that some government officials "have bought apartments, have bought very beautiful houses, villas. They are hiding it in Kenya and they refuse to reveal it."
One such individual is a South Sudanese general who is subject to US sanctions due to his involvement in mass violence against civilians. One source told The Sentry that the general's family paid $1.5 million in cash for a property that is listed under the name of one of his wives. Another case identified a property belonging to a senior military official who has been involved in violent land grabs, ethnic conflict, and corruption scandals.
The Sentry further identified that family members of several of South Sudan's highest-ranking PEPs reside in one particular upscale neighborhood in Nairobi and their children attend local private schools. In yet another instance, The Sentry found that a South Sudanese PEP involved in mining owned a luxury house in Nairobi, the value of which significantly exceeded his modest salary.13
Joint corporate shareholdings with Kenyan PEPs to move dirty funds.
The Sentry has identified several examples in which Kenyan citizens, including members of the political elite and their families, have set up businesses with corrupt foreign PEPs, making it easier to move illicit funds around the region. This supports the case for beneficial ownership transparency of corporate structures.
In one instance, a Kenyan PEP was identified as having a partial stake in a South Sudan registered company that had entered into a joint venture with a company owned by family members of a South Sudanese PEP. The new company, created as part of the joint venture as a "special purpose vehicle," is described as engaging "in the provision of services in the oil sector," including waste management, drilling, logistics, and air transportation. However, it more likely personally benefited family members of the South Sudanese PEP.
Another company, which appears to be jointly owned by a Kenyan citizen and South Sudanese PEPs, based on the signatures in corporate documents, was used to transfer US dollars into a South Sudanese PEP's personal account held at a Kenyan bank.
The South Sudanese PEP was identified by the United Nations (UN) as being responsible for the violence that led to famine in South Sudan.
A final example includes a company that operates in the oil industry in South Sudan and is owned by the son of a high-ranking South Sudanese PEP, with the remaining shares held by three Kenyan businessmen.
Misuse of corporate structures for illicit trade
The Sentry has also found that foreign PEPs have used Kenyan corporate structures to siphon funds from their home countries. In one example, a Kenyan oil company was used to funnel payments to the personal account of a South Sudanese general who acted as a commander during a military offensive one that led to the displacement of 100,000 people in South Sudan and who is subject to UN sanctions. The funds were purported to be "a refund to the SPLA [Sudan People's Liberation Army]" for failing to deliver fuel, but they do not appear to have made it to the South Sudanese Treasury.
A separate incident involved the use of Kenyan corporate structures and Kenyan banks to transfer funds to an Australia registered company owned by a family member of a different South Sudanese general. The family member subsequently purchased luxury real estate and luxury vehicles in Australia, which were frozen and seized by Australian authorities.
Some Kenyan corporate structures were beneficiaries of the $922 million South Sudanese letters of credit scandal, in which oil-backed loans were used to secure financing to import food and goods from neighboring countries. These corporate structures, which were owned by South Sudanese senior officials, members of their families, or well-connected traders, failed to provide the goods following payment, contributing to widespread severe hunger and famine in South Sudan.
Kenyan corporate structures have also been misused by a UN-sanctioned warlord from the Central Africa Republic (CAR). This individual, who allegedly has ties with Kenyan politicians, traveled to Kenya in 2014 prior to being sanctioned in 2017 by the UN for "engaging in or providing support for acts that undermine the peace, stability or security of the CAR, including acts that threaten or impede the political transition process, or the stabilization and reconciliation process or that fuel violence" and for being "involved in planning, directing, sponsoring, or conducting attacks against UN missions or international security presences, including MINUSCA [the UN Multidimensional Integrated Stabilization Mission in the Central African Republic], the European Union Missions and French opera- tions which support them."
Between 2014 and 2016, he used a network of companies to develop an illicit trade in diamonds and gold, and in exchange he was supposed to receive military equipment, weapons, and ammunition via the Democratic Republic of Congo (DRC) or Sudan. These examples further highlight the need for beneficial ownership transparency and for firms subject to AML/CFT measures to monitor and report suspicious transactions.
Bank accounts used for cross-border illicit transfers
The Sentry has obtained documents indicating that millions of dollars in questionable payments linked to top South Sudanese officials have transited through Kenyan banks, reinforcing the need to monitor and report suspicious transactions and to have foreign PEP due diligence measures in place.
In one instance, a South Sudanese PEP purchased a luxury home using a US dollar-denominated account held at the Ugandan branch of a Kenyan bank.
This occurred during a period of intense fighting involving a nonstate militia that was funded and supported by the PEP's office. In a separate example, a Kenyan bank housed a South Sudanese PEP's US dollar-denominated personal ac- count, through which millions transited.Transactions included the receipt of large cash deposits and payments from construction companies backed by Chinese, Lebanese, and possibly Turkish investors and the withdrawal of over $1 million in cash by the South Sudanese PEP.
In a case involving another South Sudanese PEP, suspicious transactions were related to "reimbursement" payments for a fuel supply deal that fell through and took the form of transfers of hundreds of thousands of dollars into the PEP's account by a multinational corporation operating in South Sudan. In another matter, bank records reviewed by The Sentry indicate that a Kenyan bank processed payments for the personal account of a UN-sanctioned South Sudanese PEP.
The account received suspicious financial transfers, including from someone who shares a name with the advisor of a high-ranking Kenyan PEP and from a Kenyan multinational petroleum company operating in South Sudan. The account continued to operate after UN sanc- tions were imposed. Kenyan corporate structures have also been used to siphon government funds from South Sudan and facilitate arms transfers.
Recently, Kenyan authorities froze an account held at a Kenyan bank by a US-sanctioned South Sudanese minister. A Kenyan court has since lifted the account freeze order, having accepted the minister's explanation that the funds in the account were the proceeds of his salary and rental income. The account held 13.42 million Kenyan shillings (approximately $124,260), but the minister had previously held a US dollar denominated account through which an estimated $460,896.20 was transferred prior to its being closed in 2019.
Financial sector growth in risky markets
In recent years, Kenya has emerged as a regional banking hub connecting East and Central Africa to international financial centers such as London, New York, and the United Arab Emirates (UAE). Several Kenyan banks have branches overseas and correspondent banking relationships with top-tier financial institutions around the world. Kenya's second-largest bank, Equity Group, is now the largest bank in the DRC, will likely be the second-largest bank in Rwanda and possibly the third-largest bank in Uganda, and has a license to operate in Ethiopia.
KCB, Kenya's largest bank, has foreign subsidiaries in South Sudan, Uganda, Rwanda, Burundi, and Tanzania. NCBA Bank Kenya, Kenya's third-largest bank, is partially owned by President Uhuru Kenyatta's family and has oper- ations in Rwanda, Kenya, Tanzania, Uganda, and the Ivory Coast. There are indications that it was previously seeking to expand into Burundi and South Sudan. Kenya's banking presence in these regions is a positive step toward financial inclusion in these countries, but enhanced due diligence is key to managing correspondent banking relationships while at the same avoiding large-scale de-risking action.
The Sentry's reporting has identified Kenya as the largest foreign investor in the South Sudanese banking sector. South Sudan significantly relied upon Kenya for financial services during the war, and this close relationship has continued, with Kenya acting as a significant food export partner to South Sudan. Today, some South Sudanese PEP-owned or -controlled banks have Kenyan investors, and South Sudanese banks with correspondent relation- ships with Kenyan banks may hold nested accounts in Kenya. Additionally, most remittances sent to South Sudan from around the world are spent in Kenya and Uganda.
The Sentry has also reported numerous questionable transactions involving top officials from South Sudan and banks in Kenya. A previously undisclosed internal audit of South Sudan's central bank describes significant irregularities pertaining to South Sudanese state assets deposited into Kenyan banks.
The US government has found that some financial institutions in Kenya are involved in currency transactions thatare linked to international narcotics trafficking. Local mines covering for conflict gold smuggling.
Following an in-depth investigation, The Sentry raised serious concerns that a corporate network had purchased conflict gold from the DRC, processed it in Uganda, and exported it to the UAE. Companies in this network claimed to have sourced gold from accredited mines in Kenya. Kenya's Vision 2030 blueprint includes plans "to have a certification laboratory and audit agency" for minerals. The Ministry of Petroleum and Mining indicated that it would equip and operationalize the Mineral Certification Laboratory and establish four mineral audit offices by March 31, 2019. No further updates are available to confirm that a certification laboratory or audit agency offices have been established or to indicate that Kenya has implemented mine certification as part of the International Conference on the Great Lakes Region (ICGLR) minerals certification process.
Arms and munitions shipments to regional conflict zones.
The financing for arms and munitions contracts should be subject to enhanced due diligence, and firms should identify beneficial owners for legal structures. However, The Sentry's reporting has identified Kenya as a trans- shipment site for arms and munitions intended for use in South Sudan. In one case, armored vehicles and spare parts were delivered in several shipments to a site in Kenya. The shipment was sent by a Russian company on behalf of a company based in the UAE, reportedly South Sudanese owned. South Sudan's Ministry of Interior subsequently received the vehicles, which have been photographed on the battlefield as recently as 2018.
In a separate case, an American arms trafficker attempted to sell a trove of weapons worth $43 million to an ousted South Sudanese warlord. Initially, the weapons were to be sold to a Kenya-based shell company linked to the South Sudanese warlord, who owns a mansion with his family in Kenya worth approximately $2 million.
A report by Conflict Armament Research on the supply of weapons into South Sudan during the civil war identified further links with Kenya. In May 2014, a Chinese arms manufacturer sent tens of thousands of arms and munitions, including small caliber ammunition, rockets, grenades, grenade launchers, assault rifles, pistols, and machine guns, to Juba via Kenya. The UN arms embargo did not come into effect until July 2018; thus, the transfers likely did not violate international law at the time. As of 2017, around 56% of ammunition sampled by Conflict Armament Research in South Sudan included a code denoting that it was manufactured by a state factory in China.
In 2015, an official from the Sudan People's Liberation Army in Opposition (SPLA-IO) entered into negotiations for US indi- viduals to supply and operate large civilian aircraft used to move military personnel and equipment via US and Kenyan companies. The deal was not finalized, and it is not clear whether US counterparts were cognizant that they had entered into negotiations with the opposition.51 SPLA-IO officials also tried to acquire their own aircraft, entering into negotiations with a US lawyer and a Somali-US citizen to buy a second-hand aircraft for $4 million in late 2015 and early 2016. The seller was listed as a newly registered Kenyan subsidiary of a US company.
Laundering the proceeds of domestic corruption
Domestic corruption in Kenya is rife, but enhanced due diligence on PEPs can help prevent the laundering of the proceeds of corruption. In 2015, Kenyatta branded corruption a threat to national security and renewed the war on graft. One year later, Kenya's anti-graft chief stated that the country was losing a third of its state budget around $6 billion to corruption.82 A 2017 survey by Kenya's Ethics and Anti-Corruption Commission (EACC) found that "corruption and unethical conduct permeate all sectors both public and private."
In early 2021, Kenyatta was quot- ed stating, "The amount they [public officials] steal every day is more than Sh2 billion." The use of offshore bank accounts in secrecy jurisdictions is widespread, and numerous Kenyan PEPs were exposed hiding their wealth offshore by the Panama Papers.
Corruption is often cited by businesses abroad as a barrier to investment,87 and corrupt practices range from the most prevalent form which involves payment of bribes for government services, particularly when registering or seeking identity records—to abuse of office, favoritism, and delays in service provision, among others.
The UN has also linked corruption by individuals involved in law enforcement operations—the police, military, and cus- toms—to the illicit wildlife trade. A recent probe has been opened into the allocation of contracts linked to the country's COVID-19 response. Kenya received more than $2 billion in aid and grants to fight the pandemic, but some evidence indicates that multimil- lion-dollar contracts for the purchase of medical supplies were allocated to politically connected businesses and individuals, recently formed companies, or suppliers selling goods at overly inflated prices.
However, it may be some time before the people of Kenya see results from the COVID corruption probe, as political interference de- laying judicial proceedings has been identified in multiple cases brought against politicians.
Strong anti-corruption measures combined with community engagement continue to be key in driving out domestic corruption.
Local militias
The deadline has been extended twice, with the US linking the two to the continuation of the conflict in the country by organizing local militias to launch attacks on opposition forces and overseeing training of tribal militias to consolidate their power.
"Sentry coverage has identified Kenya as the largest foreign investor in South Sudan's banking sector. South Sudan relied heavily on Kenya for financial services during the war, and this close relationship has continued as Kenya acts as a key export partner for South Sudan, "the report reads.
It was not Prevents the revenue from crime and corruption through the Kenyan banking system are a serious risk factor and could jeopardize the financial system and the country's access to global finance.
The government must combat these illegal financial flows in order to keep Kenya considered With its Vision 2030, Kenya is a financial center in Africa, says Sentry Senior Advisor Denisse Rudich.
"On the way to its Vision 2030 and the establishment of the Nairobi International Financial Center, Kenya can now take a real leadership role in the fight against illegal funding, promoting transparency and integrity as it grows as a regional financial center by enforcing its laws and regulations The fight against money laundering and terrorist financing improved, "she said.
The report urges Kenya to continue fighting not only domestic but also foreign corruption.
"Kenya's banking presence in these Regions is a positive step towards financial inclusion in these countries, but enhanced due diligence is key to managing correspondent banking relationships while avoiding large-scale risk mitigation, "adds the report.
Justyna Gudzowska, director of illicit finance at The Sentry, noted that by introducing much-needed reforms, Kenya "can show the world that it is not open to businesses that want to launder the proceeds of foreign corruption, including its neighbors in South Sudan."
---
Kenya Insights allows guest blogging, if you want to be published on Kenya's most authoritative and accurate blog, have an expose, news TIPS, story angles, human interest stories, drop us an email on tips.kenyainsights@gmail.com or via Telegram
---