Patrick Sang, The Man Behind The Legend That Is Eliud Kipchoge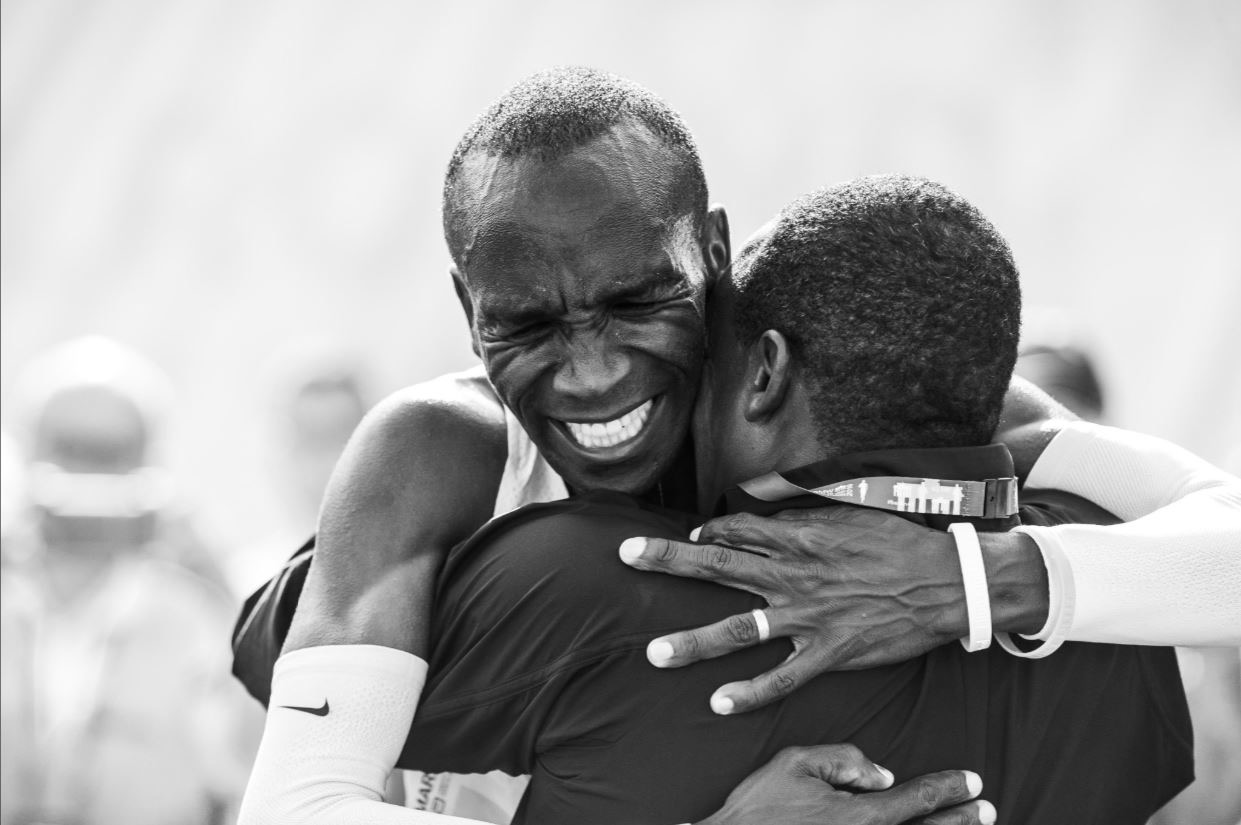 Today, Eliud Kipchoge became the first man to run the marathon under two hours after clocking one hour, 59 minutes and 40 seconds during the INEOS 1:59 Challenge at Prater Park in Vienna, Austria. While this is a big personal achievement, Kipchoge has had help. Kipchoge has been working with a team that walked with him through it all.
Team Kipchoge consists of 41 pacemakers like Bernard Lagat, Peter Nduhiu the Olympic champion's physiotherapist and methodical and meticulous Patrick Sang, Kipchoge's coach of 19 years, this team together  were part of Kipchoge's initial attempt to run the marathon in under two hours in Monza, Italy, two years ago where he fell short by 26 seconds during the "Breaking2" event timing 2:00:25. The team has since regrouped and trained for the past two years  just to beat these 26 seconds and today history was finally made.
Patrick Sang
The name should ring a bell. Patrick Sang 55, has been Kipchoge's Lifelong coach, working with the world record for over 19 years and counting now. Sang, the 1992 Olympic and two-time world steeplechase silver medallist has been the strongest pillar holding Kipchoge tall. Working together with the team, Sang has been pushing to make sure that Kipchoge, 34, is physically and mentally fit.
Together, they won the world 5000m title on the track in Paris in 2003, Two more Olympic medals at the 5000m before finally shifting to marathons. Eliud has seen huge success here,winning Olympic gold at Rio 2016 and the world record in last year's Berlin Marathon.
"You know, Eliud and I go back many many years. We started our journey together 18 years ago or more than 18 years ago. But what has happened between the two of us is that we've developed an element of serious trust to the point whereby he knows I'm there for the good of his development – for the development of his career and holistically as a person."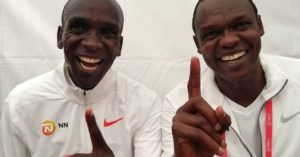 Patrick, who grew up less than 2km from Eliud came into the race full of confidence. He can be quoted countless times saying he was confident Kipchoge would bring this home. "To me this presents a different picture of the sport, it is a unifying factor and this story will go to all four corners of the world. To go even one second under the two hours will be sufficient to go to the next level and inspire other people." He had stated Prior to the race.
As a coach, Sang shares how he worries about his share of responsibility sometimes. "Did I carry out all my duties well? Did I do something wrong?" However, going by what has happened and transpired over the years, "the results speak louder."
Working with Kipchoge over the last 18 years Sang says has been an experience of a lifetime. "For 18 years, there is no day Eliud has asked me anything about training. He comes to the training place to train and normally we give him the plan for the day on that specific minute"
Kipchoge has over the years sang praises about his coach. If he had to choose he'd go for Sang over and over, "I admire his coaching skills and he's been with me since an early age. He's more than just a coach. He's my coach, he's my teacher and he's my life coach. And above all, he's brought me to this level."
Just after the race today, Sang was ecstatic. He says this is history and should go on to challenge people to perform better than they think there is always a next level and people should not limit themselves. The coach could not hide his joy over the amount of support the team has received thanking everyone every chance he got.
Patrick Sang has played a huge role on this INEOS159 achievement and albeit rarely looking for the limelight, his effort has been speaking louder with the team achievements telling you all you need to know.
When he clocked the unexpected,philosophical Kipchoge said, "You cannot train alone and expect to run a fast time. There is a formula: 100% of me is nothing compared to 1% of the whole team. And that's teamwork. That's what I value." Going to show how much he values teamwork.
Theres no Kipchoge without Sang his coach a man who saw his potential while he was 16 years old. Nurtured his talent, taught him financial discipline as he was the first to have him open a bank account. As it stands, Kipchoge is one of the richest athletes if not Kenyans.
While other coaches have been accused of doping their athletes to enhance their performances, Sang has never been implicated and Kipchoge continues to maintain a clean sheet without any roping accusations.
Kipchoge has never been accused of any wrongdoing and both he and the pacemakers were subjected to regular drugs testing as part of the World Marathon Majors and Athletics Integrity Unit regimes.
As for the recent news that Italian prominent coach Alberto Salazar has been banned for four years for doping offences, Patrick Sang, Kipchoge's coach, said that has no bearing on his athlete.
"Eliud has been an athlete for so many years now, this kind of news has no bearing on his mission," he said. "It's unfortunate it's happening. It would be a tragedy to connect the two." Sang flattened the theoretical British media.
---
Kenya Insights allows guest blogging, if you want to be published on Kenya's most authoritative and accurate blog, have an expose, news, story angles, human interest stories, drop us an email on tips.kenyainsights@gmail.com or via Telegram
---