NYS Fraud: Could Waiguru Be Innocent And Ruto Guilty, We Archive Jacob Juma's Take On The Billion Heist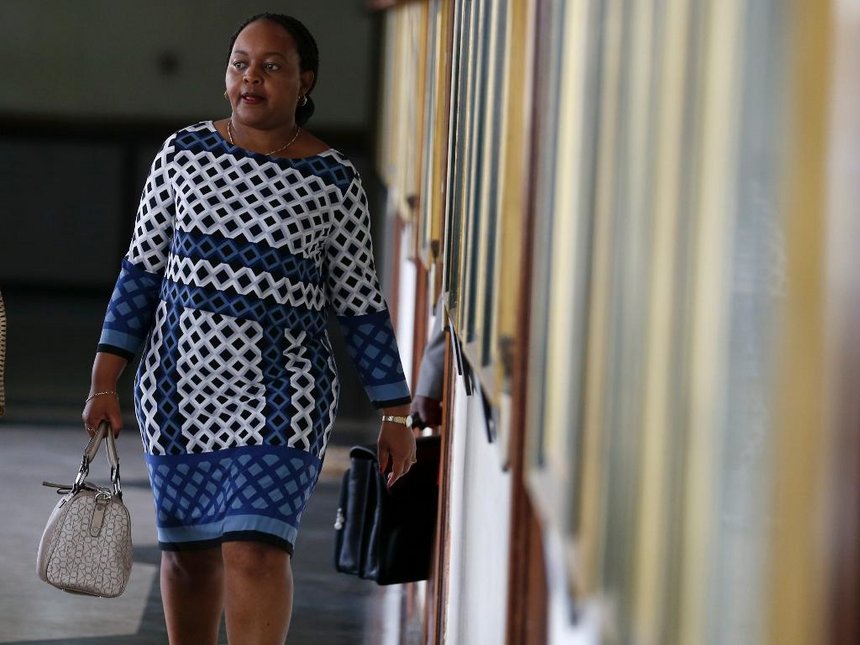 It was a long day for former Devolution CS Waiguru when she appeared before the PAC to answer to questions on the NYS that is estimated to have cost taxpayer upto 2B.
Ben Gethi who's at the center has already been grilled by the committee in which he denied involvement in the heist despite million discrepancies attaching him to the scandal .
Kabura who's sworn in an affidavit to be a protege of Waiguru who allegedly called her onboard from the saloon business she was engaging and turned into an overnight millionaire. Her arrogant testimony left many in shock during PAC grilling.
During her appearance , the Former Devolution Cabinet Secretary Anne Waiguru yesterday accused powerful Government operatives of colluding with business people to loot Sh1.6 billion from the National Youth Service (NYS).
Among those Ms Waiguru named in documents handed to MPs were Farouk Kibet, an aide to Deputy President William Ruto, whom she claimed was constantly on the phone with prime suspect Ben Gethi in the days before the theft was executed.
Waiguru told members of the PAC that Gethi and Farouk had 262 phone calls between them before and during the transactions through companies associated with another key suspect, Josephine Kabura.
Waiguru termed Kabura as a puppet of the cartel of Gethi and his operatives who are powerful individuals in government.
In a clear exoneration move , claimed that the said cartel had set aside Sh200 million for a smear campaign that would frustrate investigations, in a super scheme to shake detectives off at every turn.
Waiguru has been named by various witnesses as the mastermind of the scandal, including claims by her former PS Mangiti that she issued illegal instructions, including in the hiring of Adan Harakhe to the non-existent position of Deputy Director General of the NYS.
Harakhe was subsequently designated as one of the people with authority to incur expenditure at the ministry.
With everyone shifting blames and committed to demonize the other and investigative bodies so far not giving any substantial direction as to the real thieves , Kenya Insights has reviewed past tweets of slain Jacob Juma . Juma tweets have become truth reference lately in his death.Jacob was also known for wide intelligence network that he used to bust the corrupt deals. Could they be holding stint of truth? Be the judge ;
The elusive master-mind of NYS scam, BENSON GETHI uses an office that was given as a gift to William Ruto at China Wu Yi center in Kilimani.

— jacob juma (@kabetes) October 20, 2015
As Uhuru steals $2 billion Sovereign bond, Ruto grabs KCAA land and Waiguru robs NYS of sh791 million through proxies. Kenya is in trouble.

— jacob juma (@kabetes) September 12, 2015
WAIGURU is INNOCENT in NYS SCAM. We have to tell the truth.Truth shall set us free. Maryanne, Ruto's Chief of Staff is behind Waiguru's woes

— jacob juma (@kabetes) October 11, 2015
Mugwanja, the Head of Banking Fraud Unit is very frustrated over NYS scam. William Ruto's people(Farouk & Murkomen) have harassed him.

— jacob juma (@kabetes) October 11, 2015
Ruto's people have been pushing Mugwanja, head of ABFPU to re-direct the blame to innocent people including junior NYS staff.

— jacob juma (@kabetes) October 11, 2015
Fellow Kenyans, William Ruto's PA, Mr. Farouk Kibet received a substantial loot of NYS money. His no. is 0722654729. pic.twitter.com/zzdfNsTNc8

— jacob juma (@kabetes) December 15, 2015
He contradicts himself and links Waiguru to tge scam here
If Uhuru for instance imprisoned Ruto for land grabbing, Waiguru for NYS scam, Rotich for $140b Eurobond, just imagine his popularity rating

— jacob juma (@kabetes) February 8, 2016
Mr @HonAdenDuale @MutahiNgunyi, Murkomen, Farouk Kibet worked behind the scenes with the blessing of Ruto to loot public coffers from NYS.

— jacob juma (@kabetes) February 25, 2016
Mr @MutahiNgunyi was part of the William Ruto team that blatantly looted NYS. He paid back by tweeting in his praise pic.twitter.com/RdDCiNUooG

— jacob juma (@kabetes) February 25, 2016
If Mr. Farouk Kibet fraudulently obtained sh40 million from NYS and bought 2 houses at sh70m, how much did Ruto get? pic.twitter.com/AAFSE3QMzT

— jacob juma (@kabetes) March 5, 2016
If Ben GETHI bought properties worth sh148m only out of sh800m NYS loot, who pocketed the rest? Who is protecting Farouk Kibet, Ruto's PA?

— jacob juma (@kabetes) December 15, 2015
NYS looters had 2 distinct groups: 1). Seven Seas, Mike Macharia, Mike Njeru, M. Ngunyi and Waiguru; 2). Ben Gethi's group which is Ruto's.

— jacob juma (@kabetes) February 27, 2016
Ben Gethi frantically called over 200 times and talked to Farouk Kibet and Murkomen when he was in custody over NYS. pic.twitter.com/ThAvyw3dOR

— jacob juma (@kabetes) March 4, 2016
The devil is in the details
@AnneWaiguru Your Royal Highness Baroness Waiguru, do you know J. Kabura? If so, when did you meet first, last and where?

— jacob juma (@kabetes) February 15, 2016
NYS looters had 2 distinct groups: 1). Seven Seas, Mike Macharia, Mike Njeru, M. Ngunyi and Waiguru; 2). Ben Gethi's group which is Ruto's.

— jacob juma (@kabetes) February 27, 2016
---
Kenya Insights allows guest blogging, if you want to be published on Kenya's most authoritative and accurate blog, have an expose, news TIPS, story angles, human interest stories, drop us an email on

[email protected]

or via Telegram
---