Negligence At Shalom Hospital, Athi River Leaves Patient With Damaged Hands Forcing Doctors To Open Up His Stomach To Grow New Flesh For His Hand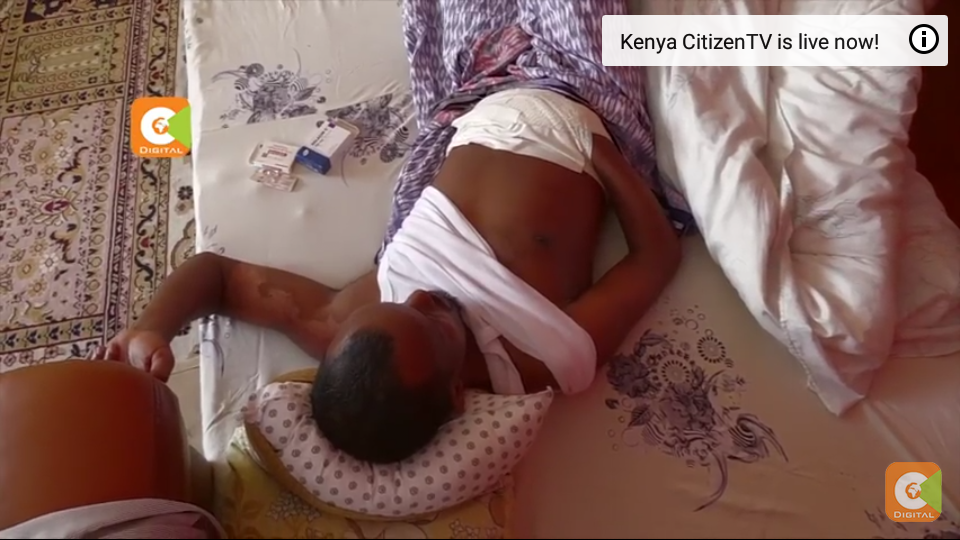 [WARNING: You might find some of the content GRAPHIC]
On the 26th of March this year, Muhidin Ismael Abdi was involved in an accident where he sustained some burns on his left hand and back. Luckily the burn was superficial. Mohamed Ismael, his brother, however, decided it was wise to transfer him from Mandera where he sustained the injury to Nairobi for specialized treatment.
When they picked him up from the airport, they settled as a family tl take him to Shalom Hospital, Athi River due to its convenience and proximity to his brother's home in Syokimau. He was admitted around 11 am and was attended to in the emergency section. After dressing, they chose to admit him to a private wing due to his condition.
He would be taken to the theater after every three days for dressing and during this times, the doctor told the family that he had to be sedated due to the extent of the wounds, the burns were estimated to be at 20 percent.
In one of the days when he was to be in the theatre which was Saturday the 31st. Muhudin was prepared from the morning and he stayed the whole day without food and was eventually taken to the theater around 5 p.m. even though the schedule as told was to be around 12 o'clock.
He was wheeled back to his room around 8.30 pm unconscious and the family helped the nurses who brought him to transfer him to the bed.
It was at this moment that the family noticed something quite unusual on his right hand which was the side where the nurses and doctors most of the time used to give him injections and fluid as his left hand was burnt.
They could see this was a fresh burn and his hand was so swollen. Immediately, they asked the nurse what it could be, she dismissed their alarm saying she didn't know as she was not part of the theatre team.
Mohamed, the brother then went up to look for the matron who came down to see him. He asked to be given time and he also advised him to see the administrator.
As the day turned, things went from bad to worse, Muhudin's hand was now getting worse. The next morning Mohamed called a family lawyer to accompany him to the hospital where they met the administrator, the hospital public relations officer and the doctor who attended to Muhudin in the theatre.
The feedback they got from the team was that the patient got the burns on his hand due to a heater which was placed next to him while he was unconscious and they forgot to place it far from him. This looked so casual to the family and they sort further explanation on how a patient under their care could get that amount of burns without anyone in the theater realizing or even noticing until themselves had to reveal it.
They then confronted the hospital to take responsibility for the negligence but that's when the cat and mouse games started. His pain was not subsidizing and his condition was deteriorating. They decided to transfer Muhidin to a different hospital on 9th of March. To add insults to the injury, they billed them even on the fresh burns inflicted by the staff's negligence. Left with little option, they paid to clear Muhidin for a new hospital.
Few days after leaving the hospital, Muhidin got healed on the original burns but that was also the beginning of a new battle as his fresh burns from Shalom Hospital escalated and he has been in and out of hospital ever since.
His injured hand is in extreme horrible state that doctors are contemplating amputation. As an intervention, doctors settled on grafting where they had to open his stomach skin to bury the severed hand to grow flesh, this the only way he'll be saved from the hand getting chopped off.
The fact here is, the burns that are currently giving Muhudin and the family nightmares were sustained from Shalom due to the negligence of staff. Genuinely, the hospital ought to have owned up and taken responsibility instead they've acted with total disregard for humanity and shown ultimate arrogance.
Shalom Hospital has refused to give the family audience even though they continue to incur losses made from the hospital's mistakes one ask just how bad it gets. They've consecutively ignored a demand letter written to them by the family lawyer, demanding their responsibility.
Mohamed Ismael while speaking to us, says he wants to send clear messages out there, "I want Kenyans to be careful when taking your loved one to the hospital to be sure if the doctors attending to them are not quacks or the hospital has good management that you can entrust the lives of your loved ones. Many a time, we entrust our loved ones in their hands and when they are taken to the theater, chance are they come out dead and we shall be given all kinds of stories to justify the death. We would never know the truth many people die in quack doctors hands due to professional negligence."
He continues, "as a family, we have gone through a lot with my brother during this ordeal and we warn Kenyans against making wrong decisions of going to hospitals which lack the professionalism when they find themselves in a similar situation. We ask for your help to highlight this with us through your social circles to get justice for my brother as Kenyans authorities only take matters seriously when Kenyans put pressure."
The distraught family is asking for Kenyans who can reach out to help them get justice do so, they've also lodged a complaint with the medical board. Cases of medical negligence are not new and the actions from Shalom Hospital points at a possibility of a common culture and crafted ways of getting away with it. It is painful to check-in to a hospital and instead of being healed, you walk away with fresh problems. Shalom Hospital must take responsibility for their negligence, compensate and ensure Muhudin gets back to his original state. There's no any other way around it.
---
Kenya Insights allows guest blogging, if you want to be published on Kenya's most authoritative and accurate blog, have an expose, news TIPS, story angles, human interest stories, drop us an email on

[email protected]

or via Telegram
---