Who Wants To Harm KMPDU's Dr. Ouma Oluga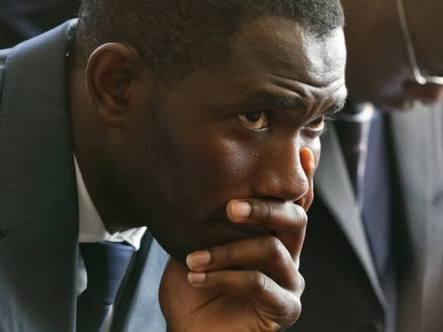 Dr. Fredrick Ouma Oluga of Kenya Medical Practitioners, Pharmacists and Dentists Union (KMDPU) has remained one of the most defiant union officials in recent history having stood up the government with the doctors last year in what can be referred as the biggest doctors strike in recent times.
The doctor's strike crossed the 100 days mark that was three months with ghosted public hospitals. This wasn't an easy mission as it came with extreme intimidation from the government. Things went from bad to worse, Union officials were threatened and worse physically harmed. Intense lobbying was done to break the impasse including bribe offers to the union officials to call off the strike, COTU Sec Gen, Atwoli was called in to mediate but the young team of doctors stood their ground.
Eventually, KMPDU officials were sent to jail for holding a strike seen as illegal but the series of intimidation tactics that ensued during the strike especially on Dr.Oluga remains a case study. From character assassination which was executed by the government's online mercenaries, the famous 36 bloggers to physical harm were enough to break him but it appears the doctor in his 30s had already made a resolve to see doctors demands met at all costs.
At one point, fake Facebook post was made to paint Dr. Oluga as tribal and inciting, the plot was thwarted with facts that demystified everything.
Itumbi's reply.
.@KinyanBoy Fake App? Ok. here a recorded Video interaction with Oluga's update before it was deleted #SystemYaFacts @OliverMathenge pic.twitter.com/xdjrmLIcoz

— Dennis Itumbi, HSC (@OleItumbi) February 16, 2017
Challenging the lie with exposing video.
GM @OleItumbi as promised,I've answered to your video with a video. Square.Let's get docs back to work. No sideshows https://t.co/v0yojUwR2Y

— Kenya West© (@KinyanBoy) February 17, 2017
During a trip to Eldoret meet members from the region during the strike period last year, Dr. Oluga was attacked in his hotel by an armed man who was later identified as a state agent. In another incident in Nairobi's Intercontinental Hotel, a man who identified himself as an ex-army officer gave Dr. Oluga a warning at gunpoint, "Wacha kusumbua serikali tutakumaliza". Another public incident was in Bomet where union officials were attacked by then Governor Rutto's guards, find were drawn and at the end, Dr. Oluga walked out with a broken finger.
Death threats and other forms of intimidations have been part of his work as the Union official and most probably his tough stands on healthcare must have earned him powerful enemies. Doctors strike was called off even though the government is yet to honor the signed deal. Most doctors have gone for months without pay. The pressure on the Sec Gen and Union officials had gone down since the end of the strike but now creeping back.
From a highly placed source, Kenya Insights has obtained documents of what is a clever scheme of character assassination targeting Dr. Oluga in what we read a sinister motive. In our investigations, we've followed the pattern of emails that are sent anonymously from Gorilla Mail (a dark web email provider for sending anonymous emails to specific people within the doctor's circle.
The authors allege that Dr. Oluga is involved in a love triangle, this they hope would bring into question his integrity as a leader. The messaging is tailored to build a narrative that would be used as excuses should they proceed to harm the Sec Gen of the doctors union.
Of curiosity is those that this group is targeting, they've smartly figured out and sending these emails to union officials, close friends and influential public figures from MPs to CSs. This clearly shows the motive is character assassination and our worst fear is it could be a narrative being laid as planners plot to cause harm to the Sec-Gen.
The love triangle has been a quick and favorite getaway for most assassinations even in Tom Mboya's, Mutula Kilonzo, Jacob Juma and Lately Chris Msando, and any other prominent mysterious murder you can think of, love triangle theory has always been thrown in. For this reason, it's easier for someone to build a narrative of a love triangle so, in the case of bodily harm, they'll blame it on the love triangle even if that's not the case.
We've also established in our investigations that Dr. Oluga had reported this matter to the DCI and Cyber Crime, Serious Crimes units and a month later, no communication has come forthwith from the DCI. In one of the emails, Dr. Oluga's mother and family have been threatened to go to show the scale of this threats. We're left wondering as to why the doctor has not gone public with this information yet we want to believe he knows the dangers it poses.
The question that would tickle any mind as to who really did the Sec Gen rub the wrong way that has gone to the length of sending malicious emails to targeted contacts. The is a question that can only be answered by the police after conducting their investigations and arresting the culprits otherwise everything else remains mere speculations.
Dr. Oluga has been vocal against the importation of doctors from Cuba insisting that it will not solve the healthcare crisis in Kenya. In his argument which corresponds with the Union stand, Dr. Ouma says that Kenya has more than 1,000 unemployed doctors and that by importing 100 doctors from Cuba, the situation will not be solved. Instead, he has advises the government to absorb local doctors and advocating for the full implementation of CBA that would see improved healthcare.
Talking of improved healthcare, Dr. Ouma recently wrote about, the dark side of public-private partnerships a matter that became a subject of discussion at the Devolution Conference In Kakamega. He argued that in healthcare, public-private partnerships are conduits for corruption. This coming at a time when President Uhuru has set aside about Sh500B for the implementation of his Big Four work plan with healthcare being the top list of what to do.
Jacob Juma, Chris Msando both had similar threats as those sent to Dr. Oluga, both reported to the police and in now a similar pattern, no follow up was done and the next thing was bodies discovered in thickets. As a matter of urgency, we're calling upon the police to treat matters of life threats and especially to a man of Dr. Oluga's position in society with the seriousness it deserves.
These emails are not being sent by bots but real people who will also read this article and come up with something crazy to fit into their narrative. We have a police unit for this and I want to believe they're competent enough to smoke out these criminals wherever they're. A failure to do so will send a clear message of deliberate incompetence. Police should therefore unearth the truth to reveal those behind this scheme and establish reasons why.
---
Kenya Insights allows guest blogging, if you want to be published on Kenya's most authoritative and accurate blog, have an expose, news TIPS, story angles, human interest stories, drop us an email on

[email protected]

or via Telegram
---