Lobby Group Wants Co-Operative Bank And Nairobi County Assembly's Salary Deal Investigated With Corruption Red Flags Raised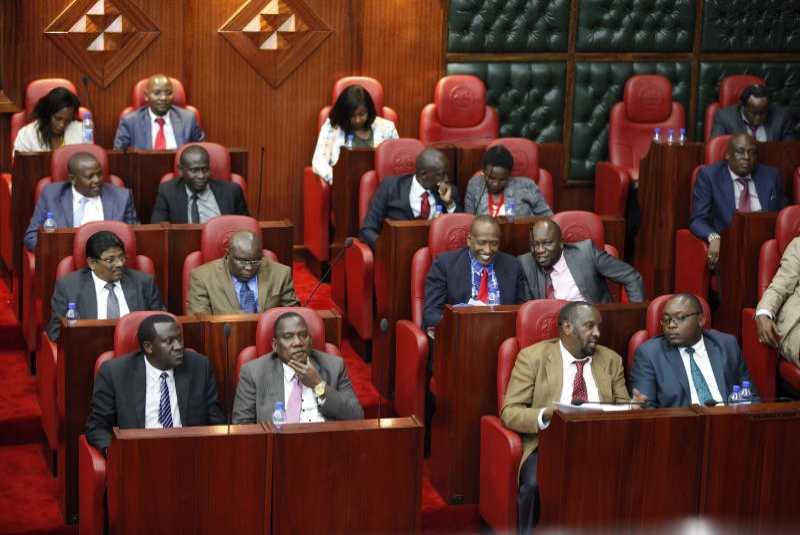 A concerned city resident, Kelvin Njihia has written to the anti corruption body EACC and DCI to launch investigations into widespread corruption and impunity cases at the capital's county assembly.
In a letter addressed to the two bodies, Njihia claims  there are serious integrity and public trust issues within City Hall. He alleges that the County assembly has gone against the set threshold by Salaries and remuneration commission restricting members not be in more than four committees.
According to his findings, most senior members in the board and their allies, have occupied more than four committees thereby contravening the law. The petitioner want members of the assembly occupying the extra committees to be investigated and prosecuted over corruption and the impunity displayed. He lists top officials flagged in his findings including;
Elias Otieno Okumu- 7 committees.
Esther Waithera Chege- 6 committees
Abdi Ibrahim Hassan- 6 committees
Peter Wahinya Njau- 5 committees
Peter Anyule Mwatok- 5 committees
Juliet June Ndegwa- 5 committees
Rest of the list
Besides, the concerned citizen coalition want the assembly to be probed as to how salaries of the members is channeled through cooperative bank contrary to the SRC's directive and s contravention of county and national laws.
The petition also noted that the suspended County's assembly clerk Jacob Ngwele who's out of office over miss appropriation of funds still executes official duties despite the court's directive. Ngwele in what the petition claims to be a contempt of court, recently invited public's participation in approval of Halkano Dida Waqo as County's Chief Executive Officer for ICT in what is flagged as one of many suspicious appointments.
Ngwele himself was illegally appointed into office and being investigated for the same. Petition also want the commission to speed investigations and findings following the impeachment of County's Speaker Beatrice Elachi.
They want the Ethics and Anti-Corruption Commission to give updates on the Majority leader of the Nairobi County Assembly Mr Ibrahim Abdi Hassan who had been summoned by the commission over the City Hall clash pitting members against Speaker Beatrice Elachi.
EACC ordered Hassan to appear at the Integrity Centre on September 12, 2018 to record a statement that will aid in the investigation of members' conducts. He's alleged to have conspired with members in wider plot to oust the speaker. According to the petition, Elachi was kicked out due to her lack of corporation in fraud schemes hatched by the board members.
Petitioner wants the DCI to dive in and investigate why the county's salaries are being channeled through co-operative bank and not directly from central bank to individual's accounts in what is read with suspicions.
---
Kenya Insights allows guest blogging, if you want to be published on Kenya's most authoritative and accurate blog, have an expose, news, story angles, human interest stories, drop us an email on

[email protected]

or via Telegram
---
Diamond Trust Bank Helped Riverside Terrorists Launder Money That Financed The Dusit Attack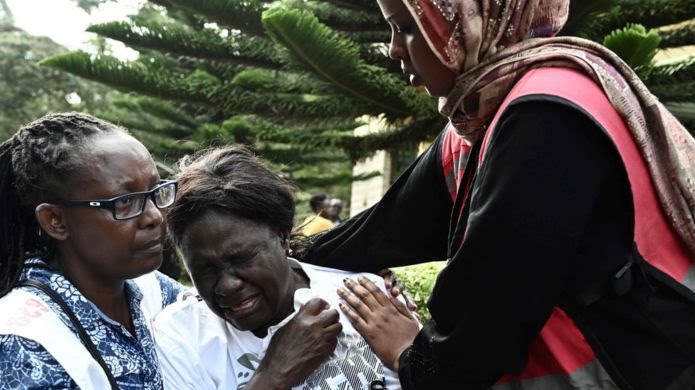 Anti Terror Police Unit has been combing out areas believed to be terrorists hideouts and spending sleepless nights piecing up events to net all those involved in the Riverside attack.
Shocking details emerged in court on Wednesday as six more suspects were arraigned in connection to the January 15, 2019 terror attack at 14 Riverside in Nairobi.
The six; Hassan Abdi Nur, Ismael Sadiq Abitham, Ali Khamisi Ali, Abdinoor Maalim Ismail, Abdullahi Mohamed Hassan and Sophia Njoki Mbogo, were accused of financing the attack that left 21 dead.
Another suspect, Hassan Abdi Nur, was said have been receiving huge amounts of money from South Africa, which was later withdrawn through a specific till number. Intelligence reports indicated that he would later send the money to Somalia after making several calls.
Abdi, who operates an M-Pesa business, is said to have registered 52 accounts out of which 47 were listed in October, November and December last year.
The affidavit reads that Abdi received Sh9 million from South Africa and the same was withdrawn through M-Pesa and later through Diamond Trust Bank Eastleigh Branch. Police suspect the money was for financing terrorism.
Abdi is said to have registered 47 Sim Cards using different identity cards and names. The Sim Cards were all used in two handsets which were all geo-located within Eastleigh area, Nairobi.
According to investigators, DTB's Eastleigh branch was used to transact huge amount of money from the suspects and this went without sounding an alarm to the authorities. The bank in this lime helped the terrorists launder their money.
Banks have become under criticism for failing to flag suspicious transactions which as its evident, used in financing slaughtering of innocent Kenyans and also the fact that money laundering had been giving corruption in Kenya a leeway.
Family Bank Limited has been cleared in the Sh1.6 billion National Youth Service money laundering case after reaching a settlement with the Director of Public Prosecution Noordin Haji.
The bank pleaded guilty to six counts, including failure to comply with its reporting obligations to report unusual transactions, then paid a fine from which Sh24,500,000 will go to NYS while the rest Sh40million will be paid to the Sports ministry.
According to investigations, Sophia Njoki Mbogo, a branch manager at Diamond Trust Bank in Eastleigh, was arrested on Wednesday. She allegedly withdrew huge chunks of money from the branch despite no report ever being made to the police.
If this is to borrow a leaf from previous money laundering cases with NYS banks then the decision to permit such huge transactions without flagging has a long chain link in the hierarchy that need to be followed. This will open other angles.
Banks must adhere to anti money laundering standards to help curbing corruption and funding criminal activities such as Al Shabaab. I therefore suggest that investigations should go beyond the Riverside attack transactions to connecting dots and tracking other active and past transactions. DTB should be sanctioned should it be be proven that they knowingly or unknowingly facilitated terrorism attack in Kenya by such transactions.
Court was also told by ATPU that one of the suspects Abdinoor Maalim Osmail, a graduate of Kenya School of Law currently undergoing pupillage, received Sh100M in the past few months. This money is suspected to have been used in facilitating the Nairobi attack.
Horizon TV is also in the spot having its two members of press on the dock; Ismael Sadiq who works with Horizon TV as a social media representative. He was arrested on January 22,2019 within Nairobi County and his mobile phone seized.
He is said to have been in constant communication with Gichunge. Police suspect he was involved in laundering money and transacting funds believed to be for the purposes of terrorism.
Ali Khamis works as a marketing manager with Horizon TV and was arrested on January 22, 2019 and his mobile phone seized for forensic examination.
He is said to have been in constant communication with several phone numbers in Somalia suspected to belong to Al Shabaab members.
A law intern transacted about Sh100M from unknown sources in South Africa and allegedly used DTB to launder the money to Somalia for financing terrorism. Another one posed as an Mpesa agent, created 52 Mpesa accounts, 47 of which were created in three months.
Now question arises as to how all this passed the intelligence eyes and just how porous is the financial system in Kenya that such suspicious transactions can go unplugged? What measures for instance does Mpesa have in place to curb facilitation of terror? 52 Mpesa accounts, one person under three months and their intelligence couldn't raise an alarm? We're living in the reality of  Al Shabaab menace and not unless things change, it could just get worse.
I don't have to go back and forth on the down ends of money laundering. Terrorism is as alive as finances are available to fund the evil acts. Al Shabaab have known our financial systems are weak and that with a bribe, one can move millions at a go without being flagged as is the case against DTB before the court.
If rules aren't adhered to then we're laying a perfect ground for Al Shabaab to move their money in and outside our financial setups, plan and attack Kenya with absolute ease. It's in this breath that financial institutions like Mpesa, banks must be held accountable, it has to be everyone's responsibility to protect each other.
Its a shame that the manager at DTB and sleeping intelligence out of greed and incompetence respectively, allowed the Al Shabaab to successfully execute their plan. Investigations must therefore be carried out and the banks like DTB and other players caught in the act be subjected to cruel sanctions and more importantly, CBK and relevant authorities need to be ruthless with the implementation of anti money laundering efforts.
---
Kenya Insights allows guest blogging, if you want to be published on Kenya's most authoritative and accurate blog, have an expose, news, story angles, human interest stories, drop us an email on

[email protected]

or via Telegram
---
The Making Of A Suicide Bomber, Former Al Shabaab Fighter Reveals Behind Scenes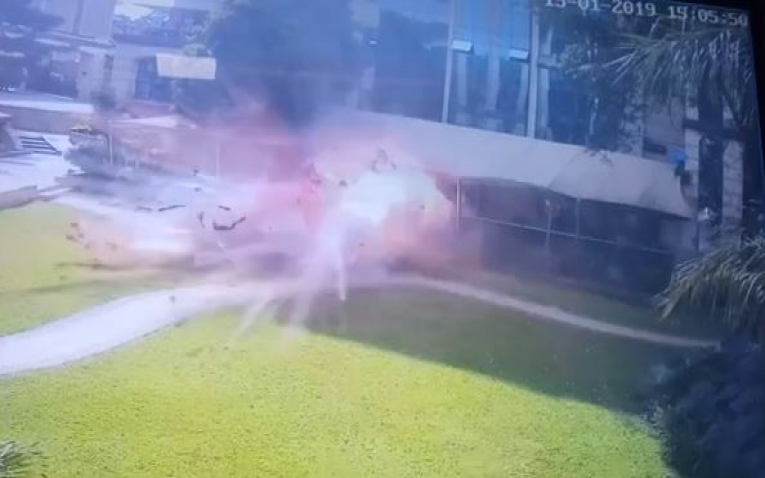 Mahir Khalid Riziki was the suicide bomber who blew himself up at the Dusit hotel attack by terror group Al Shabaab in Nairobi that left 21 civilians dead.
In a rare CCTV footage that has been doing rounds, the attacker can be seen walking and standing strategically outside Secret Garden Restaurant While in communication with his colleagues who were on standby before blowing himself up and body parts seem flying away.
What had many people wondering is to how much one has to be radicalized to the point of offering themselves as suicide bomber. Mahir can be seen in the video looking a bit nervous seconds before the explosion pointing at a fact that he must have been hit with reality of a painful death.
Just how did it get Mahir to get from attending madrasa at Musa mosque to killing security officials before eventually escaping to Somalia where he joined the militia group and was trained to become a suicide bomber since 2016 and only crossed over to Kenya for his final mission.
In a post Dusit attack interview, an. Al Shabaab returnee only identified as Musa, opened up to tell what exactly happens behind the scenes that many don't know. The terrorist groupie has been on s recruiting offensive charm mostly targeting to recruit Kenyans of non Somali decent whomeasily penetrate dragnet.
Musa told CNN that he positively identified Ali Salim Gichunge from the CCTV footages as amongst the attackers, this is perhaps is the first public evidence that links the Kenyan attacker to Somalia. Musa said Gichunge was a member of the feared Amniat, al-Shabaab's internal security service, and that he met him in Baidoa, central Somalia, in 2012.
Musa who now leaves in fear of attacks from Al Shabaab and police, says he has survived assassination attempt when gunmen were sent from Somalia to eliminate him for disloyalty and defection. Having been in Somalia and trained, he certainly holds much intelligence on their operations. "I was shocked. When I saw the CCTV I said 'I know that guy!'" Musa told CNN in an exclusive interview.
According to Musa, many of the most radicalized al-Shabaab volunteers were fighters who had converted from Christianity, he added, including Gichunge.
He reveals that on joining the terrorists camps in Somalia, one is subjected to thorough interrogation, in his instance, he says Gichunge was amongst them. "They'll eat with you but they are just interrogating you: 'How do you love al-Shabaab? How did you come here? Why did you join al-Shabaab?' Those who fail to pass this phase are jailed for months if lucky or worse like getting killed.
 Brainwashing a suicide bomber
Musa's experiences reveal the extent to which "brainwashing" by al-Shabaab continues after volunteers have been smuggled into Somalia and offers a rare insight into the methods the terror group uses to instill absolute loyalty among its followers.
Speaking in a secret location in Nairobi with CNN, Musa said he had taken part in the decapitation of a prisoner of war.
 He was part of group that took turns with a knife to saw at the neck of the victim — a tactic used by the terror group to ensure everyone's involved in the crime.
 "That's part of the brainwashing," he said. "They told us it's part of the training." He said he was then ordered to "surround the head, kick it like football and pass it to another person." Basic military training is reinforced by involuntary collusion in atrocities."It's to reduce fear in you," he added.
 Musa told CNN that suicide bombers go through a rigorous selection process. New recruits are asked explicitly if they want to volunteer to "blow yourself up." Those selected are then taken away from the main group and indoctrinated for at least a year with daily Quranic studies, lectures by a "sheikh," and intense physical and military training.
 While in Somalia, he met fighters from several western countries as USA, Britain and Australia with most of them totally brainwashed and praying for their days to be offered permission to return to their homes and launch attacks.
 The former al-Shabaab fighter had a grim warning.
"Everyone wants to come and do something like [the] Dusit [attack] but they have not been given the chance … given the chance, they will come."
 Adopted from CNN
---
Kenya Insights allows guest blogging, if you want to be published on Kenya's most authoritative and accurate blog, have an expose, news, story angles, human interest stories, drop us an email on

[email protected]

or via Telegram
---
Riverside Suicide Bomber Was Recruited At Masjid Musa Mosque And The Tactical Error He Made That Saved Many Lives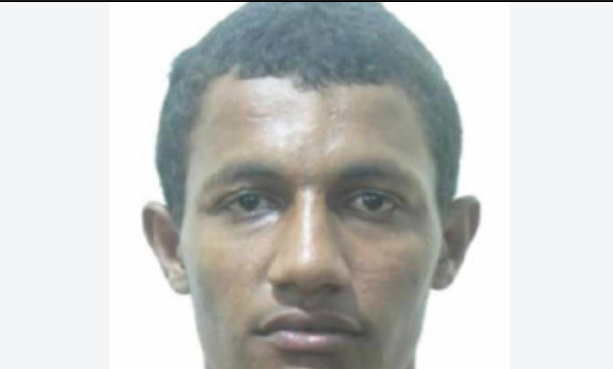 Kenyans we're left in shock after the CCTV footage showing the moments when the Dusit first attacker blew himself up, in what seems to be the first suicide bombing mission in Kenya.
The bomber can be seen walking and standing outside the Secret Garden Restaurant seconds before detonating. He seemed unsure of his steps and while ordinarily, it would be expected he blow himself up in a crowded place, the attacker blew himself up outside.
Intelligence officers have now identified the attacker as Mahir Khalid Riziki who apparently has been on ATPU radar since 2014 where he was amongst the many youths charged with killing officers in Coast. He was recruited into Al Shabaab by Ramadhan Hamisi Kufungwa while attending prayers at Masjid Musa, a mosque that has been accused of radicalizing faithfuls and recruiting for Al Shabaab.
Masjid also happens to be where the radical cleric Abud Rogo who was fell by police bullets and accused of being an Al Shabaab operative and used the Masjid mosque to recruit youths into the terrorist group in Mombasa.
In 2015, Hamisi fled to Tanzania after the police circulated his image as a wanted criminal, he would later confess to his family of joining Al Shabaab before moving to Somalia.
He had been under training in Somalia until Mahir, according to detectives, sneaked back into the country last week, through Elwak in Mandera county then to Takaba and boarded a Moyale Raha bus in Marsabit town heading to Nairobi.
He then moved to Guango estate, Mucatha in Kiambu county where the attack ring leader Ali Salim Gichunge resided, and received instructions on his role in the 14 riverside drive attack.
On the attack day, Mahir arrived at the scene ahead of his team and was in touch with Gichunge who was the operation commander and was to take position inside the restaurant, blow himself up, kill as many and the blast to signal the assault team positioned outside and kill civilians fleeing.
According to intelligence, a time disconnect and tactical failure by Mahir led to saving of many lives. The initial plan apparently was for him to detonate from inside and not outside for maximum casualties.
"The attack strategy was for him to detonate his suicide vest to kill people at the Secret Garden restaurant and signal incoming attackers. Then, as people scamper for safety towards the main entrance of Dusit complex, the other four attackers were supposed to embark on a killing spree targeting the fleeing crowd," a source said.
Mahir fortunately blew himself up at the wrong place and before his colleagues would arrive as planned letting many people escape and leading to many lives getting saved. His other colleagues stormed in minutes later behind schedule when scrores Of civilians had escaped. Unfortunately, they managed to kill 21 civilians in their shootings.
Suhaila Mwalim Bakari, was taken into police custody following the identification of her husband, Mahir Khalid Riziki, as the suicide bomber in the Tuesday attack.
It is not clear whether Suhaila became radicalised, but investigators say she was a  confidant of her husband, lending her ears to his trials and tribulations while in Somalia everytime he called her, demanding details about her current life while he remained in hinding.
For a man who has been in police radar since 2015, questions arises as to how he perfectly evaded surveillance, communicated with his wife in Mombasa, sneaked into the country, moved through Nairobi and walked into Riverside with bomb vest without detection.
---
Kenya Insights allows guest blogging, if you want to be published on Kenya's most authoritative and accurate blog, have an expose, news, story angles, human interest stories, drop us an email on

[email protected]

or via Telegram
---