Kenyans Opening Up On Their Worst Experiences With Silverstone Airline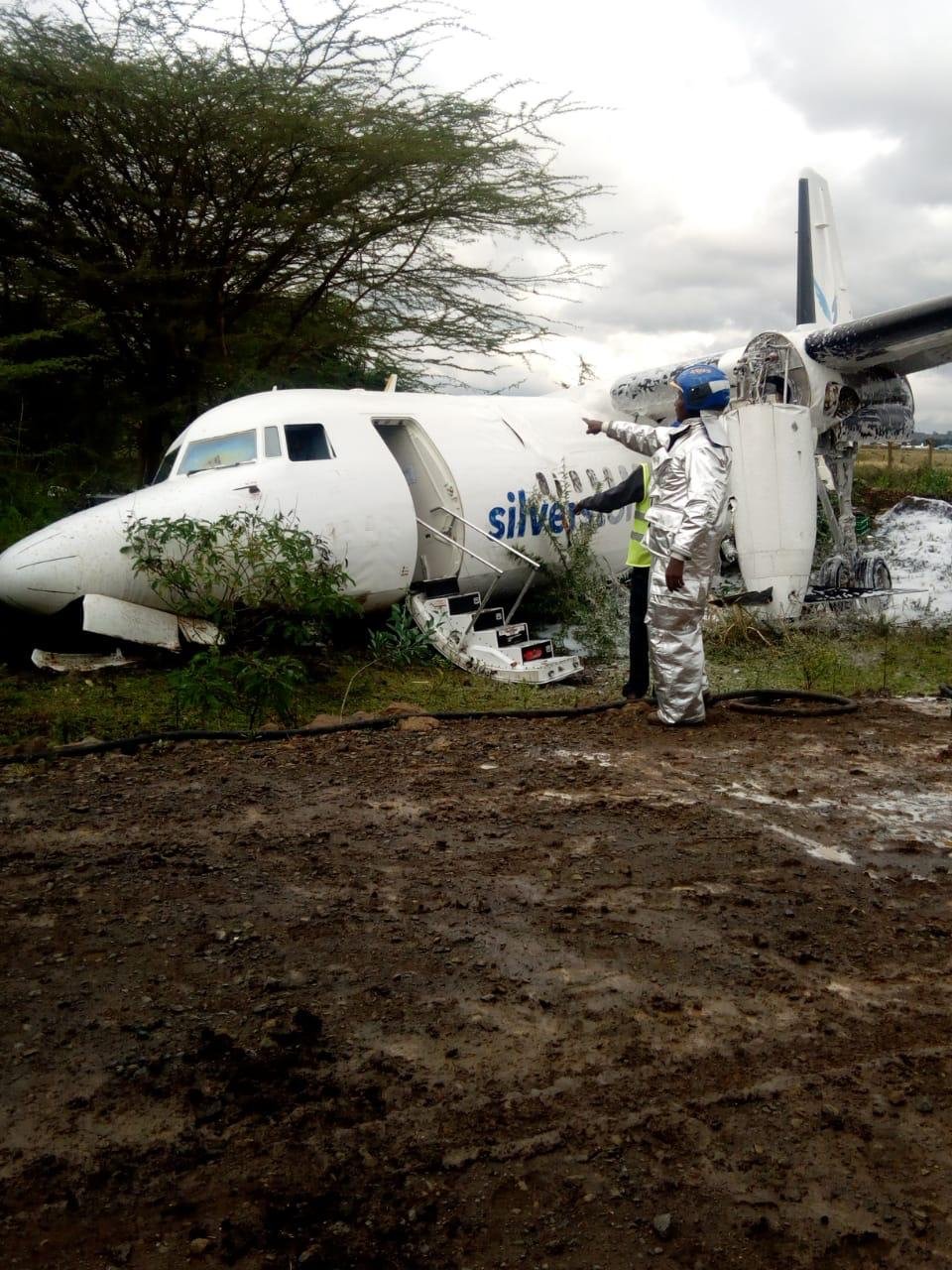 A passenger plane operated by local airline Silverstone Air on Friday, 1morning skidded off the runway at Wilson Airport in the Kenyan capital Nairobi.
Witnesses say the craft lost its way during take-off to the coastal city of Mombasa.
Images circulated online from the scene showed that the Fokker 50 aircraft plunged into a thicket, hitting some trees and breaking part of its wing, before being grounded, tilted to one side.
The Silverstone plane had 55 souls on board; 50 passengers and 5 crew members. 2 passengers were slightly injured and received  medical attention.
Aircraft Accident Investigations directorate is carrying out investigations to establish the cause.
Below are some of the reactions and complaints from Kenyans on  Silverstone Airline.
Thoz tuthings Silverstone Air operates are the most dangerous things after kushikwa ukiwa na bibi ya mtu. Boarded one to Lamu last year & never had such a bumpy rough ride nearly wet my pants.

— Mapesa Kuria, OGW. (@kuria_mapesa) October 11, 2019
Three weeks ago, i was onboard silverstone air,Ukunda to Wilson with my family.I did not like how the plane landed at wilson.We kinda bounced on our landing.something should be done on that runaway#WilsonAirport

— KivuvaJnŕ (@josephkivuva) October 11, 2019
There has been numerous complains regarding the aircrafts operated by Silverstone Air.. Basically they are old and unworthy to fly anywhere in the world. But with corrupt people like Kibe at the helm of KAA, we expect more of this!

— MWENDAH™ (@pmwesha) October 11, 2019
Result of a rejected T/O at high speed. Glad that al crews and pax evacuated safely from this Silverstone plane. pic.twitter.com/qs7XlUeqOk

— The Kenyan Aviator (@kenyanaviator) October 11, 2019
Flying silverstone is like agreeing to commit suicide. This company is openly mismanaged with the most poorly maintained fleet. @RobertAlai has a whole story on his timeline from a while back. Since then, I only see Akothee trying so hard to market this wreckage. pic.twitter.com/vpDoN02MPE

— Lord Abraham Mutai (@ItsMutai) October 11, 2019
I still have never recovered from the scares I got flying with Silverstone. First and last time.

— Koome Gitobu (@KoomeGitobu) October 11, 2019
I always knew their planes are disaster in waiting,they buy very old second hand planes…kama si kenya airways let me use road? https://t.co/lmDivPDnt1

— Essy? (@essywafula) October 11, 2019
And the way I'm usually team Silverstone.. Lakini those aircrafts are usually wasi wasi..

— Vionna (@Kurlycheeks) October 11, 2019
This Silverstone Ma3 has to be stopped I can never fly in this thing again, after a bad experience earlier this year..??

— pauleenmwalo (@pauleenmwalo) October 11, 2019
I said it and will say it again Fokker planes are not safe for the skies. Just look at the statistics of how many are flying around the world, less than 50. Quick recovery to all injured passengers onboard thr Silverstone flight enroute Lamu via Mombasa.

— Ogutu Okudo (@ogutuokudo) October 11, 2019
Those Silverstone aircrafts are worse than javs

— Fatness Everdeen (@Cin_Sinbin) October 11, 2019
Silverstone is like those Kayole buses, the lowest tier, don't risk your life coz I've heard enough complaints from that airline

— Bel Akinyi (@BelAkinyii) October 11, 2019
What is this? Who authorised the operation of this Silverstone shitty aircrafts. Soon many people will die due to selfish desires. Look at what happened at Wilson Airport pic.twitter.com/6KGksSThvr

— Char-lee Oddie (@CharleeOddie1) October 11, 2019
I said this is August especially for those #Fokker50 planes out of Wilson Airport. If you've been in one, you know they are a mess. #Silverstone were using them too https://t.co/ryNuroITHN

— Notch (@Gatuha_) October 11, 2019
Silverstone aircraft headed to Lamu crashes at Wilson Airport shortly after take-off, several passengers injured. I have been exposing the unsafe state of the Silverstone Aircraft but KCAA DG Kibe is always bribed to look the other way. pic.twitter.com/AlmzuEsYil

— Cyprian Is Nyakundi (@NyakundiBlogger) October 11, 2019
October 2018 tweet on Skyward and Silverstone. Exactly one year later, it happened. Apart from the risk to passengers on board, the smuggling of contraband into the country through Wilson is crazy!!!

One day they will smuggle worse things. https://t.co/101PKzNemx

— Robert Alai (@RobertAlai) October 11, 2019
Silverstone is one of the shittiest companies right now. Those motherfuckers overloaded the plane running on a small strip in Wilson Airport. The media is doing PR to the airline!!

— Cyprian Is Nyakundi (@NyakundiBlogger) October 11, 2019
Wah! Venye hii ndio EASY COACH ya kuenda Kisumu…

I remember the week the ETHIOPIAN AIRLINE crashed, we were up in the clouds & it wasn't a rainy season. The silverstone plane we were aboard was so unstable that we had to hold each other tight

Hii airline ichunguzwe

— Wuod Japuonj (@OsumbaJM) October 11, 2019
I gave up on Silverstone air when we had to go back to Nairobi mid flight coz there was no cabin pressure in the aircraft ??‍♀️

— ❤️Jojo❤️ (@Missyjojo3) October 11, 2019
The reality is, Silverstone Air , Skyward air are poorly serviced. They are always overloaded with Miraa….KCAA is aware of these but nothing happens. Prove it by visiting departures early morning. Overloading is the biggest problem at Wilson Airport pic.twitter.com/9dAxBPNzar

— Waziri Fred Machuki (@machuki_fred) October 11, 2019
Silverstone Air is the local version of Air Arabia. Turbulence while in that plane will last an indefinite period and the anxiety plus frustration that comes with accessing their stowage is unmatched .

— 1:59:40:2 (@SanQh) October 11, 2019
@CAA_Kenya are you aware Silverstone Air , Skyward Air usually overload their planes? Are you aware maintainance of the planes is poor, very poor? Your officers are usually bribed to turn a blind eye on this but you see the returns? Otherwise suspend operations of the airline pic.twitter.com/lt3yNbftS4

— Waziri Fred Machuki (@machuki_fred) October 11, 2019
Had a pretty bad experience with Silverstone air one flight from Mombasa to Nairobi. The way the flight was flown jamani…scary.

— Shann (@Shannboss) October 11, 2019
One thing I said about these aircrafts is that they will kill many people. These small airlines at Wilson Airport are a national security risk. Someone is waiting for people to be killed.

Meanwhile, KCAA boss is collecting bribes from the bosses everyday. https://t.co/mvPapve5dn

— Robert Alai (@RobertAlai) October 11, 2019
I was on board @silverstoneair in the morning at 7:15am – Eldoret & met some of the passengers on that flight to Mombasa. The runway was very wet but what struck me was the potholes. Our pilot was literally dodging them as we taxied. We hit two of them hard #WilsonAirport pic.twitter.com/U8WKH8rsg1

— Dennis Okari (@DennisOkari) October 11, 2019
---
Kenya Insights allows guest blogging, if you want to be published on Kenya's most authoritative and accurate blog, have an expose, news TIPS, story angles, human interest stories, drop us an email on

[email protected]

or via Telegram
---