Kenya Signs A Deal With Visiting Switzerland President That Will Return Stolen Money Stashed In Swiss Banks Home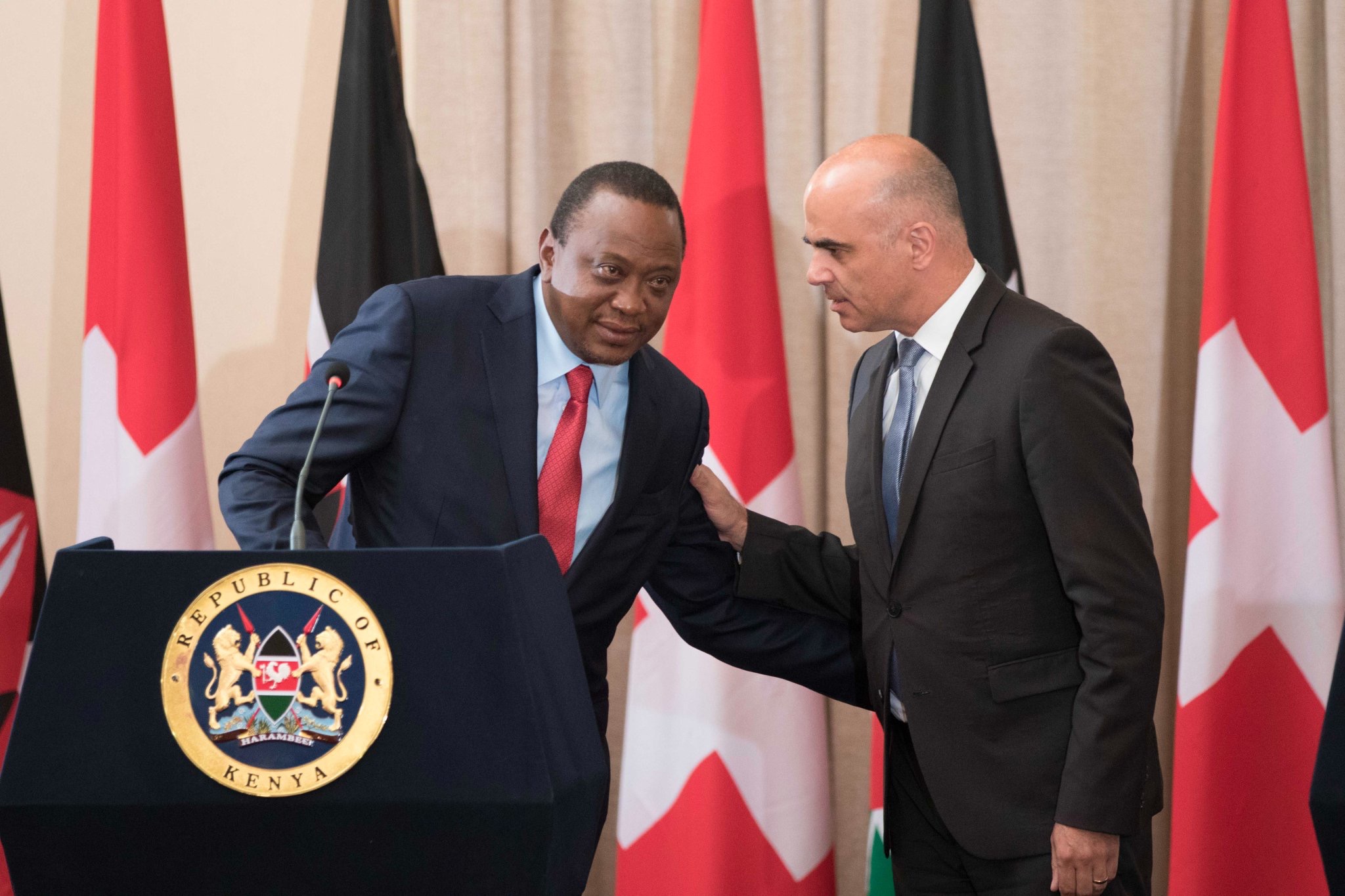 President Uhuru Kenyatta and his Swiss counterpart Alain Berset today oversaw the signing of a key agreement that clears the way for the recovery of assets acquired through corruption and crime  in Kenya and stashed in foreign countries.
The two President's said the agreement, Framework for the Return of Assets from Corruption and Crime in Kenya (FRACCK), which is also supported by the United Kingdom and the Jersey Island, will create a mechanism for Kenya to recover money stolen by corrupt individuals and hidden in the three countries-Switzerland, the United Kingdom and Jersey Island.
President Kenyatta said the signing of the agreement at State House, Nairobi, was part of his resolve to eliminate corruption in the country, saying that his stand on the vice is clear.
"We have seen, in the last few months, a new intensity in the fight against corruption in Kenya.  Quite frankly, my Administration has shown that corruption cannot, and, will not, be tolerated," said the President.
The framework, which is in line with the United Nations Convention against Corruption, provides the principles to guide the recovery of stolen assets. The first assets to be targeted by the new framework will be monies stolen through the Ango-Leasing scandal and hidden in Switzerland.
"In the spirit of the Global Forum on Asset Recovery's Principles for Disposition and Transfer of Confiscated Stolen Assets in Corruption Cases, returns should proceed in a transparent and accountable manner with the mutual consent of both Kenya and the partner offering the return," says the  new agreement . To avoid complicating of asset recovery, the framework says that recovery should follow executable judgements.
The agreement further says that assets recovered under the mechanism will be used to pursue clearly identified development objectives, for example in the health sector, that benefit the people of Kenya in line with the 2030 Agenda for Sustainable Development and Vision 2030.
A steering committee comprising of the Executive Office of the President, the Attorney General, the National Treasury, the Assets Recovery Agency, Ethics and Anti-Corruption Agency and envoys or representatives representing the partner countries will be established to implement the deal.
Parts of the roles of the team will be identifying potential assets to be recovered; identifying potential implementing organizations; decide unanimously on priorities for the use of returned funds; monitor progress in returning assets; receive reports on the progress of projects funded through recovered assets and learning lessons for future returns.
The agreement also has a provision to allow other nations willing to cooperate with Kenya in the recovery of stolen assets to join.
"Other countries that have anti-corruption laws and that have identified proceeds of corruption that they are willing to return to Kenya may join   as new partners with consent of all the existing partners and the government of Kenya.
Speaking after the signing of the agreement, President Kenyatta who was joined by Deputy President William Ruto and other senior Government officials, said the fight against graft will continue.
"The reasons could not be clearer.  Corruption directly threatens Kenya's future; it denies our children the education they deserve; it denies Kenyans the public goods their hard work has earned them; and it degrades the quality of our Government.  Most unfortunately, it erodes Kenyans' pride and confidence in their country," said President Kenyatta.
President Kenyatta thanked President Berset for Switzerland's continued support of Kenya's prosperity saying that Switzerland which was the first country to recognise Kenya at independence in 1963, has given immense support to Kenya's health and humanitarian sectors.
"Our friendship with the people of the Swiss Confederation endures.  Our friendship dates back to our independence, and has grown stronger in the half century since," said President Kenyatta.
He said the two countries are working on an agreement to tackle double taxation while also inviting his guest to attend the global blue economy conference Kenya will co-host with Canada later in November this year.  President Kenyatta also announced that Kenya will open a new embassy in the Switzerland by October to promote trade and tourism.
President Berset who is in the country for a two day official visit said his country appreciates the role Kenya is playing at regional and global stage. 
The Swiss President further said that Kenya is a good investment destination and that opportunities for more trade are opening up under President Kenyatta's Big Four development agenda.
Earlier, the two leaders held private talks followed by a bilateral meeting where they discussed how to deepen trade and security ties between the two countries.
---
Kenya Insights allows guest blogging, if you want to be published on Kenya's most authoritative and accurate blog, have an expose, news, story angles, human interest stories, drop us an email on

[email protected]

or via Telegram
---
Joash Ombati The Brave Police Officer Who Took On Two Thugs And Recovered Sh400,000 Feted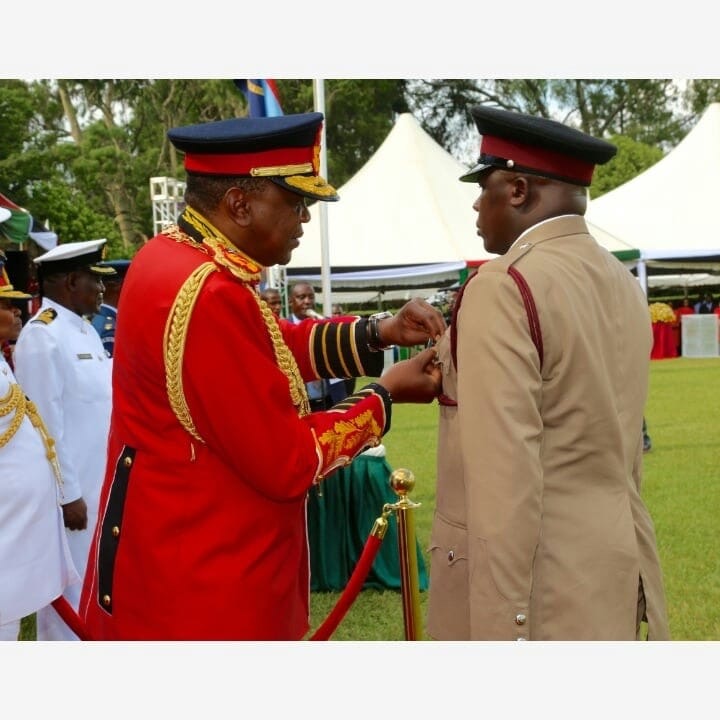 Two suspects, Sameer Abdulaziz Kassim and Peter Kavoli Musili had posed as traders of construction materials on OLX.
They reportedly duped Amos Charo Saroan, an unsuspecting customer from Voi then robbed him.
Amos Charo traveled from Voi and met the duo in Nairobi CBD, then drove towards Westlands but he was pushed out of the speeding car after giving them KSh 732,000, an incident witnessed by Ombati.
Administration Police Constable Joash Ombati who was guarding a bank nearby, boarded a taxi to chase after the suspects.
The Police officer shot in the air forcing the thieves to surrender before he handcuffed them as members of the public watched with many urging him to shoot dead the suspects.
Mr. Ombati remained calm even as a furious mob urged him to shoot and kill.
He managed to recover Sh400,000 which was part of the Sh732,000 that the suspects had stolen from the complainant Mr Amos Charo.
Ombati would then be awarded by Interior CS Matiang'i for his bravery the government was given the heroic AP a Distinguished Service Award in November 2018 barely a month after his commendable work.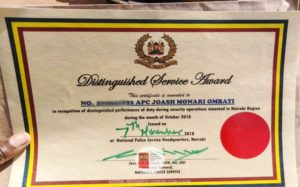 That wasn't the end, Joash Ombati who single-handedly pursued two thugs in Nairobi and recovered KSh 400,000 has just been promoted to the rank of Corporal from being a AP Constable.
Friends help me Congratulate my brother.
---
Kenya Insights allows guest blogging, if you want to be published on Kenya's most authoritative and accurate blog, have an expose, news, story angles, human interest stories, drop us an email on

[email protected]

or via Telegram
---
Grace Msalame Sues Uganda's Tourism Board For Illegaly Using Her Curvy Photos To Promote Sex Tourism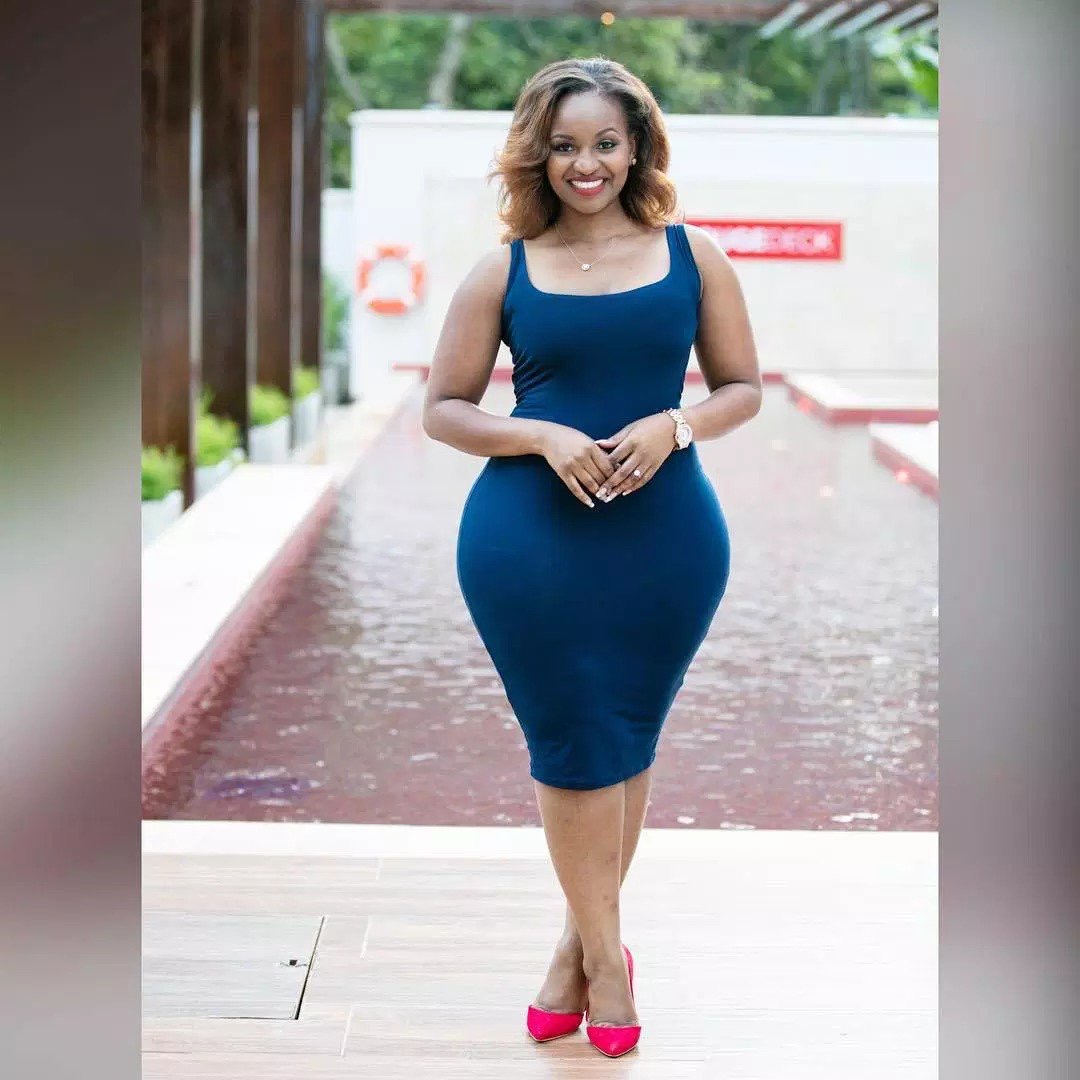 Uganda's Ministry of Tourism unveiled a beauty pageant dubbed 'Miss Curvy Uganda' in a bid to promote tourism in the country, the ministry decided to use Kenya's media personality Grace Msalame as the official face of their Miss Curvy Uganda contest without her knowledge. Whether it was a mistake or deliberate is unknown but now they'll have to prove it in court.
Grace a media personality in Kenya has distanced herself from the beauty pageant saying she was never part of the program neither did she give consent for her photo to be used in the promotion.
In a statement, Msalame says, "I take great exception for the fact that my image and likeliness are being used to propagate, disseminate and encourage objectification of women. I don't agree nor endorse such a message or anyone who's a creator of the idea that women's body are tourist attraction sites."
While announcing that her lawyers are already on legal course for redress, Msalame says, "I reject any association to me that has been unlawfully created by Miss Curvy Uganda 2019 and its agents."
The media personality claims that her brand has been immensely hit following the publications of her images. "Miss Curvy Uganda's deliberate and calculated use of my image and likeliness to promote violation of women's bodies had defamed my character and reputation damaged a brand that I've worked for so many years to establish, and subjected me to unwarranted and undeserved cyber bullying." She says in her statement.
---
Kenya Insights allows guest blogging, if you want to be published on Kenya's most authoritative and accurate blog, have an expose, news, story angles, human interest stories, drop us an email on

[email protected]

or via Telegram
---
Club Associated With CS Echesa's Deported Exotic Dancers Now Wants State To Pay Them Sh48M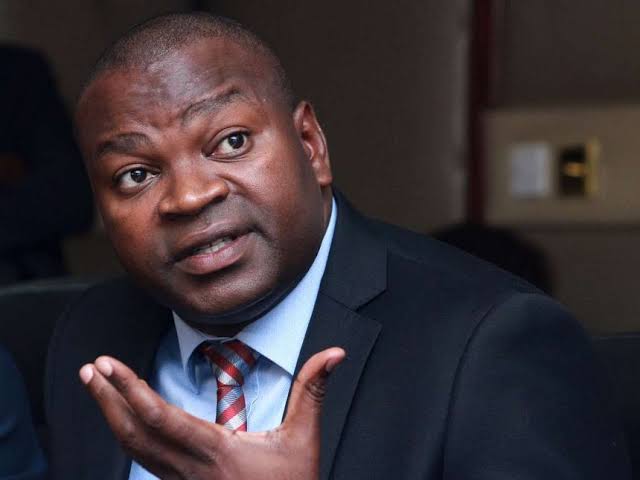 Balle Balle Club In Parklands that flew in the eight deported Pakistani women is now suing the state over the deportation of the dancers by police infringed on its rights and business. The club is seeking to be compensated with Sh48M which they claim was lost as a result of the deportation.
Arguing their case before Justice Luka Kimaru, the club represented by lawyer Evans Ondieki told the court that the dancers had been issued with special permits by the Sports CS Rashid Echesa to perform at the Balle Balle Club during the festive season but were arrested and detained illegally by police.
The court also heard, the girls were bundled out of the club and detained for 36 hours without bathing, which was a violation of their basic rights. They were held as investigations looked into the circumstances and validity of the permits issued by the CS who was alleged to have been involved in the human trafficking racket.
Earlier, the lawyers had sought for the court to compel CS Echesa and Matiang'i to personally compensate the deported girls despite having a standing order to produce them in court. The courts excused the CSs from the Sh9.1M fine and instead summoned detectives who gave out the girls to different state despite the case having been lodged in.
The club is now seeking orders restraining the DCI, DPP and Transnational Organised Crime Unit from entering, harassing, intimidating, arresting or doing anything prejudicial to its directors.
---
Kenya Insights allows guest blogging, if you want to be published on Kenya's most authoritative and accurate blog, have an expose, news, story angles, human interest stories, drop us an email on

[email protected]

or via Telegram
---