John Kerry Savaged By Kenyans Online For Endorsing The Disputed Presidential Election And The American Secret Hand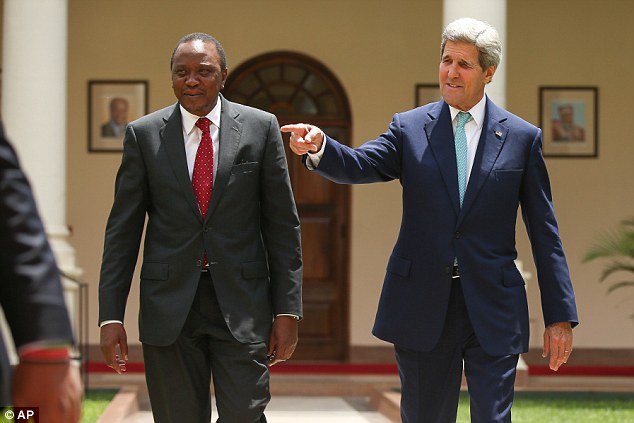 All the people of Kenya are in my thoughts. I urge all to resolve complaints through the courts & for police to allow for peaceful assembly. https://t.co/DWM8e1uoZf

— John Kerry (@JohnKerry) August 14, 2017
Didn't you put the a-okay on this election? Why the heck would anyone be upset after that stamp of approval?

— Anthony Scarammucci (@AScarammucci) August 14, 2017
John Kerry has been savaged by angry Kenyans on Twitter for endorsing the disputed Presidential Election. Kerry, a former US Secretary of State led the Carter Centre observers to the Kenyan Election. The Carter Centre has withheld its verdict based on tallying concerns.
Former White House Communications Director Anthony Scaramucci has savaged Secretary John Kerry over his comments on the disputed Kenyan Election. Kerry who was part of the Carter Centre team to observe the election has been widely criticized for calling the elections "free and fair". Several deaths have been reported after violent protests followed the electoral body's announcement of Uhuru Kenyatta as the winner.
Kerry gave the election a clean bill of health asking aggrieved parties to seek legal redress. However, his sentiments sharply contradicted with Carter's formal statement that has red flagged the tallying process by IEBC. In a section it reads "Although election day voting and counting processes functioned smoothly, the electronic transmission of results from the polling stations to the 290 constituency centers, where official results are tallied, proved unreliable. The IEBC advised election officials to revert to the paper copies of the results forms, which provided a reliable mechanism to tabulate the results. Unofficial results were also transmitted to the national tally center, where they were posted on its website. Unfortunately, the early display of vote tallies at the national level was not accompanied by the scans of polling station results forms as planned, nor labeled unofficial, leading to some confusion regarding the status of official results."
NASA has raised an alarm that the results were unsubstantiated causing confusion, despite their demands to have the stream numbers pulled down until official numbers from the constituencies backed up with form 34Bs are received as those are the official numbers that ought to have been shown in the first place. NASA has disputed the elections flagging the tallying process insisting IEBC servers were compromised in favor of Uhuru.
The Carter Center's observation mission closely collaborated with other international observation missions, including the African Union, COMESA, the Commonwealth, the East African Community, the European Union, ICGLR, IGAD, and the National Democratic Institute, as well as from consultations with key Kenya election observation groups and other stakeholders. It therefore not unusual that they both had a unanimous voice giving the election a clean bill of health.
On Monday 14th August, Mr. Kerry made a comment on Kenya's election on his Twitter page expressing his concern over the state of violence urging aggrieved to seek lawful routes of solving the dispute. However, his carefully chosen words provoked emotions and he was attacked viciously by Kenyans who were clearly angry and disappointed with his endorsement of the contested presidential vote. Some of the replies;
Free and Fair elections are not based on long queue's at Polling stations your legacy has been damaged by endorsing a Fraud election.

— CHRIS BANTERO ☔☔?? (@crispinokumu) August 14, 2017
Shut up,you came to Kenya to earn your allowances,you can now shut up and leave us alone.The election was rigged and you couldnt see that

— Kamba Pundit (@kamwash254) August 14, 2017
John Kerry You will one day Testify for the pain you've caused KE in this elections by supporting RIGGING..May God punish You,LIAR

— LUO LEGEND???? (@owilijunior) August 14, 2017
https://twitter.com/BasilShuiski/status/897147227994324992
But you ignored claims on credibility of the tallying process. It is not about a Raila or Uhuru win , it is about free, fair & credible.

— Linda Agola (@AgolaLinda) August 14, 2017
https://twitter.com/ogutuokudo/status/897154139712626688
Aa democrat migrant from Kenya. He simply agreed with rigged IEBC results without authenticating. What a disappointment

— TheStudio (@TheStudioBuzz) August 14, 2017
While you have us in your thoughts. Ponder on this. What if the elections were stolen right before your eyes? Where goes our democracy?

— Hon. Esther M Passaris (@EstherPassaris) August 14, 2017
The position taken by the Americans in this election can only be likened to 2007 where a Kibaki win was their priority. Under the then Ambassador Reinbergger nothing was made unclear that the US was uncomfortable with an Odinga e in which was then inevitable all factors constant.
America commissioned an exit poll that showed Kibaki losing to Raila in the election by 6%. However, with instructions from the ambassador, the results were withheld from public release. Mr. Kenneth Flottman, East Africa director for the International Republican Institute, the pro-democracy group that administered an American government commissioned exit poll, said he had believed that the results would promptly be made public, as a check against election fraud by either side. But then his supervisors said the poll numbers would be kept secret.
When the incumbent, Mwai Kibaki, was finally declared the winner amid cries of foul, Kenya exploded in violence that would leave more than 1,200 people dead before the two sides negotiated a power-sharing deal two months later. With rioters roaming the streets, Mr. Flottman sent an e-mail message to a colleague saying he was worried that, in rebuffing his pleas to release the poll, the institute had succumbed to political pressure from American officials.
"Supporting democracy and managing political outcomes are two different objectives for a nonpartisan, foreign-based organization or country," he wrote, "and sometimes there is a conflict that requires a choice."
Years later, the poll's fate remains a source of bitter contention, even as Kenya moved to remake its electoral system. The failure to disclose it was raised at a Senate hearing in Washington and has been denounced by human rights advocates, who said it might have saved lives by nudging Mr. Kibaki to accept a negotiated settlement more quickly.
Exit polls, of course, are not always accurate, and it is impossible to know if events might have played out differently had the Institute publicized the results, as it has usually done elsewhere. But in Kenya's highly contested election, this particular exit poll, conducted by an experienced American organization, might have been the best gauge of who really won. There's no publicly available exit poll for 2017 election proven to have been commissioned by the US.
An examination by The New York Times found that the official explanation for withholding the poll — that it was technically flawed — had been disputed by at least four people involved in the institute's Kenya operations. The examination, including interviews and a review of e-mail messages and internal memorandums, raises questions about the intentions and priorities of American observers as Kenyans desperately sought credible information about the vote.
None of those interviewed professed to know why the Institute withheld the results. But the decision was consistent with other American actions that seemed focused on preserving stability in Kenya, rather than determining the actual winner.
When Mr. Kibaki claimed victory on Dec. 30, 2007, the State Department quickly congratulated him and called on Kenyans to accept the outcome, even though international observers had reported instances of serious ballot-counting fraud. American officials backed away from their endorsement the next day and ultimately pushed the deal that made Mr. Odinga prime minister. There's no evidence neither rumors that the US might have directly meddled in this year's election not unless a history was replicated. Raila is expected to make an announcement on the next step he's taking having vowed that this will be the last election to be stolen.
---
Kenya Insights allows guest blogging, if you want to be published on Kenya's most authoritative and accurate blog, have an expose, news TIPS, story angles, human interest stories, drop us an email on

[email protected]

or via Telegram
---