Jeff Koinange Show A Bizarre As Miguna Miguna's Misogyny Comes To Surface On Debate With Esther Passaris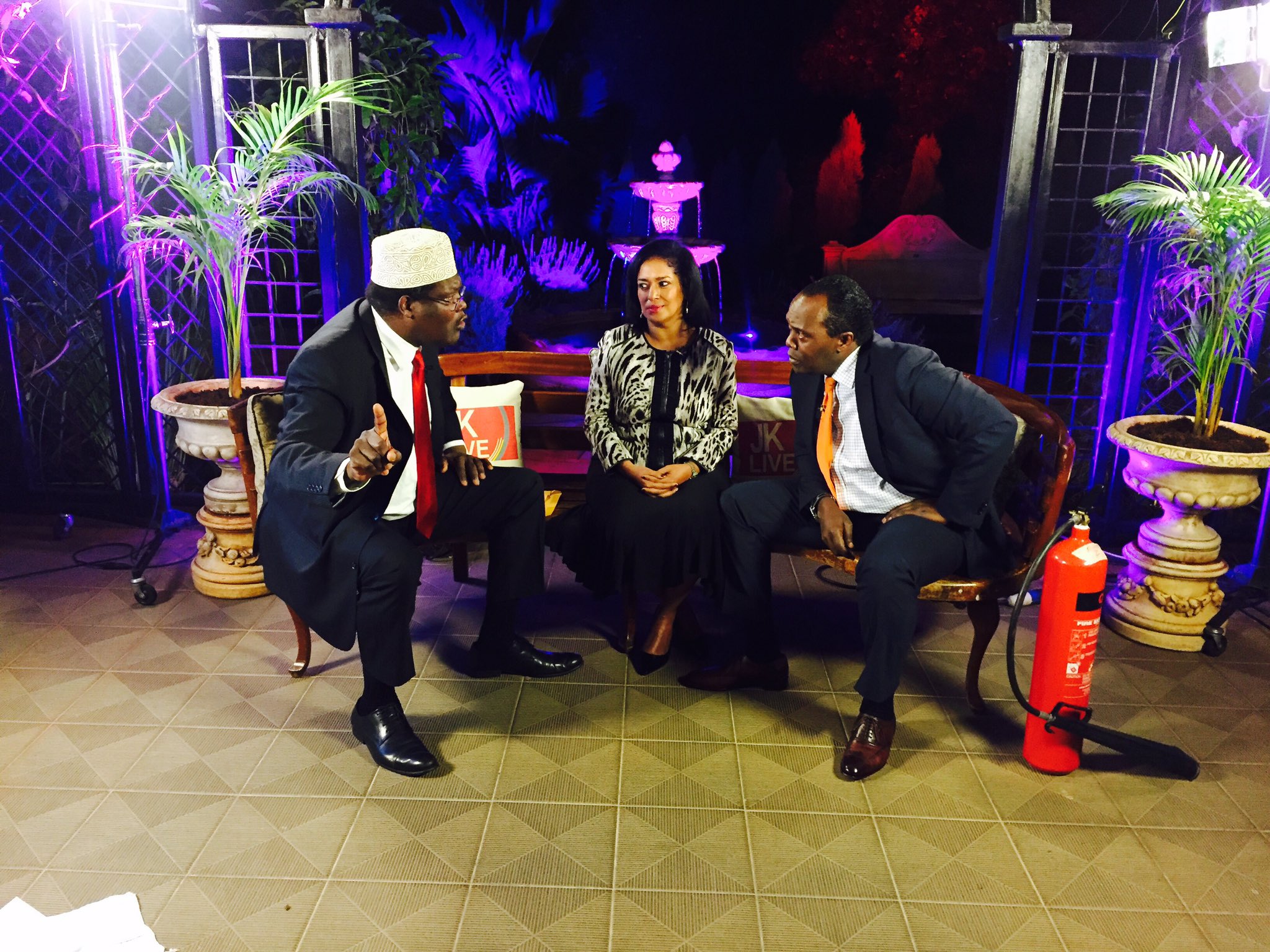 It was set to be an objective debate bringing together contestants for the Nairobi Gubernatorial seat, but things could not end up that way. First, most of the contestants kept off the debate with Miguna and Passaris being the only candidates who showed up for the Koinange Live show. Word on the streets is after the previous debate that went up in flames with Miguna tearing into his opponents and Bishop Wanjiru being the most torn causality, most kept off facing him off. But one woman braced the intimidations and showed up, Passaris.
Miguna who has engraved his campaign on dismantling the corruption cartel comes out as one of the candidates with clearest manifestos and a firebrand with a spirited fight to dismantle the wall. Being a braggart by nature with self-praise intellectualism, Miguna who's now self-baptized himself as Kenya's Trump version is a man you need iron pants to debate with. Miguna is authoritarian his physical attributes intimidating, he's disturbingly loud and has one of the fastest mouths in the market. A bully by nature, you have to prepare like it's a world war before you take on him in a debate or end up being run over.
Passaris on the other hand who is so far the only female candidate in the male-dominated field to make a mileage in pursuing the governor post came collected even though she knew exactly what to expect when debating with Miguna. In a society where male dominance is still in full glare and women squeezing their ways through, it was commendable she braved up to a face off.
The debate was going well until Miguna was served with a defamatory demand letter from Passaris over his persistent attacks on his social media page. He laughed it off before going full army attack on her deviating from the core discussion issues and drowned into personal attacks on the lady.
He went ahead calling her names that shouldn't have been aired on national t.v. Miguna was consumed in emotional fury hurling unprintable words. This was happening at a prime time when families of both parties were watching you can imagine the pain and disturbances caused on them. Just like his copy Trump made jokes about grabbing women pussy, Miguna made an omelet out of Passaris with insensitive rape jokes. He alluded that Passaris is a good digger and beauty that everyone wanna rape, does this then mean all beautiful women should be raped? He said he's success is entirely on her beauty and light skin nature does it mean to Miguna that women can't go up the ladder without sexual prowess? Is that his stamped mindset and tool he uses to uplift those in his scope?
Miguna came out of that debate as a chauvinist, insensitive, disrespectful, distasteful, improper family values, bully, braggart, sexist and the list could go on and on. I'm not saying there's anything wrong with Miguna poking holes into Pasaaris integrity but content and delivery are two different things, how he delivered his attacks threw him to the gutter. He was outrageous; he looked microseconds away from going physical with her if he's like that on national t.v. Then let's not start imagining how he could be in private.
It's time Jeff Koinange started reviewing his guests and moderate with no chains before his show completely looses the little remaining credibility. Watching the battery on women on t.v. is clearly disturbing. Jeff had the chance to call off the show to save the helpless woman who was being attacked by a misogynist and big time bully.
The issue with Miguna is not his policies by the way I've read, and I'm impressed by what he has to offer the city but when you touch a woman you move the entire town. Miguna must swallow his pride or better yet swallow himself but he must apologize for an improper and disrespecting act he put against Pasaaris which is a clear manifest on how he treats women in his life. Sad to think with all that education he still looks down upon women, and I was here thinking education is expensive, ignorance is off the balance. You can tell more about a man's character how he handles the waiter and women around him. Nairobi you have a picture.
You don't look great by looking down upon others and something about pride and fall. Think over it .
---
Kenya Insights allows guest blogging, if you want to be published on Kenya's most authoritative and accurate blog, have an expose, news TIPS, story angles, human interest stories, drop us an email on

[email protected]

or via Telegram
---