In Bobi Wine, Museveni Messed With The Wrong Person As Africa Gangs Up With Kenyans Taking Lead On Twitter For His Freedom
Reports coming from Uganda are not good on the health status of detained politician Bobi Wine. According to available information, the 'ghetto president' had his kidney damaged and suffered internal injuries from the torture reigned on him by soldiers in the barracks where he's currently being held. Bobi is to face the martial court once again on Thursday where he's charged for being in possession of illegal firearms.
Wine was in the northwest of the country in the Arua municipality on Monday Aug. 13 to show support for a new candidate in a local by-election. Museveni was also there to throw his weight behind the ruling party's candidate. Their supporters clashed as protestors pelted Museveni's car with stones, breaking the rear windscreen, Uganda's military said in a statement.
It has emerged that the said guns were planted in Bobi's hotel since the management of the hotel denied the musician cum politician had guns with him. The impact on the said car showed it was never pelted with stones but obviously damaged in schemed effort to trump up charges.
At 36, Wine appeals to a youthful electorate excluded by the polices of their 74-year-old president. With Uganda's median age at 15 years, Wine could emerge as the strongest opponent to Museveni in the 2021 election. He won his seat running both against  the ruling and opposition parties by positioning himself as the voice of the youth, scoring a landslide victory. Additionally, the opposition candidate he was campaigning for in Arua, triumphed over Museveni's choice.
For a tyrant who recently forced a law extending his presidential term limits, Museveni is determined to rule Uganda by fire and blood and that's why anyone who comes his way with the energy of Bobi, has to face his monkey tactics of silencing critics. Trumped up charges, torture, court martial and prison has been his tools of trade on critics for ages.
UPDATE: Independent medical personnel who have had access to @hebobiwine say he has a damaged kidney,suffered immense internal bleeding and his head and hips require an immediate scan.

He will not be accessed by anyone again till Thursday when he is brought to military court

— Mujuni Raymond (@qataharraymond) August 18, 2018
An idea whose time has come can never be stopped and Africans especially the young people who've been victims of tyranny are standing up with Bobi Wine and Uganda to say enough is enough. The youthful politician has stirred and pumped out the pan Africanism fire in many young people. Twitter as a powerful social media tool I'm voicing opinions and shaping conversations, has been instrumental during these times of Bobi.
To muzzle voices, Museveni introduced a primitive law that requires Ugandans to pay taxes to use social media, the only intention of such an uncouth law is to ensure the voices of many youths who're pounded by unemployment and frustrated by tyranny are silenced.
Africa has come out in numbers to tell off Museveni. Shooting missiles from their phones, Kenyan online army better known as KOT (Kenyans on Twitter) are all out in their style standing in solidarity with Ugandans most of whom are locked out from accessing the internet thanks to the social media tax. Kenyans have taken the lead as Africa Twitter shouts loudest against the dictatorship horror in Uganda.
Mr. @KagutaMuseveni, you claimed to be a freedom fighter when you went to the forest in 1981 with a ragtag of boys. However, since 1986, you you have brutalized Ugandans and turned the country into a personal fiefdom. Ugandans aren't your cows. #FreeBobiWine and his comrades. https://t.co/Ab1v7Kgxr3

— Dr. Miguna Miguna (@MigunaMiguna) August 18, 2018
#Uganda I'm sure you read this. We are together. They cannot kill an idea that has come. Bobi wine is that seed. The process may be long,but I'm sure it has created a lot of Bobi wines. This must be it. #FreeBobiWine

— Ali 'Mwamvita' Manzu (@Ali_Manzu) August 18, 2018
I hope @KagutaMuseveni Knows it's the end for him. What you've done to @HEBobiwine is the biggest mistake a tyrant does. You assume that Ugandans can't rise against you well…you just gave them enough reason to do so. The world is watching. PEOPLE POWER ✊🏿🇺🇬
#FreeBobiWine

— Scheaffer Okore (@scheafferoo) August 18, 2018
Ugandans are paying to tweet #FreeBobiWine. We should support him/them as East Africans since the rest of us don't have to pay for this.

— Ramapithecus (@RamzZy_) August 17, 2018
The Revolution introduced me to art, and in turn art introduced me to the revolution. There is more than one kind of freedom,Freedom to & freedom from. In the days of anarchy, it was freedom to. Now you are being given freedom from. Don't underrate it.

#FREEBOBIWINE pic.twitter.com/FXRxUVAKLk

— OCTOPIZZO (@OCTOPIZZO) August 17, 2018
The dictatorship in Uganda should see the wisdom of starting to listen to dissenting voices. Ethiopia has shown the region the way. We must loudly condemn @KagutaMuseveni's determination to silence alternative voices in the Pearl of Africa. Museveni MUST #FreeBobiWine

— Robert ALAI, HSC (@RobertAlai) August 17, 2018
Museveni is terrified of Bobi Wine coz here's a young man with the same energy he had when he forcefully took over Uganda.

Bobi has trumped charges, faked evidences. Museveni fall is inevitable it's only a matter of time. History will place you right Wine. #FreeBobiWine pic.twitter.com/4G4i9xykwB

— Kenya West© (@KinyanBoy) August 16, 2018
Whole Africa is onboard
My friend, MP & powerful fighter 4 justice @HEBobiwine survived assasination attempt which tragically killed his driver. He is now held by President @KagutaMuseveni & the Ugandan military. We call4 his immediate release #FreeBobiWine @Smith_JeffreyT @bonifacemwangi pic.twitter.com/I2To0NvwGg

— #ThisFlag E Mawarire (@PastorEvanLive) August 16, 2018
Despots and tyrants oppress, torture, maim or kill their real or perceived opponents out of fear and desperation in order to extend their illegitimate regimes. That should give freedom fighters seeking to remove them more energy. Let's #REVOLT against all tyrants. #FreeBobiWine

— Dr. Miguna Miguna (@MigunaMiguna) August 16, 2018
For several years, #Uganda under #Museveni has been a frog in boiling water. International partners keep letting M7 get away with more overt levels of repression & fail to hold him accountable because he secures their regional equities. It's sad to watch. https://t.co/buXgnsxibN

— Lesley Anne Warner (@Lesley_Warner) August 16, 2018
This is the beginning of the end of the Museveni dictatorship in #Uganda. Mark this tweet. From attempting to assassinate, planting evidence, and then charging with "treason," the regime is having sleepless nights over Bobi Wine's (@HEBobiwine) genuine popularity. #FreeBobiWine

— Jeffrey Smith (@Smith_JeffreyT) August 16, 2018
Today 18 August 2018 Ghanaian supporters of freedom and justice held a walk to Accra's Black Star Monument, symbol of Freedom and Justice in support of Robert Kyagulanyi, MP, Francis Zake, MP and the the Arua 33. God bless you all..#FreeArua33 #FreeBobiWine #RIPYasinKawuma pic.twitter.com/edFA2l8KiF

— Mary Serumaga (@MKSerumaga) August 18, 2018
Since Museveni seized power in 1986, many of his critics have been detained in unknown locations, beaten within an inch of their lives or died under suspicious circumstances. In December 2012, 24 year-old MP Cerinah Nebanda was poisoned.
Like Kyagulanyi, she was a young, charismatic and outspoken critic of Museveni's repression and corruption, and her parliamentary colleagues called for an independent inquiry. Museveni called them "fools" and had them jailed on trumped-up charges.
In September 2017, Special Forces troops raided Parliament to stop the filibuster of a bill that would entrench Museveni in power indefinitely. During this operation, security forces crippled MP Betty Nambooze, who required a six-hour operation to repair her damaged spine.
Museveni's fight against Bobi Wine is actually a fight against a generation that is tired of those 1986 war lullabies. Bobi represents a generation that wants to move forward. A restless generation. #FreeBobiWine

— Allan Ssenyonga (@ssojo81) August 17, 2018
---
Kenya Insights allows guest blogging, if you want to be published on Kenya's most authoritative and accurate blog, have an expose, news, story angles, human interest stories, drop us an email on

[email protected]

or via Telegram
---
Squandering Goodwill: DPP Noordin Haji Should Choose If He's Working For Uhuru Or Kenyans.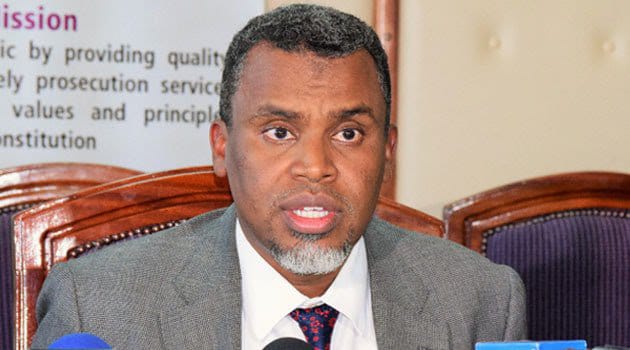 Yesterday Kenyans were disgusted to see our mother Philomena Mwilu being arraigned in court over frivolous charges, even when the real criminals are just moonlighting across 5-Star hotels in Kenya.
This comes under the back-drop of last year's incident, where her driver was shot dead, by elements believed to be working with the Jubilee regime last year, something which indicates that she's a marked woman.
The response to this persecution has been overwhelming with top lawyers lining up in the defence of the Deputy Chief Justice, with prominent critics like David Ndii and Miguna Miguna casting aspersions on the character and professional impropriety of the DPP.
That this case had been purposely "leaked" to Githeri Media Nation Media Group, shows that it was being manipulated from Statehouse, because the notorious media house editorial policy is drawn up from there.
The DPP and the DCI need to figure out of they are working for President Uhuru Kenyatta or the Constitution of Kenya. Uhuru can be a very petty and vindictive character who reacts on the slightest impulse, and his input to such important offices can be catastrophic. We remember vividly his threat to the Judiciary when he yelled publicly under the influence of alcohol that "we shall revisit".
We cannot have someone who is as emotional and irrational as Uhuru, tainting the independent offices of the DPP and DCI.
I also remember when Mike Sonko was setting up Kiambu Governor Ferdinand Waititu, he expressly said that Uhuru is controlling/manipulating arrests. What nonsense is this?
DPP cannot purport to arrest the Deputy Chief Justice, as Kirinyaga Governor Anne Waiguru cat-walks free, as she writes intimidating letters to the EACC, as if they report to her. Kenya Revenue Authority (KRA) the most corrupt institution in Kenya, cannot purport to be pursuing Philomena Mwilu over peanuts, yet sham "investors" like Vimal Shah and Somali businessmen are evading taxes in the billions.
If you want goodwill, go for known villains. Don't lump fictitious charges on soft-targets who are victims of the political alignments in the country. It is Kenya's taxes which are funding these offices, not Brookside Dairies or Heritage Hotels money.
We won't clap for you when petty thieves of 900,000 Kshs are arrested by your office, when known thieves are walking scot free. The DPP cannot commit his scarce resources to chase for petty thieves of scams below 10 Million and expect public goodwill.
People must now justify their continued stay in office. When you commit over 10 officers to hunt down 6 suspects who embezzled 900,000, does that even make economic sense? Can you spend such expensive man-hours chasing for peanuts? DPP and DCI you need to get your act together.
The people who have "eaten" Kenyans money are well-known. They have built flats, malls, stashed the money abroad and hidden it in their houses. You should be giving us the progress of the recovery of these assets first, and not chasing petty thieves of 900,000. We won't allow our resources to be wasted in pursuit of petty offenders.
Tell us how far you've reached in repossession of Evans Kidero's assets. Tell us which Governor is going to be successfully tried and convicted. Nab the MP's who were bribed to endorse a sugar report. Go for the people who brought down Chase Bank and Imperial Bank Limited. We want to see blood of the upper-echelon of corruption.
We are being told that Deputy President William Ruto's PA Farouk Kibet is being arrested on Friday. That one will be a welcomed image because he represents the face of corruption and impunity. But now when you chase a motherly-figure like Philomena Mwilu, you're eroding all the gains you've made so far. We want Alpha-Females who walk as if they own Kenya, to be apprehended.
My only advise to the DPP and the DCI is to choose your battles wisely. If you needed to shake the Judiciary, you could've started with the judge Tonui who took a 200 million bribe from Evans Kidero.
Secondly, those independent office-holders should desist from being used by the petty and emotional clowns working at Statehouse. We are in this current mess because Uhuru consciously allowed corruption to thrive, yet now he's acting as if he doesn't know where it came from. Selective-amnesia.
If Uhuru wants to clean up the mess he created, he must do so within the confines of the constitution and not under the influence of his political-biases and petty emotions. Kenyans have no time for his tantrums and petty emotions. His cheap theatrics should be restricted to White House, where he unleashed his fake St. Mary's British accent.
---
Kenya Insights allows guest blogging, if you want to be published on Kenya's most authoritative and accurate blog, have an expose, news, story angles, human interest stories, drop us an email on

[email protected]

or via Telegram
---
Daily Nation's Role In Arrest Of DCJ Philomena Mwilu As David Ndii Claims NIS Edits DN Stories Nowadays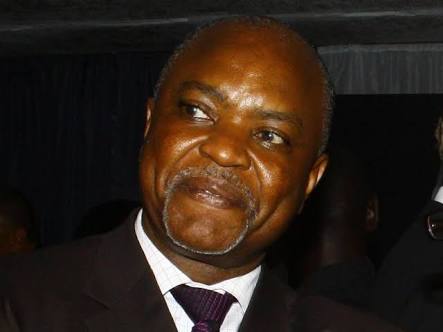 From Monday, one thing has been consistent with the Nation Media Group's DN. The splashing headlines have been on a roll. Leading writers at Daily Nation; Mutuma Mathiu and John Kamau are the familiar faces in this. In what is a clearly well orchestrated plot to build a narrative and set an agenda, the popular newspaper seem to have been favorited in this ploy. Media enjoys the monopoly of agenda setting.
Monday, the splash headline on Daily Nation read, 'Supreme Court judge targeted in corruption purge'
"A Supreme Court judge faces imminent arrest and prosecution for corruption in a devastating and dramatic escalation of the government's campaign against graft. The arrest of such a high-ranking judicial staff, unprecedented in Kenya's history, will be the culmination of weeks of investigations into brazen corruption at the Judiciary, and is likely to send shock waves throughout the institution." It read.
"The Nation has followed this case for months after it learnt that the judge had been reported by the Kenya Revenue Authority to the Director of Public Prosecutions over the suspicious movement of large sums of money in and out of bank accounts." The part of six months got me giggling.
They had the fine details of the entire case probably on tips from the DCI or ODPP who were on top of the case. How they got the information is not important what's key is, they did not only instill fear in the judiciary corridors but at that particular moment they had put entire Supreme Court bench on public trial before the court of public opinion.
On Tuesday, same writers, different headline 'Drama at Supreme Court over arrest of lawyer and top judge'
While this might look harmless to a layman's perspective viewpoint, I find it alarming that entire bench was on the spot, it paints the picture of a corrupt Supreme Court which is not only defaming but undermining authority and legitimacy of the highest court in the land. I don't know if the editors had that in mind or maybe they did and a narrative had to keep building up.
On the second day running, the public was being prepared for the eminent arrest of the judge and the narrative was being built to paint a totally corrupt judge even when the entire case hadn't been tabled. It's called building perceptions, you don't necessarily need to tell the truth, you can sway opinions with anything that suits your agenda.
On Tuesday, DCJ Philomena Mwilu was arrested within the precinct of the court which again in my view wasn't the best thing to do as it doesn't only undermine the authority of the court but also sends intimidating messages to other judges who might now not want to cross paths with the executive.
Mwilu now faces numerous counts of stealing, abuse of office and failure to pay taxes. "The evidence in our possession, reveals that Lady Justice Mwilu abused her office for personal gain; accepted a gift in the form of money in circumstances which undermined public confidence in the integrity of her office (and) conducted herself in disregard of the law," DPP Noordin Haji said in a statement.
"In view of the above, I have concluded that the evidence is sufficient with a reasonable prospect of conviction and it is in the public interest that criminal proceedings should be preferred," the DPP concluded.
Wednesday, the Daily Nation was once again at it shouting the fall of the DCJ.
Again, this was not only done in bad faith but part of the narrative to defame the DCJ according to my thinking, look, there's a presumption in the courts that one is assumed innocent until proven otherwise but here's Daily Nation smartly executing a case in the courts of public opinion. To me this is character assassination on the person of Mwilu.
The @dailynation allowed itself to be used very badly in the case of DCJ Mwilu. All along the perception created was she was sitting in her office collecting huge bribes in utter disregard of logic and norms. This was false and hugely DECEPTIVE.

— Benji Ndolo (@BenjiNdolo) August 29, 2018
The Deputy CJ case by DPP and DCI is serious political witch-hunt. There is evidence that DCI boss personally used Daily Nation's John Kamau and Mutuma Mathiu to prosecute and judge the Deputy CJ without clear evidence. John Kamau of DN is Kinoti's spanner boy.

— Robert ALAI, HSC (@RobertAlai) August 28, 2018
I find it exposing that the newspaper would overlook the presumptions of the court to prosecute and convict without facts. There are rumors that there's a succession plan underway since the Chief Justice Maraga is three years shy of his retirement age hence the need to find a favorable replacement. As the DCJ, Mwilu is poised to take over but she is presumed to be a tough nut and system unfriendly, maybe that's why she need to get out of the way.
David Ndii seems to have an idea on who's behind Daily Nation's Headlines. This is not the first time accusations are being thrown at Daily Nation for being a mouthpiece of the state and if it can be proved then it would be unfortunate for such a big scale media house being reduced to a government mouthpiece and a propaganda channel.
NIS. They edit the DN these days.

— David Ndii (@DavidNdii) August 29, 2018
---
Kenya Insights allows guest blogging, if you want to be published on Kenya's most authoritative and accurate blog, have an expose, news, story angles, human interest stories, drop us an email on

[email protected]

or via Telegram
---
New Energy Felt As ODPP, DCI And NPS Gets More Active And Engaging On Social Media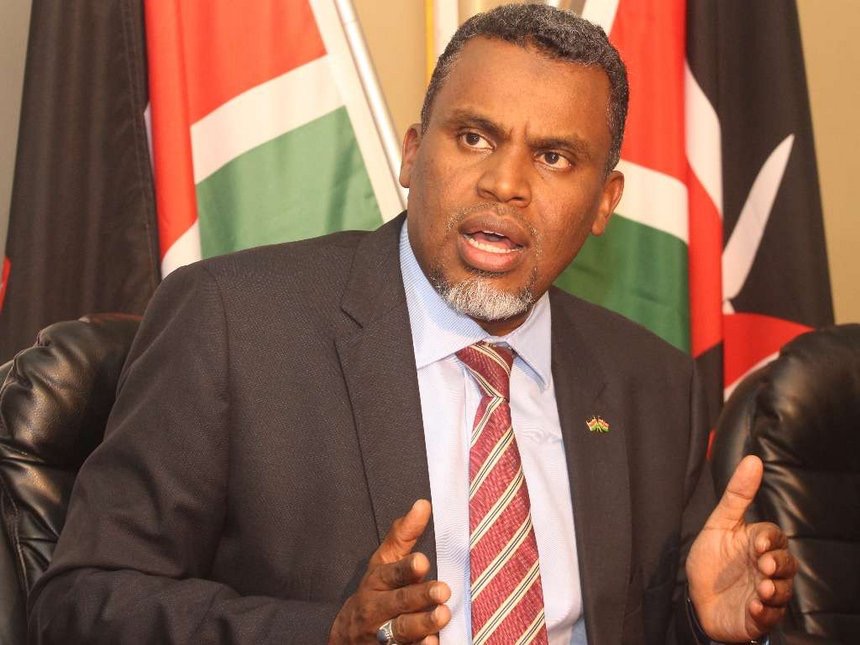 Social media is changing lives they say and that's becoming clearer by the day as corporates come to the reality that without a social media presence, running a business is like a beautiful girl walking in the dark, nobody notices her.
Public institutions are also not remaining behind as they fully embrace social media in service delivery. I've been observing and can't help notice and express my satisfaction with more specifically the Office Of Director of Public Prosecutions, the Directorate Of Criminal Investigations and the National Police Service.
Kindly DM details for ease of follow up and immediate action. https://t.co/rjCofFqD9v

— ODPP_KE (@ODPP_KE) August 21, 2018
Evidently, these accounts are under new management given the direction they're taking and amount of work they're putting in. ODPP is the most active in my view and a news hub, a good number of cases that previously would go unattended to are now being picked up in a snap.
The relationship between the ODPP and DCI especially on Twitter is really amazing and also I should put in EACC, they're doing well too on Twitter as far as updating the nation on anti corruption news is go concerned.
Twitter for instance, is a news hub and a powerful communication tool, many cases have been prosecuted off Twitter noise. We're blessed to have ODPP that's very active and always picks up most cases raised and a DCI that immediately picks up the cases on directions from DPP and the whole coordination is amazing.
Good Morning tweeps! Mr. William Hanga Mwazombo an employee of #Well's Fargo Security firm was #arrested yesterday & is currently in lawful custody for posting defamatory children photographs on the media.We thank you ????????the members of the public for alerting us.#BetterPolicing. pic.twitter.com/UHZdafEx9r

— DCI KENYA (@DCI_Kenya) August 23, 2018
For time now, Kenyans perceive the police as unfriendly and often, they keep their ways apart as much. I've realized the NPS handler is actively changing that perception by being friendly and giving a sense of cops are also human and friends.
I just like how they're engaging the public with some sense of humor you know, Kenya is tough For is all so who wouldn't do with a bag of laughter? Whoever made the decision to ease the muscles and have such kind of engagements to work on the public and police bond did a good thing. When it comes to security, coordination is key between the two, lack of which things are bound to go wrong way.
Kulingana na matokeo ya #TwitterVAR umeng'oa,kwa hivyo jaribu kwingine. https://t.co/3YRNu1Uqe3

— Kenya Police Service (@PoliceKE) August 25, 2018
Government institutions are actively getting onboard on social media which is the future and that's a good thing, we're all snack news consumers, we want everything on our phones. Dealing with crimes, you have to follow and admire the work of the trio; ODPP, DCI and the NPS. Timeliness, consistency, engagements the recipes that's msking the Noordin, Kinoti teams stand out. There are other public institutions doing great too but this not your post, you'll get a mention next time.
---
Kenya Insights allows guest blogging, if you want to be published on Kenya's most authoritative and accurate blog, have an expose, news, story angles, human interest stories, drop us an email on

[email protected]

or via Telegram
---