Ifikie Wazazi: Spare Us The Hypocrisy, The Society Is To Blame For The Raunchy Internet Behaviour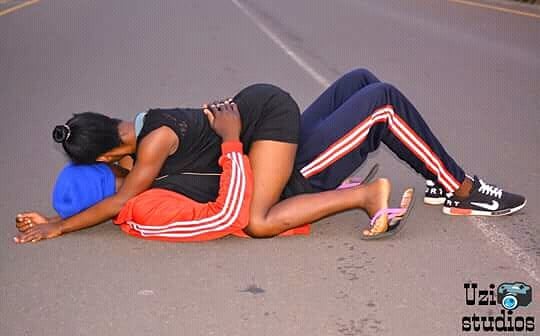 For the last two days, Kenya's social media has been filled up with crocodile tears and cosmetic concerns with faked surprise following a campaign aimed at exposing the explicit photos teenagers have been posting in their social media pages.
Kids are experts at reflecting our behavior, we oversexualised our radio content, music, jokes. Change hashtag from #IfikieWazazi to #irudiewazazi.

— Sam Gichuru (@SamGichuru) April 13, 2018
I'm saying this for the fact that, these things have been happening right before our eyes but passed as normal until someone started a campaign then suddenly everyone activated their moral cards.
While it's convenient to blame the kids for the ratchet behavior displayed, it exposes the hypocrisy, escapist nature of the society that would rather die, then own up to its mistakes. One thing for a fact is that the society went bad ages back and the teenagers are the fruits of what was sowed. They're a direct reflection of the society that has normalized explicit behaviors, a society that has normalized sexy affairs between young older people in sponsorship arrangements.
Dear Young People of Kenya – please listen, from a Mwalimu that loves you so much. Don't let this ifikie wazazi hashtag shame you into silence, or derail you from demanding more from the adults and leaders of your country. I know its hard, but pay it no heed. Resist. Persist.

— Wordslinger (@DrCarrieM) April 13, 2018
Today's teenagers are a reflection of a society that is passing out nudity as art, normalized prostitution by encouraging the socialite culture which is a soft term for prostitutes. Why would we expect the young generation to be better when the old already went to the dogs. These young people don't create anything, they simply adopt from what surrounds them. We should be soul searching instead of mere castigating as to where the society went wrong.
Parents, guardians, influencers, brothers and sisters, we're largely to blame, we've abandoned the duty of raising these young people and left them on their own, to learn on their own. We no longer give life directives. When was the last time your young one down to speak some sense to them, then we act all surprised when they live their own ways.
I clicked #IfikieWazazi out of curiosity and I must admit that THE SOCIETY HAS COMPLETELY FAILED THE KIDS! What happened to parenting? Back then every adult was a parent and could discipline any kid. This system should come back. We must salvage this generation while we still can

— #TeamMwalimuDida (@mwalimu_dida) April 13, 2018
Society had run out of role models, we're having more single mothers than ever and many kids raised without their fathers, this affects their growth and development but nobody wants to touch it. Parents are spending time more at work and social places, giving kids zero attention and only left in the hands of teachers and the cruel world to pick life lessons from.
In fact, the only remaining time models are the Huddah's who the kids spend most of their times studying. The Vera Sidikas are now the virtual parents to these kids, you know They're not Sunday school teachers and they don't post-church photos, and again we act surprised when our kids take photos as if they're auditioning to cast on Pornhub.
The thing that finishes me about #IfikieWazazi is not even the fake concern, but that so many ADULTS are taking sadistic joy in one future outcome: deep shame of parent(s) (and moralising that it must happen) resulting in cruel reactive punishment and humiliation for MINOR(S). https://t.co/g5HQ6BeUif

— Dr. Njoki Ngumi ???????? (@njokingumi) April 13, 2018
Traditionally, in Africa, the duty of raising kid was the society's, today with civilization or in this context, destruction, it has become a parent's obligation. This why we overlook bad behaviors by teenagers around and ignore the fact that it's not your son or daughter, brother or sister. And since their parents don't bother either like the Society, they adopt it as a norm.
Like a tree, kids will only grow according to according we nurture them, watering, trimming, there are no miracles here. If we want better kids then we must be better adults. This starts all the way at home where hold parties, behave in the most ratchet ways, what we say and do, the kids pick every single detail.
I'm not going to act surprised at what I'm seeing on the trending topic because I've seen grown-ups do the worst and this they picked from us. If you want them to do better than we must start being better and please can you start paying attention and speak to your sons and daughters, most simply lack guidance in their lives that's that's they don't see any harm in being raunchy for internet love, after all, internet is giving them attention and love, something lacking in most homes.
---
Kenya Insights allows guest blogging, if you want to be published on Kenya's most authoritative and accurate blog, have an expose, news, story angles, human interest stories, drop us an email on tips.kenyainsights@gmail.com or via Telegram
---
King Kaka Is The First Kenyan Musician To Grace The Red Carpet At Cannes Film Festival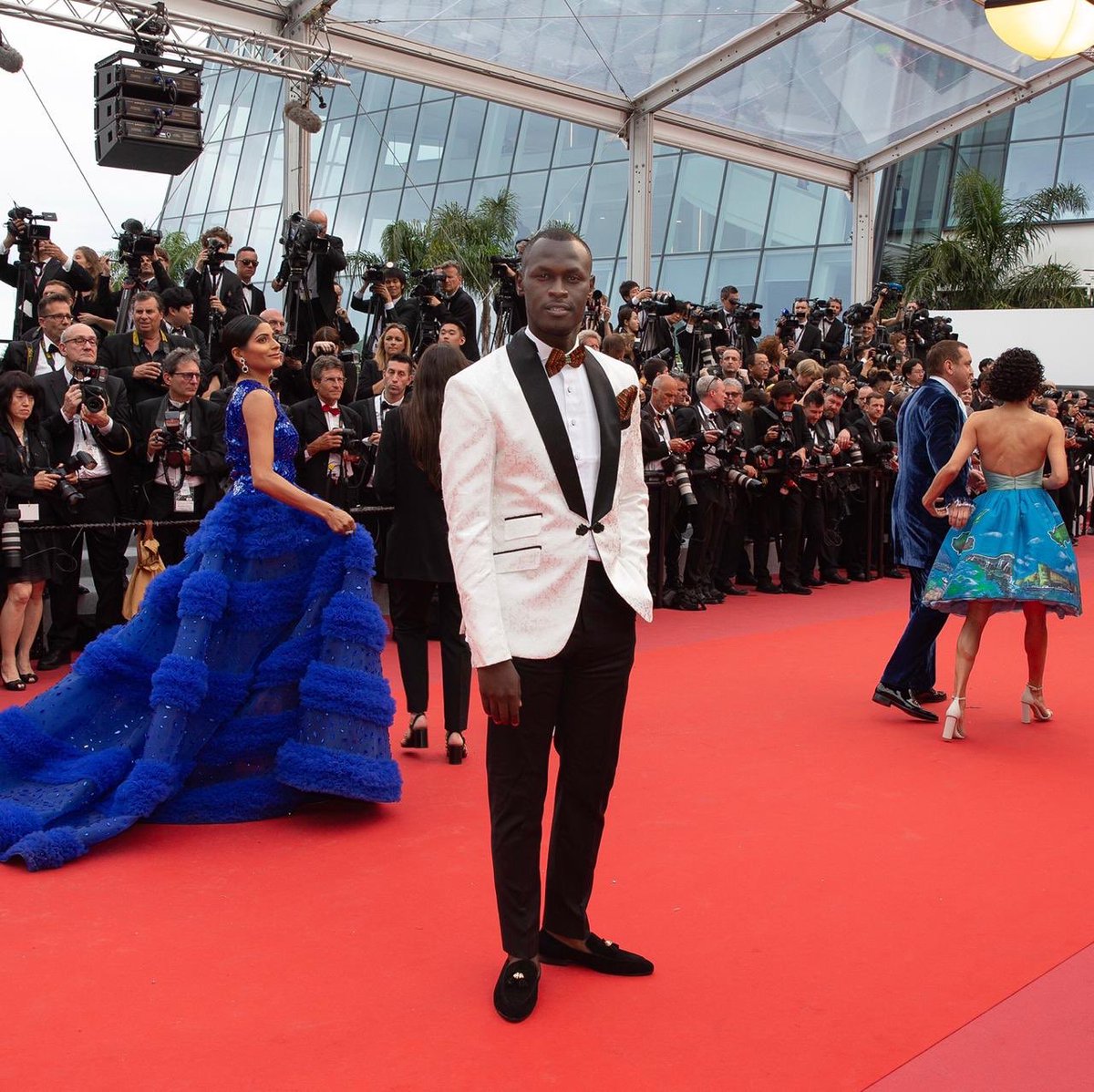 King Kaka of the famous Kaka Empire has hit the international stages again and this time around carrying the flag of our country to greater heights.
King Kaka was featured in these year's Cannes Film Festivals in France.
French Riviera is where some of the world's most prominent executive Directors premiere their films and any other productions.
Cannes film festivals also give a platform for critics of a film to express their disgrace at the same time rewarding the best film production and the executives behind it.
The Cannes also has Red Carpet sessions. This is where celebrities' flaunt their luxurious dresses and expensive jewelries.
Kenya's King Kaka was the first ever Kenyan to premier on the 72nd annual Cannes Film Festivals.
King Kaka shared the joyous moment of him on red carpet in France via this tweet
A Kenyan in Cannes.
History is made. First Kenyan musician to grace the red carpet in 72years.#CannesFilmFestival#RemyMartin #RemyMartinXO #Cannes2019 #RemyMartinKe #Cognac#kakaempireisthelifestyle #eastlandoroyalty @remymartin pic.twitter.com/jPbLO4HvtG

— KING KAKA (@RabbitTheKing) May 15, 2019
---
Kenya Insights allows guest blogging, if you want to be published on Kenya's most authoritative and accurate blog, have an expose, news, story angles, human interest stories, drop us an email on tips.kenyainsights@gmail.com or via Telegram
---
Origin Of The Phrase Wamlambez Wamnyonyez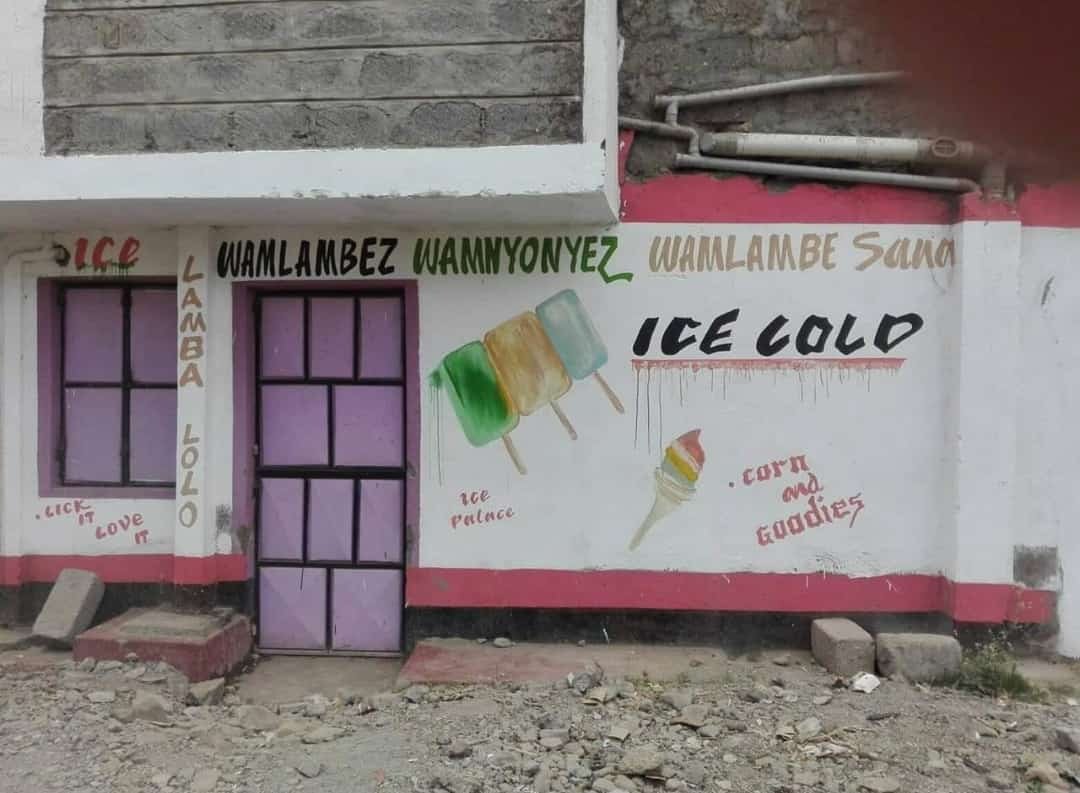 Majority, if not all of you have already heard of the Phrase 'wamlambez wamnyonyez'.
Some of you have used the phrase  to mean something totally different from what it originally meant.
Wamlambez wamnyonyez' has been used on the lips of every Nairobian youths.
The biggest sheng speakers community is located in Kenya's capital- Nairobi.
The biggest sheng speakers know 'wamlambez wamnyonyez' in a sexual meaning portrayed in this sheng rap song…
WAMLAMBEZ- Miracle Boy,Shalkido,Masilver,Lexxy Yung, Qoqosjuma.
The youths in the City under the sun have produced the 'wamlambez wmnyonyez' songs- which loosely means 'licking and sucking.'
But the real origin of 'Wamlambez Wamnyonyez' is an old ice cream shop in Eastlands, Nairobi.
The ice cream shop started operating in 1990 under the name- Ice-cream CONEnection.
(Tweet pic courtesy  @Kianangih)
The ice vendor store changed its name in 2018 to the now popular phrase WAMLAMBEZ WAMNYONYEZ.
They were operating under a business tag, Lamba lolo. Another Nairobi's popular phrase.
Sheng speakers, now you know the original meaning of wamlambez wamnyonyez. And for those who had no idea of the phrase~ Now you have the insights
---
Kenya Insights allows guest blogging, if you want to be published on Kenya's most authoritative and accurate blog, have an expose, news, story angles, human interest stories, drop us an email on tips.kenyainsights@gmail.com or via Telegram
---
Wanuri: Rafiki Was Successful Because Of Kenyans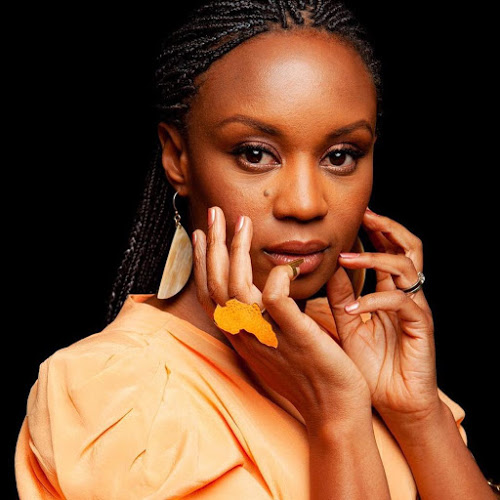 Kenyan Filmmaker Wanuri Kahiu  blasts the Start news paper over a fake article against her film 'Rafiki'.
Rafiki is a love story of two teenage girls who develop a romance that's opposed by their families and community.
Wanuri, has expressed her disgrace through her twitter account calling out the Star Newspaper site.
Rafiki, was banned in Kenya by government watchdog KFCB. The film classification board had alleged that the movie's depiction of homosexuality runs contrary to the laws and the culture of Kenya.
Wanuri has said that Kenyans showed her love and watched her movie despite the ban.
Wanuri says during the seven days the film was screened in Kenya, some people opened up to her.
"Many people came to me and told me they saw themselves in the movie because they had lived in denial for so long," she said while on a TV interview.
Wanuri has thanked Kenyan viewers and subscribers who believe in her fights to express what affects the audience without following regulations from the authorities.
Also read:Chinese Wild Foods Take-over
The director and Rafiki film creator also called off the Star for creating fake quotes of her from unknown interviews. She said she won't accept any interviews with the Star newspaper after faking her up and tagging her on unverified quotes.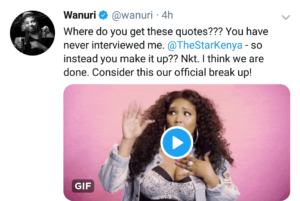 While Rafiki remains banned,  Wanuri Kahiu says the movie is still getting abundant views and love from the local audience.
---
Kenya Insights allows guest blogging, if you want to be published on Kenya's most authoritative and accurate blog, have an expose, news, story angles, human interest stories, drop us an email on tips.kenyainsights@gmail.com or via Telegram
---