Oscars 2018: Lupita Stuns The Red Carpet In Versace Gown, Rwandese Hairstyle And Why Kenyan Designers Lost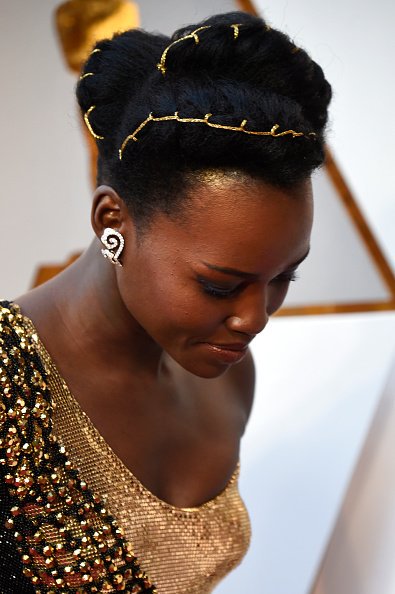 Apart from the actual award, the red carpet is always the highlight of the award and so celebrities step in their A game. For the 90th Annual Academy Awards, the situation wasn't any different only that this time, we had our very own Lupita shutting down the event.
Declared the queen of the red carpet, Lupita didn't come to play, in a perfectly fitting and glittering golden dress made by Versace and an outstanding hairstyle to compliment the look, she became one of the most talked about according to Twitter report on the red carpet.
Awards show always come out more as fashion display than anything that's why designers will spend millions and endless pursuit to book an actor, artist, athletes whoever is appropriate to model and showcase their brands. In such a case like that of Lupita which I suspect she was approached by Versace given her A listing especially on the carpet, they customize the dress for you and you don't pay them, it's the other way. This is always a marketing strategy and securing a deal with an actress in the league of Lupita to model your dress is tedious given a number of designers streaming for a chance.
Lupita's outstanding hairstyle, the loops of the golden string aren't just a beautiful style, however. The look is inspired by traditional Rwandan Amasunzu hairstyles, whipped up by Vernon François, who was responsible for the Black Panther star's hair on the cover of the March issue of Allure.
I've come to notice the Nyongo's love for Rwanda designers. During Black Panther premiere, her younger brother was dressed by 'House of Yayo' a fashion designer in Kigali. It was such a milestone especially the fact that she posted his work to millions of her fans worldwide. What I'm trying to build here is Kenya as the homeland of Lupita is missing out on golden opportunity to showcase it's own and  not featuring on the fashion bloc when other countries are lucky and milking off it.
Who's to blame? Kenya undoubtedly has sharper fashion designers who can come up with inspiring styles for Lupita the question that would remain is if they've made efforts to dress Lupita and if yes what has been the response? I'm yet to publicly see anything from fashionistas in town complaining about being shut down by her. Imagine a case of Lupita hitting the red carpet in a fully Kenyan inspired outfit beaming cultural diversity. Has it ever even hit the minds of our friends at Kenya Tourism Board to fix such a deal.
Our fashion designers some of whom have done well in the international market, deserve such high audiences to show their works. It shouldn't just have to be them pushing, Lupita should too find it patriotic and be inspired to put out other Kenyan talents out there. Commendable that at some point back she posted on her Instagram about 'Housewives of Kawangware' a local reality show satire, that was a boost.
I just want to see more of Kenyan designers work being out there whether through Lupita or any other celebrity gracing a big stage. We need to embrace spirit of helping each other grow and using the privileges and opportunities we hold in the society such as they of Lupita to build up and promote talents. Oscars is gone there will be many more awards and magazine shoots can those engaged ensure that we have something Kenyan other than herself on these stages.
At one point we were talking about national uniform, it is celebrities such as Lupita who inspires culture and if we can have these celebrities influencing a culture through Kenyan-fied dressing them we get closer to that dream. Fashion culture is underrated in its potential to creating employment & promoting creativity. If we're to address the super climbing disaster of joblessness then we must diversify in creating job opportunities and fashion is such one opportunity.
Update
https://twitter.com/PresidentKE/status/970597534635872261?ref_src=twcamp%5Ecopy%7Ctwsrc%5Eandroid%7Ctwgr%5Ecopy%7Ctwcon%5E7090%7Ctwterm%5E3
---
Kenya Insights allows guest blogging, if you want to be published on Kenya's most authoritative and accurate blog, have an expose, news, story angles, human interest stories, drop us an email on tips.kenyainsights@gmail.com or via Telegram
---
King Kaka Is The First Kenyan Musician To Grace The Red Carpet At Cannes Film Festival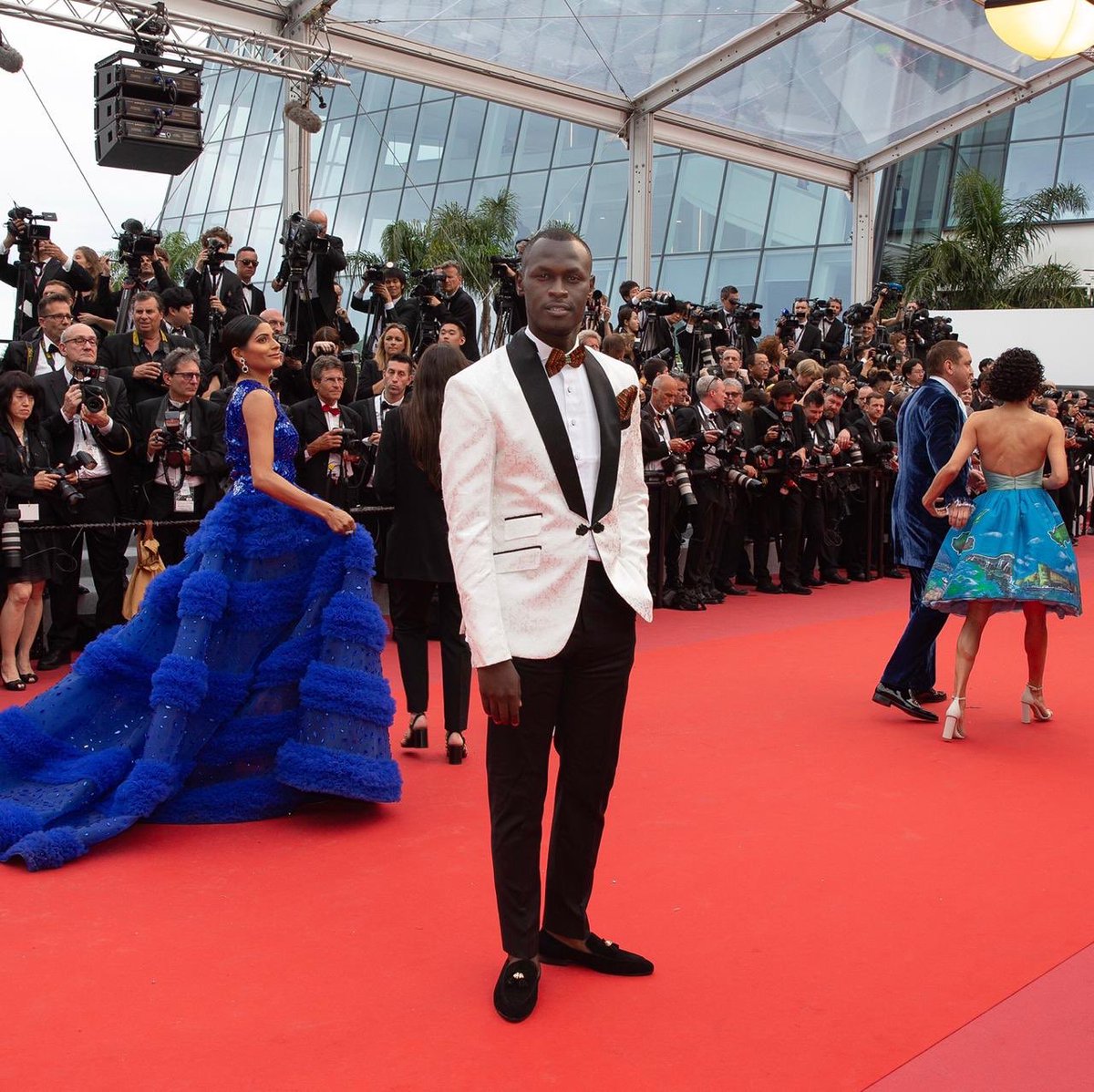 King Kaka of the famous Kaka Empire has hit the international stages again and this time around carrying the flag of our country to greater heights.
King Kaka was featured in these year's Cannes Film Festivals in France.
French Riviera is where some of the world's most prominent executive Directors premiere their films and any other productions.
Cannes film festivals also give a platform for critics of a film to express their disgrace at the same time rewarding the best film production and the executives behind it.
The Cannes also has Red Carpet sessions. This is where celebrities' flaunt their luxurious dresses and expensive jewelries.
Kenya's King Kaka was the first ever Kenyan to premier on the 72nd annual Cannes Film Festivals.
King Kaka shared the joyous moment of him on red carpet in France via this tweet
A Kenyan in Cannes.
History is made. First Kenyan musician to grace the red carpet in 72years.#CannesFilmFestival#RemyMartin #RemyMartinXO #Cannes2019 #RemyMartinKe #Cognac#kakaempireisthelifestyle #eastlandoroyalty @remymartin pic.twitter.com/jPbLO4HvtG

— KING KAKA (@RabbitTheKing) May 15, 2019
---
Kenya Insights allows guest blogging, if you want to be published on Kenya's most authoritative and accurate blog, have an expose, news, story angles, human interest stories, drop us an email on tips.kenyainsights@gmail.com or via Telegram
---
Origin Of The Phrase Wamlambez Wamnyonyez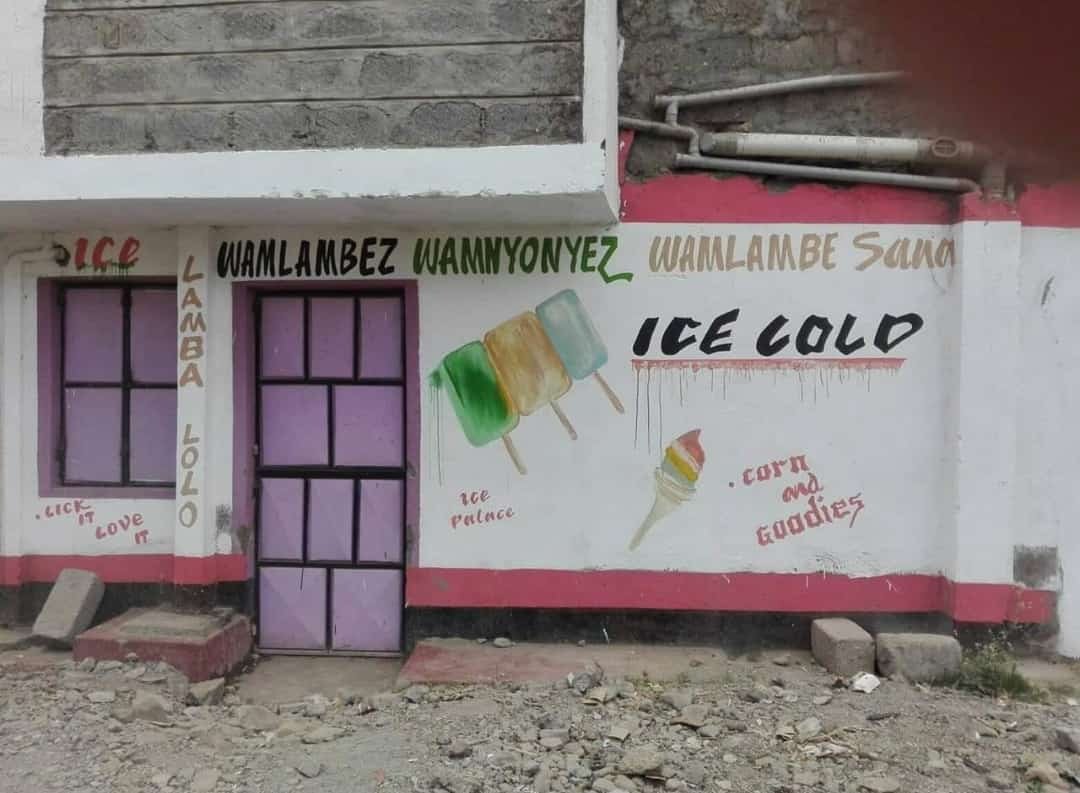 Majority, if not all of you have already heard of the Phrase 'wamlambez wamnyonyez'.
Some of you have used the phrase  to mean something totally different from what it originally meant.
Wamlambez wamnyonyez' has been used on the lips of every Nairobian youths.
The biggest sheng speakers community is located in Kenya's capital- Nairobi.
The biggest sheng speakers know 'wamlambez wamnyonyez' in a sexual meaning portrayed in this sheng rap song…
WAMLAMBEZ- Miracle Boy,Shalkido,Masilver,Lexxy Yung, Qoqosjuma.
The youths in the City under the sun have produced the 'wamlambez wmnyonyez' songs- which loosely means 'licking and sucking.'
But the real origin of 'Wamlambez Wamnyonyez' is an old ice cream shop in Eastlands, Nairobi.
The ice cream shop started operating in 1990 under the name- Ice-cream CONEnection.
(Tweet pic courtesy  @Kianangih)
The ice vendor store changed its name in 2018 to the now popular phrase WAMLAMBEZ WAMNYONYEZ.
They were operating under a business tag, Lamba lolo. Another Nairobi's popular phrase.
Sheng speakers, now you know the original meaning of wamlambez wamnyonyez. And for those who had no idea of the phrase~ Now you have the insights
---
Kenya Insights allows guest blogging, if you want to be published on Kenya's most authoritative and accurate blog, have an expose, news, story angles, human interest stories, drop us an email on tips.kenyainsights@gmail.com or via Telegram
---
Wanuri: Rafiki Was Successful Because Of Kenyans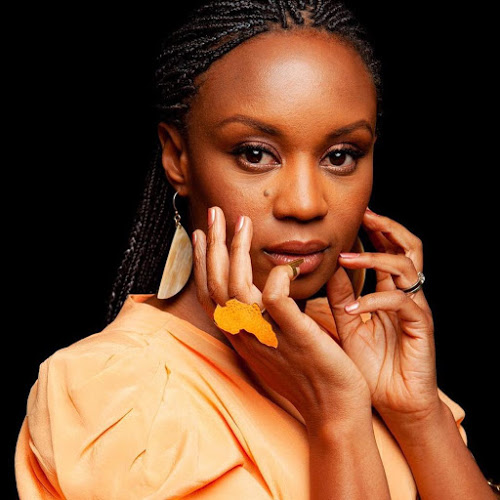 Kenyan Filmmaker Wanuri Kahiu  blasts the Start news paper over a fake article against her film 'Rafiki'.
Rafiki is a love story of two teenage girls who develop a romance that's opposed by their families and community.
Wanuri, has expressed her disgrace through her twitter account calling out the Star Newspaper site.
Rafiki, was banned in Kenya by government watchdog KFCB. The film classification board had alleged that the movie's depiction of homosexuality runs contrary to the laws and the culture of Kenya.
Wanuri has said that Kenyans showed her love and watched her movie despite the ban.
Wanuri says during the seven days the film was screened in Kenya, some people opened up to her.
"Many people came to me and told me they saw themselves in the movie because they had lived in denial for so long," she said while on a TV interview.
Wanuri has thanked Kenyan viewers and subscribers who believe in her fights to express what affects the audience without following regulations from the authorities.
Also read:Chinese Wild Foods Take-over
The director and Rafiki film creator also called off the Star for creating fake quotes of her from unknown interviews. She said she won't accept any interviews with the Star newspaper after faking her up and tagging her on unverified quotes.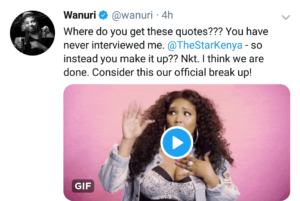 While Rafiki remains banned,  Wanuri Kahiu says the movie is still getting abundant views and love from the local audience.
---
Kenya Insights allows guest blogging, if you want to be published on Kenya's most authoritative and accurate blog, have an expose, news, story angles, human interest stories, drop us an email on tips.kenyainsights@gmail.com or via Telegram
---