IEBC Is On A Self Destruction While Putting Kenya At A High Violence Risk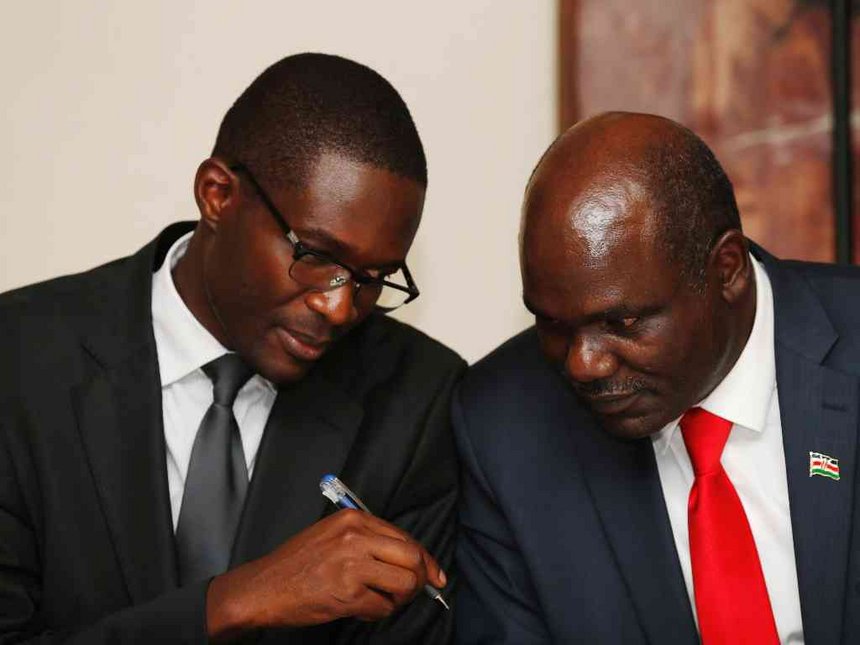 As Kenyans edge closer to the August polls, the stakes keep rising, campaigns are top notch with candidates hitting the road without a rest. Kenyans are keen to not only have a peaceful election but more than anything else, a credible, free, open and fair election which is the only key to a peaceful country that is yet to fully heal from the 2007/08 PEV wounds.
As it stands, the ball is entirely on Chebukati and his IEBC team to deliver a credible poll fair to all parties and not be seen to be partisan. From the body language, it is becoming hard to ignore IEBC's partisan nature and worse acting like a political outfit as opposed to an independent body.
The public trust in IEBC is at an all time high but they're the masters of their undoing. The commission doesn't seem bothered to win hearts of Kenyans. Many of not all the times, the language of the electoral body has been synonymous with that of the government to an extent some have baptized the body as JEBC (Jubilee Electoral Body Commission).
IEBC has done nothing to distance themselves from government ties a relationship that has heavily punched the independence of the commission. Talking of self-destruction, IEBC has been busy making controversial and mischievous moves that have left many with questions. They appealed a court ruling that authenticated the constituency level results final in a move that showed they were doubting the competence of their own appointed Returning Officers. If IEBC can't trust their own ROs to deliver accurate and untampered with results then I ask, why would Kenyans trust commissioners in Nairobi to announce results without manipulation. From history, Bomas has not only been the nerve center for announcing results but cooking figures. IEBC appeal showed ill motives.
Al Ghurair, the Dubai printing company that had previously been stopped by courts from printing tender was controversially awarded the tender. Worse still, the company has been alleged to have close business links with President Uhuru thereby awarding it the tender creates a great conflict of interest. Al Ghurair a company favorite to many African dictators recently printed ballot papers for Zambia where the opposition claims the polls were rigged. IEBC has gone ahead to okay 50% of ballot printing by Al Ghurair yet there's an appeal I the matter. One only wonders what the hurry and why insist on the controversial company. Too many questions and dots to join.
Following KPMG audit which has now turned out to be a century bluff, 1.2M ghost voters were discovered on the register. IEBC announced only 92K were confirmed as dead and removed. In uncoordinated lying format, cornered IEBC has announced that 88K dead voters have been expunged leaving the question of where are the 4K of what they announced.
Registration status verification format was launched days after one Muhati the IT Chief who was fired under unclear circumstances had been secretly reinstated. Voters were required to send their ID number to 7000 to confirm their status and what followed was a pure circus. Kenyans quickly poked holes and discovered massive fraud on the register. Random numbers as 0 brought results, dead voters were discovered in the register. What this meant that the register was a total fraud. In an expected move, IEBC defended themselves saying they were only testing the system. You know a cornered thief will say anything including the sky is red just to escape the wrath.
IEBC is hideous on the voter's register and this isn't looking right as many highbrows go up. Why can't IEBC publish the full KPMG report instead of a media release copy? Why can't IEBC publish the full register with all polling stations and voters names in each for scrutiny? These vital elements are key in openness, IEBC must avail these data for public consumption and for credibility purposes.
Everyone wants peace but no one wants a flawed and dishonest election. The peace of this nation solely lies on the delivery by IEBC. The commission owes Kenyans one favor to deliver a credible election and that's not much to ask. Chebukati and Chiloba agreed to take the worst jobs in Kenya but since they made the deal with the devil now they must deal with it. Consult Kivuitu's spirits I'm sure it reigns in Bomas corridors and ask yourself if you're ready to make Kenya prosper or bleed. In a nutshell, regain public trust and above all, give us a credible election, that's it.
---
Kenya Insights allows guest blogging, if you want to be published on Kenya's most authoritative and accurate blog, have an expose, news TIPS, story angles, human interest stories, drop us an email on

[email protected]

or via Telegram
---