How Kenya Airways was Run Down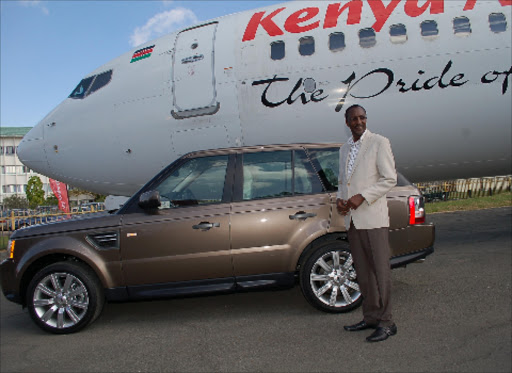 KQ is in a dep mess. The national carrier is a shell of its former self. The thieves have run roughshod and fleeced the company millions in a well crafted scheme which seems to be meant to run it down and then cheaply buy the airline off.
The people behind the strategy includes former CEO Titus Naikuni, current Finance Director Alex Wainaina Mbugua and 2 top State House (Office of the President) personnel.
The scheme to run down Kenya Airways started right from the Office of the then President Kibaki and involved senior OP and DoD officials. Also roped into the deal is KQ Finance Director and the current CEO. The Finance Director is said to be so deep into the corrupt deals meant to bring down KQ to its knees that he recently bought 14 very high end properties in Johannesburg with 6 of the properties being located in the affluent Sandton area.
First, they set up four offshore companies called Twiga, Amboseli, Jetspace and Samburu which knew what aircraft Kenya Airways (KQ) needed and so approached Boeing and Embraer to deliver the same. The problem is that, without investing a single cent, the owners of the companies got KQ LPOs and managed to use the same to get loans from Afro-Exim Services.
Of the KQ fleet, the Embraer E170 series are being phased and replaced by the E190s. Key individuals in the Office of the President are said to own the 5Y-KYR, KYS and KYT. Another 10 aircrafts with registrations 5Y-FFA to FFJ are said to be owned by another powerful Kenyan family which earns them more than $500,000.
Currently, none of the Dreamliners (Boeing 787s) are flying. This is because the maintenance cost is so high and the owners who have not been fully paid for the aircrafts are said to be planning to detain some of the planes in case they fly outside the country. One of the planes was recently detained in China and released only at the intervention of key State House officials.
Most of the KQ board members who are aware of the illegal happenings are pocketing up to $6million per year in kickbacks as they are promised a standing fee per hour clocked by the operational aircrafts.  The recent KPMG report does not mention the illegal withdrawals in KQ reserve accounts in London. It doesn't even detail the wastage which the company gets by outsourcing engineering work to other airlines.
Some of the areas which have been used to get money out of KQ includes the outsourcing of various services like training, hotel and catering as well as importation of everything including toothpicks. Take the renovation of the IOCC building which is next to the Presidential Lounge at JKIA. Renovation work were so expensive and KQ ended up importing even pens, water dispensers and seats to spruce up the Engineer's working area while what was imported could have been acquired cheaply locally.
Staff using the IOCC (International Operations Control Centre) wondered why KQ had to import water dispensers from Germany while they could get the same locally. The renovation of the building despite the company knowing very well that the building will be brought down when the new runway is being built.
There was a time KQ spent an average of Ksh 1.5million on each and every staff member on useless trainings which did not benefit the said staff members in any way. The training was compulsory and those who failed to attend were sent on compulsory leave until they took up the training at the KQ Pride Centre.
One company which benefited most from the uncontrolled KQ outsourcing is the STOIC tracking. The company installed vehicle tracking and fleet management system in KQ vehicles being used on the tarmac to control speed. The speed limit is 25 Km/h. The company was being paid Ksh 4 million per month from 2005/2006 financial year to Dec 2014 when KQ decided to stop the service having realised that it didn't prevent the staff from exceeding the speed limit on the airport tarmac. Only KQ installed such a service in their vehicles at the airport while the likes of 540, KLM and Qatar did not see such a need.
Now KQ is not in a state to meet its financial obligations. Staff salaries are paid late and remittances for staff contributions to Union, SACCO, NSSF and NHIF are not being done in time as KQ is left to rummage through the financial mess they created to sort themselves out. In February, KQ staff salaries was only possible after IATA sent the airline its codeshare contributions.
SACCO remittance happened on 13th March and not February 20th as always. Some contractors like Jubilee Insurance knows the precarious financial situation at KQ very well but want to debts to accrue further so as they would not want to interfere with the relationship.
The bad financial decisions at KQ started after the 2009 KQ strike where Naikuni told the Cabin Crew that their work and "Cabin Crew ni kama waiter naweza kuenda Kencom na nipate wengi." (Cabin crews are like waiters who can easily be recruited from Kencom bus stop). That was true to an extent. But consider the cost involved in training the Cabin Crew at Pride Centre. KQ charges over $3,000 for a 6 months Cabin Crew training where they only spend 3 months in class and the others just doing nothing. In fact at KQ, the staff always know that though the work is simple, KQ charges training of the staff more expensively that it would cost to train a medic locally in the same period.
Naikuni then said that he would teach the Cabin Crew a lesson resulting in the retrenchment of the over 420 cabin crew. KQ then decided to outsource the assignment of recruiting and managing the Cabin Crew to Career Directions which is owned, managed and operated by Naikuni's long known girlfriend Lucy Mmari.
KQ was meant to save with the outsourcing but that failed to work as service quality deteriorated. KQ ended up recruiting almost 1,000 new Cabin Crew through Career Directions. The company pays the CCs only Ksh 40,000 from the previous Ksh 80,000. The difference is not a saving to KQ since the airline pays Career Directions around Ksh 120,000 per month per Cabin Crew.
KQ made no savings on the salaries and there was no need since Cabin Crew salaries was just 1.3% of the total annual cost incurred by the airline. In the meantime, now the new Cabin Crews employed through Career Directions have been made to supervise the old and mature few who remained employed directly by KQ while the mature ones earn better salaries.
With the quality of cabin service declining, complaints emerged on social media and many at times were Cabin Crew caught having sex with passengers on air or shoplifting make up for personal use (in Bombay in India). Generally, the staff who are so loyal to the national carrier decided to steal to improve on their image. It is now believed that some KQ staff might be engaging in importing contrabands to boost their income as the airline continue to suffer.
For March, KQ staff who are suppose to be paid on 20th will have to wait for the sale of a Boeing 777 aircraft registration number 5Y-KQT at a cost of $57million to be able to earn their salaries. A brand new 777-200 plane like the KQT being sold goes for just over $250million. Considering that the plane is a 2005 make, the plane being sold is almost brand new. It is however believed that some KQ technical staff might have taken some of its parts leaving the plane being sold a SHELL. But the plane already has a buyer who has paid part of the money.
According to a senior pilot, "it is just sad that KQ cannot get to enjoy flying the 777s and make money out of them immediately after fully paying for them."
Another plane with registration ending KQS is also scheduled for sale. Of the 77-200s, only KQU and KZY are flying but might be up for sale soon. Another plane, a 777-300 with registration ending KZX is parked but sometimes serviced for Amsterdam route.
Enter the Boeing 787s aka the Dreamliners. Of the 17 staff KQ trained to handle the improved fleet, 6 never touched the KQ fleet as they were immediately poached by Qatar, Emirates and other rich and ambitious airlines. A total of 12 of the 17 Boeing Dreamliner trained staff have left the national carrier while the remaining are mulling leaving. Only one Boeing Certified engineer is left to support the Dreamliner at JKIA.
With airlines like Qatar Airways so moneyed that they are buying two Boeing 787 Dreamliners every day in CASH, this was bound to happen.
There are loud rumours within the KQ maintenance crew that the airline cannot afford to provide in-flight entertainment (IFE) in the 737-800s as the vendor who sold the system and provide maintenance services is owed so much money that they now detain any system sent to them for maintenance. KQ knows that it is suppose to provide in flight entertainment on every flight which goes for more than 5 hours. It's just not able to provide the same.
Apart from the money owed to the vendors, KQ also owe the taxman, KRA a lot of money that the taxman once detained some equipment over a Ksh 30 million debt which has not been settled.
In the last 5 years, KQ has lost a total of 75 Engineers and employed 150 (from Nairobi Aviation) new young and inexperienced technicians (calling them engineers) who have never touched an aircraft in real life. KQ has also poached close to 40 Kenya Airforce Servicemen to boost its fleet technicians. Many of the current pilots and engineers claim that they fear for the national carrier as it is playing poker with passengers' safety.
Another avenue in which KQ is losing money is the maintenance agreement signed with Royal Thai airline, Qatar Airways, KLM, Aviac Technologies and others. As KQ planes fly to Paris, Bangkok, Amsterdam and other destinations, someone within KQ decided to sign maintenance agreements with other airlines with experienced staff on the ground. The sad bit of this is industrywide, it is not advisable.
What happens is that the airlines or companies with maintenance agreements with KQ will always ensure that KQ planes are grounded longer for minor and inconsequential defects so that their companies can maximise their earnings. One such instance happened in Amsterdam last Monday when Kenya Airways lost a total of Ksh 47million in one flight because KLM engineers refused to clear the flight for take off over some "valve leak" which was found not to exist. When such a thing happen, KLM engineers would earn $250 per hour per Engineer or $120 per technician. This money is paid directly by KQ to the KLM accounts and is not inclusive of repair and spare parts costs which cost millions of USD. Why would KQ refuse to station own engineer in such locations and loose Ksh 47million in one instance. The practise was common in Paris when Aviac Technologies services was contracted to maintain KQ planes that 90% of the flights were always delayed or cancelled.
It is not sometimes wrong to give out such contracts but is nonsensical for KQ to give out such contracts when no one is giving them the same.
When such a thing happens, KQ is bound to pay accommodation for the affected passengers and crew. KQ is also bound to pay other costs like meals, transport and communication. When preparing an expense report, KQ staff would also sneak in some expenses which hard hard to verify like "cost of airtime."
The time to save KQ is now. The company is flying full planes and making money. The problem is that some executives have intentionally decided to kill the national carrier and launch their own. In the words of one senior executive, "KQ is not making a loss. KQ is just over spending."
KQ's 10 year plan were copied by airlines like Ethiopian Airlines (ET). But you can't compare ET as it is run in a dictatorial way. You remember the ET pilot who flew a plane to Greece. Many ET crew are monitored and banned from leaving the country the moment they try to seek greener pastures elsewhere. You can't compare how ET crew lives with how KQ is but ET is still afloat but if they still rely on the KQ plan, it will go down soon.
As KQ goes down, it is still spending almost Ksh 96 per litre of Jet A-1 fuel while the price has fallen to almost Ksh 45 per litre. KQ is bound to spend this much because it is hedging fuel and bound by the contract until the year 2017.
Though KQ has even retrenched some "overage pilots", the fact is that they don't have money to pay them and told them to wait for 6 months. The problem is that KQ might not be able to last for 6 months.
As KQ continue to sell properties (sold go downs in Embakassi and planning to sell headquarters) to cover costs, it is not clear how long this will be allowed to go on.
---
Kenya Insights allows guest blogging, if you want to be published on Kenya's most authoritative and accurate blog, have an expose, news TIPS, story angles, human interest stories, drop us an email on

[email protected]

or via Telegram
---