How A Report On Gambling In Kenya Was Censored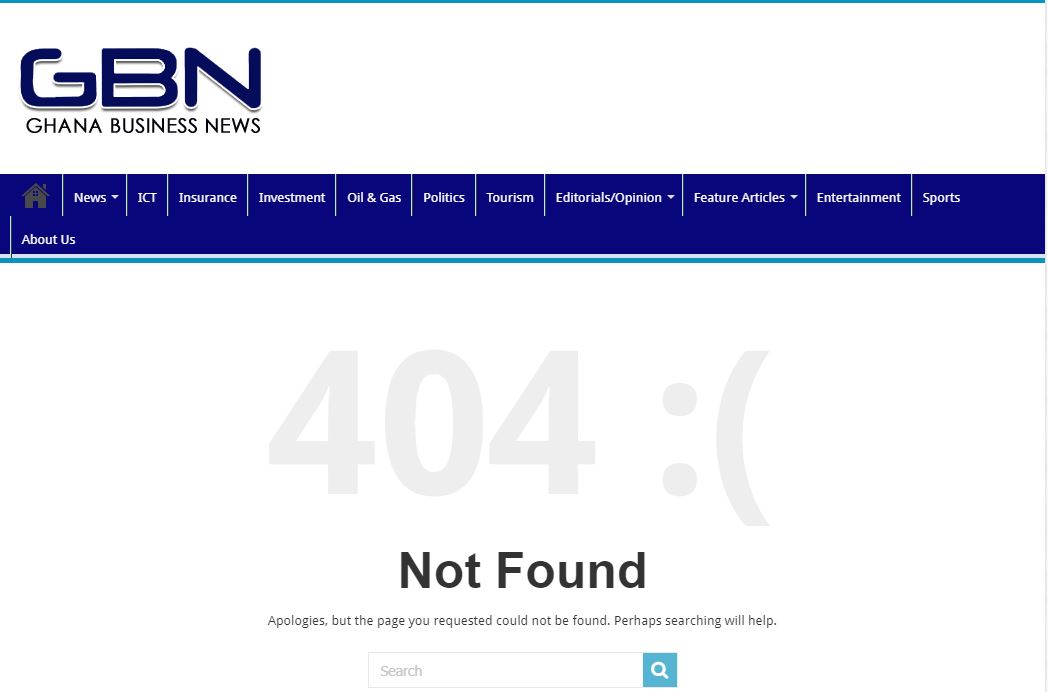 On February 4, Emmanuel Dogbevi turned to Twitter with a plea for help. He tagged press freedom groups and colleagues in a series of tweets, lamenting how allegations that he violated U.S. copyright law had prompted his news website to be taken offline.
Dogbevi told Committee to Protect Journalists (CPJ) that Ghana Business News, the Ghana-based website he edits, was pulled down for roughly four hours by its web host, U.S.-based DigitalOcean, following two complaints it received in January. The complaints, which CPJ reviewed, alleged Ghana Business News had republished an investigative report about Kenya's gambling industry without permission.
In fact, Dogbevi did have permission to republish the piece, which first appeared in the Kenya-based Daily Nation, the authors of the report, Lionel Faull and Paul Wafula, told CPJ via phone.
Ghana Business News' brief removal is the result of what appears to be a multi-pronged attempt to censor the report, which was republished in several outlets, CPJ has found. A similar complaint last month compelled AllAfrica, a news website that operates out of cities in Africa and the United States, to take down the same story, Reed Kramer, the site's chief executive officer, told CPJ via email. The strategy resembles other efforts documented by CPJ to use U.S. copyright law to quash critical journalism online, from Nigeria to Nicaragua.
The complaints were sent using email addresses purporting to be the two journalists who authored the report and cited the Digital Millennium Copyright Act, a U.S. law also known as the DMCA. A fourth complaint, which CPJ reviewed, was sent last month to Finance Uncovered, a London-based investigative journalism organization where Faull works as a chief reporter, citing the U.K.'s Copyright, Designs and Patents Act of 1988.
"I think it's an affront to press freedom," Wafula, business editor and investigative reporter with Daily Nation, told CPJ. "The world has moved on to a very dangerous line of very fishy characters behind keyboards."
CPJ was unable to confirm the true identities of those responsible for the complaints.
Under the DMCA, U.S.-based internet intermediaries like web hosting companies can avoid liability for content published on sites they support by taking down the materials after receiving a complaint, as CPJ has documented. Cara Gagliano, a staff attorney with the Electronic Frontier Foundation digital rights group, told CPJ via email that an intermediary company may find it simplest to disable access to disputed content by taking down the entire website.
Dogbevi told CPJ that DigitalOcean brought his website back online after he started making noise on social media, but insisted he take the Kenyan gambling story down pending resolution of the complaints, which he did on February 4.
Today, Dogbevi restored the article on his site after an email from DigitalOcean, which CPJ reviewed, said he was free to do so since the host had not received responses from the complaining parties and "the counter notice period laid out in the DMCA has lapsed." According to the law, that period from is 10 to 14 days. (Dogbevi said that period began on February 5 after he responded through a lawyer, following DigitalOcean's request that he do so, according to another email which CPJ reviewed.)
"What DigitalOcean did tells me that anybody that is unhappy with any story on a news site can issue a complaint and take down any report," Dogbevi told CPJ. "Anybody that doesn't like a story about them can easily attack the website by issuing a DMCA takedown notice. They don't have to be the copyright owner, they just have to fake it."
He said that he repeatedly informed DigitalOcean that the complaints were fraudulent and forwarded the company corroborating testimony from the real Faull and Wafula, which CPJ reviewed. But he said DigitalOcean insisted the claim was valid.
"[A]s a hosting provider we have limited leeway in how we treat DMCA reports and are required to take action when they're presented in a specific format as outlined by the DMCA itself – that is what we mean by valid," DigitalOcean wrote to Dogbevi in a February 2 email, which CPJ reviewed.
In response to CPJ's questions sent to DigitalOcean, Robert Smith at Highwire Public Relations said in an email that the company cannot comment on specific customer accounts. However, Smith said that "our actions and policies strictly adhere to the guidance" of the DMCA.
The gambling story first went to print in the Daily Nation on May 18, 2020, in cooperation with Finance Uncovered, which republished it later that month. Ghana Business News also republished the story in May, as did AllAfrica, according to Dogbevi and Reed.
It is unclear why the takedown complaints were sent at least nine months after the outlets republished the article.
The two complaints to DigitalOcean impersonating Wafula and Faull included links to sites where they falsely claimed the Kenyan gambling story had originally been published. The email from Wafula's impersonator linked to dailynationreport.blogspot.com, where a version of the Kenyan gambling report was the only published content. The email from Faull's impersonator linked to the story on AllAfrica. Kramer told CPJ that AllAfrica removed the article after it received a separate DMCA complaint from the same email address pretending to be Faull.
"We do not have resources to adjudicate complaints or take on legal battles — or battle breach-of-copyright complaints with our service provider," Kramer told CPJ, adding that it wasn't the first copyright complaint the website had received.
Faull told CPJ that freethought, Finance Uncovered's U.K.-based web hosting company, had maintained access to the gambling report after it agreed that the complaint, which alleged the article was originally published by a website called latimeslivenews.blogspot.com, was illegitimate. The site's header included a copy of the Los Angeles Times logo.
Edward Dore, a director at freethought, told CPJ via email that the host did not take down the gambling report because evidence found online and provided by Finance Uncovered contradicted the complaint. "We don't want to enable intellectual property theft, but at the same time we also want to protect our customers from spurious allegations," Dore said.
The complaints regarding the three outlets' publication of the story were sent from Gmail addresses with the same naming convention: the emails impersonating Faull and Wafula came via [email protected] and [email protected]; the complaint to Finance Uncovered was sent by [email protected]
Faull told CPJ he worried about the implications of someone pretending to be him, or any other journalist. "An impersonator could phone up someone and try to blackmail them in your name or be unreasonable in requests for comment," he said. "Your name is a really important aspect of your reputation as a journalist. So this is a form of identity theft."
Google says that "impersonating another person, company, or entity with the intent to deceive or mislead" is a violation of Gmail's program policies. CPJ emailed Google questions about the use of its products to impersonate journalists but it did not respond beyond a confirmation of receipt.
Dogbevi told CPJ that he doesn't really make money from Ghana Business News, but the experience of fighting the complaints was costly in other ways. "The shock, the anger, the pain, the frustration. I couldn't eat that night, I couldn't sleep," he said, remembering the period after his site was taken offline. "It's annoying when you get punished…with the tacit support of my [web] server."
Jonathan Rozen is CPJ's senior Africa researcher. Previously, he worked in South Africa, Mozambique, and Canada with the Institute for Security Studies, assessing Mozambican peace-building processes. Rozen was a U.N. correspondent for IPS News and has written for Al-Jazeera English and the International Peace Institute. He speaks English and French.
The Story.
Below is the story that irked the gambling cartels into hiring dark web geeks into censoring the report in spirited effort to not only muzzle media free speech but wipe out the devastating effects of gambling in Kenya and the destruction in the society.
By Lionel Faull & Paul Wafula
(This story was first published by the Daily Nation in Kenya).
The enormous scale of Kenya's betting addiction can be revealed after leaked figures from the regulator show that punters wagered more than Shs30 billion (£235m) in a single month last year.
The staggering size of the local betting industry has emerged from a leaked spreadsheet of revenue declarations made by gambling firms to the Betting Control and Licensing Board (BCLB) for May 2019, shortly before the government introduced tougher regulations and higher taxes.
Extrapolating from this monthly figure, punters were on track to spend more than Sh360 billion (£2.8 billion) on betting annually had the government not stopped the party.
This amount is Sh257 billion (£2 billion) more than what the national government allocated to health in 2019/20.
The leaked data reveals that Kenyan punters staked nearly 180 million individual bets in a single month.
Kenya has an adult population of around 35 million, according to 2019 population census figures released by the Kenya National Bureau of Statics (KNBS). The average amount bet per stake was Sh170 (£1.30).
Mental health
Gaming Awareness Society of Kenya co-founder Nelson Bwire reacted with shock at the figures: "Data we have submitted to the presidential task force on mental health indicates that gambling is a major contributor to mental health-related problems.
"The effects are devastating — family breakups, addiction, depression, unmanageable debt, increased crime and suicides. But to learn that people are spending such huge amounts on betting in such a short time? It's absurd!"
The revenue declaration snapshot was obtained by Finance Uncovered, a UK-based investigative journalism and training project, and shared with the Daily Nation. It originated from an insider at the BCLB, which receives and compiles monthly revenue declarations from the industry.
---
DOWNLOAD THE DATA:
---
This is thought to be the first time that betting figures for the entire industry, albeit a one-month snapshot, have been made public.
An industry source suggested that the numbers could be higher because the BCLB relies on companies' self-reporting.
The Kenyan gambling market is heavily dominated by online betting, which industry experts say typically returns 90 per cent of bets to punters as winnings. Retail outlets, or betting shops, return 85 per cent.
The amount firms retain after making winnings pay-outs is called the Gross Gaming Revenue, or GGR. Betting firms could, therefore, be retaining between 10 to 15 per cent of bets staked.
This means they could have raked in GGR of between Sh3 billion and Sh4.5 billion (£23-£35 million) in May 2019. This works out at between Sh36 billion and Sh54 billion (£280-£420 million) in annual GGR.
Betting firms would have been expected to pay a 15 per cent tax on GGR, plus a 20 per cent withholding tax on punters' winnings, following a series of tax laws passed in 2018.
The big two
Topping the BCLB's leaked spreadsheet of nearly 40 betting and lottery firms was SportPesa, who declared monthly bets totalling nearly Sh20 billion (£157 million).
SportPesa, which became a roaring success after it launched in Kenya in 2014, accounted for almost two-thirds (64 per cent) of market share.
The firm stepped to the international stage after it announced a Sh1.3 billion (£9.6 million) a year sponsorship deal with Everton FC in 2017. It was the biggest deal in the club's sponsorship history.
---
ALSO READ:
---
It would also set up a global headquarters in Liverpool. Before it shot to global fame, it had entered smaller deals with Arsenal, Southampton and Hull City football clubs, as well as the Spanish La Liga and a top Italian club teams.
Rival firm Betin came in second, with declared bets of almost Sh6 billion (£47m) — nearly 20 per cent of all market share.
Government clampdown
Sportpesa and Betin were among the 27 firms whose betting licences were withdrawn by the government in July last year over alleged tax non-compliance.
SportPesa and Betin fought the tax demands, which the Kenya Revenue Authority (KRA) claimed they owed in arrears under the 2018 revenue laws, in court.
They were given tax compliance certificates for the previous year only for the government to demand more.
Two directors of Betin Kenya, Leandro Giovando and Domenico Giovando, were also deported and later denied entry back into Kenya, despite holding valid investor work permits last year.
While some of the other suspended firms later had their licences reinstated, both SportPesa and Betin to date have not.
This saw them shut their Kenyan operations in September last year, rendering hundreds of Kenyans jobless.
The biggest blow was felt in the local football league after SportPesa withdrew from sponsorship deals citing "the hostile taxation and operating environment".
Before its withdrawal, SportPesa had waged a public relations campaign in the media, reportedly claiming in a series of full-page newspaper adverts that they had collected Sh20 billion (£157 million) in revenues in 2018, made Sh9 billion (£70 million) in gross profits and paid Sh6.4 billion (£50 million) in taxes.
They also claimed to have invested a total of Sh1.37 billion (£11 million) in local clubs, and a further Sh171 million (£1.3 million) in other socio-economic causes, including Sh41 million (£320,000) in community health.
The firm maintains that it has been playing by the rules and paid its fair share of taxes. It has a tax clearance certificate and several awards from KRA to prove it.
In February this year, SportPesa also withdrew from its international sponsorship commitments, including a reported £9.6 million a year shirt sponsorship with English top-tier football side Everton FC and a reported US$10 million a year deal with Formula One team Racing Point, whose CEO reportedly explained was because SportPesa "had some difficulties in their home market."
Before Covid-19 struck, the betting regulator said the interior ministry was still conducting security checks on owners of the big companies before it could grant them back their licences.
Best of the rest
Betika, the third biggest betting firm by declared bets in May last year (Sh1.45 billion, £11 million), has retained its licence throughout those turbulent months and is now thought to be Kenya's biggest betting company.
However, they now operate in a more curtailed market that has been further depressed by the wide-ranging impact of the Covid-19 pandemic, including the temporary closure of betting shops and cancellation of local and international sporting fixtures.
According to the data, Betpawa (since closed) and Sportybet (still operational) completed the top five.
Betpawa director Nikolai Barnwell was also included in the deportation list of 17 foreign directors of betting firms operating in Kenya — but claimed he had a valid investor permit and was on the list erroneously.
Betika appears to be the only company in the former top five that was not majority-owned by foreign investors.
It is owned by Beverly Technologies Limited, whose directors are John Michemi Muthuro and Sophia Nyarora Gichuhi. The company is not linked on the online company registry search.
A surprise entry in the top five, SportyBet has flown beneath the radar until now. Its directors are Jai Ashok Mahtani and Sudeep Ramesh Ramnani.
Their nationality is unknown. They co-own a company called Marawin, which operates the SportyBet brand in Nigeria.
Under-declaration?
The leak of the figures from the BCLB is significant. The regulator releases very little information publicly. But the monthly figures should be treated with some caution, experts say.
A source who has worked in a senior management position in one of the smaller companies said that firms who operate from physical shops, where bets are wagered in cash, can "potentially get away with" under-declaring revenue by up to 80 per cent.
The source, who spoke on condition of anonymity, said it was much harder for mobile and online betting companies to under-declare their revenues because of the digital trail left by betting activities on their servers.
However, the sheer number of bets and the regulator's inability to access the data in real-time mean that "significant" under-declaring is also possible for digital firms.
Other experts who have viewed the data point out that one would need to know companies' operating costs and taxes paid in order to calculate their profits.
Further obscuring their true profitability, some betting companies have set up related companies in countries where there is little or no publicly available information about how much money they derive from their operations in Kenya, and how this is accounted for.
SportPesa, for example, set up a holding company in the Isle of Man, while Betin's biggest shareholder was a company incorporated in Mauritius.
Public health
Betting, particularly on sport, exploded in Kenya from the mid-2010s onwards, finding fertile ground among a youthful populace who combine sports mania with digital savvy.
By 2019, betting was impossible to ignore, as firms such as SportPesa and Betin ploughed millions back into blanket advertising campaigns and high profile sports sponsorships.
But concerns about the prevalence of betting addiction, particularly among unemployed youth, also grew.
Mr Bwire, a campaigner for stricter reforms in the industry, said that the government should now turn its attention away from the industry as a source of tax revenue and gear its efforts towards public health and welfare, "especially in this Covid-19 era when isolation and boredom will increase gambling participation and fuel gambling addiction".
"Gambling companies have realised this and are using our new-found isolation to their own advantage, going by the recent guerrilla marketing of online casino games," he warned.
Story republished with permission and partnership with FU.
---
Kenya Insights allows guest blogging, if you want to be published on Kenya's most authoritative and accurate blog, have an expose, news TIPS, story angles, human interest stories, drop us an email on

[email protected]

or via Telegram
---