Doctors Union, KMPDU Responds To President Uhuru Following His Public Meltdown And Cancelling Government's Offers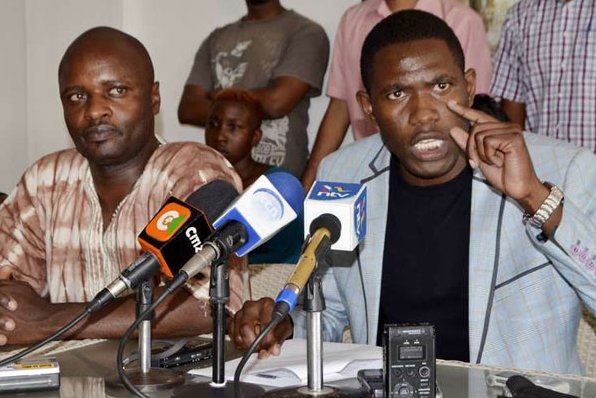 President Uhuru came out furious during the devolution summit and went all in on the doctors without brakes. The President accused the union of being selfish and did not only cancel negotiated pay rise to the doctors but threatened to deregister KMPDU, The doctors body that has been headlining the CBA implementation. The president's harsh words added to his dictatorial CV with epitome of low leadership being the threats to destabilize the union.
This however looks like a borrowed script from Moi who weakened KNUT by creating a parallel teacher's body KUPPET after the former proved to be an headache. The doctors have been on strike for over 90 days with several organisations including clergy involved in solving the standoff. President's directive seem to have undone everything and a state of uncertainty masks the future of public healthcare.
Uhuru's words compliments his Treasury CS Rotich who is on record defending the government against pay increase to doctors claiming such a move would render private hospitals sterile and unattractive as doctors would flock public hospitals given attractive pay pack. In a nutshell, the executive is shelling the private sector at the expense of poor Kenyans, it goes without mention that a good number of ruling class one these private hospitals either directly or through proxies.
With President's and CoG resolution to cancel their offer to the doctors at a time when the talks were just steps away from getting materialized and doctors getting back to work, The page arguably has been refreshed back to square one. The union through the Sec Gen has responded to the President through a directive to the doctors. Read it below;
I'm aware you are all angry, frustrated and disappointed. You should be. The tens of millions of Kenyans who depend on Public Health facilities are too. I'm too. Ironically, even those who can and should take action and make a difference for our country are equally angry, frustrated and disappointed. The point is that we all are feeling the same and that means it is not what will break the impasse.
For 95 days, the Kenyan Doctors have been on a struggle to restore their dignity and determine their destiny. That struggle has been long and painful. For 95 days, the public hospitals have been minimally or not functional at all. That was not our wish or objective from the start and the public have grown weary and stretched by the unending stalemate that has been the issue of CBA registration and implementation.
While for the Kenyan doctors it was and has remained purely an industrial dispute between an employer and a group of employees, the strike meant other things and has thus been deliberately mishandled as a punishment for the doctors. For KMPDU, the strike was never a contest of any sorts. This was simply a struggle to influence public policy relating to how WE the Kenyan doctors engage our employer, the Government, and how our Healthcare can be made to respond to each of our needs as citizens first and then as Doctors second. We believed that Doctors United can change healthcare for everybody and bring back the nobility of a profession that is on the brink of collapse. It was about patriotism for our country.
For 95 days, the society has revealed itself to doctors in ways we all never imagined. And if there is one unforgettable outcome of the strike is that we now know what each and everybody in society thinks about doctors. And we also know how such opinion have affected our profession. And the subtle corporate influence in matters public policy in Healthcare. It is in deed the reason we were in the struggle in the first place. There has been little doubt that our profession is at threat at the expense of political expediency. And Beyond our immediate need to have our CBA or the union protected, there is urgent need to protect the medical profession.
For 95 days we have been injured in our hearts. By insults and ridicules. We shall heal. We forgive. We have been sacked ad infinitum and we have been character assassinated. We have been emotionally abused by use of our moral and ethical obligation to the Hippocratic Oath. We have remained strong and United. We have demonstrated resolve beyond understanding to many.
From the start, there was already a plan to make the doctor tire. To push the doctor to his unbearable limits and finally deal a death blow to the union and the medical profession. We approached negotiations with utmost good faith and obedience. Responding to every call of meeting and staying late sometimes up to 3am even after you advised us to keep it only up to 5pm. Because we believed we could quickly come to an agreement and restore industrial harmony. But there were other plans that we should either have a very bad deal or have nothing at all. And there in lies what has kept the strike for 95 days. When we kept talking about the CBA, the Government kept talking about offers and portraying the strike as simply a greedy quest for more money. We did eventually talked and concluded the CBA. Yesterday, having consulted NAC, we decided that the financial offer be put in the CBA which then should be signed and registered.
And as fate would prove, the goalposts have shifted once again. The same CBA we revised for months should now wait another 30 days for signing and registration thereafter. The fact is no one wants you to have a CBA. Because a CBA is to a union what the constitution is to a country.
When we are at the very near end, a hurdle is being introduced. Doctors we have done our bit and our bit has been the best. Congratulations. Let us be angry and frustrated and disappointed. Let us even cry but let us do it for our country and for the millions of citizens who pass through our hands daily in such of health. Let us do it for healthcare. Let us not weep for long because as sure as the sun shall arise, we can only move forward.
No one should never convince you that fighting for what is right is not worth it. No one deserves your anger beyond the need to protect your profession. Be sure, we shall overcome. But the success of the union depends on the very resolve and the unity we exhibit. Let us guard it. While all doctors have been ready to resume duty, doing so under threats, intimidation and show of disrespect is tantamount to career suicide. Avoid until when we advice so.
Finally, it is important to note that while the payroll and the hospital belongs to the government, your skill is selfishly yours. Use it to serve humanity in the best way possible. But let not you think that it must be forced on you to use it. Your skill as a doctor is what you provide as Labour. How much is it worth? Some dignity perhaps. Some respect certainly!
We await to conclude the signing of Recognition Agreements, CBA and then after RTWF as was guided by the Court of Appeal under the Mediation of Religious Leaders. We hope this shall be done soon.
Thank you. God bless you. Keep Calm.
Yours Servant,
Dr. Ouma Oluga
Secretary General
KMPDU
---
Kenya Insights allows guest blogging, if you want to be published on Kenya's most authoritative and accurate blog, have an expose, news TIPS, story angles, human interest stories, drop us an email on

[email protected]

or via Telegram
---