Disgraced Ex-EACC Boss Waqo Ironically Says Fighting Graft His Top Agenda As He Launches Isiolo Governor Bid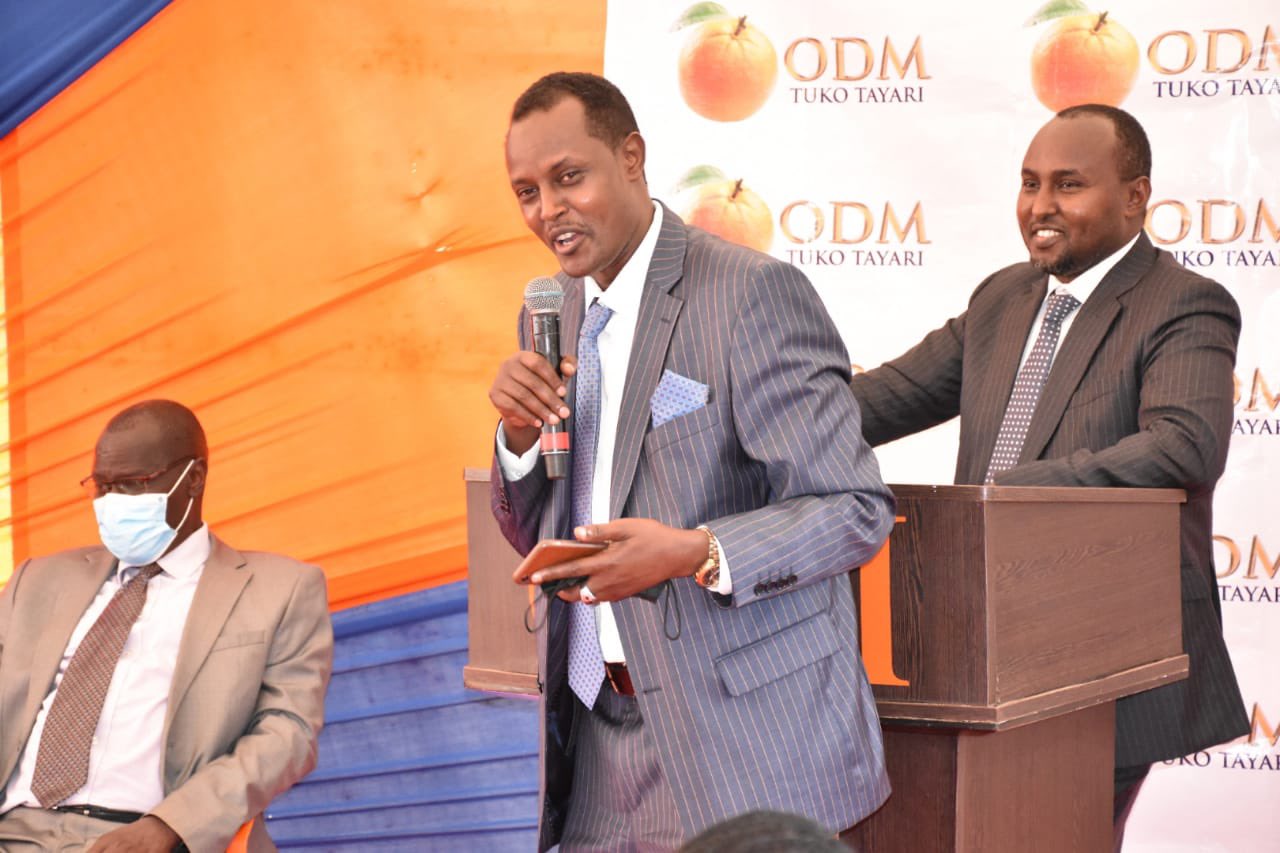 Kenyan politics scenarios has become a case of replacing garbage with garbage, the more things keep changing, the more they remain the same. Corruption has been heavy in the counties, the control of billions has seen big men with dark pasts leave last luxurious positions to vie for the governorship.
In Northeastern Kenya which is going to be our part of discussion on this article, governors continue to impoverish the residence while themselves turn into overnight billionaires. Today, there's no single county in the region whose governor is not fighting a corruption case.
The filth has attracted flies ready to have a good meal.
Former EACC boss Halakhe Waqo has launched his Isiolo gubernatorial quest promising to deal with graft and revive the economy.
Mr Waqo accused Governor Mohamed Kuti and his predecessor Godana Doyo of underdevelopment saying the achievements made so far were not commensurate to the billions disbursed to the county since inception of devolution in 2013.
Waqo whose tenure was riddled with controversies including bribery claims made on him and ran a totally toothless anti-graft agency then, has said he will use his experience at the EACC to end corruption that had denied residents development and affected provision of services.
Mr Waqo declared that he will contest for the Governor's seat on ODM ticket.
If elected, Mr Waqo said he will inject resources into  Small and Medium Enterprises and give local contractors work to revive the ailing economy.
He also promised to resolve protracted land disputes to ensure residents develop their properties and use them as collateral to access loans for economic empowerment.
"My work is to catalyze development and uplift the lives of our people in a fair manner regardless of their tribe and religion," he said.
While it sounds good on political podiums that an ex-EACC boss while champion fighting corruption in his tenure, in books, Waqo's history leaves a lot to buy such rhetoric.
Kemsa Scandal
For those who don't know, the former anti corruption boss was adversely mentioned in the Kemsa saga that saw taxpayers lose billions to tenderprenuers at a time when the pandemic was crashing the economy.
Waqo was in March 2021 probed by a parliament committee following revelations by Ms Zubeda Nyamlondo, a director of Aszure Commercial Services a company implicated in a Sh347M scandalous tender to supply facemasks to the Kenya Medical Supplies Authority (Kemsa).
Waqo's name popped up following a sustained probing by the committee members for the witness to provide details of ownership and how the firm sourced for funds to finance such large contract having only done business worth Sh8 million in the previous years.
Waqo confirmed to the that he was a loan guarantor to tge furniture supplies company that won a Sh347 million tender to supply facemasks to Kemsa.
He told the parliamentary committee that he had been approached by a manager at First Community Bank (FCB) – where he and directors of the firm are customers – whether he could provide security to a loan Aszure Commercial Services had sought to finance the Kemsa deal.
Unconvinced that Waqo was merely a loan signatory, the committee summoned Mr Waqo to establish whether he is the faceless owner of Aszure Commercial Services and only fronted Ms Nyamlondo to hoodwink the public.
The lawmakers also wanted to establish why the company, which had an account at Kenya Commercial Bank, decided to go to First Community Bank(FCB) for a loan.
After taking his time, his answers during the grilling painted a clearer picture of a larger conspiracy that did not only involve proxy managers but included bank officials from FCB and put Waqo right in the middle as the major stakeholder.
Waqo denied direct links to the firm.
And this is where it gets suspicious and puzzling, Waqo told the parliamentary committee that he had been approached by a manager at First Community Bank (FCB) where he and directors of the firm are customers whether he could provide security to a loan Aszure Commercial Services had sought to finance the Kemsa deal.
MPs were puzzled as to the nature of relationship that Waqo holds with the bank that the manager had the confidence to approach him as a guarantor and more so what was the bank's interest in sourcing for a guarantor for a customer. In a normal setting, the customer approaches the bank for a loan with a guarantor in hand. The complex relationship between the bank, Waqo and the firm left more questions than answer as to the bigger common interest of all the three parties.
MPs question that wasn't answered was why Aszure didn't seek a loan from KCB where the firm hold its accounts and instead went for FCB. It is unconvincing that Waqo would fund a project for people whom he doesn't know only relying on the bank's managers word which also leaves a lot to speculate about their depth of relationship. One can certainly tell who the faceless owner of Aszure Commercial Services is.
FCB is associated with Senior Counsel Ahmednasir Abdulahi and others claim that Waqo too holds stakes in the bank.
And more scandals
In 2014, EACC put the president in an embarrassing situation when it handed him a list of alleged thieves which he presented to parliament during his state of the nation address.
Most of those mentioned were never prosecuted due to lack of evidence.
At one time an infuriated Uhuru on learning the wild goose chase that the commission had sent him on publicly dressed down Waqo at a State House function.
"We Waqo wewe ulinisimamisha hapo mbele ya bunge nikafuta mawaziri…mpaka wa leo, after two years hujaniambia where their guilt is," the president lambasted him.
Waqo was severally mentioned by bloggers as a very corrupt guy who doesn't hesitate to take kickbacks to go slow on investigations. His hate to questioning bloggers would see him having Robert Alai charged for questioning his academic credentials.
In 2018, Mr Waqo was accused of receiving a Sh300 million bribe from 2015/2016 National Youth Service (NYS) scandal suspects.
The bribe was allegedly received to cover the names of several governors and a Cabinet Secretary listed in the graft.
Mutula Jr: CEO Halakhe Waqo the 6 years you've been in office, Kenya has lost at least Sh 300B..what would you say is your score card?

Halakhe Waqo: Yes, we were sidelined in the second NYS case but in the first NYS case we were the lead agency #CitizenExtra pic.twitter.com/TyMcDw4Rvr

— Citizen TV Kenya (@citizentvkenya) June 6, 2018
According to Adan Guracha, the then EACC lead detective in the scandal, Waqo used the proceeds to build a six-storey building in Isiolo town.
In a sworn affidavit, Guracha also revealed how Mr Waqo ordered him to discontinue investigations into the fraudulent compensation of the Lamu Coal-fired Power Generation project in 2017.
"When he tabled information linking Dido and Sons limited to the fraudulent pay of over Ksh100 million, Waqo intimidated him and directed him to handle other cases," the affidavit read.
While Waqo's path with scandals remain in plain sight, he was appointed Chairperson of the Universities Fund Board on his exit from the anti graft commission which came in the heights of many having lost confidence in the commission.
He now seeks to be Isiolo's Governor and claims to be a saint, choice is yours, for us it's just giving you reminders of whom you're dealing with.
---
Kenya Insights allows guest blogging, if you want to be published on Kenya's most authoritative and accurate blog, have an expose, news TIPS, story angles, human interest stories, drop us an email on

[email protected]

or via Telegram
---