Diplomatic Standoff As Kenyans Demand For Fair Trial Of Their Own Jailed For Cohesion With South Sudanese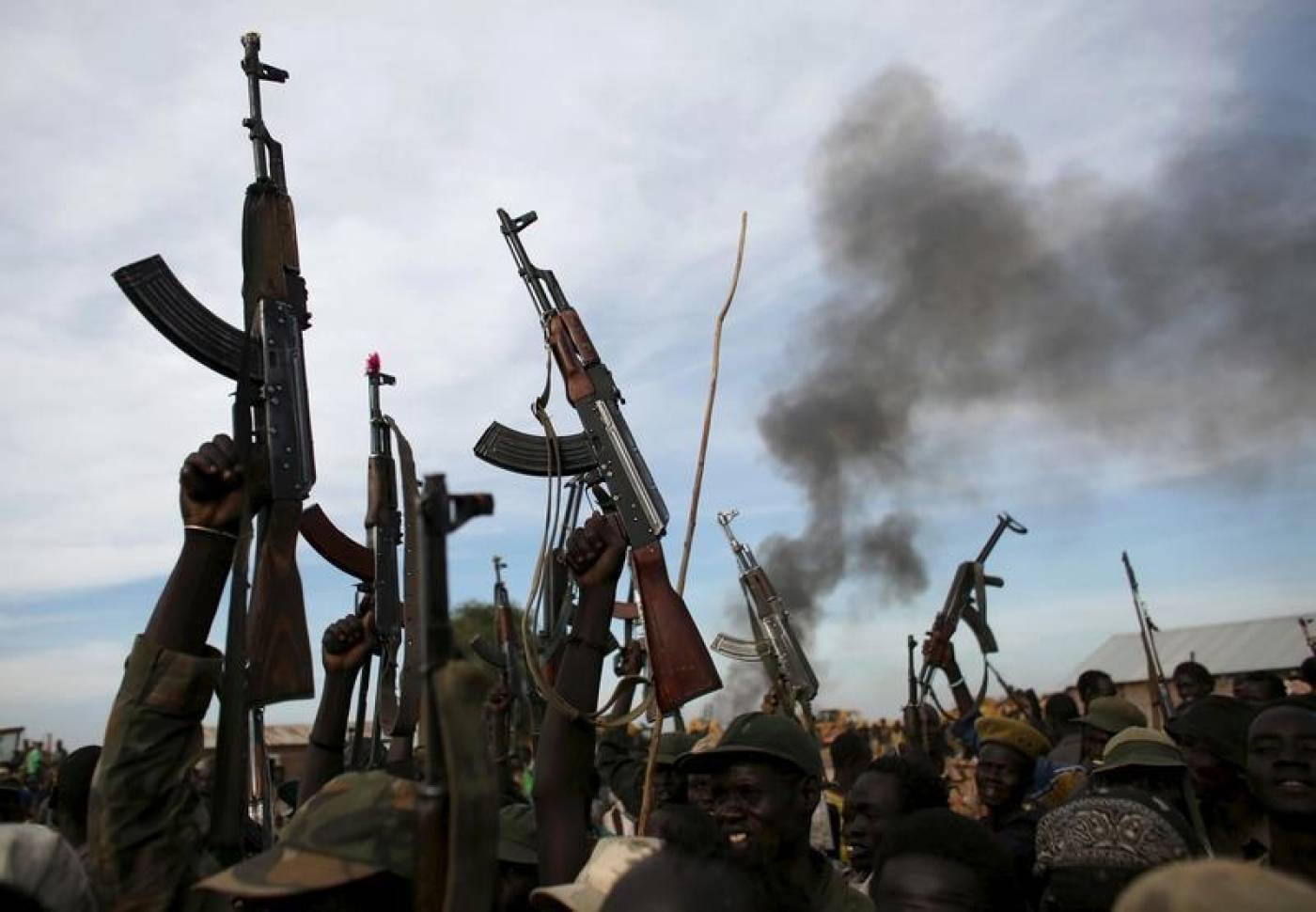 Kenyans in the past few days launched a vicious online campaign dubbed #DeportSouthSudanese that closely bordered to xenophobia throwing the South Sudan citizens living in Kenya into a visible panic. However, according to the initiator of the hashtag, Cyprian Nyakundi, the country's most popular, credible and controversial blogger, the campaign was sparked by the inaction and deliberate ignoring of Kenyan citizens rotting in the Sudanese jails without any pinch of justice.
Nyakundi, a deviant and relentless justice warrior as his profile dictates, talked to Kenya Insights saying the matter if the Kenyans unfairly jailed for life in South Sudan, had grown to become a matter of political scoring and deal cutting for officials between the two countries. It is for this reluctance within the foreign office that he decided to take the matter up.
However, as expected, the harsh angle of the approach taken by Nyakundi who argued out that Sudan a war infested region has Kenya as a safe haven for corrupt officials to launder their cash. Nyakundi is known to be ruthless and fearless when it comes to tackling matters corruption unearthed several dossiers pointing at Sudanese officials including president Kiir for laundering their money to Nairobi.
The larger good living South Sudanese population in Nairobi didn't escape the wrath either as a comparison was made between them and Kenyans living in Juba and beyond. Generally; from the interactions, Kenyans feel a gap in tolerance saying; those living in SS are subjected to harsh conditions as compared to the lavishly living South Sudanese in Nairobi and Kenya where they're treated without discrimination.
On Friday 29th of May 2015, four young Kenyan men are living and working in South Sudan namely; Boniface Chuma, Ravi Ghaghda, Antony Keya and Antony Mwadime were arbitrarily arrested by National Security in South Sudan from a company called Click Technologies. They were arbitrarily detained for nine months on one meal a day with no access to family or lawyers.
They were finally presented to Court on the 20th of February 2016 along with 12 south Sudanese for various charges which they did not commit; such as forgery, insult to the person of the president and misappropriation of funds among others.
The unfairness in court started from the very beginning when the judge set bail per person at $14 million USD. Their lawyer was forbidden to meet with his clients unless during the trial. Continuous intimidation to witnesses by National Security and exactly a month into the trial the lawyer, Kiir Chol was threatened at Gun point by National Security, whose written communication was snatched away from him and his clients' and forced to drop the case.
Five months of Trial and the Kenyans had NO MENTION in court; this was acknowledged by the Ministry of Foreign Affairs. The court proceedings were conducted in Arabic which the Kenyans could not understand.
With the to and fro from government officials that bore no fruits, unfortunately, the 4 Kenyans along with 12 South Sudanese were sentenced to life imprisonment of 72 years on 13th June 2016.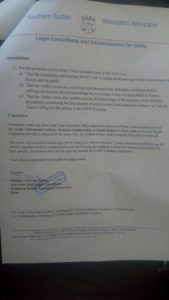 The genesis of this whole case is all Concoctions and trumped-up charges in the form of "Intelligence Report," and more of Conspiracy acts by a group of Powerful individuals in the Office of the President. Their goal was to scratch off Former Chief Administrator Mayen Wol Jong and Executive Director in the Office of the President, Yel Luol Koor from their positions. The Former Chief Administrator and Former Executive Director were barriers to these Powerful government officials and allies crooked multi-million business tenders with government through Office of the President.
The report was accusing the two senior individuals of squandering $500million from the office of the President by forging the signature and seal of the president to withdraw these sum from Ministry of Finance and Central bank of South Sudan.The $500million was alleged to have been deposited in John Agou's bank account in Nairobi.In reaction this, On 29th May 2015 President Salva Kiir ordered the arrest of three above mentioned.John Agou and his employees who among them included 4 Kenyan Citizens were arrested while at the shop, Click Technologies limited owned by Agou.
These four Kenyans had no idea of what was going on.They were detained at the headquarters of the General Intelligence Bureau (GIB) as just 'State Witnesses.'On 25th June 2015, President Salva Kiir suspended his two senior aides Chief Administrator Mayen Wol Jong and Executive Director Yel Luol Koor handing them over to GIB for investigations. On 2nd October 2015 in Nairobi -Kenya, where John Agou's wife and his 2-year old son were residing, became a crime scene as his wife Susan Anyieth Chaat was kidnapped on her way to the prominent wedding of television personalities Betty Kyallo and Denis Okari were holding their event at Marula Manor in Karen.She was abducted by Officers from South Sudan National Security Service with the help of plan less Kenya Anti-Terrorism Police Unit(ATPU), and National Intelligence Service then handed over to South Sudan National Security Service officers in Nimule, a town at Uganda-S.Sudan border.
The abduction/kidnapping of Susan Anyieth from Nairobi, Kenya on 1st October 2015 by rogue elements from the South Sudan National Security Service with the help of the Kenyan Anti-Terrorism Police Unit (ATPU) and the National Intelligence Service (NIS) without due process of the law. This was done with total disregard to the international laws of extradition treaties. She was just a house wife, and she was forced to leave behind her 2-year-old son without anyone to take care of her. Just like her husband and the rest, she would be sentenced to life imprisonment with the fabricated charges and without legal presentation. In the next sequel, we will break down the high table politics and the intrigues of this international law contravention.
Following the viral protest campaign by Kenyans demanding for fair trial or release of their own, Kenya's ambassador to the South Sudanese Republic was recently summoned to give explanations on the unexpected turn of events by the South Sudanese government. Amb. Cleveland Leshore is under siege to explain to the embassy of SS as to why they shouldn't be worried for their citizens in a letter.
Kenya and South Sudan enjoy a cordial relationship with Kenya playing the mother to Africa's last born nation following series of unending wars that saw them separate with Bashir. Kenyan authorities have promptly replied to the concerns, talking to the families affected, the foreign officials who conveniently goes missing in the calm and resurface on the storm, in their chorus, told the family to hold their horses as the government looks into the issue.
The fact that the South Sudanese judicial system is plainly compromised and don't come anywhere close to international standards no wonder Sudanese and Kenyans were jailed without due legal process is in itself nauseating. The standoff seen to have been slowed down by the elections in Kenya but things would regain momentum immediately after the polls as the push for justice breaks the walls; this is according to assurance from Nyakundi and his group of defiant vicious group of bloggers. It is a gory picture for the two countries that have been in harmony to go head on a real or imagined tag of war. The two countries must move in speed to square off their differences and ensure both interests are catered for. The Kenyans jailed; outright need a fair trial. This too includes their Sudanese counterparts jailed for life under the same questionable circumstances.
This shouldn't be called a diplomatic stand off as the countries stand a good chance of striking a deal. It don't make empirical sense when your own citizens are undergoing it exposed to avoidable turmoil. Kenya must pull its socks up and the Sudanese government equally need to subject not only the four Kenyans but entire victims to a clear judicial system not some monkey ordeal as it stands.
---
Kenya Insights allows guest blogging, if you want to be published on Kenya's most authoritative and accurate blog, have an expose, news TIPS, story angles, human interest stories, drop us an email on

[email protected]

or via Telegram
---