Corruption Embedded At NHIF Under CEO Geoffrey Mwangi Threatens Uhuru's UHC Goals And Why Anti-Graft Agencies Must Raid Immediately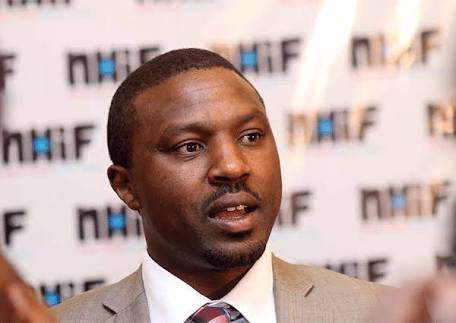 President Uhuru is said to have shaken off any friendly links that portrayed him as tolerant to corruption. For this purpose, Kenyans have experienced what one magistrate was overheard saying is the most vigorous and closest they've seen a government genuinely involved in nailing graft culprits. Corruption has been a menace in the last decade with projections by economist David Ndii saying that Kenyans have lost up to Sh1Trillion since Jubilee came into power, EACC put the figure at Sh600B as the annual amount lost to corruption. At a summit in Statehouse last year, the President was faulted for admitting helplessness in fighting corruption, a menace that has clouded his government and destroying many lives as days unroll.
Given this being his last term, President Uhuru has continued to show a different skin as he intensifies fight on corruption in a clear bid to sanitize his image and eventually leave an impacting legacy. He recently said he wouldn't tolerate anyone not even his friends entangled in corruption deals. For the first time, Kenyans have gone closer to a fierce Uhuru in action with a whole PS Lillian Omollo and NYS Boss Ndubai thrown to jail over the Sh10B scam. Whether this is cosmetic or not, at least it sends a message that it's not business as usual.
State corporations have become cash cows for corrupt politicians and their cronies and with loose ends in the system, we've had many people getting away with fraud. Billions are stolen and Kenyans taken through the same circle of inconsequential judicial razzmatazz. The quick and prompt coordination between the DCI and ODPP in the recent purge, shows a shift in paradigm and a sign that things might after all run as they should be.
Procurement departments in the government and state parastatals are known as citadels of sleaze, as many officers dish out lucrative contracts for inflated sums and receive huge kickbacks and for this reason, the President has closed down his face on the foundation of corruption. Officers in accounting will be subjected to lie detectors.
It has been established that for weeks now, the NIS has trained its sights on government departments and well-funded parastatals with budgets in the multi-billion shillings.
Some of the departments are essential to implement the Big Four Agenda — healthcare, manufacturing, food security and affordable housing — that the President is hoping will secure his legacy, with only four years before he leaves office.
President Uhuru is on record saying his topmost propriety of the four is healthcare and this can even be seen with the maintained recruitment into the National Hospital Insurance Fund including registration of 3M students into the scheme at a Sh4B deal. NHIF is strategically the top most important and heavily funded corporation that the president has to rely on in his delivery. However, all could not be merry given the current custodians of the office which has been ridden with corruption scandals in what has now become synonymous with the establishment.
Sometime in February, the state had launched investigations into the possible loss of more than Sh400 million paid out for a medical scheme for civil servants, police and prison officers. The National Hospital Insurance Fund paid two bidders against an order by the Public Procurement Administrative Review Board.
Britam Life Assurance Company (K) Ltd and Pioneer Assurance Company Ltd were awarded the tender, despite quoting high prices. Britam quoted Sh836,946,330 while Pioneer put its valuation at Sh852,284,830. The board had ruled that the award was irregular and ordered that NHIF contracts UAP Life Assurance Limited at its tender sum of Sh797,623,500.
The tender was for the provision of the Group Life Cover and last expense for civil servants, National Police Service and Kenya Prisons Service for the 2017-2018.
A big puzzle it has remained on the circumstances under which the tender was awarded to the two firms which had bid separately. Sh418.4 million had been paid as an advance before the award was canceled, questions which only the CEO Mwangi and the then chair Mohamud Ali who has since been replaced with Hannah Muriithi can answer.
Mr. Mwangi rushed to award a contract to two firms Britam and Pioneer despite them placing highest bids leaving out UAP that has the lowest bid. This rush as PPRB suspected, could have been ignited by possible cooperation between the CEO and the awarded companies.
Knowing how things run in Kenya, the 10% bug must have bitten the CEO to let go therefore flawed procurement regulations and irregularly granting wrong companies and taxpayers losing Sh400M in a selfish deal. NHIF did not safeguard the interests of the taxpayer by failing to get value for money when it awarded the tender.
Mr. Mwangi knowingly flawed contracting rules in awarding that tender, for instance, another issue is how Britam and Pioneer were awarded the tender as a single entity (at 52 percent and 48 percent respectively), despite having bid separately. There is no justification on why Pioneer, which bid Sh852 million, should have been awarded at a price quoted by Britam of Sh836 million.
The review board in a landmark ruling annulled the tender citing breach of several procurement laws. UAP was the lowest evaluated bidder at Sh797,623,500 while Britam and Pioneer submitted bids of Sh836,946,330 and Sh852,284,830 respectively.
The price difference between the sum at which the successful bidders were awarded the tender and that offered by the lowest bidder is approximately Sh40 million. Here's a case that is costly and must never be let to catch dust like the rest. Detectives from NIS, DCI, EACC, and ODPP must swing into action and weed out the rogue elements at NHIF.
This is not an isolated case, another procurement scam under the nose of Mr. Mwangi had rocked NHIF a few months earlier pointing at a linear pattern of scams at the corporation. Mr. Mwangi has now become a marked man with the procurement authority with consistent complaints that led to PPARB canceling an NHIF tender because of irregularities, especially the variation of tender requirements to suit certain bidders.
On December 28, 2017, the board ruled that NHIF had acted illegally by varying requirements for a tender to provide emergency air rescue for civil servants, National Police Service and enhanced benefits scheme which Amref Flying Doctors had applied for.
In this case, NHIF canceled the first tender in November 2017 after Amref emerged as the sole bidder. The hospital Fund claimed that Amref had not met mandatory requirements.
However, Amref appealed the decision at PPARB saying the cancellation was made irregularly and that NHIF had significantly changed the requirements in the re-advertised tender with the sole aim of locking them out of the bid.
The review board agreed with Amref. "There is also a growing number of complaints that tender documents are prepared in the direction of a particular bidder," said PPARB in their ruling.
As it comes out, there's deliberate incompetence from the CEO and abuse of office which should concern the investigating authorities. If the President is to realize his dream of UHC then health care corruption prone departments must be cleaned. NHIF has been described as the NYS of healthcare and for this, all eyes must be turned on this.
The CS Sicily Kariuki is currently fighting accusations of foul play in the current NYS fiasco, and she needs to stay awake and focus on her ministry where a lot is cooking. Afya House scam is still fresh in mind, and this has affected millions of Kenyans.
Misappropriation of funds in public offices is costing many people their lives, and we want to believe that the current purge on corruption is not momentary, NHIF has been a cash cow for many, and stained officers like Mwangi need to be subjected to lifestyle audit and the rest of board members and generally, the house needs to be turned upside down. We're calling upon all the agencies assigned in this fight to move with speed and investigate the many corruption allegations.
NHIF has had endless scandals, and none has been successfully held but just like NYS Boss Ndubai and PS Omollo were dragged and thrown to jail, we need an example made out of Mr. Mwangi as well and therefore; we're calling upon all Kenyans of conscious minds to join us in this campaign of cleaning the health sector and starting by calling for the immediate arrest, freezing of assets and investigations in NHIF CEO Mr. Mwangi and the entire board. This must be done with speed before another scandal hits our face and you can hold your breath, it won't take long.
---
Kenya Insights allows guest blogging, if you want to be published on Kenya's most authoritative and accurate blog, have an expose, news TIPS, story angles, human interest stories, drop us an email on

[email protected]

or via Telegram
---