Conservationist Kuki Gallmann Named In The Epstein's Black Book Of Sex Traffickers Leaked By Anonymous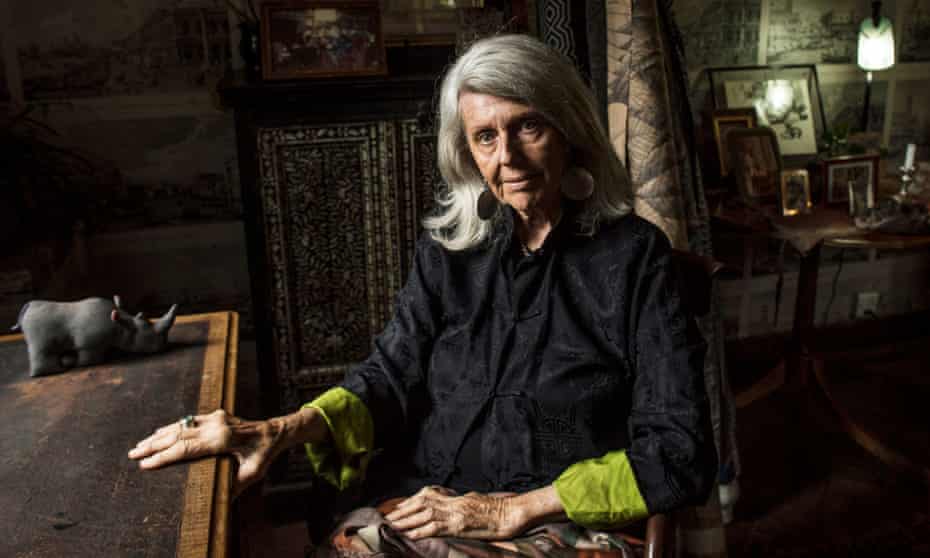 Following George Floyd's disturbing death and the riots in Minneapolis, Anonymous has taken over Twitter with jaw-dropping revelations about top celebrities. Naomi Campbell —one of the original supermodels of the 1980s — was dragged into the controversy when the hacktivists linked her to Jeffrey Epstein along with Donald Trump and many others.
On Twitter, they blamed several people in power for the recent violence against black people in the United States. Not just that, they released a document and named it Jeffery Epstein's Little Black Book. The leaked document names Campbell along with Trump, Ivanka Trump, Prince Andrew, Phil Collins, and Tony Blair.
In the leaked pictures, Trump and Epstein could be seen together while enjoying at a party. The documents say a woman filed a complaint stating that when she was a 13-year-old Trump and Epstein allegedly raped her. No sooner did the documents start to do the rounds on Twitter, people expressed their shock. "Am I reading this correctly? It's so disgusting to see so many women on this list. Especially when so many young girls were the ones being exploited.
In that list, two Kenyans we're foreign nationals are named, Gallman Kuki, 81 is named as of those who were in the sex ring.
Kuki Gallman established a vast ranch, owns and runs the famous 100,000 acre Ol Ari Nayiro ranch. Its in Laikipia County. That's almost the size of a district.
In 2017, Kuki was attacked and badly wounded while patrolling her vast land. The attack on Kuki resulted in a police crackdown on suspected perpetrators, local politicians Thomas Minito and Mathew Lempurkel. The two were arrested several times & charged with offenses varying from incitement to violence to the murder of rancher Tristan Voorspuy.
On May 16th, Mr Minito, who was the MCA for Chuyo Amaya, was picked up by people claiming to be police officers. 4 days later, his dead body was found on Ol Donyo Sabuk river, hundreds of kilometres from home.
Minito and Kuki had been at loggerheads over an access road cutting through Kuki's ranch. She saw it as encroachment on her land. Mordecai Ogada, author of 'The Big Conservation Lie' sees lack of access routes for pastoralists as one of the biggest problems.
The Pokots accused Kuki of exploiting and treating them badly for ages. "She has a colonial mindset," they say. Kuki has been in the Centre of land disputes where the locals claim they were invaded by the whites.
"The widely publicised recent invasions of wildlife conservancies in Laikipia County in Kenya have often been framed as conflicts between pastoralist communities and conservationists. However, the conflicts in Laikipia and elsewhere in northern Kenya ought to be looked at as a national security issue exacerbated by historical land injustices and the pursuit of an inappropriate conservation model that relegates the true owners of the resources to the periphery." Gitau Mbaria writes.
"Individuals and organisations that constitute the country's conservation fraternity have capitalised on officialdom's disinterest by experimenting with a conservation model that is harmful to the communities there. With financial support from multilateral and bilateral donors, as well as big-bucks international NGOs, the fraternity has literary taken over and has been running not just conservation, but also security, livestock marketing and conflict resolution in a manner that greatly interferes with the sovereignty of the communities that claim ownership of the land there." He continues.
Injustices of the land in Laikipia has been a topic that not many are willing to touch as it also involves a string of The Who abs who's in the country as Gitau explores.
"In Land Deals in Kenya: The Genesis of Land Deals in Kenya and its Implication on Pastoral Livelihoods – A Case Study of Laikipia District, 2011, John Letai says that Laikipia has "profound inequalities" in land ownership, with 40.3% of the land being controlled by 48 individuals. Among the biggest landowners in Laikipia include Gallman, whose Ol Ari Nyiro ranch is said to be 100,000 acres. Other large ranches include the Ol Pejeta ranch (92,000 acres) that was once associated with Saudi billionaire arms dealer Adnan Khashoggi and the Ol Jogi ranch (67,000 acres) owned by the late French billionaire art dealer Daniel Wildenstein. But even with this kind of inequality, it has been apparent that the ranchers cannot countenance the idea of ever giving up the giant parcels of land to the original owners. Some have been offloading the land to other rich people (some of whom are foreigners) while top business and political elites in the country have also increasingly acquired land there."
"Another approach has been to front the sprawling ranches as important wildlife conservation areas. Targeted in this approach is a powerful and moneyed audience in the West that has contributed immensely to support wildlife conservation in cash and kind. Initially, the white ranchers had not taken wildlife conservation as seriously. For a long time, many had taken to large-scale livestock keeping but later realised that they stood to gain much more by converting their properties to either mixed livestock-and-wildlife areas or to exclusive wildlife conservation zones."
Here's the dirty game, this led to a "carefully laid out and presented plan" to secure the future of wildlife in these vast lands and to get financial support from private and institutional donors. To avoid paying taxes and to continue enjoying the largesse of global supporters of wildlife conservation, many of the Laikipia ranchers registered their conservancies as non-profit organisations. Today, Ian Craig's Lewa Conservancy and Kuki Gallman's Ol-Ari Nyiro Conservancy are registered as non-profit outfits. However, this is a misnomer because many of them run exclusive, high-end lodges and camps that charge tens of thousands of shillings daily to tourists.
Jeffrey Epstein Sex scandal
Billionaire Epstein was involved in the trafficking, rape and torture of children worldwide for entertainment. While serving his jail term for the crimes, Epstein was found dead in what was reported as a suicide despite having strangle marks on his neck. America's President, Donald Trump was fingered by the Anonymous group for being responsible for the murder of child-sex offender Epstien who died of apparent suicide while in jail awaiting trial.
You had Jeffrey Epstein killed to cover up your history of child trafficking and rape. We've have the recipts here: https://t.co/zYnSn3kCNe

— Anonymous (@YourAnonCentral) May 31, 2020
Kaki having been named in Epstein's alleged inner circle of sex traffickers, the details are scanty as nothing is said beyond the address and acknowledgment by the author. What perhaps could be interesting and give the closest link home is the relationship with Naomi Campbell who has also been named in the inner ring. Of interests could also be her vast chain of hotels and if they were used in the trade as alleged.
Naomi is a frequent guest in Malindi where many Italians in Kenya live, Kaki is also an Italian national. Whether Kenyan intelligence is aware of this ring or whether they'll investigate her is yet to be known, what we're sure is she was listed in the leaked document as one of those in Epstein sex trafficking ring that involved selling young girls to wealthy naughty men worldwide.
Interestingly, Nick and Heather Day's Il Pinguin ranch the company named in the Epstein's black book, sits right in Laikipia country where Kaki's Ol-Ari Nyiro ranch is. If we're to make a connection then it's in the ranches and if any investigations to ascertain these claims then that's the starting point. Which would lead to a bigger role being played by the ranches in the. Nick and Heather Day also are Ireland nationals. Use the ranch as their home too.
---
Kenya Insights allows guest blogging, if you want to be published on Kenya's most authoritative and accurate blog, have an expose, news, story angles, human interest stories, drop us an email on tips.kenyainsights@gmail.com or via Telegram
---