Bribery Scandal at Israeli Construction Giant Blows Cover Off Its Business Practices in Africa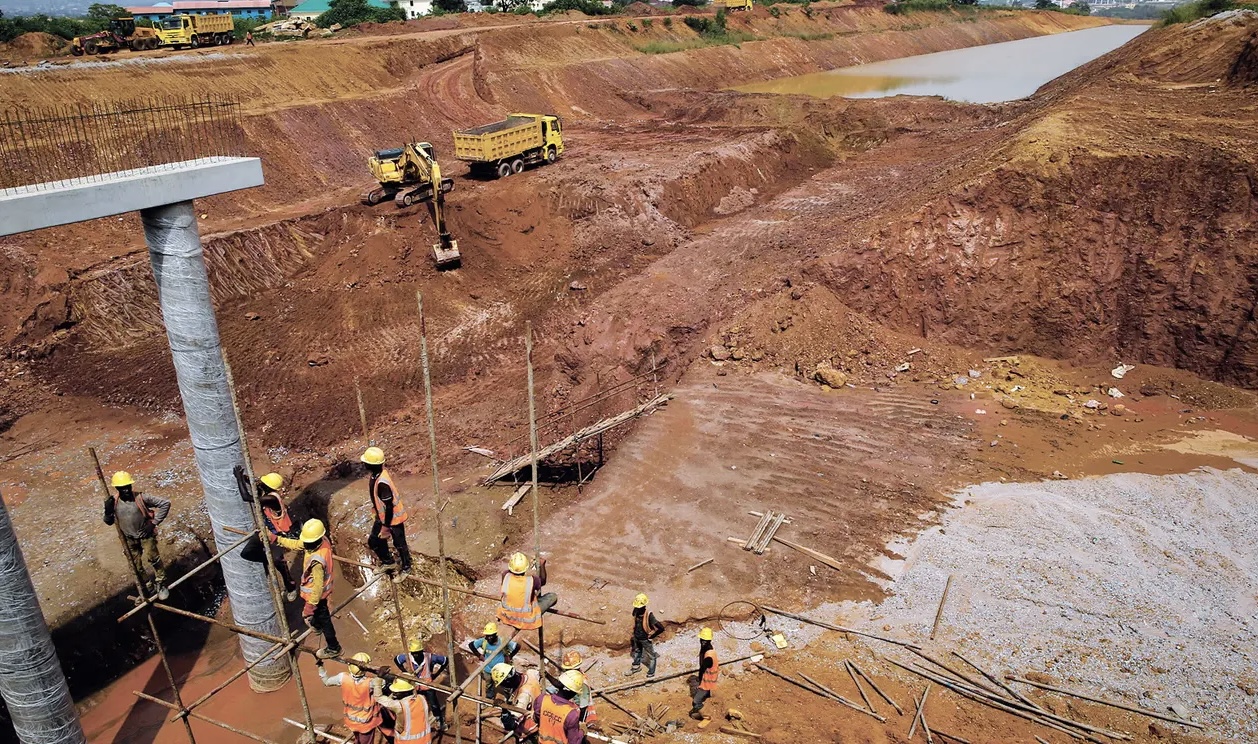 Police: 'Picture arises of S&B systematically bribing gov't officials with tens of millions of dollars for years'
February 2016, Nairobi, ostensibly just another day at the office. Dan Shaham, manager of the Kenya branch of SBI Infrastructure, a member of the Shikun & Binui construction group, summoned accountant Shai Skaf to his office.
Unusually, the blinds were closed, and on the desk was a file bound in red that Skaf hadn't seen before.
Shaham locked the door, praised Skaf for his work, implied that he had a bright future with SBI and told him it was time for him to "join the family". Then he gave Skaf a top-secret mission: Compare the figures in the red file with other data, which he had to take home, not show the family, and keep under lock and key.
The red file contained double books. In short order, Skaf realized he was looking at documentation of bribes to officials in east Africa, he claimed in his lawsuit against the company in 2017.
Two days after that, Skaf says, he told his boss he wouldn't cooperate, and was advised that he's a spineless sissy. "When in Africa, be African. They all give and take bribes," Shaham yelled at him, according to Skaf, and reportedly also said, "Why do you think profitability here runs at 40% and in Nigeria, 65% and in Israel, 4%?"
Skaf claims to have confided in CPA Ruby Lazarov of the accounting firm of BDO Haft, SBI's auditor, visiting the Nairobi branch. To his shock, says Skaf, Lazarov reportedly said that he'd known of these things for years and it's the norm in S&B's activity. According to Skaf, Lazarov specifically mentioned Nigeria, Uganda, Guatemala and in the past, the Ivory Coast, but added that the volumes of graft in Kenya were relatively minor.
At some point unidentified parties began threatening his life, Skaf says – and in August 2016, he was beaten to within an inch of his life and threatened with a knife. The frightened accountant went back to Israel the next day. Lazarov was arrested in late February 2018 in connection with the alleged corruption.
Most of S&B's projects in Africa are governmental. Following an amendment of Israeli law that came into force in 2010, bribing foreign officials is just as illegal as bribing Israeli ones.
Skaf claims Lazarov counseled him to look the other way and said it wasn't a practice peculiar to East Africa but a "familiar, deeply-rooted practice backed by the company's internal auditor, board audit committee, the company's legal department and even reaching Ofer Kotler," S&B's former CEO.
Kotler led the company from 2007 to 2015 and, with Lazarov, was also detained, as was S&B's internal auditor, Abraham Admoni, and the CEO of S&B Switzerland, Rony Paluch. Ravit Barniv, who chaired S&B from 2007 to 2012, was questioned and sent to house arrest. Skaf claims to have warned Admoni and Paluch about graft, in vain.
It seems at this stage to be one of the most egregious corruption cases involving a publicly-traded Israeli company. If not for the media swirl surrounding Netanyahu, the S&B case would probably have made front pages, especially as the company is controlled by billionaire Shari Arison, who also controls Bank Hapoalim.
Police suspect that eight people, current and former executives at S&B, were involved in, or knew about, methodical bribery of government officials in several African countries to get infrastructure projects.
"I'm not surprised it reached the levels of Barniv and Kotler," said an equity analyst who knows the company. "Solel Boneh Overseas (Engineering Services) is the most substantial, profitable company in the S&B group. Profitability in Africa, particularly in Nigeria, is phenomenal. For years when asked, company managers would explain that Africa involves higher risk, but obviously that can't explain the huge profits. The issue of ties in government always floated there in the background. The 2016 financial statement relates that infrastructure activity in Nigeria stopped because of a change in government, and the new government was halting payments to contractors. Somebody who knows the company joked that it was simply taking time to obtain the private bank account numbers of the new rulers."
Solel Boneh began working in Africa in the 1960s, a time when Israeli companies were starting to work on the continent with the encouragement of the Israeli government. Then Solel Boneh was controlled by the Histadrut labor federation.
In the last 20 years, SBI projects in Africa have usually been sponsored by the World Bank and various UN bodies. The contract is made with the state but the international institutions are the ones that in practice transfer the money from the government to the company. At least part of the current affair, it seems, stems from the World Bank's discomfort with S&B's behavior. That is implied in a statement S&B made to the Tel Aviv Stock Exchange when the affair broke out. It reported that the World Bank was probing S&B's projects in Kenya.
After Skaf's lawsuit arrived, S&B and its Swiss subsidiary, through attorney Pini Rubin of Gornitzky & Co., which is close to Shari Arison, tapped the European Institute of Certified Public Accountants to conduct an internal investigation.
Strange as it may sound, S&B wants to shake off the Israeli connection to the affair, and as far as the parent company is concerned, it shouldn't have been investigated by the authorities in Israel, despite the anti-graft law. That version suggests that if there was corruption, it is a Kenyan-Swiss affair and the people involved are not Israeli residents, but former Israelis.
"It's a separate company with a separate board, most of which is Swiss," says a source near S&B.
"There are Israeli names but they aren't actually Israelis, they've been living abroad for years. The company in Switzerland is materially a foreign company. It operates in Africa and its management and control aren't in Israel. It doesn't matter if its profits ultimately reach Israel. What, could a company that receives the profits upstream be a partner in crime, if, heaven forbid, any was committed?"
Clearly, Israeli authorities think otherwise. On February 20, Amit Michles, the detentions judge presiding in Rishon Letzion, referred to the World Bank probe (from confidential information for his eyes only) was known. The police representative at the hearing told the court that the affair concerns the years 2008 to 2012 but now there is new evidence regarding the present.
Two days later at a remand hearing for additional suspects, the police representative said, "A miserable picture arises of S&B systematically bribing government officials with tens of millions of dollars for years, and more, around the world, all to increase its profits. In some cases S&B defrauded banking institutions affiliated with the UN, institutions established for noble purposes such as developing infrastructure in developing countries. If the suspicions turn out to be true, the damage caused to the State of Israel's image will be hard to estimate."
'The bastards changed the rules'
All the suspects vehemently deny the allegations. But some may yet argue that, as Shaham allegedly told Skaf, "that's how things have always worked in Africa." Indeed, at a remand extension hearing of Yehuda Elimelech, who managed Solel Boneh Overseas until 2011, his lawyer hinted that until 2010, there had been a certain culture to S&B's operations in Africa. When the graft law was enacted in 2010, Yehuda asked for a legal opinion about it out of a genuine desire to instill the new norms, she said. Michles answered that the evidence does not support that claim.
Many Israeli companies operate in the third world and traditionally the government ignored the culture of corruption there. But that's been changing; note the charges against mining magnate Beny Steinmetz regarding alleged graft in Guinea.
"This is a case of 'the bastards changed the rules,'" says an executive in infrastructure who knows S&B. "Once, bribery was the standard, the norm. But now these countries want to be part of the normal world, and the international institutions, the UN and World Bank, are keeping closer watch."
We tried talking with past and present directors at S&B, and the few who would talk, off record, claimed to have known nothing about graft in Africa.
Shari Arison's public-relations machine paints S&B as a company that does operate for profit but has green and ethical values. The fact is that most of the company's profits stem from the third world. S&B's EBITDA for 2016 totaled 606 million shekels, of which Africa contributed 65%.
Market sources suspect the affair could hurt the company, especially given the high proportion of its profit stemming from Africa, which implies that it will have to change strategy. The company's stock has fallen over 20% since the story broke out, reducing its market cap to 2.6 billion shekels. It could fall more if only because of the uncertainty, says an equity analyst. He doesn't see the company quitting Africa, noting that it has projects in process; but it will have to rethink its strategy for the third world in general.
The Arison Group commented: "As published, S&B is fully cooperating with the investigation and hopes it ends soon on a positive note, as the company has zero tolerance for improper conduct. The group does and will operate to instill high standards of values in everything it does and in every area of its investments. We hope the group's 27,000 workers and managers in Israel and around the world will continue to work with added value for the economy, society and the environment."
S&B commented that the claims arise from a lawsuit by one former worker of a foreign group company operating partly in Africa and following that, the company itself contacted European enforcement agencies (where the company resides) and is conducting its own investigation. It added that its companies have always operated by a strict ethical code based on leading international standards and has no tolerance for improper conduct. The company said it could not comment on the claims raised by the police and in the article because of the investigation in process.
Ormat Technologies
Immediately prior to their work at Ormat, several senior Ormat executives and directors worked at Shikun & Binui, a leading Israeli construction company. Shikun & Binui was recently charged by Israeli prosecutors with bribing officials in what are now two of Ormat's key markets, Kenya and Guatemala.
Ormat's General Counsel & Chief Compliance Officer, along with an Ormat director, are under pre-indictment in Israel. This is a formal stage of prosecution just prior to indictment. Ormat has apparently chosen not to disclose that the two are currently in the midst of a criminal prosecution. Both still serve in senior oversight roles at Ormat.
Ormat CEO Doron Blachar's immediate prior work experience was serving as CFO at Shikun & Binui. The CEO during Blachar's entire tenure at Shikun & Binui was arrested in 2018 over the above referenced bribery allegations. It is unclear whether Blachar faces eventual risk of indictment as well.
---
Kenya Insights allows guest blogging, if you want to be published on Kenya's most authoritative and accurate blog, have an expose, news TIPS, story angles, human interest stories, drop us an email on

[email protected]

or via Telegram
---