Belarusian Businessmen With Controversial History Elsewhere Break Into Ruto's Machine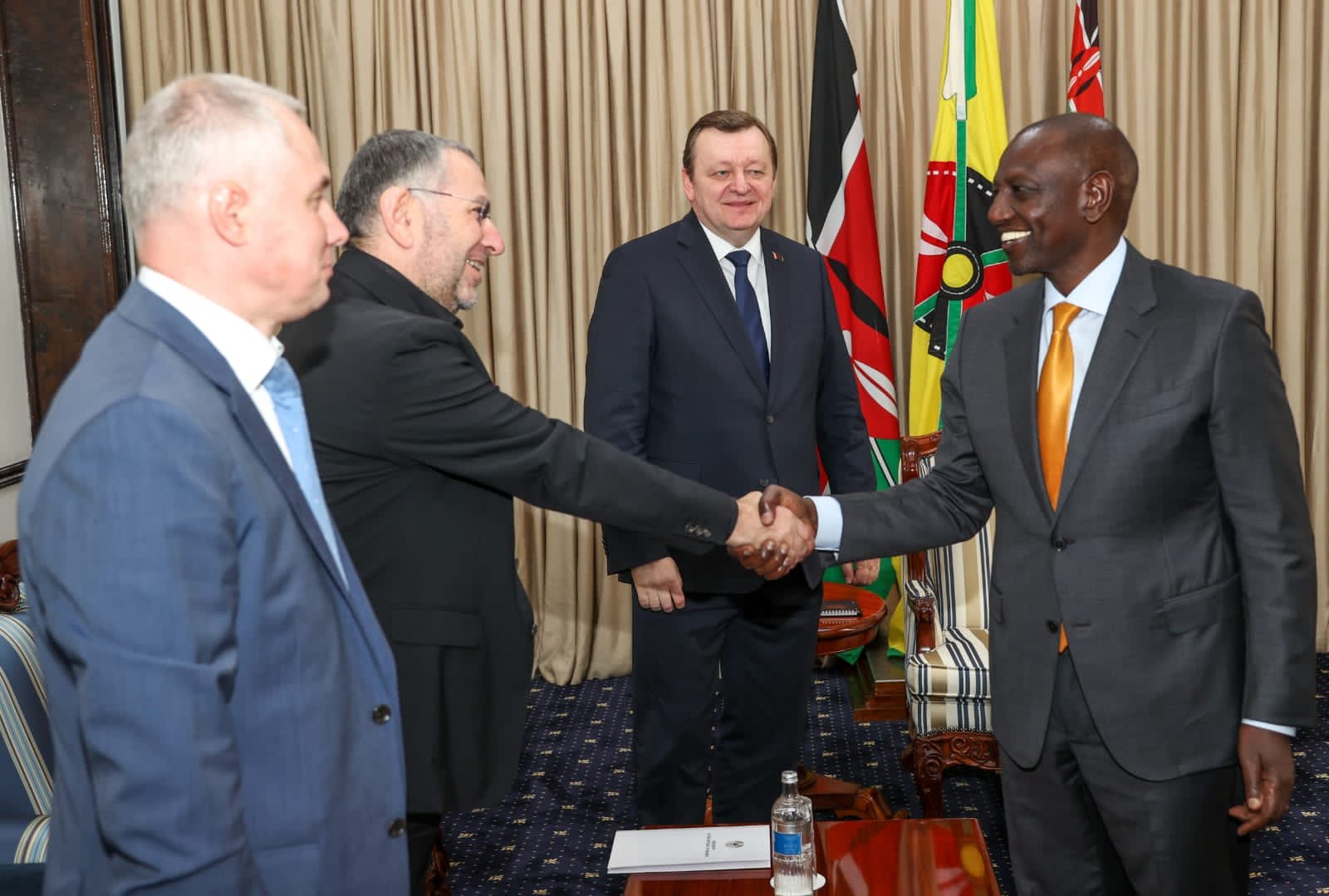 Business partners Oleg Vodchits and Alexander Zingman, who were previously active in Zimbabwe and DR Congo, are becoming quasi official middlemen in Kenya's new administration.
Oleg Vodchits and Alexander Zingman are about to establish themselves as important personalities in the entourage of Kenyan President William Ruto. It is moreover as "advisers for the Gulf countries" that the two Belarusian businessmen were registered, at the end of February, in sixth and seventh position on the list of the delegation of the Kenyan Minister of Commerce during his official trip to Qatar.
Mr Alexandr Zingman, 56, and Mr Oleg Vodchits, 36, were listed in a February 24 letter from the Foreign Affairs Ministry to the Qatari embassy as being in a team from Mr Kuria's ministry that was to fly to Doha for a five-day event starting on February 27.
In 2021, Zingman and Vodchits were detained for almost two weeks in DRC by intelligence agents who questioned them about their ties to former president Joseph Kabila. And, according to the Zambian press, Zingman facilitated Russian and Belarusian arms sales to Zambia and several other African countries.
In March 2021, businessman Aliaksandr Zingman, close to Viktar Sheiman, was arrested at Lubumbashi airport in the Democratic Republic of the Congo (DRC). Local intelligence agencies suspected the owner of the AFTRADE DMCC company that he intended to sell weapons to the former president of the country, Joseph Kabila.
South Africa's Daily Maverick newspaper, citing sources, claimed that Zingman wanted to sell weapons to the former president of the DRC, who has a tense relationship with the current one. Other media outlets write that the reason for the arrest "was an alleged conspiracy of three people to overthrow the Congolese government."
Another Belarusian alsodetained by the DRC authorities was Aleh Vodchyts who's Zingman's partner. He is the CEO of AFTRADE and is involved in major negotiations with Zingman.
Unlike the owner of the business, Vodchyts is not such a media person: he appeared several times in the Belarusian media when he worked as deputy head of the Promagroleasing company and almost did not appear in the African media. At the same time, the line Promagroleasing in the resume is also very telling: this organization, which is currently part of the holding of the Development Bank, probably also works with Africa. There, it actually finances exports from Belarus: it allocates funds to African banks from time to time, which they, in turn, provide to local players for the purchase of Belarusian equipment. In the language of officials, this is called "government support for foreign sales."
In 2020, Zingman became interested in doing business in Congo – he wanted to mine jewelry there.
It is worth noting that Zingman does have "not very official" contacts with the "top" of some countries. For example, his informal photo with the President of Zambia with glasses of wine has drawn criticism in the local media and reproaches for possible corruption deals.
Zingman's company which is registered in UAE, is in another "gray" zone where it is impossible to get intelligible information about someone's business.
Zingman is believed to have brokered the procurement of helicopters from Russia and the contract for the supply of Sukhoi Superjet 100 aircrafts.
On paper, Zingman's name is associated with the fashionable restaurant Falcone in Minsk, Belarus and resides in Raubichi and owns several properties there. His partner, Elizaveta Denisevich, and son, Denis Zingman, are running the family business. Zingman's private jet is reported to have frequently flown to and from the shelters of African countries, carrying on board government leaders and businessmen.
And the Business News Line reports that the plane is said to have links with Moscow-based Russian company Smart Jet Aviation in three different company registries: Russia, Cyprus and the Virgin Islands. According to its flights' history, in March 2018 the plane went from the renowned offshore tax shelter island of Jersey to Burkina Faso, then to Zimbabwe, again to Burkina Faso and then to Egypt, Latvia and Belarus. One passenger was present in all cases – lowkey Belarussian businessman Alexander Zingman.

Sh31B tractor scam
The administration of Kenyan President William Ruto is embarking on a risky diplomatic gamble, trying to strike a deal with a country that is under the sanctions of influential Western states. Zingman who's a broker in agricultural industry is believed to be in the middle of this shady deal.
The government is rolling out a plan to purchase tractors, high-speed propelled forage harvesters, centre pivots and tipping lorries and assorted equipment in a project estimated at Sh31 billion.
If the deal goes through, it will be the single largest import of tractors and agricultural equipment in Kenya in recent years. The transaction – which is envisaged to be implemented in 18 months by the hitherto moribund and financially-troubled state-owned credit body Agricultural Finance Corporation (AFC) – is shrouded in mystery in several respects.
First, the imports are to come from Belarus – an eastern European country and ally of Russia in the Ukrainian war. Belarus is under United States, United Kingdom and European Union sanctions.
Since the Ukraine war started, Belarus has been struggling to circumvent Western sanctions against exports of its agricultural equipment industry and has been fighting to limit exposure of its companies and subsidiaries to the penalties.
Sweeping sanctions
Just how high the diplomatic stakes are was aptly demonstrated recently by a strong statement by United States Secretary of State, Antony Blinken, on the first anniversary of the war.
He said Russia and President Aleksandr Lukashenko's regime in Belarus will pay a severe economic price for the aggression against Ukraine and warned of sweeping sanctions to target export controls, visa restrictions to cut off Russia's and Belarus' access to vital technological inputs, and measures to atrophy industrial bases of the two countries.
President William Ruto's administration is taking a risky diplomatic gamble in seeking to transact with a country under sanctions from powerful Western nations.
As one follows the key documents in the transaction, including a Cabinet memo, a memorandum of understanding between AFC and a Dubai-based entity known as Aftrade DMCC a company owned by Zingman, one ends up with a narrative that sheds more mystery than light.
Where is the money to buy billions-worth of machinery from Belarus to come from?
In a February 27 letter to the Office of the Attorney-General, the chief executive of AFC, George Kubai, requested the help in drafting a government-to-government agreement between Kenya and Belarus, implying that the multibillion-shilling project will be funded by a concessional facility by Belarus.
The second mention of source of funding is to be found in a Cabinet paper headlined "The National Agricultural Mechanisation Programme to be implemented by the AFC".
The big question that arises is: If it is, indeed, the case that even a stage as rudimentary as identifying source of funds has not been determined, what are these documents – concept notes and Cabinet papers – about? Who is the mysterious source of the billions who is so influential as to set up key government departments to draft Cabinet, memorandums of understanding and brief documents to justify such a massive project? What are the credentials, history, capacity, client list of the Dubai-based counterparty to act on behalf of Belarus?
According to the documents and correspondence, the company to execute the multibillion-shilling deal from the Belarus side is a Dubai-based SPV-type entity established in 2017 by Belarus nationals by the name Aftrade DMCC.
As a matter of fact, the name of this company features in nearly all correspondence in this saga, including the Cabinet memo and letters by AFC boss Kubai.
This is how Kubai's letter to the Attorney-General puts it: "The government of Belarus has identified Aftrade DMCC as the company that will organise the whole process of identification of manufacturers, identification of equipment and the party that will lead negotiations with TDB".
In an introduction letter sent to AFC dated February 2 and signed by a director of the company, Volha Sheuko, the Dubai-based firm put Zimbabwe, Togo, Burkina Faso, South Africa and Tanzania on its list of clients and the Belarus export credit agency, the Development Bank of Belarus, Trade Development Bank, Afro Exim Bank and the Western Africa Development Bank as its financial partners.
Exim-like loan arrangements
Curiously, the Dubai-based company has also disclosed that its assessment is that the task at hand will cost a mere $5 million a paltry amount when compared to the $320 million-budget projected by AFC as scope of the project.
"We will look for machinery and equipment that meets the needs and then take it a step further by setting up offshore concessionary Exim-like loan arrangements to make it possible to purchase these technologies," said the Dubai-based entity in a letter of introduction to Sheuko.
Under the plan, billions worth of machines and tractors imported will be dumped on four government entities – Kenya Prison Service, National Youth Service, Kenya Agricultural and Livestock Research Organisation and the Agricultural Development Corporation.
The Cabinet memo asked the Executive to direct the National Treasury and AFC to commence negotiations with the Dubai-based entity and procure the equipment.
The memo also sought Cabinet approval for the appointment of AFC as the implementing agent for the government of Kenya on the project, to mandate the agency to begin negotiations with Afritrade DMCC and to treat the Dubai-based company as official agents of the government of Belarus.
Belarus has only recently been rated as a sovereign in "selective default" and "default" by the global rating agency, S&P. This means no advanced country, commercial bank or listed entity answerable to shareholders can have financial dealings with any counterparty or entity from the country.
Zingman shady dealings in Africa
Zingman and his company AFTRADE are engaged in the sale of Belarusian equipment manufactured by Amkodor, Minsk Tractor Plant, MAZ, and others to African countries. In this market, he works in parallel with Aliaksandr Zaitsau, a long-term partner of Aliaksei Aleksin, and Mikalai Varabei. All of them are called 'Lukashenka's wallets.'
In March 2018, Belarus' autocratic President Alexander Lukashenko dispatched his right-hand man Viktor Sheiman to Zimbabwe to negotiate trade and business deals on the government's behalf.
Sheiman has been one of Lukashenko's closest allies ever since the 1994 electoral campaign that brought the strongman to power. While serving as Belarus' prosecutor general in 2004, he was sanctioned by the EU over the disappearance of several prominent Lukashenko critics, and the U.S. followed suit two years later.
But he was under no such restrictions in Zimbabwe. After Sheiman returned from Harare, Belarus's state-owned news agency said he had met with Zimbabwean officials to discuss "expanding economic cooperation" between the two countries, and that he had brokered an opportunity for "the creation of a mining enterprise."
Sheiman told Belarusian state television that the trip had produced deals to explore for minerals such as gold, platinum, and rare earths through a joint venture in mining.
The mining deal was presented as a collaboration between the two countries, and Sheiman said it was intended to make "profit for Belarus." But in fact, the new joint venture, Zim Goldfields, was secretly co-owned by Sheiman's son, Sergei, with no stake for the Belarusian state.
Sergei Sheiman's partner in the gold venture was influential Belarusian businessman Alexander Zingman, who has served as Zimbabwe's honorary consul in Belarus since around early 2019.
Documents from the Pandora Papers — a massive leak to the International Consortium of Investigative Journalists of nearly 12 million documents from 14 offshore corporate service providers, shared with media partners around the world — show how the two Belarusians used shell companies in the Seychelles and the U.K. to mask their involvement and the conflict of interest at the heart of the deal.
Thirty percent of Zim Goldfields was held by Zimbabwe's state-owned mining company, the Zimbabwe Mining Development Corporation (ZMDC), but the other 70 percent was controlled by a U.K. shell company called Midlands Goldfields Limited.
Its ownership was masked by a proxy — U.K. records name Robert Michael Friedberg as the director of the company — but leaked documents from the Pandora Papers show that Friedberg was acting on behalf of its owners as a nominee for a Seychelles entity with a similar name: Midlands Goldfields Foundation. And that entity was owned by Sergei Sheiman and Zingman, who had both reportedly been part of the March 2018 mission to Harare.
Both shell companies appear to have been created specifically to take advantage of the opportunity afforded by Viktor Sheiman's official visit to Zimbabwe: Midlands Goldfields in both the Seychelles and U.K. were incorporated just a few months before his trip, and Zim Goldfields was set up shortly after.
Zim Goldfields obtained permits to prospect for gold on nearly 55,000 hectares in three locations, including a site along the Mutare River, a waterway in eastern Zimbabwe whose name means "river of metals." The company was awarded a five-year "special grant" in May 2018 to mine for gold in a section of the river.
Within months, the company was in trouble with Zimbabwean authorities. A December 2018 visit to the Zim Goldfields site, led by the Mines Ministry's provincial leadership in Manicaland, reported the company had violated several safety regulations.
---
Kenya Insights allows guest blogging, if you want to be published on Kenya's most authoritative and accurate blog, have an expose, news TIPS, story angles, human interest stories, drop us an email on

[email protected]

or via Telegram
---