A Kenyan, Law Firm Named In The Hushpuppi's Heist In US Court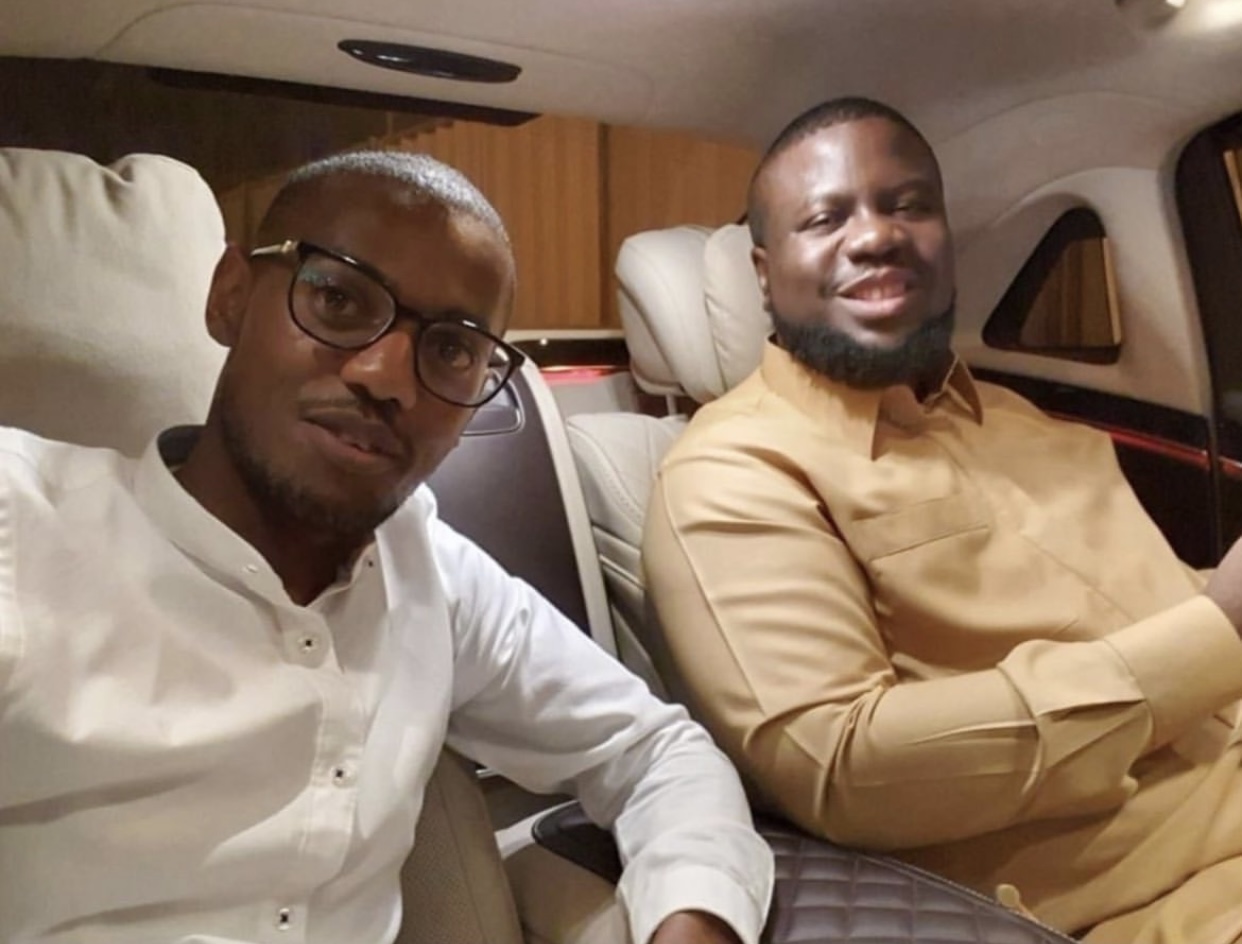 ABBAS is a Nigerian national who previously resided in the United Arab Emirates (the "U.A.E."). ABBAS' social media accounts—on which he was known by the moniker "Ray Hushpuppi" or variations of that name—frequently showed him in designer clothes, wearing expensive watches, and posing in or with luxury cars and charter jets.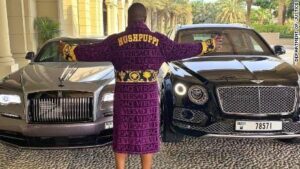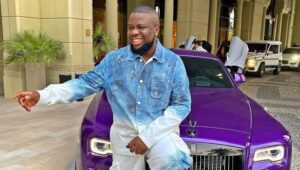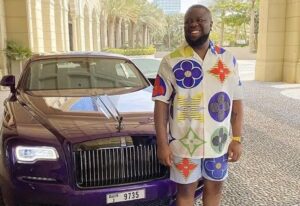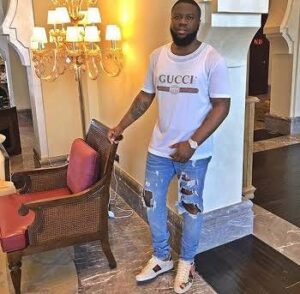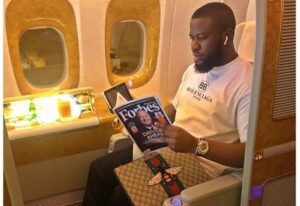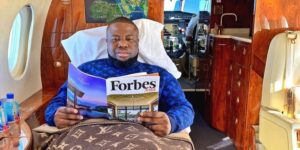 Online articles in Nigeria suggested for several years that ABBAS was involved in fraud,and, in fact, multiple articles identified him as one of the most prolific Nigerian-origin fraudsters in the world.
The FBI's Investigation confirmed that ABBAS' opulent lifestyle was financed through crime, and that he was one of the leaders of a transnational network committing computer crime and fraudulent schemes (including BEC schemes), and money laundering from those offenses, targeting victims around the world.
ABBAS was charged by Complaint and then Information, in Case. No. 2:20-CR-00322-ODW, for conspiring in a cyber-heist from a bank in Malta and several BEC schemes, and money laundering relating to those schemes . In addition to that charged conduct, messages obtained from ABBAS' phone and online accounts pursuant to federal search warrants, combined with bank records, other records, and information from victims, indicate that ABBAS and the others participated in a scheme to defraud a person (the "Victim Businessperson") who was seeking a lender to invest $15 million in a project to build an international school in Qatar (the "Qatari Victim Company"). The scheme defrauded the Victim Businessperson of more than $1.1 million.
A Kenyan by the name ABDULRAHMAN JUMA who is believed to be still living at large in Africa conspired with Hashpuppi whose Real name is ABBAS. JUMA and ABBAS interacted directly with the Victim Businessperson; JUMA claimed to own a company in Kenya that would provide the loan, while ABBAS pretended to be "Malik," a banker at Wells Fargo in the United States, who was purportedly facilitating the loan payment. Another co-conspirator CHIBUZO was involved in creating a fraudulent website and automated phone line that would convince the Victim Businessperson that the $15 million loan had been secured.
In the course of the scheme, the Victim Businessperson made multiple payments purportedly for taxes and other fees, which JUMA and ABBAS told the Victim Businessperson were necessary to secure the loan. 
At the time ABBAS joined the conspiracy, JUMA had already defrauded the Victim Businessperson of approximately $314,442.78 in early December 2019. After ABBAS joined the conspiracy that month, JUMA and ABBAS received and laundered additional funds in a variety of ways with the assistance of other coconspirators. AGBABIAKA and FASHOLA were among the coconspirators who assisted ABBAS in receiving and laundering funds.
Among those payments, ABBAS convinced the Victim Businessperson to make wire transfers of $230,000 to a Wells Fargo bank account of a luxury watch-seller and $100,000 to a Capital One bank account of AGBABIAKA in late December 2019. ABBAS used the wire transfer of $230,000 to purchase a luxury Richard Mille RM11-03 watch.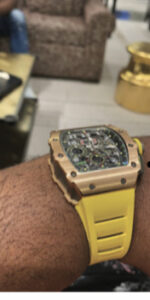 ABBAS arranged for the watch seller in Florida (the "Florida Watch Seller") to ship the watch to the New York metropolitan area, where AGBABIAKA and FASHOLA picked it up and ultimately delivered it to a coconspirator, who was a relative of FASHOLA. ABBAS then directed that person to transport the watch on a flight from John F. Kennedy International Airport ("JFK") in New York to the U.A.E., where that person hand-delivered the watch to ABBAS on about January 4, 2020. ABBAS posted a photograph of himself on Instagram wearing the watch, with the hashtag "#Rm1103," on January 13, 2020. As to the $100,000 wire transfer to AGBABIAKA, ABBAS directed AGBABIAKA to withdraw the funds and convert a portion of them— minus $8,000 for AGBABIAKA, which was her cut—to Nigerian Naira, the currency of Nigeria, which she then provided to coconspirators who would deliver the funds to ABBAS.
AGBABIAKA also laundered funds at ABBAS' request by sending cashier's checks totaling $50,000 to a coconspirator who would use the funds to fraudulently obtain St. Christopher and Nevis ("St. Kitts") citizenship and a passport for ABBAS. ABBAS received the passport in February 2020. 
Between approximately January 8, 2020 and February 4, 2020, JUMA and ABBAS each corresponded with the Victim Businessperson, attempting to fraudulently induce the Victim Businessperson to pay $575,000 in purported "taxes" to release the $15 million loan that the Victim Businessperson was expecting. Between February 5 and 7, 2020, the Victim Businessperson wire transferred $299,983.58 to bank accounts under JUMA's control.
CHIBUZO's messages to ABBAS during that time show that he was unhappy with the amount that, and/or speed with which, ABBAS was paying him, so he contacted the Victim Businessperson directly. CHIBUZO told the Victim Businessperson that JUMA and ABBAS were "fake," in an attempt to convince the Victim Businessperson to stop making fraudulent payments to ABBAS and JUMA, and to make fraudulent payments to him instead. When JUMA and ABBAS learned of CHIBUZO's interference, ABBAS arranged to have KYARI—a highly decorated Deputy Commissioner of the Nigeria Police Force—arrest CHIBUZO for interfering with the fraud scheme. ABBAS specifically told KYARI that CHIBUZO contacted "the job" behind ABBAS' back to "divert the job for himself." ABBAS asked KYARI to have the police administer the "serious beating of his life" and arranged with KYARI to pay to keep CHIBUZO imprisoned for at least a month, so that the fraud scheme could be successfully executed, and the money could be obtained.
After KYARI arrested CHIBUZO, he sent ABBAS photographs of CHIBUZO in custody and later told ABBAS that he would not allow CHIBUZO's girlfriend to pay money to get CHIBUZO out of custody as he would have done for a "normal arrest." Following CHIBUZO's arrest, JUMA and ABBAS convinced the Victim Businessperson to make the payments of $299,983.58 described above. In mid-February 2020, the Victim Businessperson came to believe that JUMA had defrauded him/her.
ABBAS—still pretending to be "Malik," a Wells Fargo banker—purported to sympathize with the Victim Businessperson and then fraudulently induced the Victim Businessperson to make additional wire transfers of $100,000 to AGBABIAKA and $80,000 to a different coconspirator, which were laundered through a variety of means. At the same time, ABBAS led JUMA to believe that he had not received any additional payments from the Victim Businessperson.
JUMA used the phone number +2547233377884 to communicate with ABBAS, which was saved by ABBAS in his contacts as "Abdul Kenya Akwete." JUMA also used his true name—ABDULRAHMAN JUMA—to communicate with the Victim Businessperson and the "Financial Advisor" of the Victim Businessperson. According to the Victim Businessperson and the Financial Advisor (as discussed below in paragraph 47), JUMA provided his business card to the Victim Businessperson and the Financial Advisor during an in-person meeting in Kenya. The business card listed his name as ABDULRAHMAN JUMA and stated that he was the "Chairman" of Westload Financial Solutions. The business card also listed his phone number as +254723337788.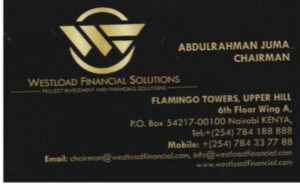 Messages that JUMA exchanged with ABBAS corroborated JUMA's identity. On December 10, 2019, JUMA, using the phone number +254723337788, sent a photograph of a medical document to ABBAS. The document listed the patient's name as "ABDULRAHMAN JUMA," and JUMA told ABBAS that he was getting a checkup for an "itchy throat."
Records from Google, obtained on November 2, 2020, indicated that the phone number +254723337788 was listed in subscriber records of the email address [email protected], which used the name "ABDULRAHMAN JUMA." 
Records from financial service companies likewise indicate that JUMA used the phone number +254723337788: 
a) Western Union records indicate that a person using the phone number +254723337788 listed the name "Abdulrahman Imraad Juma,"5 and a date of birth in March of 1993, when making payments through the service.
b) MoneyGram records indicate that "ABDULRAHMAN IMRAAN JUMA"—with the same birthdate in March of 1993, phone number 723337788 (+254723337788 without the Kenya country code "+254"), and a Kenyan passport with the passport number ending in 1127—received a payment through the service on May 28, 2017.
Review of ABBAS' phone revealed that he and JUMA used a U.A.E.- based messaging platform called ToTok, on which JUMA was listed as the username "Wfs." The evidence indicating that JUMA used the username "Wfs" includes the following: ABBAS and "Wfs" discussed the scheme to defraud the Qatari Victim Company in detail, including passing wire details and victim identifying information, while engaging in simultaneous conversations over WhatsApp, as well.
For example, in December 2019, ABBAS and "Wfs" used ToTok to discuss how to defraud the Qatari Victim Company, including passing wire confirmation details and a photograph of the passport of the Victim Businessperson. At approximately the same time, ABBAS and JUMA used WhatsApp to share messages that they sent to and received from the Victim Businessperson, and further discussed how to split the proceeds of the fraud they obtained from the Victim Businessperson.
Further corroborating that "Wfs" was JUMA, "Wfs" stated on several occasions that he was located in Kenya, and was associated with the Kenyan law firm "Okatch & Partners," which was one of the companies that received funds sent by the Qatari Victim Company. Moreover, there were a number of instances in which JUMA and "Wfs" sent the same or similar information to ABBAS on both WhatsApp and ToTok, respectively, in a short timeframe. For example, on January 3, 2020, JUMA forwarded a message to ABBAS through WhatsApp and, in the same minute, "Wfs" sent the same message to ABBAS using ToTok. Moreover, on January 6, 2020, "Wfs" sent a long message over ToTok to ABBAS discussing how he had not received any money from ABBAS. Within approximately 20 minutes, JUMA sent the same long message to ABBAS over WhatsApp.
Initiation of Fraud Scheme and Initial Fraudulent Payments of $314,442.78 to JUMA.
The Victim Businessperson planned to build an international school (the Qatari Victim Company) in Qatar, and therefore hired the Financial Advisor to find a lender who could invest $15 million in the project. Around October 1, 2019, the Financial Advisor began reaching out to business contacts and conducted searches online to secure an investor to provide the $15 million loan for his client. As a result of the online search, the Financial Advisor came into contact with Coconspirator 1 in the case who claimed to live and work in the Philippines. Coconspirator 1 referred the Financial Advisor to a company in Kenya—Westload Financial Solutions Limited ("Westload")—to facilitate the loan. On November 12, 2019, the Financial Advisor and the Victim Businessperson travelled to Kenya to meet in person with JUMA and another person. As noted in paragraph 17, JUMA's business card identified him as the "Chairman" of Westload, while the business card of the other person stated he was the "Funding Officer." 
During this meeting, the Victim Businessperson signed a contract with Westload. The contract stated that the Victim Businessperson was responsible for paying a "consultancy fee" of $225,000 through the law firm Okatch & Partners ("Okatch"), located in Kenya. The payment was to be made in two installments—an initial payment of $157,500 and a second payment for $67,500. Westload also provided two initial invoices; one for $157,500 for the first installment and another for $6,900, for purported legal and initial engagement fees. 
Concurrently, on about November 12, 2019, the Victim Businessperson began communicating with JUMA over WhatsApp.On around November 13 and 14, 2019, the Victim Businessperson wired approximately $164,450 to Okatch in four separate transactions.
On about December 1, 2019, JUMA provided the Victim Businessperson a wire transfer confirmation—which was forged and fraudulent— showing a transfer of $15 million from a Barclays Bank PLC account in the United Kingdom to the Qatar National Bank ("QNB") account of the Qatari Victim
Company, dated November 28, 2019. 19 (per conversation with affiant 2/12/2021)
On about December 4, 2020, the Victim Businessperson learned from QNB that it had not received a payment from Barclays for the Qatari Victim Company. Shortly thereafter, on about December 5, 2019, JUMA told the Victim Businessperson that another "payment of release order" was needed to secure the loan, and requested an additional payment of $150,000.
On around December 6 and 7, 2019, the Victim Businessperson wired approximately USD $150,000 to Okatch in four transactions.
JUMA worked closely with ABBAS to defraud the Victim Businessperson, interacting directly with the Victim Businessperson and directing the Victim Businessperson to make payments to bank accounts in the United States and Kenya. In particular, JUMA received initial payments from the Victim Businessperson and then involved ABBAS in the fraud scheme. JUMA received and laundered the money that the Victim Businessperson sent to the Okatch bank account in Kenya. 
Hashpuppi pleaded guilty to all the aforementioned findings into the fraud involved. ​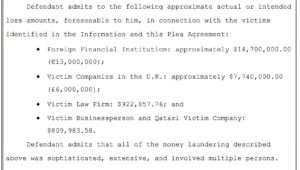 Criminsls have gotten smarter and to launder their money, they use fraudulent law firms who agree to play by their cards.
The most recent case that is on the public is that of Gold Scammer Jared Otieno.
He used Nairobi Lawyer, Tom Okundi Ngoe(Ayieko) of Okundi & Company Advocates to scam Sh300M.
According to documents seen, Otieno to hide his traces, wasn't to be involved directly in this fake gold deal coined as a loan transaction and instead an alleged loan from the said Lao Republic national Southorn Chanthavong was drawn to one Rose Adhiambo Omamo in the greater scheme drawn by the lawyer.
The first loan of Ksh100 million was advanced by Sounthorn Chanthavong, on behalf of Simuong Group on February 8, 2019 to Ms Adhiambo. Acknowledgement notes in our possession show that the loan was released in cash, for unstated reasons.
In the second instance, on February 28, 2019, Ms Adhiambo received Ksh200 million from the same 'lender'. Suspiciously, the money was also released in cash and involved the same parties.
According to a letter dated February 26 from Chanthavong, it dictated that the lawyer release the amount (Ksh200 million) to Ms Adhiambo "in cash, immediately".
Amazingly, the amount was to be repaid in one month at an interest rate of five percent per month, meaning she would have had to repay approximately Ksh210 million. The loan agreement documents in our possession show that she got the loan since she was an "established property developer."
By the time the foreigners were realizing that there was no gold, they had already been washed out in the heist with money gone through the law firm.
However, when the scammers were arraigned in court over the theft, The two accounts of Okundi & Company Advocates one at Stanbic Bank and another at Standard Chartered, hold $3 million (about Sh300 million), on behalf of Jared Kiasa Otieno and Chris Philip Okeyo Obure were frozen in the probe.
Chris Obure a known scammer and client of the same law firm working with the scammers is a prime suspect in the murder casemurder case of Kevin Omwenga who was shot dead by Obure's bodyguard in what is suspected to have been a deal gone bad. Omwenga was also in the scamming dealings with Chris.
While lawyers like Okundi don't have a problem laundering money for seasoned criminals, some appear to have morals in them.
Donald Kipkorir says that he was nearly dragged into the Hushpuppi's scandal after being approached by Abdulrahman to help in laundering money.
Sometimes back, Abulrahman aka Abdul asked my friend Fauz Khalid in Mombasa to introduce him to me. Abdul came to see me & wanted me to keep money from Hushpuppi. I told him I only deal with corporate clients .. If I loved money or was corrupt , I would've been indicted in US!

— Donald B Kipkorir (@DonaldBKipkorir) July 30, 2021
In Kenya, rogue law firms get away with laundering criminals money because of weak institutions, in the US it's no joke, that's why lawyers like Okundi thrive in the dark world.
---
Kenya Insights allows guest blogging, if you want to be published on Kenya's most authoritative and accurate blog, have an expose, news TIPS, story angles, human interest stories, drop us an email on

[email protected]

or via Telegram
---