23-Year-Old Went To Zanzibar For A Vacation Then Hell Broke Loose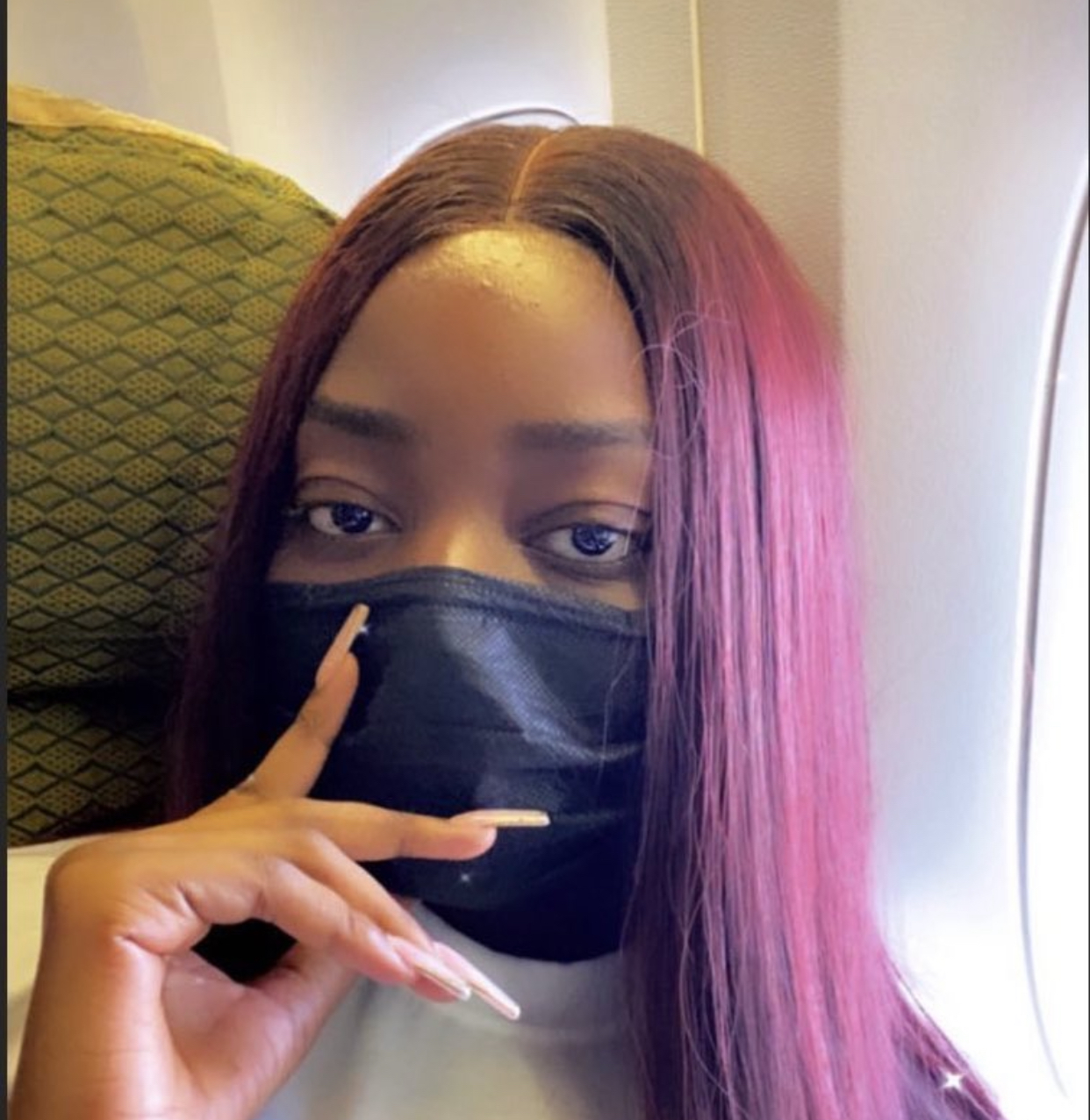 For Zainab Oladehinde April marks her birthday and in 2021, she decided to travel to Zanzibar a island in Tanzania to celebrate her 23rd birthday miles away from her home in Nigeria.
She embarked on a journey she envisioned would be adventurous with no one by herself, an introvert by nature, she wanted a time for herself.
In a horrific story that has taken the internet by storm, it took Zainab a whole year to gather courage to come out and tell her story. She narrates how her holiday in Zanzibar turned horrific as she was sexually assaulted in her hotel and how the local authorities didn't make anything better when she sought for help and if anything, tried to coverup for alleged perpetrators. According to her story, one would conclude this not an isolated case abs from the the authorities' reactions, they're accustomed.
"This incident happened a year ago in April of 2021 but I haven't been able to talk about it cause I've been in therapy for a year to heal from the psychological trauma as this experience has been the most painful and traumatic experience I've ever faced in my entire life. Infact! I'm glad I'm still alive today to share my story." She opens up.
The incident she says happened in Warere Beach Hotel in Nungwi Zanzibar. She left Lagos, Nigeria on 15th April 2021 having fully made reservations for her stay in the foreign country. Arrived on the hotel on 16th having booked for 6 days accommodation.
The reception was welcoming and she interacted with other guests including a Russian couple who would later in her story played a key role.
Having received calls from friends and families wishing her birthday, she resorted to bed with plans of exploring the hotel's environs the next to celebrate her big day.
Unknown to her, things were about to take the worst turn, like a dream she narrates, an intruder was in her room and with lights switched off, she was getting touched, "At around 12am, a few friends and family called to wish me a happy birthday and then I went back to my room to sleep. Few hours into my sleep, I started to feel a strange hand touching my breast. Now, this was me sleeping naked on my bed in my hotel room with my doors locked so this was definitely a dream. I told myself and went back to sleep. Some few minutes afterwards, I started to feel my hands stroking someone's penis. At this moment, I opened my eyes to confirm if It was actually a dream or I was in real danger." She narrates.
"Low and behold, it wasn't a dream. There was a naked man lying on my bed and touching me at 2am in my hotel room! He started calling me "baby" and then I became scared cause the room was dark as I had switched off the lights before I went to bed. Now, I was extremely scared I asked the man "who are you?" But all he kept saying was "baby, baby" . I asked in a louder tone this time around cause I was getting angry and then he quickly stuffed his hands over my mouth in an attempt to stop me from shouting." She continues.
The intruder realizing he wasn't going to get his way, threatened her with violence, survival instincts had to kick in with the reality of either being raped or worse killed kicking in.
"In this moment, I became very scared as I didn't know who this was and why this person was in my room. A lot of things were going through my head at the same time. Who is this ? Does he have a weapon? Will I get raped and killed on my birthday in a strange land?" She pondered.
At this moment, a lot was going through her mind like whether the man was armed, how the man got into her room that was initially locked and only her opened after interacting with other guests, subdued, she asked herself wether to allow him have his way, Rape her to save her life or scream.
"While all these was going through my head, this man tried to climb on top of me in an attempt to force his penis inside of me." She says.
"At this point, I became scared cause he was stinking so badly and that was the only thing I could smell. I couldn't see his face so I started touching his body so I'd get some clarity on how to identify him if I ever get out of my room alive."
With a language barrier as the intruder didn't speak English but in Swahili the local dialect, she quickly thought of a way out, something that would scare the smelly animal to get off her and escape being raped.
"I was crying profusely now and needed to find a quick way to distract him so I started begging him not to rape me but he didn't understand English as he kept on speaking Swahili to me. I then lied to him that I have HIV and he'd need to get a condom before sleeping with me." She narrates.
"He didn't understand a word I said but immediately he heard HIV, he paused for a while. I quickly wanted to use the opportunity to run but then he started strangling my neck. I became very scared for my life as I saw my life flash right before me in an instant."
"So I continued begging him and telling him I'd allow him have sex with me but he'd need to go get a condom so as not to get HIV. I saw that he reacted to the word "HIV" so I kept on saying HIV whilst crying profusely at this point." She continues.
"His belt fell off the bed so I got an instant feeling that this man came to my room fully clothed before removing his clothes right on my bed. He wore his shoes and came back to press my neck against the bed."
"As I struggled to not let him strangle me, he left the room and told me he'd be back with a condom.
Immediately he left, I switched on the light, tried to call hotel reception but to my surprise, there was no intercom or phone lines to reach the hotel reception through the room."
After he left, she locked herself in and rushed to the bathroom where she frantically called the reception to ring the alarm but alas! Calls went unanswered, for a hotel that brags of being a 4.5 star, this was disturbing. The shaken lady was at this point left on her own. She had seconds to make up her mind whether to flee or wait for her rapist to come back after getting the condom.
"I couldn't stay back in the room and wait for the rapist to come back. Hell! Who knows what would happen to me this time around when he comes back to my room. Should I leave my room? I don't know who or what is outside my hotel room either."
Meanwhile, she reached out to the hotel's owner a Mr Shauna whom she had been in touch prior to her travel and informed him of what had transpired. This was at around 4am.
Zainab says she was forced to make the unthinkable, she wasn't going to wait for the worst to happen in her room and instead decided to flee not knowing what was awaiting her outside, it was a better decision for her than waiting for her rapist to come back.
"On getting outside the room, I wanted to make my way to the reception but then I saw two men who happened to be security men standing outside by the pool side having a conversation. I wanted to go meet them to tell them I had just just been attacked by a stranger in my room but I thought to myself "what if this was the person (s) who actually attacked me? "Then I became extremely scared cause I'd have to find a way to get to the reception without those men seeing me."
"Then I started to crawl on my knees chest around the leaves so no one could see me. When I got to hotel reception, I knocked on every door but no one answered me. I was crying profusely at this point cause I thought I wouldn't survive this night. How could it be that there was no one in all these rooms at the reception?" She wondered.
In what sounds like a movie script, Zainab had to make quick and swift decision to escape, " the only issue was that the security men were directly opposite their room and I may get noticed if I go there. At this point, I put my phone on silence and started crawling on my chest till I got to their room."
Luckily for her, the doors were open and the couple allowed her to stay for the night after narrating to then what had just happened.
This is Alex. One of the Russian couple narrating how I ran into his their room to seek refuge in the middle of the night when the security men at WARERE BEACH HOTEL NUNGWI ZANZIBAR TANZANIA busted into my room.

— Zainab Oladehinde (@zainabdehinde) April 16, 2022
As sky opened up, she went to the reception where she was attended to by one Mussa the hotels manager, went to her room only to discover that $1,100 was stolen from her purse, she was not only sexually assaulted but robbed from too.
The first suspects in her mind were the security guards from the previous night, they were all summoned, "they all came out. I couldn't recognize any of them but I could smell the man that that was in my room that midnight."
In the company of her taxi driver, they left for Nungwi police station where the incident was reported but she says the authorities were hostile insisting on speaking to her in Swahili while knowing she wasn't conversant.
I stood my ground and said I wouldn't delete any picture. The police chief at the Nungwi police station then said he wouldn't let them take me to the hospital for checkup if I don't delete my pictures and videos

— Zainab Oladehinde (@zainabdehinde) April 16, 2022
This is the chief of police at the Nungwi police station in Zanzibar, Tanzania who said I should delete all my pictures and videos. They knew I didn't understand Swahili and never spoke English so I couldn't hear what they were conversing about.

42. pic.twitter.com/kFX5KzAT0F

— Zainab Oladehinde (@zainabdehinde) April 16, 2022
The police men at the Nungwi police station in Zanzibar kept on bullying and harassing me. Told me to leave their police station that I wasn't raped and they had confirmed there was no penetration from the nurses.

— Zainab Oladehinde (@zainabdehinde) April 16, 2022
Contrary to what she had planned, Zainab's holiday in Zanzibar turned out to be hell.
"This was 3pm already. This day was my BIRTHDAY. My friends and family back in Lagos didn't know all that was happening to me in Zanzibar. I was so frustrated, sad and scared. How could the police do this to me? How could the hotel do this to me?" She ask herself.
The hotel in response has gone cold on the matter.
The hotel has closed off their comment section on Instagram but I won't stop till everyone boycotts this crazy hotel. The owner and manager said I lied about my experience

— Zainab Oladehinde (@zainabdehinde) April 16, 2022
In a statement, the country's commission of tourism released a statement on Sunday saying they've opened an investigation into the matter.
Zanzibar has sold itself as ideal tourism destination, the latest outburst has led to others coming out telling about their past ordeals.
Clearly this is a common thing in Tanzania because I have friend who went to Zanzibar and suffered the same and the culprit was the hotel receptionist! https://t.co/bjjNnEWH94

— Nolitha Khungwayo (@NKhungwayo) April 16, 2022
Zanzibar is not safe.

The last time we visited that wretched island, we were attacked by a mob that stole my phone & wallet & ripped off my ex girlfriend's skirt.

They were upset because she was wearing a "short skirt" (the skirt covered her knees). https://t.co/pTxqKZEnvj

— Alur🇰🇪 (@Xilgoris) April 16, 2022
I have visited Tanzania each year since 2017 till date and was a resident for two years. I have been in Zanzibar too. This story is really sad. One thing with Tanzania, no matter the offense, the police will side with a Tanzanian against a foreigner. Pole sana my sister. https://t.co/LutN6m9gIY

— Ugo Maduagwu (@IbubeKristi) April 16, 2022
Anyone wondering abt police in Zanzibar and their impunity – read up on ATROCITIES that Police and "unknown assailants" have committed during election in 2020 against the people/voters! Nungwi was an area with horrible assaults /deaths! No-one has been held accountable!#Tanzania pic.twitter.com/jw6f36p51A

— Maria Sarungi Tsehai (@MariaSTsehai) April 16, 2022
This same shit happened to my cousin in Zanzibar. Luckily for her she had her taser by her bedside and tased the living daylight out of the rapist. She flew straight back to Lagos the next day. https://t.co/E9LCD9qMRe

— hølt (@miidPsych) April 16, 2022
On 171 there is a story of a mexican aldy who went on a solo trip to zanzibar on her birthday and went missing… Not found to this day. The family spoke to her at around 1am when she said is going to sleep. She was in her hotel room. The show was DISSAPPEARED on 171 https://t.co/rZrWLyctSa

— Tlotlo Charity Letebele (@LetebeleCharity) April 16, 2022
Zanzibar is not safe. Ladies are being raped there & One thing about Tanzania is that no matter the offense, the police in Tanzania will side with a Tanzanian against a foreigner.

— Man's NOT Barry Roux  (@AdvoBarryRoux) April 17, 2022
I suspect that thread isn't an isolated incident in Zanzibar. Every time I've visited, each hotel, both on the website and in person has been extremely insistent on making sure we lock the doors, even when we were both men or a group. The tone is often somewhat concerning…

— Lateef (@LateefSaka) April 16, 2022
Zanzibar and Tanzania at Large has never been A good tourist Destination for Fellow Africans,Those Dweebs Only Respect Wazungu,Its Funny but you can be Racially discriminated on African Soil .If you want good Hospitality Kenya should be your Destination🔥

— Heisenberg (@DrJuma_M) April 17, 2022
---
Kenya Insights allows guest blogging, if you want to be published on Kenya's most authoritative and accurate blog, have an expose, news TIPS, story angles, human interest stories, drop us an email on

[email protected]

or via Telegram
---