Vifaranga Vya BBI: One For The Dynasties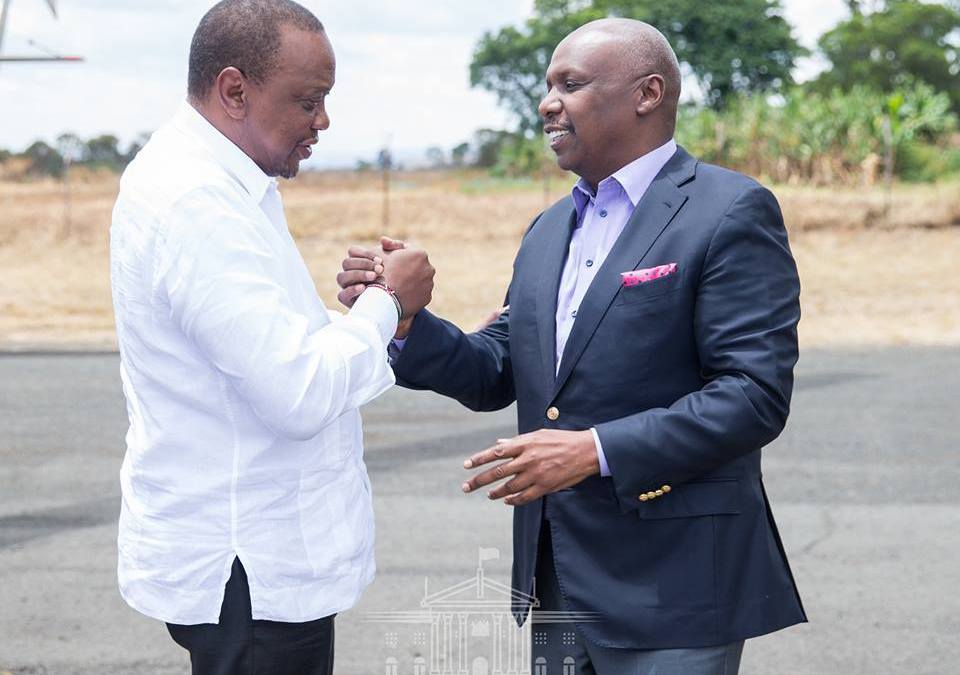 By Kenyatta Otieno
The coronavirus stopped reggae. For the first time in many decades, for a whole month from early March, nobody spoke about politics. It was not even featured on the local news where it has been a mainstay for as long as any of us can remember. Both the Kieleweke – which drives the BBI agenda — and Tangatanga brigades went on mute. Raila Odinga and William Ruto retreated to their cocoons in self-imposed quarantine.
Then, in response to questions about their whereabouts, DP William Ruto came out on April 9th to diffuse speculation that his boss had not only sidelined him but gone on full-throttle offensive. The following day Raila also came out through an interview with a local radio station. His biggest revelation was that the coronavirus was but a half-time break to the BBI show.
Although hushed, politics has returned to the limelight. Initially whispered loudly, it is now apparent that President Uhuru Kenyatta is kicking out DP Ruto's allies from the government to bring in Raila's team into a new coalition. Kirinyaga Governor Anne Waiguru came out to confirm that it was the plan from the beginning. Meanwhile, Jubilee Party Secretary-General Raphael Tuju set in motion a plan to kick out Ruto's allies from the Jubilee Party. The deputy president tried to fight but former president Daniel Moi's philosophy is emerging in the midst of the storm: every political party has its owners. Jubilee Party belongs to the TNA wing more than it does to Ruto's URP partner.
So what?
The efforts to push Raila Odinga to the centre of Kenyan politics have been apparent since his March 2018 handshake with Uhuru Kenyatta. It is obvious that Raila is being positioned for the presidency or some other key role in the post-2022 government. A Raila presidency would cure two things. One is that his supporters from Luo Nyanza and the Coast who have always felt sidelined from the core of government since independence will, for once, belong, or at least get the sense they do. It will contain the perennial explosive response from these areas every time Raila loses a presidential election. There will be no more talk or dreams of secession. If it happens, it will heal the wound that has troubled Kenyan politics ever since Jaramogi Oginga Odinga resigned from the government in 1967.
Secondly, the preferred candidate to take over from Uhuru Kenyatta is Gideon Moi: everybody else is a pawn. Power brokers understand what happened to Uhuru Kenyatta in 2002. Uhuru, the preferred successor to the late Daniel Moi, was beaten by a Raila-backed Mwai Kibaki. They also know that Ruto would be the biggest impediment to such a plan if he is left to grow beyond his current reach. The implication here is that Uhuru cannot front the younger Moi against Raila or a candidate backed by Raila. The fact that Raila visited Moi immediately after the 2018 handshake with Uhuru brings this to light. His amenability to supporting Gideon is clear through his indication, during the former president's burial, that he (Gideon) is free to vie for any seat.
Raila Odinga comes in as a stop-gap candidate, who will hand over the mantle to Moi. This will most likely be in 2027. Raila has been obsessed with cutting the image of an African statesman even if he never becomes president. He can easily leave the scene after one term to cement his place in the league of Nelson Mandela, who also stepped aside after one term. He is at the 'right age' — even if he wanted to stay on, he will likely not have the energy for it.
The fall-back plan for the powers that be is to install Musalia Mudavadi in the place of Raila. Musalia is the blue-eyed political boy of the Kenyan masters. He was scheduled to take over from Mwai Kibaki in 2013 on the premise that it would not have looked good for another Kikuyu to succeed Kibaki but the plan fell through on account of the post-election violence cases at the Hague. Mudavadi's strength is that he has proven to be too loyal to rock the boat. Secondly, his family has a long-standing relationship with the Moi family. His colonial Education Officer father pushed Moi from the classroom into politics. For that, he was rewarded with ministerial appointments when Moi became president. Moi also picked his son to succeed him when he passed away. It would be a walk in the park to have Mudavadi hand over power to his 'brother' Gideon.
Roadblocks
The main challenge to the first option is the Kikuyu's acceptance of a Raila presidency. It can be extremely difficult but manageable in the long run to govern Kenya without Luo support, but one cannot lead the country without Kikuyu support. The most one can take is indifference but not opposition from Kikuyus. The moment some Kikuyus got the idea that Raila could be the 'chosen' presidential candidate in 2022, some vocal politicians like Moses Kuria and Kimani Ichungwa began leading rebels to Ruto's Tangatanga wing. Kikuyus have the entrenched belief that a Luo cannot lead this country, particularly if that Luo is the 'vile' Raila Odinga.
When we witness the common man embracing William Ruto in Central Kenya, it is not out of love for the Duke of Sugoi but their hatred — and fear — for Raila Odinga. Today, the Kikuyu elites have made peace with it and are ready for a Raila presidency for the sake of keeping the country united and peaceful; it is good for their business interests. Their biggest problem now is to uninstall the anti-Luo and anti-Raila operating system they installed amongst their folk, and on which the community has run on for ages. The would-be solution is that what the system wants the system gets
Nusu mkate
This could be the reason for floating a coalition government that has Raila at the top. If it won't be possible for him to take the ultimate prize, then he can enjoy the trappings of power in a fading Uhuru reign. The BBI train can lead to a constitutional change where a Prime Minister post —  a title he has maintained even amongst government officials to date — can be created for him under the more palatable Musalia Mudavadi.
This is the reason I believe that if Raila takes the coalition government option, then his supporters should bury any hopes of a Raila presidency. Raila adopted his father's gima ichamo ema ikwano funeral dirge chant, which loosely translates to 'what you have eaten (a bird in hand) is what you can count'. In other words, half a loaf is better than no loaf at all. The handshake gave Uhuru Kenyatta a blank cheque; he can write what he wants because nobody knows what Raila was promised. As far as possible, no backlash is expected for this option from Raila's side.
The downside to this is that Ruto is being forced down the Jaramogi Oginga Odinga path. His best survival option is to take the Raila Odinga route of perpetual political survival. The end result could be, after many years we may end up in the 2007-2017 post-election valley. In politics, that is a problem to be solved when it arises. Meanwhile, the self-defeatism of ethnic-based political mobilization continues to play out in our faces.
---
Kenya Insights allows guest blogging, if you want to be published on Kenya's most authoritative and accurate blog, have an expose, news TIPS, story angles, human interest stories, drop us an email on

[email protected]

or via Telegram
---