Tanzania, a month old middle income economy whom believes in Rocket Science.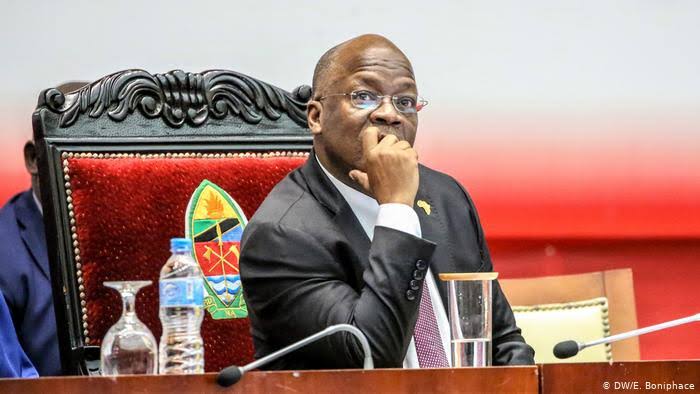 Former Tanzania President Jakaya Mrisho Kikwete, whose tenure lasted from 2005 till 2015, made diplomacy his core business, and travelled abroad frequently to the extent that his record of foreign trips became a reputational liability.
As costs went up, the opposition seized the opportunity to criticise his administration for possible wastage. One of those who came forward to defend the trips was the current president, John Pombe Magufuli, who said, "There are those who say you are always travelling, but without those trips we wouldn't have seen the progress we have made, so we ask you to keep travelling because we need to see more progress."
Unlike his predecessor, the current president has distinguished himself for his aversion to travelling and mingling in circles of power at the international level.
When it comes to diplomacy, he leads from behind, and lets his deputies represent him and the state. This arrangement, as he has argued in the past, saves money.
While this approach is popular at home, the ensuing arms-length relationship with his peers in the region and across the globe has not been without its downside.
In 2018, the European Union (EU) Parliament issued a resolution on Tanzania, condemning it for what it described as a deterioration of human rights, as well as the continuous closure of civic space.
This was the first time ever that a foreign legislative body had issued a statement regarding the situation in the country. Since then, multiple other nations have expressed concerns, including the most recent June 2020 statement by the United States embassy in Dar es Salaam, which was critical of government actions to "stifle democratic norms."
For President Magufuli, the economy is a priority, even in the face of COVID-19, and he believes that, if managed well, the country could attain superiority in this area (and in which recently during this pandemic- Tanzania was accorded Middle Income Economy class by World Bank after attaining the World Bank's new minimum gross national income (GNI) per capita threshold of $1,036 this year which Kenya attained way back in 2014), and even become a donor nation in the near future.
As such, economic diplomacy has become a primary basis of interaction between the country and other nations.
At the end of March, Magufuli encouraged people to continue visiting places of worship — a move that bucked international public health recommendations — while comparing the virus to Satan and saying that it "cannot survive in the body of Jesus Christ."
Then in May, the president cast doubt on the data around cases by suggesting that people who test positive might not actually be infected.
He said he secretly tested a papaya, a goat, and a quail for COVID-19 — all testing positive — to prove his point. He also questioned the safety of imported masks, stopped the disinfection of public places, and touted an herbal remedy as a cure for COVID-19, which research has not proved effective.
Then on June 9, Magufuli declared that "Corona in our country has been removed by the powers of God." Celebrations followed.
He reiterated that COVID-19 was eliminated from Tanzania in a speech on Monday. "Our enemies will speak a lot, but the reality remains that Tanzania is safe and that is why none of us here is putting on a mask.
Does it mean we are not afraid of dying? No, it is because corona has been eliminated," he said.
While the government stopped reporting cases to WHO at the end of April, the health agency and other partners continue to provide the Tanzanian government with technical support on its response, including on case management, infection prevention and control, surveillance and laboratory strengthening, risk communication and community engagement, and logistics, according to an email from WHO.
This is what I refer to as Rocket science. This rocket science made her believe that her neighbor Kenya would resume flights to and fro from the Tanzania once the scheduled reopening of international flights resume  – a hope which turned out hopeless as Kenya didn't buy Tanzania's rocket to science when its President declared it Covid19 free.
In reopening of its sky, Kenya was so considerate of safety in that – would only access low risk countries and which included only 11 countries.
In a communiqué announced by Transport CS James Macharia, China, South Korea, Japan, Canada, Uganda, France, Namibia, Zimbabwe, Ethiopia, Rwanda, Switzerland and Morocco who have mild and limited community transmission will be allowed.
This announcement came days after President Kenyatta spoke during his 10th Presidential Address on Covid-19 — President Kenyatta told Kenyans not to think countries that are not releasing their coronavirus data are doing any better in handling the pandemic.
"Let's not compare ourselves and say some places don't have the virus. Why do we have it, and they don't? Let me remind Kenyans, we live in a democracy where there is media freedom. As a state, we don't have the power to hide anything. Whatever happens, we tell you. There are others who have that power. But we are proud of the fact that we are a democracy and are able to tell each other the truth and face the reality instead of sweeping the truth under the carpet and have our citizens suffer quietly," Uhuru said.
In retaliation to these President Uhuru's comments, Tanzania  turned back diplomatic plane carrying Kenyan envoy mid-air who included West Pokot Senator Samuel Poghisio, who is the Senate Majority leader, back to Nairobi as soon as it reached Monduli in Tanzania.
As the rift of tit-for-tat diplomatic game widens, Tanzania have retaliated again to Kenya's decision to sideline it from the 11-member state which it will open airspace to and have banned KQ Planes from operating in its airspace until further notice.
Pombe Mug-Ful continues to hold public gatherings with no measures put in place, schools are opened, no mask is is worn and totally everything is back to normalcy with citizens silently succumbing to the disease but there is nobody allowed to talk about it fearing for their lives as human rights is a non core value to the rocket science neighborhood.
Fellow Counterparts who used to believe in Rocket Science but not anymore.
1. Brazil
Brazil President Jair Bolsonaro has been criticized for his management of the health crisis.
He fired two health ministers amid the pandemic and has openly opposed measures to curb the virus, including wearing facemasks and practicing social distancing since he believed that novel corona virus was fallacy until he got infected himself.
He still remains in self-isolation at his official residence in Brasilia after testing positive for the coronavirus for a third time in two weeks. Brazil has the most COVID-19 cases in Latin America, with more than 2.1 million infections and more than 80,100 deaths.
2. Madagascar.
Madagascar threw in the towel after Covid19 cases continued to surge despite distributing herbal medicine which President believed to be the cure. https://kenyainsights.com/madagascar-president-rajoelina-gives-up-on-his-cure-cvo-as-covid19-cases-in-the-country-surge-calls-for-international-community-support/
The rocket science current Tanzania Government believes in, will just ruin forever it's diplomatic reputation.
---
Kenya Insights allows guest blogging, if you want to be published on Kenya's most authoritative and accurate blog, have an expose, news TIPS, story angles, human interest stories, drop us an email on tips.kenyainsights@gmail.com or via Telegram
---