'Shylock' Mwananchi Credit On The Spot Over Rampant Breach Of Loan Interest Agreement With Clients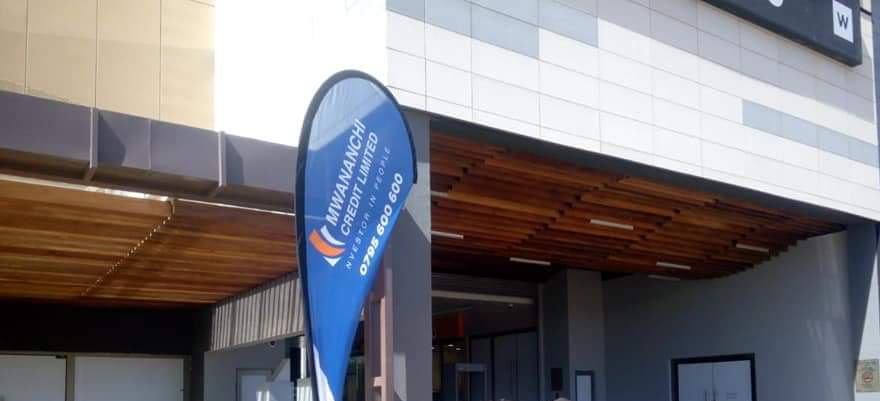 If there's one thing that's certain, the pandemic has thrown many into financial distress, jobs have been lost, bills have remained constant. In search for stability and weathering the storm, Ms y Kenyans have to resort for boat from different credit facilities. Common in town is the lending from growing credit facilities, for a few it's merry, for many, it's been a death trap, many shylocks have smartly dressed their outfits as professional micro finance firms and baiting their preys for hell.
Local dailies have pages dedicated for auctions, ever full. The issue then is it just about defaulting loans by clients or simply lenders engaging in Shylock impunity since CBK appears to be senile in the matter? Read around, ask around households, there's always a horror story with lenders.
In August 2013, DCI detectives raided a palatial home at Mountain View Estate along Kiambu in a tip-off operation and found more than 20 posh cars parked in his residence. At first, they thought that it was part of a car theft syndicate but they later established that the cars belonged to some of the clients that a Shylock agency had loaned money and they had failed to pay.
Dennis Mwangeka Mombo the owner of the Shylock agency and whose compound the cars were impounded was arrested and later released after it emerged he was holding the cars as security. The tip off came from loanees who alleged that he was disposing their cars without authority. If there's one person you want to deal with then it's a Shylock, they're heartless, ruthless and play by only one code, street.
Mr. Mambo who by then was the fiancé to KTN's Linda Ogutu, grew his business, rebranded and hid the Shylock agency under Mwananchi Credit of which he's the founder. The credit facility has grown overtime to be one of Kenya's most popular facilities given aggressive advertisements, great gag tactics to bottle negative publicity.
Shylocks have taken advantage of inaccessibility of bank loans to strip many Kenyans of their prime assets, mainly matrimonial homes and cars.
Documents filed in court reveal a shocking trend where money lenders move in to auction hapless borrowers' property after slapping them with huge default penalties as high as five times the borrowed amount. Digital mobile apps and micro-lenders are at the forefront of expanding the Shylock economy. The lenders are thriving by advancing huge sums of money based on collateral that they dispose of at the slightest hint of default.
One such lender, Mwananchi Credit Limited, is fighting off multiple suits by clients who accuse the firm of seeking to dispose of their property after loading high interest and penalty charges that put repayment out of their reach.
A borrower Harrogate Limited and its director Alice Muthoni Thuo have taken to court Mwananchi Credit and are accusing them of interest loan infringement for a credit facility they had applied back in 2020.
It was a Ksh.50 million credit facility that has since accrued to Ksh.177.5 million in less than two years.
In a sworn affidavit, the two complainants say the defendant only disbursed Ksh.43,121,980 and not Ksh.50 million as agreed.
According to the initial agreement, the borrowers were to pay an interest of Ksh.6.12 million in five months and pay the remaining balance of interest and principal on the  sixth month.
The facility was attracting an interest of five percent and a loan processing fee of Ksh.2.5 million, loan application fee of Ksh.500,000 being one percent of the total loan.
They were also charged Ksh.300 for loan papers and another Ksh.300 for Credit Reference Bureau (CRB) check fees.
They contend that Mwananchi Credit only disbursed Ksh.30 million in two instalments, Sh15 million to Harrogate Limited on February 25, 2020 and a similar amount to Alice Muthoni Thuo's account three days alter.
According to the court documents, the micro-finance was reluctant to channel the remaining  balance of Sh20 million despite numerous follow ups.
Two months after getting the first tranche of the loan, the applicants received an email from the lender compelling the first plaintiff to pay Sh3.3 million interest failing which a penalty of five percent every week will apply.
They argue that rules had changed midway. On June 28 the same year, the lender informed the borrowers that the amount due was Ksh.63.26 million, implying the Ksh.30 million facility had accrued interest of over Ksh.32 million in just four months.
The affidavit shows that to avoid penalty as threatened by the defendant,  Harrogate Limited paid an interest of Ksh.3.3 million on March 28, 2020 upon which the lender disbursed Ksh.5,624,980 as the second tranche of the loan.
On July 2, 2020, the defendant requested the first applicant to execute the letter of Sh7 million and insisted that the amount be utilised towards payment of the first drawdown or apply a five percent weekly penalty,
This prompted the applicants to seek clarification from the lender on August 17 via email.
The microlender did not respond but instead proceeded to have the first plaintiff execute the second Letter of Offer on September 9 for an aggregate loan amount of Ksh.76,604,792.
The Mwananchi Credit story is scary. U ask for Ksh 50M loan, they give Ksh 30M, keep Ksh 20M. (On paper ur loan is Ksh 50M). After 3 months, they ask u to pay Ksh 3.3M/month. U fail, they charge u interest of 5%/week…😥. 12 months & total amount you owe them hits Ksh 177M 😥

— Juma G 🇰🇪 (@jumaf3) October 9, 2021
The same micro-lender has been accused accused by a section of borrowers for changing rules midway with an intention to property offered as security. It has naturally overtime denied the claims.
In 2018, a borrower, George Washington Mallan Omondi, fought to stop Mwananchi Credit Limited from disposing of his Lavington home after he defaulted on repaying Sh6.5 million borrowed in May 2017.
Mr Omondi was shocked that the loan accrued Sh14 million interest by March 2018. Mwananchi Credit was going to dispose of his house, valued at Sh200 million, at a throwaway price.
Mr Omondi said he borrowed Sh8.9 million to be repaid in six months but received only Sh6.5 million and was told the difference covers interest.
This is just one of the many suits the firm is fighting off. Wilfred Omondi Opiyo borrowed Sh2 million to be repaid in three months with interest of Sh661,998. He used his property in Kajiado as collateral.
He says he repaid two instalments but due to financial difficulties defaulted on the third.
Mwananchi Credit Limited moved to sell his property to recover Sh4.2 million, which it said was the outstanding amount.
Its not just ordinary people that have had to deal with Mwananchi Credit's wrath, Former Kiambu Governor Ferdinand Waititu has had a run with the micro lender and had to seek court's cushion in April this year when they came for him.
Waititu had allegedly defaulted on a Sh10 million car loan he took from Mwananchi Credit Limited in January 2020.
The micro-finance company was now seeking to auction the ex-county boss's motor vehicles to get back their money.
Waititu had used two logbooks to secure the loan.
The former governor moved to court seeking to stop the planned auction, claiming he is currently financially constrained after he lost his job as Kiambu county boss in January 2020 over graft and abuse of office allegations.
Waititu in his application filed at the Kiambu Law Courts, said that he was unable to raise the money because there is no regular monthly income credited to his bank account.
"I am seeking more time to sell some of my property and use the money to offset the loan. Alternatively, the lender should allow me to settle the loan in installments," Waititu pleaded.
Mwananchi Credit Limited seized the two vehicles Waititu used as collateral to secure the loan.
#CofekRedAlert Wrong for complaints-ridden @mwananchi_LTD to style itself as #AwardWinningMwananchi? Consumers willing to procure 'shylock' loans against their assets urged to exercise extreme discretion before signing up with Mwananchi Credit Ltd or similar venture #DeceptiveAds pic.twitter.com/nDeQc0B2V5

— Consumers Federation of Kenya (COFEK) (@Cofek_Africa) December 15, 2020
Mwananchi credit limited has also been accused of conning unsuspecting members in a series of insider logbook loans fraud.
For the better part of 2020, there were several complaints about microfinance firms offering God's speed logbook loans.
Many unsuspecting Kenyans get enticed easily when they see that they are offering logbook loans from as low as 2.5% pm with the loans allegedly being disbursed within 6 hours.
Impunity.@mwananchi_LTD is a crime scene.
Dennis targets properties not the money he is advancing to you.

— KivuvaJnŕ (@josephkivuva) October 9, 2021
Auction on fully repaid loan.
Mwananchi Credit Limited were put in the spot in 2020 after they allegedly declined to release a client's car plus his logbook months after clearing his loan.
The client accused the company of taking advantage of the covid-19 pandemic situation to charge higher interest rates and penalties on a loan he defaulted after the country was put on lockdown.
In late 2019, Mr. Dennis Otieno took a buy off loan of Ksh. 1, 030, 562 which was used to purchase a Toyota Hiace Matatu.
Up until when President Kenyatta ceased all inter county movement, Mr. Otieno was comfortably paying his monthly installments of about 84,000/.
The countrywide lockdown was a blow to him as his Matatu business grounded and to make matters worse he lost his job.
In April he was not able to repay the month's installment and things got from bad to worse as Mwananchi quickly repossessed his vehicle which was plying the Nairobi Kisii route.
For a man whose sources of income had dried up, the financial institution did not come to a reasonable agreement with Mr. Otieno and between the months of May and September, he managed to secure another loan from Rafiki Bank which he used to offset the 1 million loan which had now accrued to Ksh. 1.7 million.
After negotiating with Mwananchi Credit, Otieno was given until August 27th to clear his loan upon which his vehicle and logbook would be returned to him.
In a guarantee letter dated 24th August 2020, Mwananchi Credit, unconditionally and irrevocably agreed to release Mr. Otieno's vehicle and logbook within 48 hours after Rafiki Bank paid the total 1.7 million buy off from them.
"We shall within 48 hours of the payment of the outstanding loan….commence the transfer process of the logbook from our name to that of Rafiki Microfinance Limited" read part of the undertaking guarantee letter.
In the guarantee letter, Mwananchi Credit through their advocates promised to refund the money within 48 hours if they fail to complete the transfer to Rafiki Bank's name.
On the 9th of September, Rafiki Bank bought off Otieno's loan and repaid Mwananchi in full, one week after the agreed period of payment.
Otieno's troubles escalated when upon going to claim his repossessed vehicle and logbook he was asked to pay another Ksh. 502,000.
The company has been taking Otieno in circles demanding that he repays the money. The complaint said that he had no idea where the money came from yet Rafiki Bank already bought off the loan in totality.
Otieno claimed that Mwananchi Credit Limited Director, one Mr. Dennis Mombo said that the penalty was for failing to repay the loan on time, after Rafiki Bank delayed by one week and half in disbursing the money.
Otieno further said that he was astounded when he stumbled upon an advertisement in Daily Nation's copy of November 16th, where his Matatu had been put up for Auction on behalf of Mwananchi Credit Limited.
Otieno is now rapaying Rafiki Bank's 1.7 million loan, a feat he says is burdensome since his source of income has been held and put up for sale.
Reached for comment, Mwananchi Credit refuted Otieno's claims saying that he still owed them 502,000 shillings.
The complaints on the facility are countless and harsh.
Mwananchi credit is a rip off, . I am a victim. And I swear we parted ways in a horrendously bad way after they imposed an interest of 260K from a principal of 200K

— @ C▪️K▪️I▪️M▪️K🇰🇪®️ (@ckimk) May 27, 2020
A THREAD about how @mwananchi_LTD is Grabbing our land.
Dad left us land in Eastleigh, section II, fifth street LR No. 36/2/321 worth over 20m. It was leased a source of revenue for my moms. On Friday -30th Nov, @mwananchi_LTD forcefully evicted tenants from the premise.

— Gichuki (@RakeliMumbi) December 2, 2018
In 2018, Annerlisa Muigai, the heiress to the Keroche Breweries multi-billion empire implicated Dennis Mombo the CEO in an alleged fraud. Anerlisa came out to deny claims she defaulted of a Ksh19.9 million loan, which she borrowed from the Nairobi businessman.
In a post on her social media platforms, Annerlisa said Ben Kangangi (the man who she borrowed money), who used to sell cars, colluded with Dennis Mombo Mwangeka to have her provide security for the disputed loan, which he claims was to be used to finance a government tender for the supply of electric cables.
Annerlisa says she gave Kangangi Ksh 7 million and asked him to borrow the rest from elsewhere and that is when the drama ensued. She adds that Kangangi and Mwangeka could also be seen drinking together despite the former's earlier assertion that they did not know each other. The matter ended up in court with Dennis suing Anerlisa for defamation.
Initially trading as Mwananchi Microlink Ltd from 15th April 2010, it officially changed names to Mwananchi Credit Limited on 10th January 2012.
CBK has failed in its mandate to shield the public from predatory loans and shylocks who operate with the ultimate impunity. In a country where laws exists, it's sad to see authorities giving space for the uncouthness. However, all is not lost, if you feel you've been shortchanged by your lender, the court must be your immediate remedy, even though we're told that Mwananchi Credit have their boys in the corridors, a good lawyer will save you a lot. Don't be subdued.
For how long will CBK allow Mwananchi Credit and alike facilities to keep terrorizing unsuspecting customers without any punishment? It's a shame the ordinary have been left in the wild alone for the prey.
---
Kenya Insights allows guest blogging, if you want to be published on Kenya's most authoritative and accurate blog, have an expose, news TIPS, story angles, human interest stories, drop us an email on

[email protected]

or via Telegram
---