Senate Probe Embattled Tycoon Merali In Controversial Sale Of Spire Bank To Teachers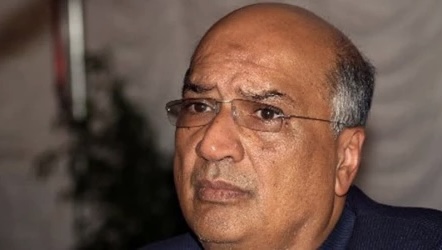 Kenyan lawmakers have opened an investigation into the controversial sale of the troubled Spire Bank to Mwalimu National Sacco (MNS) in a deal estimated at over Ksh3 billion ($28 million).
The sacco board blamed the poor performance of the lender on business tycoon Naushad Merali who withdrew all of his deposits amounting to Ksh1.7 billion ($15.74 million) immediately after selling his shares in the bank.
The Senate Committee on Finance and Budget is investigating the transaction that has raised eyebrows in investment circles and is demanding an explanation from Central Bank on how teachers appeared to have been duped into putting money in an investment that has failed to generate profit in the last six years.
The Committee, headed by Kirinyaga Senator Charles Kibiru, on Wednesday called for the tabling of the due diligence reports for the transaction from CBK, Ernst&Young (financial advisors) and the lawyers who drafted the agreement for the transaction.
Also required is the latest audited financial statements of Mwalimu Sacco to determine the financial health of a society owned by over 75,000 teachers.
The reports are expected by May 4, when senators will question parties in a closed-door session.
"It is a surprise that all of a sudden after Mr Merali has sold his shares we have a situation where as a bank you are looking for a strategic partner. Does it mean that the due diligence was never done properly before Mwalimu Sacco got into this mess? Because it looks like a mess," said Senator Kibiru, the committee's chairman.
The senators also learnt that the transaction (Mwalimu Sacco/Merali share sale) is yet to be approved by the Registrar of Companies and that the financial advisors, Ernst&Young, who gave a clean bill of health to the transaction were later appointed auditors of the bank after the acquisition.
The Sacco attributed the bank's woes to massive deposit withdrawal by Mr Merali and the panic in the banking industry that led to customers withdrawing deposits from small banks.
"One thing as an investor representing Mwalimu National Sacco, which we are aware of, is that when Mr Merali was still part of the bank he had huge deposits there which he later on withdrew in 2016 to the tune of Ksh1.7 billion ($15.74 million) and coupled with what happened at Imperial Bank and Chase Bank there was some sort of panic and there were also withdrawals by the customers so I think this weakened the financial base of the bank," sacco chairman Wellington Otiende told the committee.
The financial advisors, Ernst&Young, are on the spot for failing to consider as a 'risk' the fact that Spire Bank, which was a subject of share sale, was being held together by a single individual with the highest amount of deposits.
A review of the bank's books of accounts shows that customers have withdrawn over Ksh9 billion ($81.81 million) worth of deposits from the bank over the past six years (2015-2020), with total deposits falling to as low as Ksh4.82 billion ($43.81 million) in the third quarter of this year from a high of Ksh14.3 billion ($130 million) in 2014.
Loans and advances to customers reduced by Ksh7.16 billion ($65.09 million) to Ksh2.9 billion ($26.36 million) from Ksh10.06 billion ($91.45 million) while net losses worsened to Ksh783.58 million ($7.12 million) from Ksh326.43 million ($2.96 million) in the same period.
The bank's accumulated losses amounting to Ksh8.13 billion ($73.9 million) have pushed it into liquidity and capital deficiencies with total shareholder funds turning to negative Ksh1.32 billion ($12 million) during the nine-month period to September 30, while core capital operating in a negative territory of Ksh2.36 billion ($21.45 million) compared to the statutory limit of Ksh1 billion ($9.09 million).
Mwalimu Sacco's investment in the bank has raised eyebrows within the country's investment circle, with close to 75,000 teachers crying foul over an investment that was carried out without proper due diligence and which has put their hard earned savings at risk.
Mwalimu's Sacco's initial investment of Ksh2.4 billion ($21.81 million) in the bank has since been diluted to as low as Ksh1.2 billion ($10.9 million).
The Mwalimu Sacco/Spire Bank share sale deal been opposed by various agencies before they all changed their minds in 2014 to give approvals.
For instance, the Co-operative Alliance of Kenya— the umbrella body of about 15 million-member co-operative movement—raised the red flag over the credibility of the entire transaction, arguing that due process was not followed.
But even with the opposition, the deal was sanctioned by CBK, the Competition Authority of Kenya and Sacco Societies Regulatory Authority (Sasra).
In 2015, the sacco took ownership of Spire Bank (formerly Equatorial Commercial Bank), by acquiring 75 percent shareholding from the billionaire businessman Mr Merali at a price of Ksh2.4 billion ($22 million).
And in November last year, the sacco acquired 100 percent ownership of the bank by buying out the remaining 25 percent shareholding held by Mr Merali.
In 2019, top Kenyan lawyers called for the arrest of Sameer Africa's chairman Naushad Merali for his involvement in a corruption case in which he was reportedly swindled millions of shillings.
The lawyers, Paul Muite and Ahmednasir Abdulahi wanted Merali arrested as it was clear that he was engaged in graft and was trying to bribe President Uhuru Kenyatta.
Yes indeed;DPP why is Merali not in Anti-Corruption Court No One ??

— Paul Muite SC (@Paul_Muite) February 27, 2019
Seven young men were arrested and later charged for impersonating President Uhuru to secure Ksh80 million facilitation fee for a land deal in Nairobi's Milimani area.
The seven's cover was blown after the man sent by Merali to execute the deal got suspicious after sending the first Ksh10 million. Joseph Waswa, Duncan Muchai, Isaac Wajekeche, William Simiyu, David Luganya, Gilbert Kirunja and Anthony Wafula were arrested and later charged with defrauding Sameer Africa Finance Director Akif Hamid Butt of Ksh10 million between January 24 and February 1. They denied the charges and were released on a Ksh 20,000 each.
Lawyer Ahmednasir Abdullahi and activist Boniface Mwangi wanted Merali also prosecuted for bribery, a position supported by Senior Counsel Paul Muite. While these lawyers wanted the Director of Public Prosecutions to prosecute the businessman, the matter had put EACC under the spotlight regarding its commitment to implement the Bribery Act, which was a product of public-private engagement.
"Merali is not a child: he is a 68-year-old man who in 2012 according to Forbes Africa's richest is worth 410 million dollars. He is President Moi's business partner in some investments. Merali has been mentioned in the Kroll and the Goldenberg reports on how Kenya was looted by Moi," Mr Mwangi wrote in a hard-hitting post on his Facebook page.
"Merali was paying a bribe to Uhuru for a tender and it is clearly something he has done for many years. Merali owns the Sameer Group and is an 18% shareholder of Commercial Bank of Africa. So Merali knew it wasn't unusual for a sitting Kenyan President to ask for a bribe," further wrote.
According to the Bribery Act 2016, giving, receiving or engaging in activities that enable bribery attracts conviction leading to imprisonment for a term not exceeding 10 years or a fine not exceeding Ksh5 million, or both. In addition, the courts may impose an additional mandatory fine if the person incurred quantifiable loss or benefit. Under the law, Butt is equally, therefore, liable for the offence.
This case is not isolated as Merali has been accused elsewhere of paying Sh500,000 bribe to fake Kenya Defense Forces generals in exchange for supply of tyres from his Sameer Africa Group, a deal that turned out to be a scam.
---
Kenya Insights allows guest blogging, if you want to be published on Kenya's most authoritative and accurate blog, have an expose, news TIPS, story angles, human interest stories, drop us an email on

[email protected]

or via Telegram
---