Opinion: Raila As The Flagbearer Is NASA's Only Sure Bet On Defeating Jubilee Early In The Morning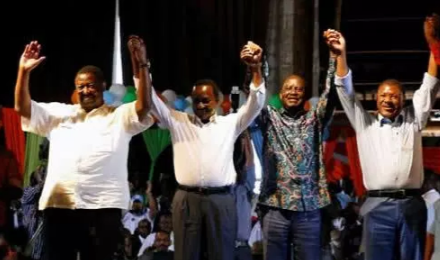 IEBC has formally gazetted August 8th as the grand day for the general election. Even though the official campaigns are yet to be given the nod, the country is on a full campaign mode with party primaries dominating the scenes. Of great concern is the selection of NASA flagbearer a brain teaser that has consumed not only the opposition's supporters but has dominated the talks on most of Jubilee gatherings. The president himself has not been left out in ridiculing the opposition for delaying naming their choice to face them in the battle.
We've been treated to pseudo-analysis from financed political analysts with openly biased stands. In the whole well set theatrical work three things have been consistent; demonizing of Raila as the flagbearer, consistent effort through propaganda and physical negotiations to yank Kalonzo out of the coalition to disrupt their stability and lastly a general effort to divide NASA. As it stands, a United NASA remains a political nightmare to the incumbent. With a totally disrupted system in the economy and distinction in corruption, the Jubilee is having a mountain of work in convincing Kenyans for four more years. Therefore, a strong united opposition promising a shift in the distorted system poses a grave threat to Jubilee's survival.
It doesn't come as a surprise that Raila has become a punching bag for his opponents who are understandably scared of his candidature in the forthcoming elections given his history in fighting for social justice and an indomitable anti-corruption crusader. To his supporters Raila is the only strong figure to disrupt and dismantle the corrupt establishment entirely, to his opponents, Raila is the least qualified of all the candidates, the backdrop of this is the corrupt are genuinely horrified at the idea of him taking power. They suspect he'd use his position as President to go after their dirty money and shut business for them.
It is worth noting that a Kalonzo and Mudavadi ticket is a great combination but the harsh truth is there's no NASA without Raila. As much as we might try to run away from the truth, facts will remain unchanged. Raila needs his partners to win, and they also need him to win. In a nutshell, I'm saying, NASA can only win in unity without which the Jubilee government can sit comfortable and wait for their second inauguration.
Several factors favor Raila as a safe bet for the opposition to guarantee an early win. In any elections, voter turnout is everything, NASA, as it stands, has a solid support base in the Nyanza and Western regions, and Coast is promising as well. The mentioned voting bloc are the greatest determinants in the opposition's bucket. There's a fatal risk of voter apathy in Odinga's strongholds which is pivotal to a NASA win, point blank.
Odinga remains one of the few leaders in Kenya history with unfathomable grassroots mobilization a factor that came in handy when he campaigned for Kibaki while he was stuck in a wheelchair. Odinga is one of the countable politicians with the magic of consolidating support from regions outside his home turf. In a recent shocker, he was received by a large crowd in Meru during one of his visits. In the previous election, while the Jubilee duo left out other regions perceived to be hostile, Odinga took his campaigns across all the 47 counties.
Odinga's relentless focus and consistent commitment to fighting corruption give him an upper hand above the rest in the anticipated fight against corruption and impunity. Real or Not, Raila has cut himself above the bar and is seen as the right anti-corruption warrior, This can be verified by the history. Cartels have this country by the balls, and the young leadership of UhuRuto has not only allowed them to thrive but given a conducive, flourishing environment for 'business,' it is estimated that close to Sh 1Trillion is lost to corruption annually. This money if out into real use, health crisis, youth unemployment amongst many other economies stagnating factors would be kicked right in the rear.
There's a general feeling in the country is yearning for change, and Raila gives the face value of just that. A shift in paradigm from corrupt and incompetent leadership that has seen prices of essential commodities kicking off the roofs and cost of living becoming unbearable in the past four years. The economy in no diplomatic language has been raped in all holes.
The NASA Advisory Committee on selecting flagbearer have submitted a report settling RailaRaila as flagbearer. The last decision remains with the leaders who'll either adopt the recommendations or do otherwise. There has been a consistent sound from the Jubilee end that only a Kalonzo and Mudavadi ticket would triumph against them bragging that a Raila ticket would earn them an early win. Lemme close on this by saying, when your enemy recommends to you the best weapon for you to defeat them with then my friend you should be completely worried. No one goes to war to lose. Ask yourself why they insist anyone but Raila can beat them because Raila is the biggest threat. Raila remains the best bet, but a United NASA is the ultimate bet for an early win.
---
Kenya Insights allows guest blogging, if you want to be published on Kenya's most authoritative and accurate blog, have an expose, news, story angles, human interest stories, drop us an email on tips.kenyainsights@gmail.com or via Telegram
---