Njoki Ndung'u The Jack Of All Trades; Supreme Court Judge, Politician, IEBC And Uhuru's Lawyer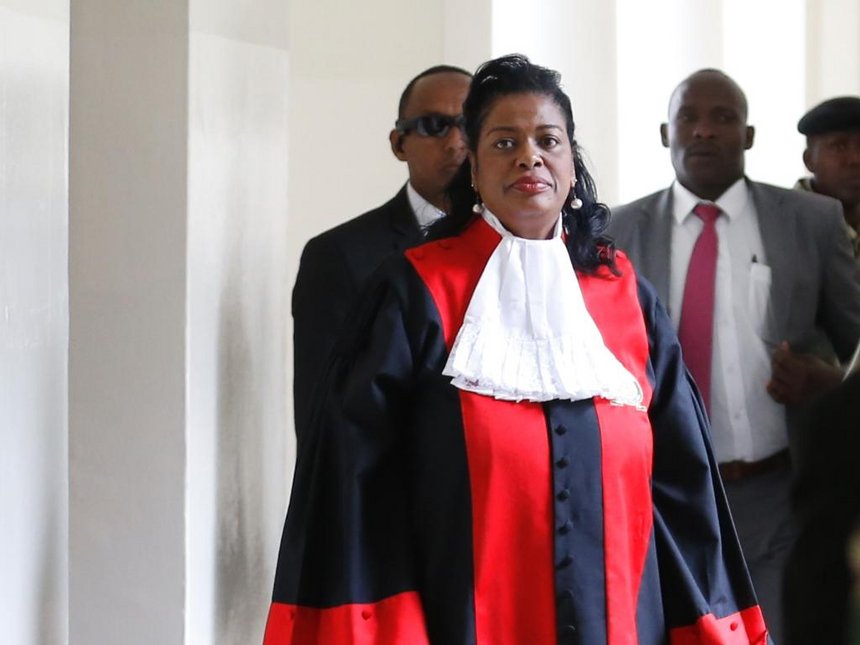 Kenya's Supreme Court under the leadership of Chief Justice David Maraga on September 1st made history by nullifying the election of Uhuru Kenyatta with a majority vote of 4 judges against 2. Justice Njoki Ndung'u and Jacktone Ojwang' were the dissenting judges against CJ Maraga, DCJ Mwilu, Justice Lenaola, and Justice Smokin Wanjala.
In what was expected to be a mighty show, the dissenting judges were the center of attraction when the court delivered full judgment on the 20th of October. Justice Ojwang was lengthy in his dissenting opinion but it was Njoki who stole the show with her 440page judgment that lasted close to five hours. She took time to dissect and object the nullification in the line attacking the decision of her fellow judges. In what seemed like a choreographed moves, Jubilee officials, lawyers, and bloggers were completely in agreement and in publicity tried vehemently to prioritize her opinion as gospel truth while demonizing the majority ruling. This to many wasn't surprising.
She said the reason for precedence is predictability. Which I don't agree on 2 levels. First, predictability is not necessarily good. Everyone predicted CJ Maraga 4 would dismiss the petition, even those who supported Raila. The fact that they had a prediction didn't mean they agreed with it. Two, precedence is not for predictability but for clarity. When we refer to precedent, it's not necessarily to toe the line. It's to justify the current choice by either conforming to or departing from it. Precedent is not bondage.
Now: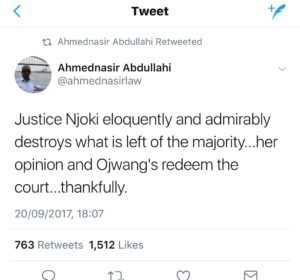 Then:
What was silly and contradictory about that argument on precedent was that Njoki blamed the majority for not following precedent, saying it would cause chaos, without realizing that if the Maraga 4 departed from precedent, so can the next SC bench depart from the Maraga precedent. She even advised parliament how to break away from the precedent set by the majority while blasting the majority for not sticking to precedent. She was unnecessarily condescending and emotional.
In a 2014 SCOTUS opinion, Scalia J flubbed a dissent by writing the wrong facts in it. Did Njoki SCJ go down the same route?
Pages 276 to 402 of Njoki SCJ's judgment consist of a purported home-based report of her examination of the Forms deposited in Court. Alone. In the absence of parties. Without giving parties a chance to comment on her findings.
And she uses the outcome of that home-alone forensic process to impugn the veracity of the earlier scrutiny conducted by the court in daylight, in the presence of all parties, as a result of a unanimous order she equally signed on 28th August 2017. Scrutiny report filed by the court register cited massive discrepancies on the forms. Using random sampling method, all the 40,000+ forms 34As, 34Bs and 34Cs were scrutinized under full witness and participation of the court officials, respondents, and the petitioner. The filed report was not even objected by the petitioner.
Njoki Ndung'u's & JB Ojwang's 7-hour verbiage is called a FILIBUSTER. It's intended to prevent @CoalitionNASAKe supporters from celebrating.

— Dr. Miguna Miguna (@MigunaMiguna) September 20, 2017
JB OJWANG' & NJOKI have laid the foundation for FIXING the #SupremeCourt and effecting a constitutional change. #SupremeRuling

— Dr. Miguna Miguna (@MigunaMiguna) September 20, 2017
It shocks when Njoki claims that her own scrutiny which she did on her own without any witnesses neither court's directive found no fault. A classic case is when IEBC lawyer was challenged about Nyali form and he admitted to the court that indeed it lacked the required security features. More puzzling is that Njoki was present in the court when Muite made the admission only for her 'own' research to show otherwise. It seemed more like she was playing to the public gallery.
What aid reading did she use to check for barcodes? What does she infer from the Forms her home-based report show was Not Stamped? Were the majority personally required to go through the Forms in spite of the report by the Registrar, the court's official administrative officer?
IEBC & UK's lawyers are busy tweeting from Court besmirching the majority decision. What a cheap way to justify their losing #SupremeRuling

— Donald B Kipkorir (@DonaldBKipkorir) September 20, 2017
Dissenting Judgments, no matter its eloquence, length or prose, are meaningless in law .. They don't become Case Law #SupremeRuling

— Donald B Kipkorir (@DonaldBKipkorir) September 21, 2017
Did IEBC file one set of documents at the Supreme Court, and a different set for scrutiny at Milimani? Why are the findings distinct?
The dissent was first issued on 1st September 2017 had she personally gone through the forms by this time? Noting that it took the Registrar's team of 100+ personnel nearly two days to undertake the same exercise…
Njoki Ndung'u claimed that she took time to carefully peruse all the form 34As working alone.
Let us assume she spent only 1 minute on each form (not likely but possible), and that she was working 23hrs nonstop (another highly unlikely scenario but possible).
1 hour = 60minutes. 1 day = 24hrs. 1 day = 1,440 minutes.
Total number of form 34As = Total number of polling stations = 40,883.
40,883/1,440 =28 days.
It would take Njoki Ndung'u 28 days to scrutinize all the form 34As. How did she manage to do it in 21 days and still find time to inspect and find faults in the court-appointed IT experts' report and still find more time to write a 400-page dissenting opinion?
It would take Superman, Batman, John Cena, Undertaker, Mike Tyson, Jack Bauer, Rambo and Van Damme working together to accomplish such a fete.
Mr @UKenyatta has 3 legal advisors: AG, Njoki Ndungu and Abdikadir Mohammed. Abdikadir worked tirelessly yesterday & today to convince Uhuru

— jacob juma (@kabetes) February 23, 2016
Justice Njoki essentially introduced evidence in court. The forms she presented were not the forms that were presented during the hearing. IEBC was unable to answer the questions about the forms that were in court. So that means that there are two sets of forms, which already proves that there is a problem with the results. Whether the forms are genuine or not.
Two, by verifying the forms, Njoki was essentially playing the role of an IEBC defense lawyer and arguing IEBC's case which its defense should have argued.
Three- Njoki undermined the Supreme Court of which she is a member, by advising lower courts to undermine the majority ruling, and even by advising parliament to draft a law that redeems lower courts from being bound by the Maraga ruling. That is so twisted on two levels. Why is she in the Supreme Court if she doesn't believe in its supremacy? She should resign, on that very front. Two: is it the job of the Supreme Court to give Parliament a legislative agenda? That's the real tyranny of the judiciary – giving orders to parliament. The Supreme court ruled on an election – it did not question the Executive. Uhuru was a candidate in the petition. He was not the president. So the judiciary is not overthrowing a candidate. It's rejecting a result.
Justice Njoki Ndungu NAILED it. PERIOD. Proud of the WOMEN who can READ!

— Mutahi Ngunyi (@MutahiNgunyi) September 20, 2017
As a politician which Njoki essentially is given her past, She separates the results from the "will of the people," which is the Jubilee argument. That argument needs to be ruthlessly destroyed. On the simple reason: what is the agreed proof of the will of the people? It is not the queues, otherwise, we're back to the Mlolongo system. It's the duly filled 34As (although she has trashed that later and nobody is answering my question about that). As someone told me if queuing is all that matters, why don't we say that people who queue in a bank and deposit money shouldn't care how that money is deposited? We even have regulatory laws to prevent banks from playing hanky-panky with people's money once they've walked out of the bank.
Judge Njoki Ndung'u must be removed from Supreme Court and judiciary. Her gross misconduct in granting ex-parte orders unacceptable

— Ndung'u Wainaina (@NdunguWainaina) May 29, 2016
What annoys most about this "will of the people" argument is that its premise is the tyranny of numbers. When Jubilee says "people," they're not including NASA or other supporters. And they assume they are the majority. So even Njoki is excluding the fact that Kenyans are also interested in the process. It isn't only NASA that raised questions about the handling of the forms and the results, but she's making it sound like it's only Raila and the NASA secretariat that did.
The tyranny of numbers isn't in the ruling, but we have to make so much noise about it because it is the foundation of the Jubilee belligerence. There is no data to support that narrative. The sampling is faulty. If we don't punch holes in it, Jubilee will keep talking about the "people." The truth is, they don't have the numbers, but no one is calling them out on it.
Geoffrey Kiplagat was re-called on Tuesday by JSC committee to specifically clarify who the 2 ladies were, and he mentioned Njoki and Rawal.

— jacob juma (@kabetes) February 6, 2016
Justices Njoki Ndungu & Rawal of Supreme Court were paid separately outside the $2m bribe. That means that $3m was used to bribe the judges

— jacob juma (@kabetes) January 30, 2016
We all know why Njoki Ndung'u voted the way she did but we don't want to say it.
---
Kenya Insights allows guest blogging, if you want to be published on Kenya's most authoritative and accurate blog, have an expose, news TIPS, story angles, human interest stories, drop us an email on

[email protected]

or via Telegram
---