Kenyans Reacts To The New Police Reforms, Uniform And They're Disgusted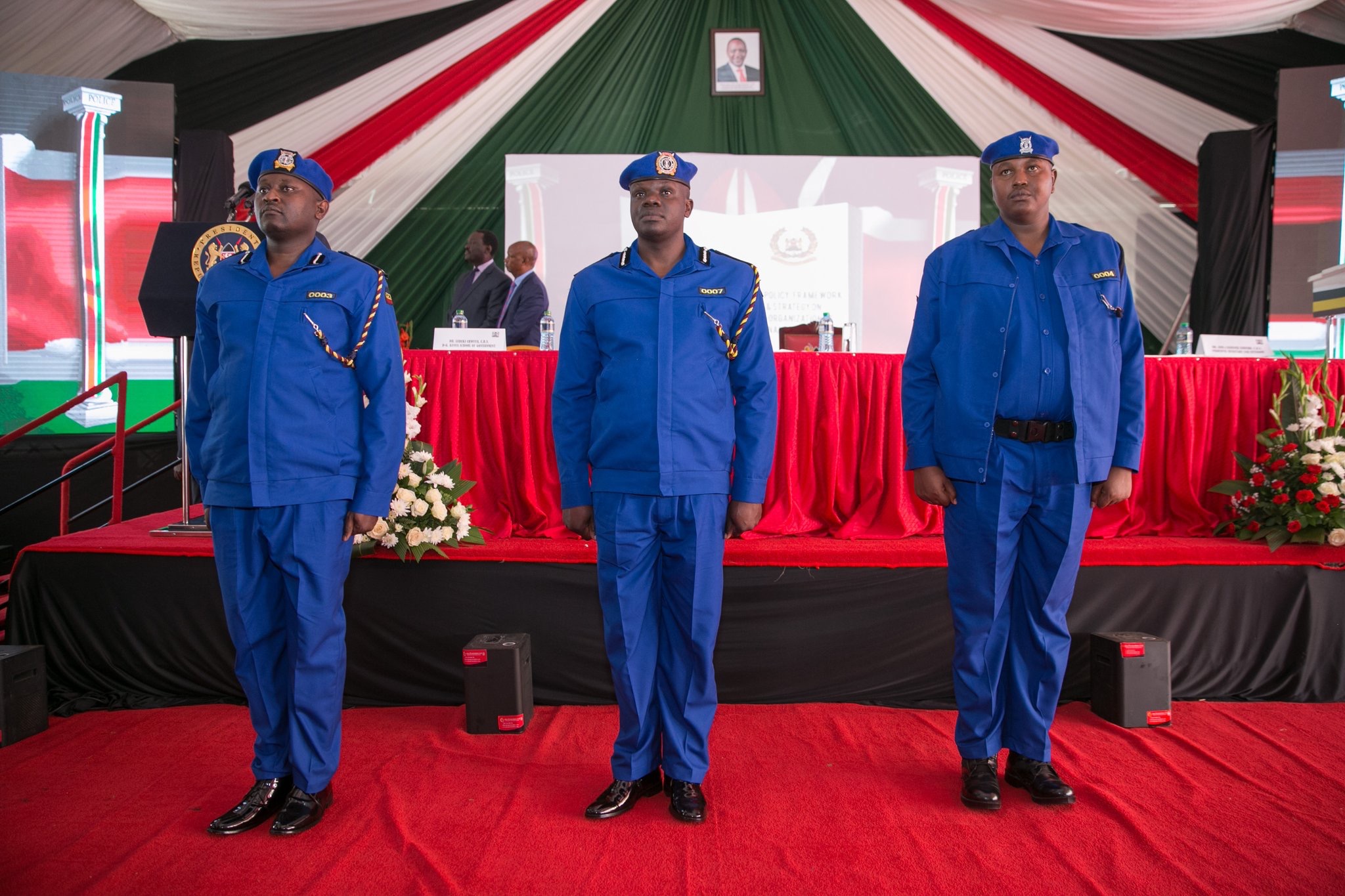 President Uhuru Kenyatta today enacted major reforms in the structure, command, control and welfare of the National Police Service. Speaking when he received a task force report on police reforms at the Kenya School of Government in Nairobi today, President Kenyatta said the reforms  are aimed at making the police a "service that is respected" rather than "a force that is feared".
The report prepared by the taskforce headed by Interior Cabinet Secretary Fred Matiang'i spells out an array of measures to unify the Kenya Police and the Kenya Administration Police formations. The Head of State made it clear that the reforms, ranging from the changes in structure and command, integration of Regular and Administration Police, change of uniform, rebranding of colleges, introduction of housing allowances for junior officers, are meant to make the police force more efficient.
The reforms will put smiles on police officers, especially those in the lower ranks, who have traditionally lived in congested houses with no option of living in houses of their choice. The officers will now be paid house allowance and will live in places of their choice. "To solve the problem of housing police and prisons officers, and to better integrate them with the Kenyans they serve, the policy of mandatory and free housing for junior officers in institutional houses is hereby abolished. Instead, house allowances for all ranks of these officers will be provided," said the Head of State. President Kenyatta ordered the National Treasury to factor in the new allowances in the supplementary budget.
The Head of State said the reforms are aimed at raising the morale of the security officers by improving their conditions of service. "They (reforms) will clarify and simplify command and control, increase both accountability and performance and they will make the police more than equal to the threats that face our nation," said the President Kenyatta at the meeting attended by all senior police officers.
The President said the reforms he unveiled were the culmination of the transformations he started when the Jubilee Government took office in 2013. "When I took office in 2013 the National Police Service budget was slightly over Sh50 billion, today we have almost doubled the allocation to almost Sh100 billion tangibly demonstrating our commitment to the reform agenda," said the President. He said the police service today has more than 5,000 vehicles in service to increase police mobility and response.
The President also cited the other milestones like the command and control centre in Nairobi and Mombasa as well as the increased number of police officers. On the reorganisation of the police, President Kenyatta directed the Interior CS and the Inspector General of Police Joseph Boinnet to eliminate overlap and duplication in reporting functions.
The President further said the Deputy Inspector General, Kenya Police Service will now focus on public safety and security while the Deputy Inspector General Administration Police Service will focus on protective and border security as well as combating cattle rustling and banditry. In order to eliminate waste and duplication, 39,680 KPS and 24,572 APS will be integrated as General Duty Police Officers under the command of the Deputy Inspector General Kenya Police Service. "That will give us a total of 64,252 Police Service General-duty Police, given the unified command we can expect better security for Kenyans," said the President. In the new dispensation, the Deputy IG APS will be in charge of the Border Police Unit, currently known as the Rural Border Patrol Unit, whose core role will be dealing with transnational threats.
The unit will be composed of 6,000 officers. The Deputy IG APS will also be in charge of a new unit that will integrate the Security of Government Buildings (SGB) and the Critical Infrastructure Protection Unit (CIPU) which will have a total of 13,053 officers. The Deputy IG APS will also be in charge of a new unit that will bring together the Kenya Police Service Anti-Stock Theft Unit and the Administration Police Stock Theft Prevention Unit and its strength will be raised to 5,000 officers.
The President unveiled a unified police command as follows (i) One Regional Police Commander (RPC), (ii) One County Police Commander (CPC) (iii) One Sub County Police Commander (SPC), and (iv) Officer Commanding Police Station (OCS)/Ward Commander in charge of a Police Station and its Posts/ Patrol Bases. The Cabinet Secretary for Interior and the Inspector General of Police also spoke at the function.
Kenyans have reacted to the the new changes and the General mood is hostile, most are disgusted in a show of disapproval to the changes more specifically on the uniform which has seen the custom one phased out. Below are some of the reactions;
Donald Kipkorir: The Uniforms for our newly unified Kenya Police is Ugly, Dull , Old fashioned & Uninspiring … The Beret is worse … They look like Salvation Army Band … Police Uniform must be one that shows fitness & inspires fear … Here, we were conned.
Joshua Njenga: The new police uniforms are ugly, but the bank accounts of those who made them are beautiful.
Bravin: You all will say am Hating but What makes this a National Police Uniform? No single Colour of the National Flag is represented and the Badges look more of the Uganda National Flag than the Kenya Police Service Flag. Tumeuzwa! Why are they coming after China visit? 
Julius Mmasi: Another scum, Let the current uniform for Kenya Police remain intact, I say no to Dull, ugly and fake Chinese uniform with  Ugandan national flag. WHAT SHAME TO OUR POLICE FORCE!? 
Abraham Mutai: Hizi ni nini sasa? I thought part of the #PoliceReforms on uniforms size and fitness was supposed to be emphasized. Those times when police looked shaggy, shapeless and badly dressed are over. Police UNIFORM the design especially should be the smartest around. But hizi! Baaad
Hon. Elisha Odhiambo: Dear President Uhuru. New police uniform is NOT police reforms. Reforms can only be achieved  when the following are addressed: decent housing for our police, good salary, ethics and integrity, ethnicity in recruitment and a tamper-proof investigating machinery 
Oliver Mathenge: The new Kenya Police uniform is actually very ugly
Sen. Mutula Kilonzo Jr: The new police uniform reminds me of the biblical story of new wine in old wine skins ! Police are poorly paid & live in deplorable conditions .if you ask them for their views , uniform will not be in top ten need list
Kenya West: At this point I think G4S has better looking uniforms than their colleagues here.
Whoever designed this this need to charged with high voltage treason. How could he make our officers look like struggling security firm. We wanted #PoliceReforms not #Policeuniform SO UNINSPIRING!
Which one do you prefer, the old or new uniform?
---
Kenya Insights allows guest blogging, if you want to be published on Kenya's most authoritative and accurate blog, have an expose, news, story angles, human interest stories, drop us an email on

[email protected]

or via Telegram
---
Joash Ombati The Brave Police Officer Who Took On Two Thugs And Recovered Sh400,000 Feted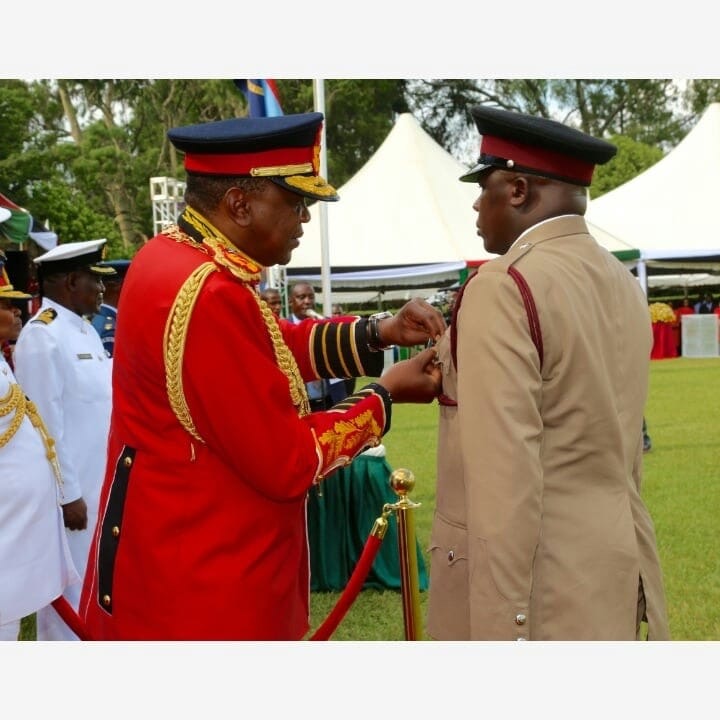 Two suspects, Sameer Abdulaziz Kassim and Peter Kavoli Musili had posed as traders of construction materials on OLX.
They reportedly duped Amos Charo Saroan, an unsuspecting customer from Voi then robbed him.
Amos Charo traveled from Voi and met the duo in Nairobi CBD, then drove towards Westlands but he was pushed out of the speeding car after giving them KSh 732,000, an incident witnessed by Ombati.
Administration Police Constable Joash Ombati who was guarding a bank nearby, boarded a taxi to chase after the suspects.
The Police officer shot in the air forcing the thieves to surrender before he handcuffed them as members of the public watched with many urging him to shoot dead the suspects.
Mr. Ombati remained calm even as a furious mob urged him to shoot and kill.
He managed to recover Sh400,000 which was part of the Sh732,000 that the suspects had stolen from the complainant Mr Amos Charo.
Ombati would then be awarded by Interior CS Matiang'i for his bravery the government was given the heroic AP a Distinguished Service Award in November 2018 barely a month after his commendable work.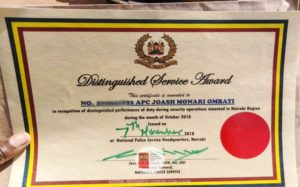 That wasn't the end, Joash Ombati who single-handedly pursued two thugs in Nairobi and recovered KSh 400,000 has just been promoted to the rank of Corporal from being a AP Constable.
Friends help me Congratulate my brother.
---
Kenya Insights allows guest blogging, if you want to be published on Kenya's most authoritative and accurate blog, have an expose, news, story angles, human interest stories, drop us an email on

[email protected]

or via Telegram
---
Grace Msalame Sues Uganda's Tourism Board For Illegaly Using Her Curvy Photos To Promote Sex Tourism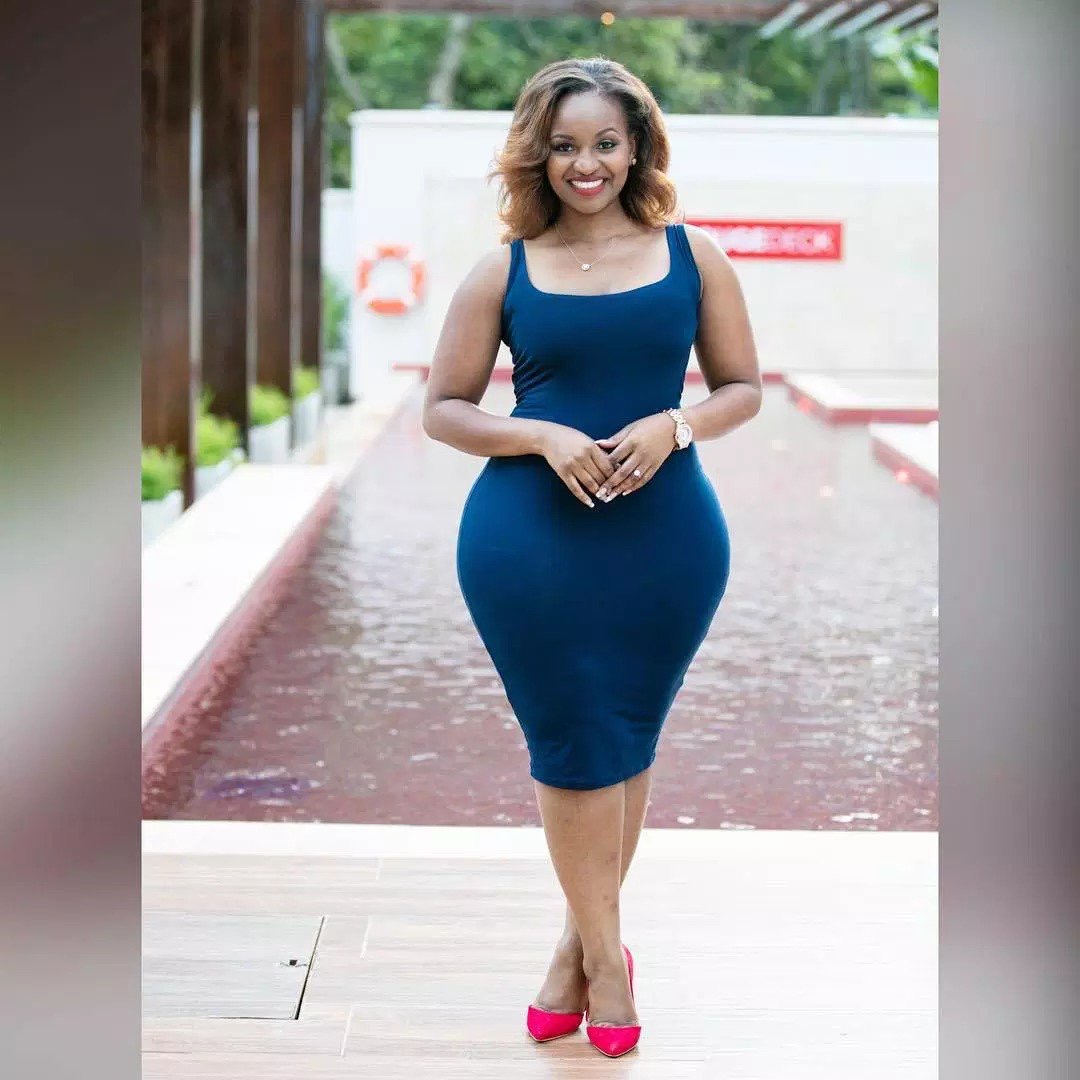 Uganda's Ministry of Tourism unveiled a beauty pageant dubbed 'Miss Curvy Uganda' in a bid to promote tourism in the country, the ministry decided to use Kenya's media personality Grace Msalame as the official face of their Miss Curvy Uganda contest without her knowledge. Whether it was a mistake or deliberate is unknown but now they'll have to prove it in court.
Grace a media personality in Kenya has distanced herself from the beauty pageant saying she was never part of the program neither did she give consent for her photo to be used in the promotion.
In a statement, Msalame says, "I take great exception for the fact that my image and likeliness are being used to propagate, disseminate and encourage objectification of women. I don't agree nor endorse such a message or anyone who's a creator of the idea that women's body are tourist attraction sites."
While announcing that her lawyers are already on legal course for redress, Msalame says, "I reject any association to me that has been unlawfully created by Miss Curvy Uganda 2019 and its agents."
The media personality claims that her brand has been immensely hit following the publications of her images. "Miss Curvy Uganda's deliberate and calculated use of my image and likeliness to promote violation of women's bodies had defamed my character and reputation damaged a brand that I've worked for so many years to establish, and subjected me to unwarranted and undeserved cyber bullying." She says in her statement.
---
Kenya Insights allows guest blogging, if you want to be published on Kenya's most authoritative and accurate blog, have an expose, news, story angles, human interest stories, drop us an email on

[email protected]

or via Telegram
---
Club Associated With CS Echesa's Deported Exotic Dancers Now Wants State To Pay Them Sh48M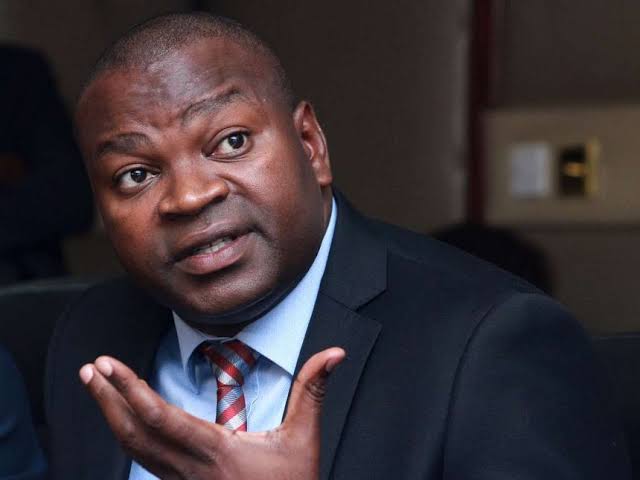 Balle Balle Club In Parklands that flew in the eight deported Pakistani women is now suing the state over the deportation of the dancers by police infringed on its rights and business. The club is seeking to be compensated with Sh48M which they claim was lost as a result of the deportation.
Arguing their case before Justice Luka Kimaru, the club represented by lawyer Evans Ondieki told the court that the dancers had been issued with special permits by the Sports CS Rashid Echesa to perform at the Balle Balle Club during the festive season but were arrested and detained illegally by police.
The court also heard, the girls were bundled out of the club and detained for 36 hours without bathing, which was a violation of their basic rights. They were held as investigations looked into the circumstances and validity of the permits issued by the CS who was alleged to have been involved in the human trafficking racket.
Earlier, the lawyers had sought for the court to compel CS Echesa and Matiang'i to personally compensate the deported girls despite having a standing order to produce them in court. The courts excused the CSs from the Sh9.1M fine and instead summoned detectives who gave out the girls to different state despite the case having been lodged in.
The club is now seeking orders restraining the DCI, DPP and Transnational Organised Crime Unit from entering, harassing, intimidating, arresting or doing anything prejudicial to its directors.
---
Kenya Insights allows guest blogging, if you want to be published on Kenya's most authoritative and accurate blog, have an expose, news, story angles, human interest stories, drop us an email on

[email protected]

or via Telegram
---