Kenyan Man Claims He Has The Treatment For Coronavirus From A Herb He Discovered In 2002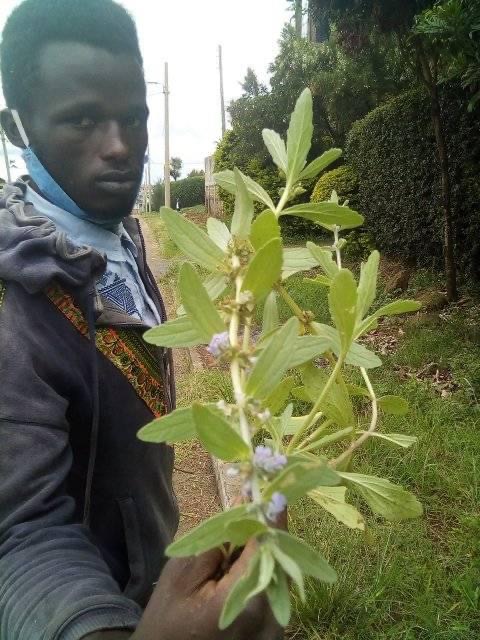 Days after the US President Donald Trump suggested using disinfectant to combat the COVID-19 or coronavirus pandemic, Madagascar President Andry Rajoelina recommended an organic concoction to cure the infected patients.
His claim that the concoction named Covid Organics (CVO) – a form of herbal tea – is curing COVID-19 patients has divided public opinion in the island nation, some 400 kilometers (248 miles) off the coast of East Africa.
Taking to Twitter, Rajoelina asked people to believe in the country's ability. He said all profits accrued through the sale of concoction will be diverted to the Malagasy Institute of Applied Research (MIAR).
All trials and tests have been conducted and its effectiveness has been provided in reducing and elimination of symptoms from COVID-19 patients in Madagascar," Africanews a multilingual news media service quoted the president as saying.
But the World Health Organization (WHO) in a statement has warned against any self-medication and said that it has not recommended any medicine as a cure for the COVID-19.
Notwithstanding, the WHO warning, a large number of Malagasy people are flocking to the free distribution points while others are still expressing skepticism. President has directed that drink will be distributed free of charge to the most vulnerable and sold at very low prices to others.
Over the past week, even soldiers are going door to door distributing the CVO.
Supermarkets and pharmacies in the Madagascar capital, Antananarivo are stashing their shelves with the CVO. But it vanishes from shelves as soon as it arrives.
The plant has anti-malaria potion
The National Academy of Medicine of Madagascar (ANAMEM) said they have taken cognizance of the medicinal virtues of the concoction. The Academy suggested setting up a system to monitor people who have consumed this herbal tea.
The Academy said it is not opposed to the use of CVO and left it to the discretion of people, subjected to comply with the indicated dose, especially for children.
Rakoto Fanomezantsoa, ​​a military doctor and director-general of the hospital of Soavinandriana, in Antananarivo, said that one of the components of the CVO does strengthen the immune system and eliminates viruses.
Known under the scientific name of Artemesia Annua, the plant of Chinese origin was first imported to Madagascar in the 1970s to treat malaria.
The first large-scale planting trials were carried out in the Alaotra Mangoro region, but industrial operations are now concentrated in the Itasy, Vakinankaratra, Amoron'i Mania, and Matsiatra Ambony regions.
Nous sommes honorés de transmettre ces remèdes à la délégation de #GuineeBissau pour les malades du #COVID19 des 15 pays de @ecowas_cedeao.
Merci Président @USEmbalo pour l'initiative de la distribution !
Agissons stratégiquement aujourd'hui pour changer le destin de l'Afrique. pic.twitter.com/XjKjsF39KG

— Andry Rajoelina (@SE_Rajoelina) May 1, 2020
So far, the product is distributed only in three regions, namely Analamanga, Haute Matsiatra, and Atsinanana which have recorded numerous cases of Coronavirus since March 19.
Madagascar has 128 confirmed COVID-19 cases so far, with no deaths, and 82 recoveries, according to figures compiled by the US-based Johns Hopkins University.
African countries showed interest 
According to information from the Presidency of the Republic of Madagascar, three African countries Senegal, the Democratic Republic of Congo, and Guinea Bissau, have enquired details about the CVO.
Senegal President Macky Sall has ordered the remedy after contacting his Madagascar counterpart, according to Senegalese local media.
Kihu Irimu, s Kenyan man now claims he discovered the same plant used in Madagascar for Covid19 treatment.
"The plant is called wanjiru wa rurii. It is being hailed as effective in fighting covid19 by the president of Madagascar." He wrote.
"In my village it is boiled and you drink the water to cure malaria, flu, chest congestion and headache. Since I discovered it in 2002, I have not taken any drugs for those problems. It also lowers temperature in minutes and kills fever. The president is right 100 percent. But what he is saying must disappoint Bill Gates and other false philanthropists, Afro pessimists and the criminal imperialist European govts which had hoped to reap big from Africa covid19 misery. I think there was a time last year when we were hit by an ailment with similar symptoms as a village but no one was absent from work, all healed. The hyper- vigillance of keeping watch over neighbors parties and the like should be directed to the search for solutions. In my Kiima Kimwe village, every household is growing a few of these plants and using them regularly. It will keep the doctor away." He said in his post.
"Elders of my age in Kiima Kimwe are scared of going out of the village. Those with tooth ache have no problem; the use either wanjiru plant or muthiga.  Muthiga is a bitter Maasai herb, you just chew a leaf or two if you can and toothache and HBP stabilize. In COVID19 period my age mates all who saw Sir Baring, are safe for if they must go to hospital, it must be an emergency of any other nature. These two plants and a few others keep them fit. When we go for prayers next Tuesday we will face Mt Kenya ( keeping social distance) and converse with OUR God (not imported) to help Africans realize that he gave them the best land under the Sun. As the Western greedy and satanic pharmaceutical industry falls, Africans must protect their environment jealously. With all the plants and animals. COVID19 sent to finish Africa. But it turned against its maker. God was with Africa; Africa must be with God." Kihu Irimu wrote.
Kihu also holds unpopular thoughts on the Covid19.
He writes, "The COVID19 is no longer a disease; it is either a commerce, a tool of oppression, political instrument to possess and wield power or a terrorist bomb of mass murder. Africans must know the bomb exploded by accident before it was exported here. Now because COVID19 has huge socio- economic capacity for change it is a terrain of fierce contestation. It provides route to power for new faces and exit route to others who had been in power. The battle lines are clear the point is the common man may not be in the calculations of those in power. The multinationals claiming to research for cure are also in business having lost their harvest HIV/AIDS,Ebola, Malaria."
"The multinationals are actually transnational criminal networks held together by Iluminati gang that control the world bank. Nobody cares about you the ordinary Kenyan because you; you are just statistics. So go to your village and look for herbs to protect you from COVID19. They are there, open your ears and eyes. Africa has quality medicine that is why COVID is unable to cause massive deaths at it was intended. The Western countries may after all not reap big. The cure will not come through doctors, it will come from ordinary villagers. Africans must begin to respect and protect their environment as fiercely as the Mau Mau."
DISCLAIMER: Do not attempt self-medication, if you have the symptoms or a confirmed Covid19 patient, follow the doctor's instructions. Kenya is yet to approve this herb for Covid19 treatment.
---
Kenya Insights allows guest blogging, if you want to be published on Kenya's most authoritative and accurate blog, have an expose, news TIPS, story angles, human interest stories, drop us an email on

[email protected]

or via Telegram
---