It's Not About Age. It's The System.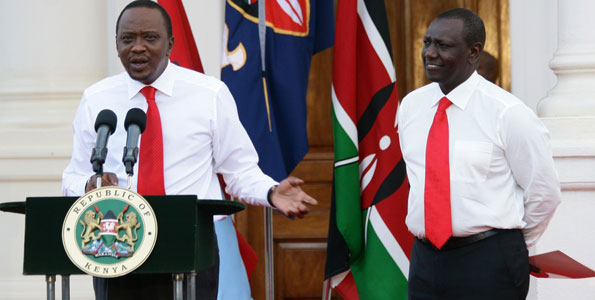 In Kenya,
UhuRuto – Kenya's President Uhuru Kenyatta and his Deputy President William Ruto are perfect testimony of this illusion as i might prefer to it. Youngest President and Deputy President in Kenyan history, controversially elected in 2013 and again "re-elected" in 2017 serving two terms. A section of the electorates argued that their stiff competitors whom included former Prime Minister Raila Odinga and former Vice President Kalonzo Musyoka were too old to lead the country and it was time for young energetic youths to take over.
First President Jomo Kenyatta took full Presidency power on December 12, 1964 when he was 67 years of age and left power upon his demise 14 years later when he was 81years of age. Daniel Torotich Arap Moi as Vice President took over power in 1978 aged 54 and ruled for 24 years till 2002 aged 78years and between had an attempted coup in 1982. Then Mwai Kibaki took over power since 2002 aged 71years serving two terms – 10years till 2013 then retired aged 81 years. Then since 2013 upto date Uhuru Kenyatta son of Jomo Kenyatta took over power aged 52 and his Deputy Ruto aged 46 with Uhuru set to retire at 61 after serving two terms. Yeah, historical indeed!
Now lets pen down the System facts, Dennis Itumbi would call it "System ya ma-facts "
Economy
Country's public debt will hit the Ksh7 trillion mark by the time President Uhuru Kenyatta leaves office in 2022.
The National Treasury in its draft Budget Review and Outlook Paper projects that Ksh2 trillion will be added to the public debt by the time President Kenyatta completes his second term in office. Currently the public debt stands at Ksh 6.7 trillion.
The former Finance Minister inherited a debt of Ksh 1.953,834.00 trillion when he took over from former President Mwai Kibaki in 2013. This means that President Kenyatta will have presided over a debt increase of almost 300% during his ten-year tenure. Since at the moment in his 6 years in power, public debt both Domestic and Foreign have increased by 4.8 trillion when President Mwai Kibaki's 10 year term, public debt only increased by 1.3 trillion with much more fruit.
By 2022, the Jubilee administration will have presided over a borrowing spree of more than Ksh5.3 trillion in which only 60% can be fully accounted for whilst the remaining 40% looted.
Before signing the Finance Bill 2018 that was forcefully passed by the National Assembly on September 20, President Kenyatta and Deputy President William Ruto had put on brave faces amid pressing questions from the public and analysts on the ballooning public debt.
The president and his deputy maintained that the government was in control of what was being perceived as over borrowing at exorbitant rates before changing tune by saying that more taxes needed to be collected if the country was to realise its development agenda.
Kenya's debt service to revenue ratio is standing at 35.8 per cent, 30.5 per cent and 33.4 per cent respectively against the threshold of 30 per cent.
Interest payment on loans is expected to increase by 46.5% per cent to Ksh600 billion ($6 billion) in 2021/22 from Ksh400 billion ($4 billion) in the revised budget of 2018/19.
According to the economists, the composition of the government's external debt shows an increasing shift towards expensive loans from commercial banks and the Eurobond.
It is due to this carelessness that this year in 3month we've witnessed massive workers layoff by companies operating in Kenya due to losses, overtaxation in bid to collect more revenue to pay off the National debt. Some have shut down their operations totally.
Socio–Politico Status.
Kenyans thought that their darkest era of political witch-hunt, arbitrary arrests, tribalism, ethnicity, nepotism, dictatorship, Government assassination ended with the retirement of Presidents Jomo Kenyatta, Moi and Kibaki. Because they thought the youthful President and his Government will be revolutionary only to find out these are the same monkeys in a different forest. The System.
Kenyans forgot power is corrupt and the commander in chief would do anything possible to sit on the throne for pride. 2013-2017 Kenya was a millitary state, budgetary location to equip the security sector was way much higher than ever before. There was too much unrest with increased corruption scandals that was unbearable for the taxpayers to remain maim. Kenyans witnessed extrajudicial killings of those who criticized State, from bloggers, businessmen likes of Jacob Juma and many more. Post election violence in 2017 that led to loss of over 200 lives because these Youths rigged elections and lived by the sword. This Post Election Violence in the minds of sound-mind Kenyan Youths who were not tribal minded then, it was uncalled for, as it would have paved way portraying youths as peaceful and mature politicians. But the system couldn't allow that.
In Malawi,
Malawi's political scene, at least from 2014 is the issue of youth leadership. Youthful Atupele Muluzi contested on this agenda in 2014 elections and finished a distant fourth in an election won by the oldest candidate on the ballot, Peter Mutharika. Eventually Muluzi betrayed his own "youth agenda" and joined the Mutharika government. The System.
Muluzi says he joined Mutharika's government because he thinks he could serve Malawians better while in the government and not outside it. Yet, those who follow Malawi politics closely will tell you that Atupele Muluzi could have gone into the alliance so that the Peter Mutharika's government could not bother his father, Bakili the same way Bingu wa Mutharika did. Bakili Muluzi, a former State President is answering corruption charges amount to MK1.7 billion while in power and he has been in and out of the courts for the past 12 years or so.
They say that if you want to be heard, elect a man. But if you want things to be done and implemented, elect a woman.
A Government system prefers those that see no evil, say no evil and do more evil. The system
---
Kenya Insights allows guest blogging, if you want to be published on Kenya's most authoritative and accurate blog, have an expose, news, story angles, human interest stories, drop us an email on tips.kenyainsights@gmail.com or via Telegram
---