Is There Any Future With Urithi Coorperative Society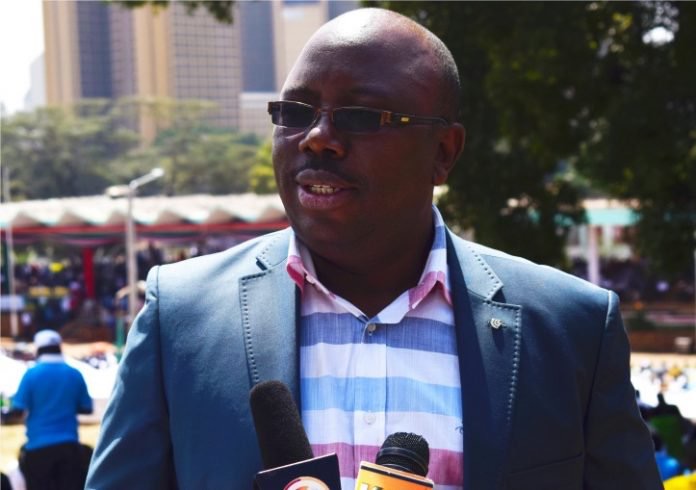 For time now, the property market in Kenya has been undergoing heavy tsunamis, Urithi Housing has not been spared and this is a bad news.
The news that Urithi Cooperative Society and Suraya Properties Limited have run into headwinds has added more Kenyans to a rapidly increasing list of investors whose wish to own homes has turned to a nightmare.
Real estates bubble burst in Kenya is real and is happening. Apart from Suraya and Gakuyo all the real estates firm including Urithi are now facing real danger of collapse which is scary. Many innocent Kenyans are now been dragged into a painful end unknowingly by investing their lives savings into scamming establishments as they all turn out to be eventually.
As the pattern goes, Urithi has been at pains to convince their customers and their exude confidence by having to constantly fight 'bad' press which illuminates an underlying problem. What exactly is happening at the firm. Is it enemies fighting I mean business rivalry or a plain scam in play? Pay attention.
With 8,000+ registered members, Urithi established in 2012 under the chairmanship of Mr. Samuel Maina has had endless fraud allegations beside positive reviews. Televangelist David Kariuki is amongst the founders of Urithi, they'd later part ways in 2013 to set up Gakuyo Real Estate and later Ekeza Sacco, which have both collapsed and left many investors counting losses and wreathing in pain.
Urithi has had to fight off fraud claims with the recent case highlighted on national paper that a local bank is putting up for sale one hundred acres of land belonging to Urithi Housing Co-operative Society, in what the paper described as the housing bubble for one of Kenya's leading real estate developers bursting, and definite to leave thousands of its members in a quandary.
Now, two of Urithi's housing ventures are in trouble — one is up for sale while developers in another property in Thika have been kicked out by the previous owner who says Urithi failed to pay him the balance.
However, these claims have been watered down by Urithi who claims all is well but according to an earlier customer feed back, all is not well as it would be wished as below states.
I paid fully for land in Thika 2015 and was supposed to get a title within 12 months today we are in 2019 4 years down the line and no communication. Don't chew more than you can swallow @DCI_Kenya @PeterMunya @Kiptoock @Trade_Kenya

— Anthony Njihia (@AnthonyNjihia) March 8, 2019
That is the same story

— Anthony Njihia (@AnthonyNjihia) March 17, 2019
Qweto gardens since 2016 and still no title nor beacon done!

— Robert (@Robert44436874) April 1, 2019
The questions and unresolved queries have flooded the developer and below are just but
They are not very far from the truth, been following up on a refund for over an year to no avail. If you are as genuine as you would like people to believe why don't you honour promises???

— Emma_Bommet (@EBommet) June 10, 2019
We bought plots at Ngata in 2015, we have never received our titles to date. What is the holdup

— John Ngugi (@jongugy) June 11, 2019
I totally disagree with you and as an affected investor iam pushing for the media to include Ruiru ridges which you have never honoured even after one year of reciveing payments. Urithi just give back our money and let it be. We are tired of your nonsense

— Alex Mwangi (@amkamau) June 10, 2019
Bure kabisa! Am 2 + years and counting waiting for my titles. Actually, now seeking refund. What a waste of my money and time! Urithi = Uwizi

— BONI KARANJA (@bonnylaface) April 6, 2019
When are we getting our title deeds for JUJA FARM (RUBY GARDENS) been over 2 years painfully
chasing.
?

— Sammy GM (@sammy_migwi) May 12, 2019
You need to deliver as you promised. I can ascertain members of OTG (Osteen Terrace Gardens) are a frustrated lot since you have failed to keep promise. I can confirm that no member is interested to invest in any other project by Urithi. #cautionToNewInvestors

— John Kamau (@mauohn) March 18, 2019
I paid fully for land in Thika 2015 and was supposed to get a title within 12 months today we are in 2019 4 years down the line and no communication. Don't chew more than you can swallow @DCI_Kenya @PeterMunya @Kiptoock @Trade_Kenya

— Anthony Njihia (@AnthonyNjihia) March 8, 2019
…..urithi can be a very cool thief. 'Buy and wait' for ages. OTG joska started in 2016 and the agreement was for members to enter their houses by the end of 2017. Members are still paying rent elsewhere against the plan. Kenyans be warned and avoid agonies.

— Bio-Scientist (@TobiMusyoka) March 18, 2019
It goes on and if we had to make a list of complaints raised, this would go endlessly. Matter at hand, the Urithi land in question, named Panorama Gardens, is located in Gatanga, a few minutes' drive from Blue Post Hotel in Thika. Urithi Housing had acquired this land in 2016 — after agreeing to finance a defaulted loan that the previous owner had with the bank.
They paid him Sh1 billion and took over his bank liabilities, agreeing to repay the bank the Sh500 million balance in five years.
Urithi chairman Samuel Maina has however come out defensively claiming they've  cleared with the bank.
In further response to the burning issue of land auctioning that has left many investors panicking. Urithi Housing Cooperative has dispelled fears that the multibillion organization is insolvent and headed for collapse.
Urithi Housing Cooperative Chairman Samuel Maina said the company is not financially constrained and has received a go ahead from Family Bank.
"The organization is financially stable, and we have received a clearance letter from Family Bank which wanted to auction our 104-acre panorama gardens property on Thika-Gatanga road.
The bank had initially given the housing company 45 days to clear Sh45 million of debt arrears. Maina said they have worked to contribute Sh23 million shillings to clear part of their debt. "We have deposited Sh23 million shillings and we plan to re-negotiate the payment period for the loan," he said.
Family Bank has been struggling to stay afloat with many fears that with its steady trend of loss making it could collapse alongside National Bank, Imperial and Chase Bank. Housing Finance which almost shares business model with Family is also bursting nerves to stay on the game despite heavy loss making.
Panorama Gardens which is at the epicenter of Urithi's troubles was marketed and sold by Urithi as ready plots for immediate development and attracted 400 investors, with an eighth of an acre going for Sh2.25 million.
The investors now claim they cannot develop the property because most of them have never been issued with title deeds while some are only in possession of ownership certificates or agreements they entered with Urithi.
"Out of the 400 investors who bought plots at Panorama Gardens, nearly 70 per cent have cleared their balances. We are currently reaching out to the members who owe us some money to clear their balances so that we can conclude documentation and issue title deeds to the members," Mr Maina said.
Even as this is happening, another trouble is brewing for Urithi pitting the organisation and investors who bought another property behind Mang'u High School, dubbed Tola 3 and Tola 4.
Ms Jane Wachira bought two undeveloped plots measuring 40×80 in 2016 for Sh2.4 million at Tola 4.
Her biggest predicament is that she cannot develop the land even after completing paying for the property and despite being in possession of an ownership certificate issued to her by Urithi.
In 2017, the vendor who sold the said land to Urithi dug a trench on her property and brought down the beacons claiming Urithi had not cleared paying for the land.
"I bought this property at Tola 4 in 2016 and completed paying for it in 2017. We did not know there was a problem until this year when the landowner who sold the property to Urithi dug a trench and brought down the beacon and marked the property for demolition,'' said Ms Wachira.
Ms Mercy Kamau also bought a plot at Tola 3 in 2016 measuring 40/80 at Sh925,000 from Urithi.
NO TITLE DEED
She was issued with an ownership certificate with a promise of getting a title deed within three to four months. It never happened.
In April 2017, she started constructing a five bedroom maisonette. In 2018, the landowner who had sold the land to Urithi stopped the development.
However, the Urithi chairman told the Nationthey are working with these members to resolve the issue.
Even as Urithi puts up a strong face in the midst of all the fraud accusations, one big gamble for investors is whether to keep their money with Urithi or run away before the bubble bursts if at all it will or potential investors to take the risks. One thing that remains definite is Urithi has a lot to do in terms of customer confidence.
Many Kenyans are becoming skeptical given the pattern of developers swallowing their investments and nothing happening. It's not only Urithi but there's need for a deep analogy, ultimate due diligence before investing. Don't pay too much attention to media decorations instead engage professionals for expert opinions.
If you have any issue on Urithi or any other developer, it could be a scandal or anything, don't hesitate to drop me an email as we embark on a journey to inform the public on the real estate bubble. ([email protected])
---
Kenya Insights allows guest blogging, if you want to be published on Kenya's most authoritative and accurate blog, have an expose, news TIPS, story angles, human interest stories, drop us an email on

[email protected]

or via Telegram
---