Intelligence Captures Another Sh44.4M Wired From Notorious International Money Launderer Marc De Mesel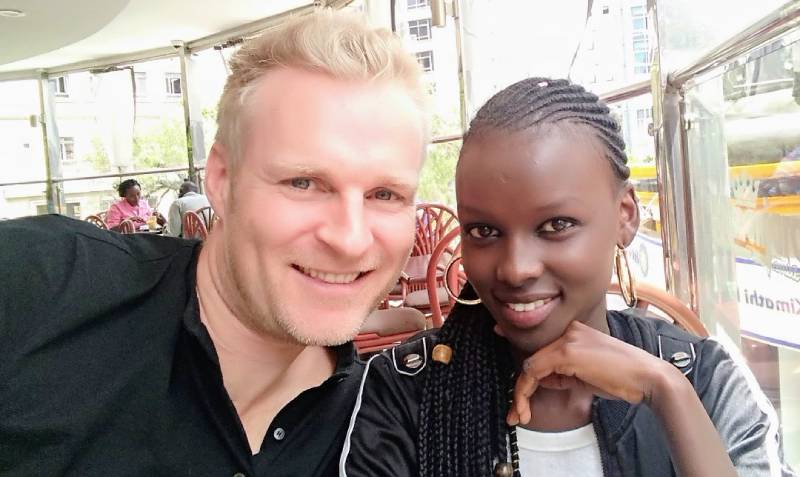 It's feeling darker for the Belgian National Marc Freddy H De Mesel a supposed cryptocurrency guru who for the past months has been on the spotlight for alleged money laundering. He's now been profiled By Kenyan security agencies as a money launderer.
In reported instances, De Mesel has relentlessly been trying bring his funds to Kenya through different women whom he say to be his lovers.
In yet another attempt, this time a man, has been thwarted.
In a case filed under certificate of urgency Assets recovery Agency (ARA) wants the USD 390,038.72 equivalent to Sh. 44,425,410.21 belonging to businessman Timothy Waigwa Maina held at Stanbic Bank, frozen pending the filing of a petition of forfeiture.
"There are reasonable grounds and evidence demonstrating that the funds held by Waigwa in the specified bank account are direct or indirect benefits, profits or proceeds of crime obtained from a complex money laundering scheme and are liable to be forfeited to the State under the Proceeds of Crime and Anti-Money Laundering Act," added the agency.
According to court documents, Waigwa is suspected to be part of a syndicate involved in a complex money laundering scheme involving a Belgian National Marc Freddy H De Mesel.
He first received Euros 370,990 in one transaction on April 6, 2021 in his closed bank account at Standard Chartered Bank account drawn from various jurisdictions including Belgium on the pretense that the fund is a "gifts made in favour of the Waigwa".
ARA argue that there is imminent danger Waigwa might dispose, transfer and dissipate the money unless the court issues preservation orders.
"It is in the interest of justice that preservation orders do issue prohibiting Waigwa or his agents or representatives from dealing in any manner with the aforementioned assets," said ARA.
The Agency received information into a suspected case of money laundering schemes, and proceeds of crime involving multiple money transactions from foreign jurisdiction whose source could not legitimately be established.
The agency argues that preliminary investigations have established that Waigwa executed a complex scheme of money laundering designed to conceal, disguise the nature, source, disposition and movement of the illicit funds, suspected to constitute proceeds of crime and which are the subject matter of the application.
'Girlfriend'
Felesta Nyamathira Njoroge, a college student used by De Mesel as his 'girlfriend' to wire hundreds of millions, is at risk of losing Sh109 million after Asset Recovery Agency filed a formal application to have her forfeit the money for being proceeds of crime.
According to the agency, she is part of an international ring of fraudsters engaged in money laundering.
"We have discovered that she is part of a syndicate involving complex money laundering schemes with individuals from various countries including Belgium from where she received the money on the pretext that it was a gift from her boyfriend," said ARA through lawyer Stephen Githinji.
The agency wants Njoroge's USD914,967 (Sh104,205,591) held at Co-operative Bank and Sh5 million held at Stanbic Bank to be forfeited to the State over allegations that she was being used by her foreign partners as a conduit for the illicit funds.
ARA had in November last year obtained an order freezing Njoroge's accounts for 90 days to complete investigations into the allegations of money laundering.
Githinji told the court that after completing investigations, they have established that the 21-year-old student at Nairobi Technical Training Institute executed a complex scheme of money laundering designed to conceal and disguise the nature and sources of her funds.
"There are reasonable grounds and evidence demonstrating that the funds are direct and indirect benefits of proceeds of crime obtained from an international money laundering scheme and are liable for forfeiture to the government," said Githinji.
The agency's investigator Fredrick Musyoki said they discovered that Njoroge opened the dollar account at Co-operative Bank on August 2, 2021 with nil balance but within four days, the account had been credited with USD914,967 (Sh104,205,591) in four transactions.
According to the investigator, Njoroge had indicated that the money was a gift from her Belgian boyfriend Marc De Mesel.
"Our investigations established that she opened the accounts for the sole purpose of receiving the said funds which she declared the source to be from her boyfriend for her to invest in land projects and traveling," said Musyoki.
The investigator stated that when they summoned Njoroge for questioning over her source of funds, she escaped to Tanzania by crossing the Namanga border as a pedestrian on October 2, 2021.
Musyoki added that De Mesel, who was in the country at the time, also escaped using the same route to Tanzania. According to the investigator, De Mesel transferred a total of Sh650 million to five different individuals between February 2020 and August 2021 without disclosing the source of the funds.
Another 'girlfriend'
In another familiar incident, De Mesel sent Tebby Wambuku Kago, a friend of Felista Njoroge Sh102.8m ($909,900) in what is loosely modeled pattern of fraud that any intelligence agency can knit, anti-corruption court ordered that the money held up at Kago's account be frozen last year in December.
Justice Esther Maina was told that Kago received the Sh108 on August 10, 2021, and an additional Sh37m in early November 2021.
However, when ARA accessed Kago's account, it was discovered that out of the total Sh139.8m, her Equity account had only Sh102.8m.
Records indicate that the money was wired into Kago's account by Felista Njoroge's Belgian boyfriend, Marc De Mesel.
Unlike Felista, who was introduced in court as a 21-year-old student of Nairobi Technical Training Institute (NTTI), Kago's age or occupation wasn't given.
The only hint at her occupation was "self-employed businesswoman" as per court documents.
---
Kenya Insights allows guest blogging, if you want to be published on Kenya's most authoritative and accurate blog, have an expose, news TIPS, story angles, human interest stories, drop us an email on

[email protected]

or via Telegram
---