In Raila Odinga As NASA Flagbearer, Jubilee Hit With Worst Nightmare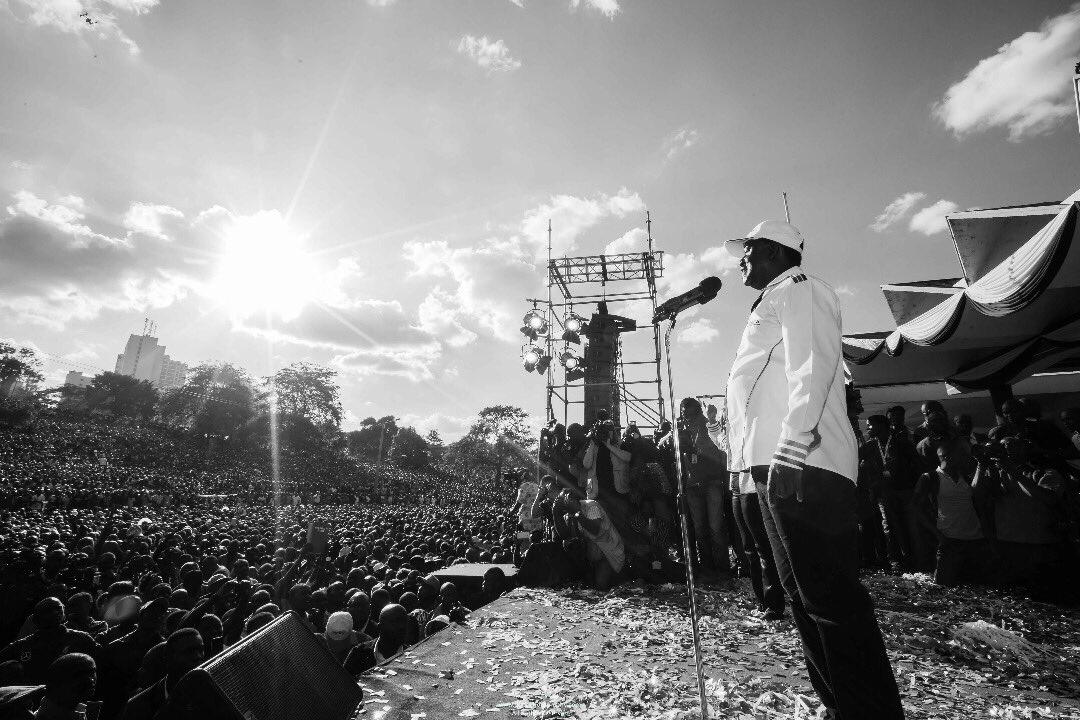 Raila cannot win any election, he's the weakest candidate, he's unelectable, he's polarizing, he's a perennial loser, Raila will never be the President of Kenya. Same song just a different stage, Raila has just been named as the NASA flagbearer, and the familiar demonizing tunes of his name unsurprisingly hit the airwaves.
Honestly, when the idea of opposition uniting was conceptualized, It was pretty obvious who would take the mantle, to NASA supporters, It was never going to be anyone else but Raila, a reality they carried through despite hiccups. As for Jubilee, Raila was the marked man, but they prayed day and night for things to turn up otherwise until the nightmare became a reality when he was named.
Only a fool would root for a stronger opponent when entering a boxing ring with a total assurance of blackout in the first few seconds. As an enemy, you try as much not to show your opponent your fears and point out their strengths. Instead, you point out their weaknesses tricking them into being their strengths.
In 2013, ICC gave UhuRuto a huge platform to campaign and mobilize their ethnic blocs to come out in large numbers, and they sure did in a bid to save their sons from mzungu noose instigated by Raila, that was the lying line that sold the stale bread. Fast forward to 2017; Jubilee is yet to settle on a campaign platform even though hanging on their development record. Voters have shifted in mind mindset looking for results-oriented leadership. Under the last four years of jubilee, health, unemployment, the high cost of living amongst other recession factors has hit the country and citizens making informed ballot choices of the nominations are anything to go by.
Jubilee studied all the NASA candidates, their potentials and the one thing that was clear, only Raila posed the greatest threat to disruption of the system. In a mind game war, ridicule and belittling the idea of Raila candidacy took precedence; the fallacy was pushed and adopted without proper chewing. It is unsurprising you'll meet intoxicated minds saying Raila is a run over for Jubilee without clear explanation. And if any you'll be treated to he has lost previous elections, Jubilee knows his game plan he'll be defeated again.
Defeating Raila is easier on paper but I'll tell you why from the outside Jubilee is confident but deeply inside terribly shaken to near wetting their pants. Elections are won on two fronts, voter turnout, and economic mobilization. It's on these principles that NASA had to crack their brains to settle on a neutral candidate who would strike it in the middle.
In 2007 elections where the outcome of elections turned violent, Raila believed his victory was stolen, even though Judge Kriegler's findings didn't single it out, the study pointed to a bungled victory for Kibaki. In 2013, again Raila claimed he was short changed, and the matter went to the Supreme Court. To read the pattern, Raila's opponents may have perfected the art of stealing his victory and using the profiling to get away with it. Branding Raila as a perennial and whining loser is a threat to credible elections as players would quickly invest in the demonizing game to get away with the shambolic election.
August general election comes with crucial electoral reforms that are meant to make elections rigging proof and this should worry Jubilee if they had fraud as part of their winning strategies. Parallel tallying and confirmation by the court that results are legitimized as soon as they're announced by the returning officers closing the loophole of results manipulation changes the games. The peace of the country as it stands is embedded in the credibility of the polls, for this reason, IEBC must ensure a tamper-proof election.
It is laughable when veteran Jubilee supporters allude that they'd vote for an alternative NASA candidate other than Raila, this is just hot air, dynamics of voting especially in presidential elections remains the same with tribal card taking a toll. Even if NASA gave a Mudavadi/ Kalonzo ticket, there wouldn't have been any substantial shift in support, and that's a simple fact.
NASA had to go for a candidate with considerate support but most importantly one who would cause serious voter turnout and with guaranteed voting bloc. Kalonzo carries a significant block of Kamba votes, but his ability to fully energize his base seemed shaky, he's currently facing distinction threats from Chap Chap's Alfred Mutua. After all, he has been a vice-president, a running mate, and a presidential candidate. Yet he has never fully delivered the Kamba vote.
When Kalonzo ran on his own, in 2007, he polled 879,903 votes against Raila's 4,352,993. Of this, only 153,117 votes were from outside Eastern. More interesting, the total vote he got in Eastern — 726,786 — was only 63 percent of the total number of voters in Ukambani. He was unable to convince over 30 per cent of Ukambani.
Mr. Musalia Mudavadi of ANC, an early favorite, does not hold the Western vote. He also seems to have little support outside western Kenya, despite his name recognition across the country. In 2013, he managed only 353,858 votes in Western, a region with 1,214,285 voter turnout numbers. Outside of his western political base, he got only 130,123 votes. In short, Mr. Raila Odinga of ODM got more than two times what Mr. Mudavadi got in Western.
People lie, numbers don't. August general election will only be one based on voters turn out. Raila can guarantee a formidable turnout that would send jubilee into serious strategizing. Nyanza, Western, Eastern, and Coast remains vital vote taps that NASA must get out to guarantee a round one win. Raila is also the only candidate amongst the principals who has the potential to attract support outside his background bloc, and this has been proven. His strengths ran way above any thought of combination, and it is for this reason jubilee would've tried all means to see the coalition tear apart or have anyone else being flagbearer being the candidate.
If indeed Jubilee isn't scared of Raila and sees him as the weakest candidate and a guaranteed run over then they can as well go for an early celebration, save the energy and money for campaigning instead just sent back home and wait for the next Uhuru's inauguration but they won't and this the point where the real threat of a Raila candidacy hits everyone. A united opposition can't be wished away; it sent away Moi, has been sending away veteran dictators across Africa and Jubilee isn't immortal. It is games time ladies and gentlemen. El Classico!
---
Kenya Insights allows guest blogging, if you want to be published on Kenya's most authoritative and accurate blog, have an expose, news TIPS, story angles, human interest stories, drop us an email on tips.kenyainsights@gmail.com or via Telegram
---