From Whitehouse To Statehouse Kanye West Visits Uganda's President Gifting Him Autographed Yeezys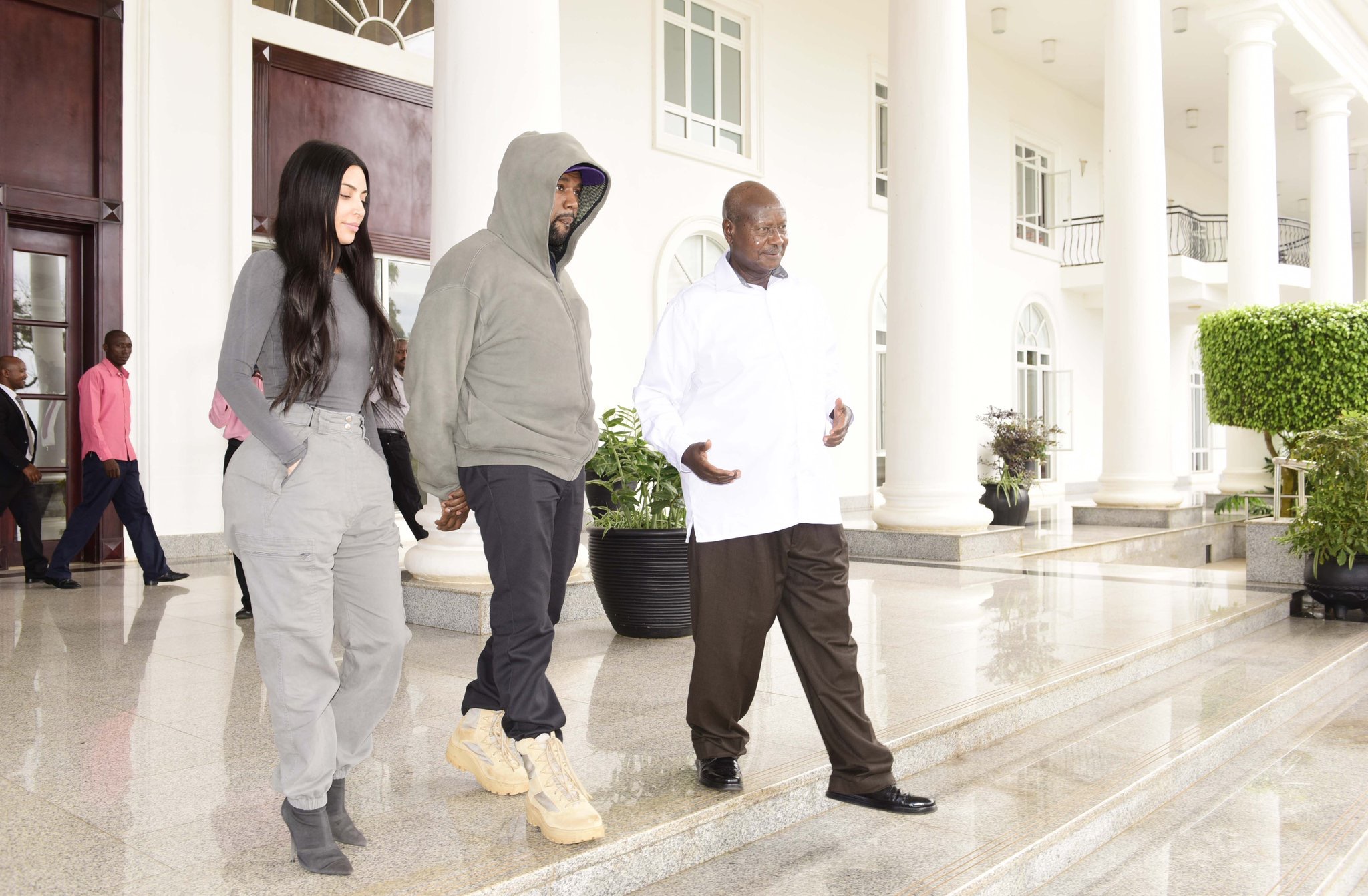 American Rapper Kanye West who considers himself the best artist of recent times and who doesn't shy from courting controversy has visited one of the many dictators in the continent Museveni.
Kanye who's in Uganda with his family, apparently bought out a resort and built an outdoor studio in the bush where he's currently recording a studio album which he says is African inspired hence the decision to record it in Uganda.
The rapper took time off to meet the country's president Museveni who wrote on his Twitter , "I welcome American entertainment stars Kanye West and @KimKardashian to Uganda. I held fruitful discussions with the duo on how to promote Uganda's tourism and the arts. I thank Kanye for the gift of white sneakers. Enjoy your time in Uganda. It is the true Pearl of Africa."
Museveni is on the spot for dictatorship and reigning terror on his opponents, recently, the bully president nearly killed Bobi Wine who also happens to be a musician and now an MP. Fearing for his growing influence and popularity in Uganda especially amongst the youths, Museveni faked an incident that ended in Bobi's driver getting killed in what is assumed to have been a bullet meant for the young legislator.
Bobi Wine was arrested, detained and tortured at military barracks where he was severely injured and had to seek special treatment in the US. He was charged with trumped up treason charges.
Kanye's visit comes only days after the controversial rapper visited the Oval Office, Whitehouse and held meeting with Donald Trump. Kanye in his custom conditions, went on a ranting spree addressing several issues including the red hat. His visit to meet Trump has been criticized mostly by the black community who say Trump's policies are stifling to the community and by Yeezy aligning with him, he's considered a traitor.
During his visit to Museveni accompanied with his wife, Kanye gifted the 74 year old president with his Yeezy line sneakers.
---
Kenya Insights allows guest blogging, if you want to be published on Kenya's most authoritative and accurate blog, have an expose, news, story angles, human interest stories, drop us an email on

[email protected]

or via Telegram
---
How Sameer Group Of Companies Was Defrauded Sh80M By Conmen Posing As President Uhuru In A Corrupt Deal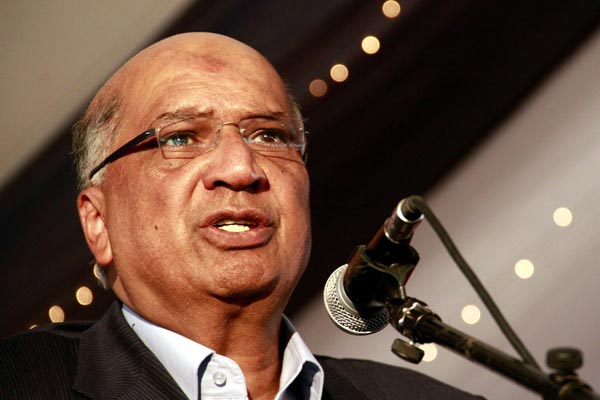 Conmen posing as President Uhuru Kenyatta have defrauded a Nairobi businessman of Sh80 million pretending that they would award him with state tenders.
Detectives from the DCI Special Crime Prevention Unit over the weekend arrested seven men believed to be part of the cartel that conned officials from Sameer Group of Companies.
So well organised are the criminals, that they have perfected the art of mimicking the President's voice to near perfection.
Investigators say the conmen, operate as State House officials.
The caller, who imitates Uhuru and speaks in a voice almost similar to that of the President, tells businessmen of major government works which he asks them to take up.
The 'fake President', asks the victim to provide some money for logistical support.
He promises to send some State House officials and other staff from the Interior ministry to the victim's office to collect the facilitation cash.
7 #fraudsters who have been imitating a very senior govt officer & socialites to obtain money by false pretences were arrested today after an intense operation. The 7 are:Joseph Waswa, Duncan Muchai, Isaac Wanyonyi, William Simiyu, David Luganya, Gilbert Kirunja & Antony Wafula. pic.twitter.com/v0G3UmecsO

— DCI KENYA (@DCI_Kenya) February 23, 2019
Men dressed in expensive suits then arrive in the office of the targeted businessman and introduce themselves as the staff of State House sent by the President to collect cash.
The 'State House staff' arrive in high-endvehicles and under police escort. They then collect the cash and disappear.
Highly placed sources familiar with the investigations said rogue police officers from Kilimani police station had been hired to provide security services to the State House imposters.
The con scheme came to light last month after officials from Sameer reportedly wrote to State House seeking an audience with the president over a tender deal.
Shocked State House officials after receiving the letter are said to have contacted the Sameer group official and inquired of the deal between themselves and the 'fake President Uhuru'.
The matter was reported to the police and officers from the DCI headquarters opened investigations.
Police also impounded three high-endvehicles that include Toyota land cruisers and V8s which the conmen were using.
The arrested men have been identified asJoseph Waswa, Duncan Muchai, Isaac Wajekeche, William Simiyu, David Luganya,Gilbert Kirunja and Anthony Wafula.
Adapted from the Star.
---
Kenya Insights allows guest blogging, if you want to be published on Kenya's most authoritative and accurate blog, have an expose, news, story angles, human interest stories, drop us an email on

[email protected]

or via Telegram
---
Joash Ombati The Brave Police Officer Who Took On Two Thugs And Recovered Sh400,000 Feted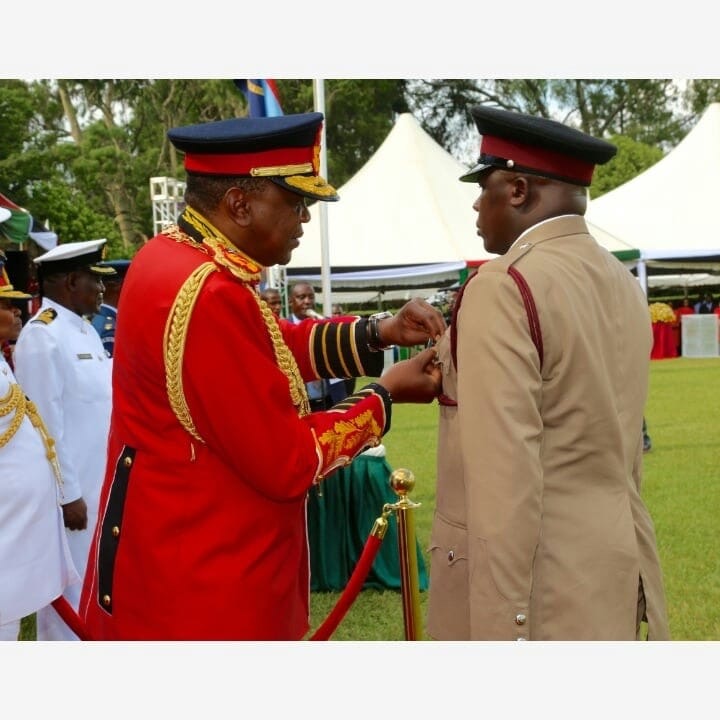 Two suspects, Sameer Abdulaziz Kassim and Peter Kavoli Musili had posed as traders of construction materials on OLX.
They reportedly duped Amos Charo Saroan, an unsuspecting customer from Voi then robbed him.
Amos Charo traveled from Voi and met the duo in Nairobi CBD, then drove towards Westlands but he was pushed out of the speeding car after giving them KSh 732,000, an incident witnessed by Ombati.
Administration Police Constable Joash Ombati who was guarding a bank nearby, boarded a taxi to chase after the suspects.
The Police officer shot in the air forcing the thieves to surrender before he handcuffed them as members of the public watched with many urging him to shoot dead the suspects.
Mr. Ombati remained calm even as a furious mob urged him to shoot and kill.
He managed to recover Sh400,000 which was part of the Sh732,000 that the suspects had stolen from the complainant Mr Amos Charo.
Ombati would then be awarded by Interior CS Matiang'i for his bravery the government was given the heroic AP a Distinguished Service Award in November 2018 barely a month after his commendable work.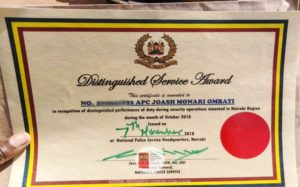 That wasn't the end, Joash Ombati who single-handedly pursued two thugs in Nairobi and recovered KSh 400,000 has just been promoted to the rank of Corporal from being a AP Constable.
Friends help me Congratulate my brother.
---
Kenya Insights allows guest blogging, if you want to be published on Kenya's most authoritative and accurate blog, have an expose, news, story angles, human interest stories, drop us an email on

[email protected]

or via Telegram
---
Grace Msalame Sues Uganda's Tourism Board For Illegaly Using Her Curvy Photos To Promote Sex Tourism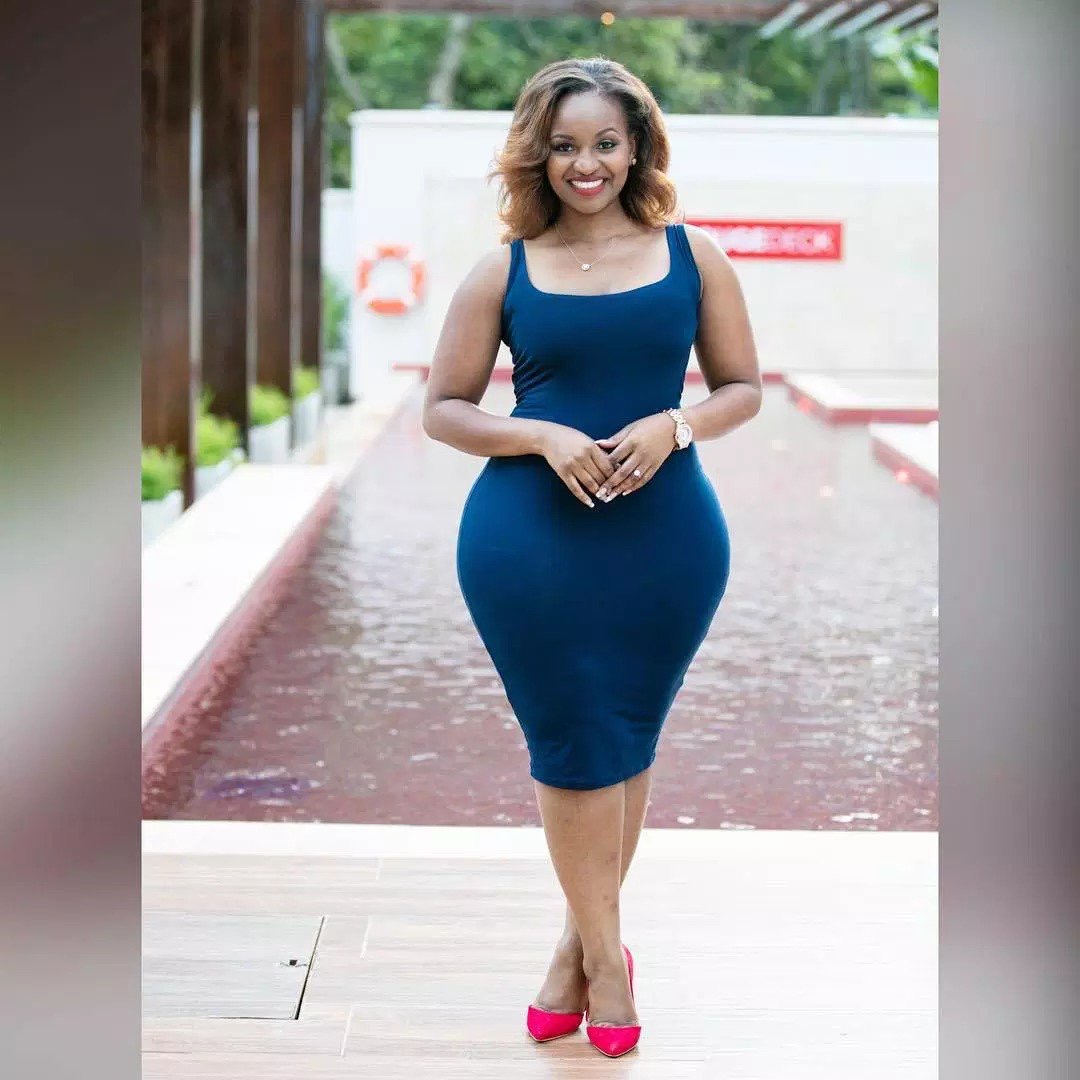 Uganda's Ministry of Tourism unveiled a beauty pageant dubbed 'Miss Curvy Uganda' in a bid to promote tourism in the country, the ministry decided to use Kenya's media personality Grace Msalame as the official face of their Miss Curvy Uganda contest without her knowledge. Whether it was a mistake or deliberate is unknown but now they'll have to prove it in court.
Grace a media personality in Kenya has distanced herself from the beauty pageant saying she was never part of the program neither did she give consent for her photo to be used in the promotion.
In a statement, Msalame says, "I take great exception for the fact that my image and likeliness are being used to propagate, disseminate and encourage objectification of women. I don't agree nor endorse such a message or anyone who's a creator of the idea that women's body are tourist attraction sites."
While announcing that her lawyers are already on legal course for redress, Msalame says, "I reject any association to me that has been unlawfully created by Miss Curvy Uganda 2019 and its agents."
The media personality claims that her brand has been immensely hit following the publications of her images. "Miss Curvy Uganda's deliberate and calculated use of my image and likeliness to promote violation of women's bodies had defamed my character and reputation damaged a brand that I've worked for so many years to establish, and subjected me to unwarranted and undeserved cyber bullying." She says in her statement.
---
Kenya Insights allows guest blogging, if you want to be published on Kenya's most authoritative and accurate blog, have an expose, news, story angles, human interest stories, drop us an email on

[email protected]

or via Telegram
---