Equity Bank branch accused of issuing Fake notes in their ATM machines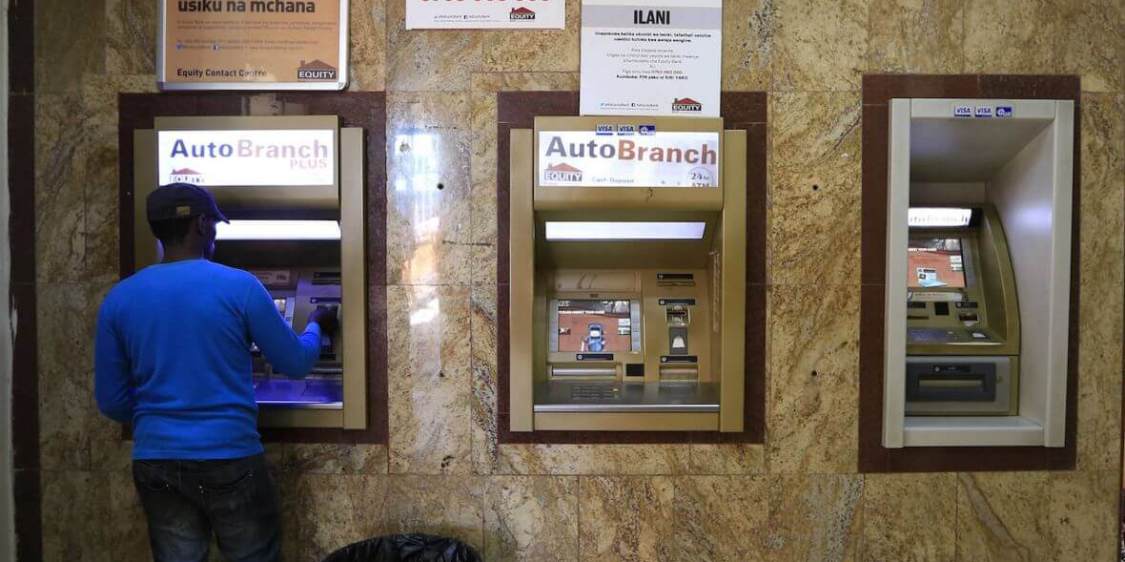 In 2020, Banks advised those who had received fake currencies either through ATMs or over the counters to report the cases to the Central Bank's Fraud Investigating Unit, or their respective banks as soon as possible.
Kenya Bankers Association Chief Executive Habil Olaka told the Nation that cases of fake notes getting into circulation from banks are "remote", but said banks are willing to ensure the incidents do not recur.
"I would like to emphasize that a bank-related fraud, no matter how small, is investigated as a criminal offence by Central Bank of Kenya's Bank Fraud Investigations Department. Each case does matter despite its magnitude," Mr Olaka said in a statement.
"Bearing in mind the control measures exercised by most banks during cash handling, we urge members of the public alleging to have been issued with fake notes to report and present the suspicious notes to their respective banks or CBK's Banking Frauds Investigation Department."
The Association which represents commercial banks in the country was responding to a story we published in the Nation in which a number of Kenyans claimed they had withdrawn money from automated teller machines only to turn our fake.
Kenyans continued to share their experience with fake currency notes as some accused banking staff of conning out banks.
"This is how it's done, the tellers accept fake money, they balance their accounts at the end of their shift, the money is put into the ATM, he gets his share and life goes on. Because you can't deposit fake money through ATM. Don't look further Banks should screen their staffs," claimed Stephen Hanya, a Netizen in a comment.
The Consumer Federation of Kenya asked banks to acknowledge the problem and do something about it.
But banks argued the procedure of loading cash in ATMs follows a very strict routine to ensure notes customers get are authentic. According to Mr Olaka, each bank has installed counting devices which ensure the notes are genuine. "Any coins and notes that do not meet the serviceability threshold are filtered from the system and assessed further for their authenticity, hence ensuring they do not get into circulation," the bankers chief continued. "All the ATMs have installed in their cash dispensers technology that besides detecting the currency and denomination also detects if the note is authentic before dispensing the same to the customer."
Mr Olaka said notes that fail to meet the criteria are not dispensed to the customer but are put in a special "reject bin" within the ATM. These notes, banks say, are then collected by their staff and examined.
"While this is not a completely fool-proof system against fake notes we believe that the chances of a fake note passing through the cash management system, and the ATM machine are extremely remote," he argued.
Banks dispelled fears that contracted staff from outside firms could be involved replacing genuine notes with fake ones, saying that each contracted individual must follow the laid-down procedure as indicated in their contracts.
But in retaliation to the cases. The controls banks said they had put in place:
1. All cash handling is under CCTV monitoring and always under dual custody of both bank staff and the contracted cash management firm.
2. Cash received in banks is scanned through a machine at point of receiving (by tellers) that validates and detects any fakes currencies.
3. Cash is then moved to Strong Rooms where again it is validated by a different team with bigger machines that will certainly catch any fake currencies no matter how sophisticated.
4. The cash is then loaded into locked trays that go into the ATMs. These "trays" cannot be manually opened or accessed.
5. The trays are inserted into the ATMs and only the ATM machine can pull out cash from the machines.
Not so long when recently an alleged case of fake currency dispensing at one of Equity bank branch in Donholm was reported by a Netizen on Twitter sparking new concerns as to how many fake notes of the same have circulated within the area and if this a normality is only an isolated case or replicated elsewhere and whether Equity bank has been upto the task put in place security measures by the regulator of curbing fake currency circulation, it's a big shame for a big bank as Equity to be painted with such allegations as it casts many doubts on its security system- Bankers Association to tame such cases. ​
This is equity bank Donholm branch, avoid, they have fake notes, they have fake notes, avoid, avoid, infact we are waiting to see if they will change those notes. pic.twitter.com/mBrN5fB6MR

— Bevalyne Kwamboka (@bevalynekwambo3) August 25, 2021
A tweet under which various Kenyans shared their experience on the same.​
This is not the first time, equity bank Donholm branch has given fake notes, avoid those people, especially 1000 notes

— Bevalyne Kwamboka (@bevalynekwambo3) August 25, 2021
@EQUITYBANK People beware of Equity ATMs dispensing fake 1000 Bob notes. I am a victim of the Hunters Equity ATM pic.twitter.com/SERBECRAbe

— Bridge of Hope (@okindata) August 5, 2015
A tweet under which a section of Kenyans went ahead to castigate Equity bank management for employing inexperienced employees as tellers whom they referred to as underage staffs from their 'wings to fly' education initiative hence deteriorating customer service. ​
That place have conmen; That's the problem of employing form 4 leavers as tellers 😹😹 hiyo branch imejaa watoto. Usikubali kutoka hapo kama hawajabadilisha. They once tried that shit on me.

— DUKE OF UPPSALA 🇰🇪🇸🇪🏴󠁧󠁢󠁳󠁣󠁴󠁿 (@derrickmudavadi) August 25, 2021
As of the time of publication, Equity was yet to publicly comment on the above allegations.
Equity bank's weak links to frauds and fraudsters have put in on the international money laundering watch following recent allegations and links to DP Ruto Shs15billion loan phone call to a an investor crony of his —Ugandan tycoon Matthias Magoola of Dei Pharmaceuticals Company.  The businessman who he negotiated a Sh15 billion loan from Equity Bank using the single phone call. An incident that have led to its management be summoned by Members of Parliament special committee.
Equity Bank's mobile banking service named Eazzy Banking, has had the most complaints with the the customers say is prone to hackers. There has been endless cases of customers having their cash swept out from their accounts without authorization.
Check the social media pages of the bank and it's chaotic with complaints of mysterious missing funds.
In a fraud case registered under OB /62/24/8/2020  a Nyeri man lost his entire savings in Equity Bank. According to his son Edward Karungu, the old man had gone to bed with money sitting in his account only to wake up to an empty shell in what he now suspects to be an insider job and a weak link in the bank's system.
Last week in Uganda, upto 11 customers came out so far to demand that Equity Bank Uganda replenishes their money totaling Shs25M which they claim went missing from their accounts.
Conclusion 
If an ATM dispenses fake notes, the accountability lies with the concerned bank. Banks have machines installed to detect forged notes that check currencies before they are handed over to agencies to stash ATMs. Failure to detect fake notes will be treated as the bank's willful attempt to circulate counterfeit currencies. A penalty that should be imposed on the bank.
However, Here is what to do if you suspect a fake currency:
Hold fake note in front of ATM's CCTV camera. Most of us leave an ATM without checking notes, committing the biggest mistake.
Before leaving the ATM, do check the authenticity of the notes. If they are fake, it is advisable to turn towards the CCTV camera and report it, for evidence. A security guard's presence isn't the only proof.
Keep the transaction slip, write down the note's serial number, and then file an FIR.
If you get a fake note, submit it to the bank, which they'll stamp with COUNTERFEIT BANKNOTE IMPOUNDED.
---
Kenya Insights allows guest blogging, if you want to be published on Kenya's most authoritative and accurate blog, have an expose, news TIPS, story angles, human interest stories, drop us an email on

[email protected]

or via Telegram
---